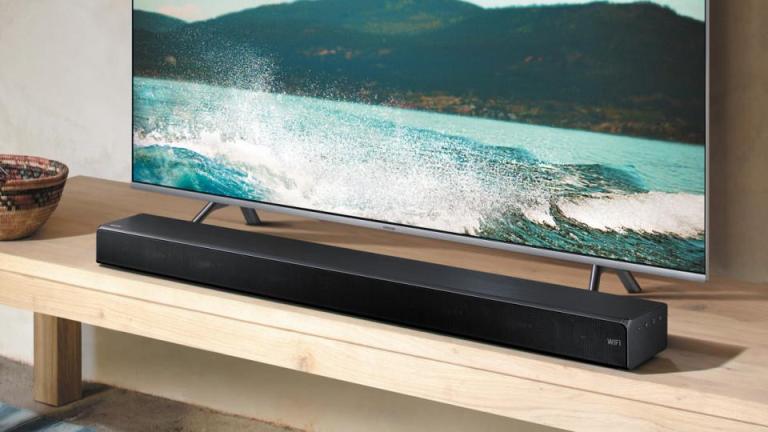 Best Soundbars in India Under 20000
Gone are the days when humungous home theatres took a significant chunk from our pockets and our space. Earlier, home theatres were large and dug a big hole in our pockets. Nowadays, there are many ways to watch your favourite movies and have a similar experience. Soundbars are the new substitute for home theatre speakers. Soundbars help you enjoy the home theatre experience by providing high-quality sound. They are all-in-one speakers and can be connected to your Television sets. It eliminates the problems of complexity, space and price. Let us look into some of the best soundbar in India under 20000.
Finding the right soundbar may not be an easy task for everyone. You need to consider your pattern of usage, your budget, the space it may avail and even your existing devices to find a compatible soundbar. After some hours of extensive research, we came up with the six best soundbars that are up for grabs in India. These soundbars are distinct in features and vary in price ranges. You can pick the one that suits your purpose.
Best Soundbar in India Under 20000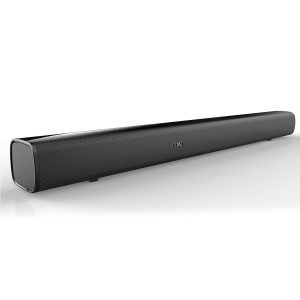 The boAt AAVANTE Bar 1160 is the perfect soundbar for you if you are looking for an immersive audio experience at an unbelievable price. 
This soundbar makes the experience of watching a movie even more cinematic with its powerful 60 W total output. It seeks to amplify all the elements present in the environment to give a wholesome experience. 

You can enjoy the balanced sound and deep bass for all your movie adventures and gaming nights. It offers maximum connectivity through its compatibility with wired connections and wireless Bluetooth connection technology. 

You can switch to the Nirvana mode for the richest sound experience. This can be done through the dynamic drivers with the product that elevates the experience exponentially. 
Price: ₹3999
Item Weight: 2 kg
Check the cheapest price on Amazon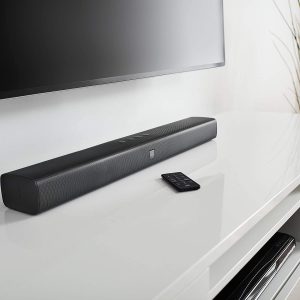 JBL Bar Studio comes with JBL Surround Sound that enables a wireless sound experience for your movie nights. You do not need any additional wires for experiencing the outstanding JBL sound. You can even connect your phone and stream music wirelessly. 

JBL soundbar is also compatible with most TV remote controls. You can control your TV along with the speaker with the existing remote.

It comes with HDMI(ARC) Port and Optical Port that enables easy one cable set up. You can even connect your mp3 through USB drives and enjoy the music hassle-free. 

It is readily compatible with Audio Player, Laptop, Mobile, Tablet and your Television sets.
Price: ₹5,599
Item Weight: 617 g
Check the cheapest price on Amazon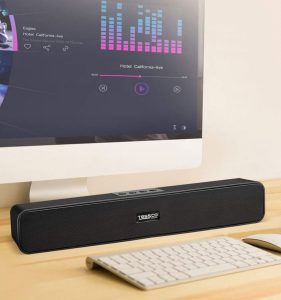 Tessco is an active stereo speaker which comes with a fantastic Bluetooth-enabled feature. This speaker lets you enjoy a wide variety of sounds on several devices at your convenience. 

The speakers come with a bass effect along with the booming sound. This enhances your listening experiences and lets you enjoy all your house parties. One of its most striking features is the zero distortion, even when the sound is the loudest. 

The stereo active dual Bluetooth speakers combination creates an optimised sound field for dynamic range and exceptional clarity across all music.

Tessco takes not more than 2 hours to fully charge the speakers, and it lats up to 8 hours. The battery life of 1200 mAh only adds to the qualities of this product.

Price: ₹ 1,566
Item Weight: 3 kg
Check the cheapest price on Amazon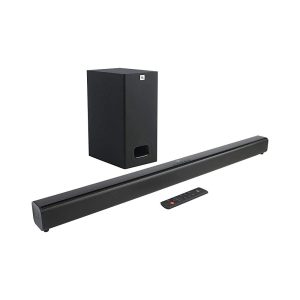 With a 2.1 Channel Soundbar, JBL Cinema comes with Dolby Digital already embedded. It even comes with a wired subwoofer that offers that thrilling bass effect. 

You can even stream wireless music through Bluetooth-enabled devices.

This JBL speaker enables one cable connection through HDMI ARC.

The demo and product installation can be availed free on the purchase of the product. This is also clubbed with a one-year manufacturer's warranty.

The subwoofer comes in a relatively small size (four inches) but offers a significant bass effect and fantastic sound experience for the listeners. 

However, like the JBL bar sound, this speaker does not have the surround sound feature. 

Price: ₹8,999
Item Weight: 5 kg 800 g
Check the cheapest price on Amazon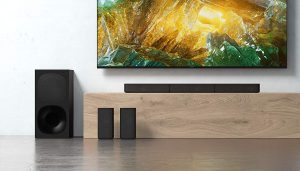 Driven by a 5.1 channel, Sony HT-S20R is an excellent soundbar for your home. It offers the most cinematic experience for any occasion.

The components of this product package are a rear speaker, a wired external subwoofer along with a three-inch soundbar. 

This speaker connects through Bluetooth as well as USB for maximum compatibility. You can connect your TV sets, laptops, phones and tablets to the Sony speakers. 

With 400w power output, it is next to impossible not to have the most perfect and powerful sound experience. Furthermore, Dolby Digital is also embedded in the soundbar.

The connectivity runs hassle-free as it comes with a single cable that can be used to connect TV sets conveniently. 

Price: ₹14,990
Item Weight: 13 kg
Check the cheapest price on Amazon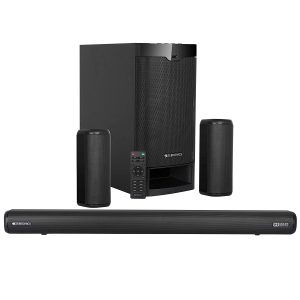 Zeb Juke-bar comes Dolby digital plus embedded with channel 5.1 and a 15.5-inch subwoofer along with two rear speakers. The whole set up offers a cinematic and profound experience. The set-up even renders a thumping bass effect for the best experience.

There are multiple connectivity options like HDMI, AUX and USB. Bluetooth connectivity is also enabled on the Zebronics speaker. 

Another salient feature is the LED Display which makes the experience even better. It also has media controls, remote control and an option for wall mounting. 

It has immersive audio powered by its feature of surround sound. It enhances the sound exponentially.

Price: ₹13,999
Item Weight: 7.7 kg
Check the cheapest price on Amazon
Conclusion
Soundbars are an exciting choice of accessory when it comes to your home. They enhance the experience and make the audio-visual content more profound. Even though there are plenty of ways out there to watch a movie, a cinema hall is the most pleasing one. Similarly, in a time like COVID, when cinemas are shut, we can bring the experience home by indulging in the most immersive sound experience. Looking at the products, we can say that all of these products are well within the budget, and the quality is assured.
Our favourite has to be the Boat AAVANTE BAR; it is loaded with cutting-edge features, and it is priced just right. You must catch the Boat Aavante in time to make the rest of your movies more enjoyable. If you are looking for an even more premium touch to your experience, Sony HT-S20R is the way to go. HT S20R may take up a little space in your house, but what is a little space when an enriching experience is an end. Tessco is another great option if you want to explore the soundbar adventure within INR 1500. It works great as an alternative to speakers for desktop and mobile devices. 
These were some of our favourites. Which is yours?
Also Read:
If you have any feedback, you can send them to us through the comments below.