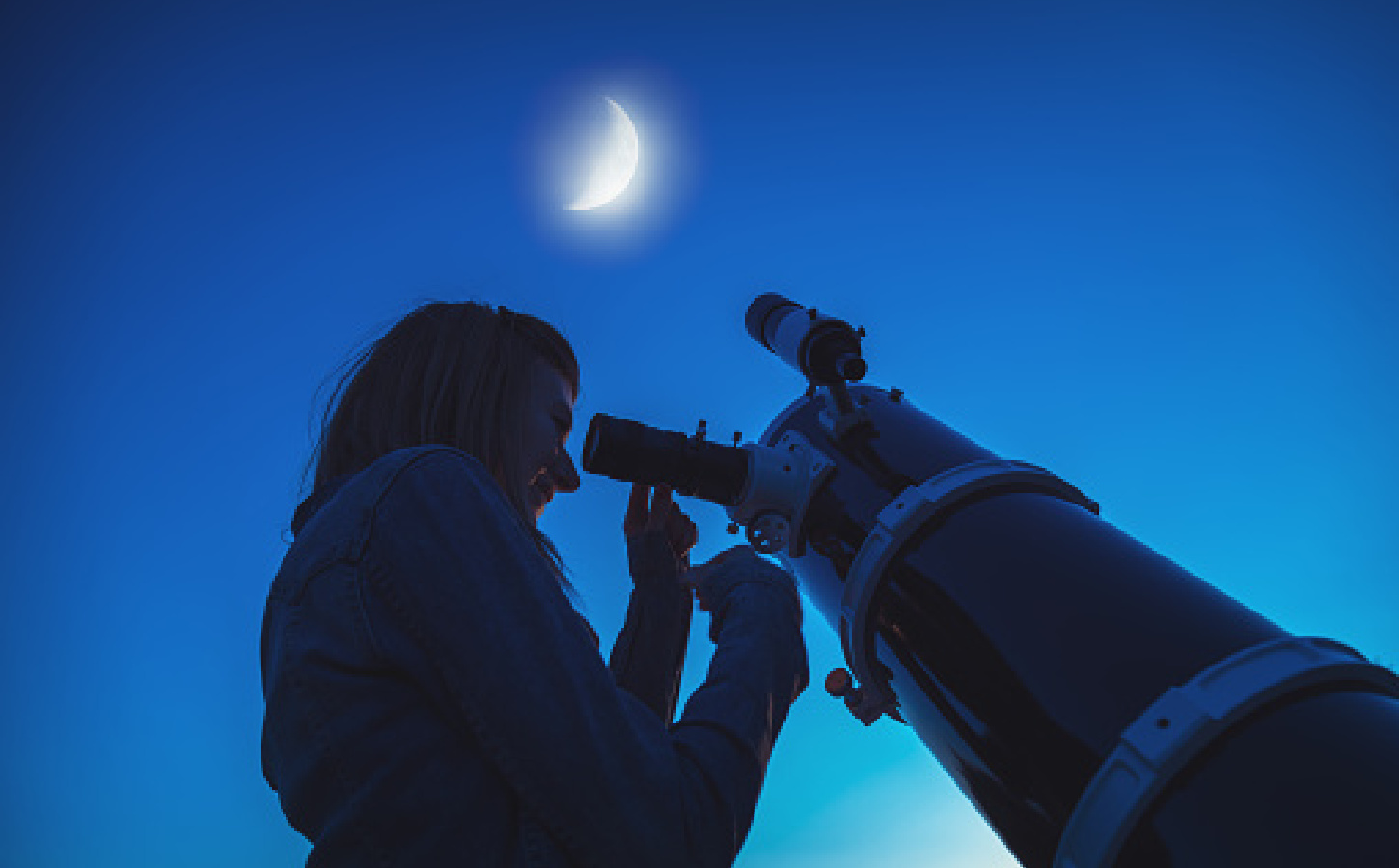 Best Telescope Under 5000 in India
In 1609, Galileo Galilei constructed his own telescope and demonstrated it in Venice, eventually. It has been four centuries until then and the modern-day telescope brings nothing but surprises. I love how they say the sky is the limit and then you get a telescope and find out that the sky is limitless. It is only fair that we keep catching a sneak peek of this limitless universe every now and then. A telescope is greater than just an optical instrument, it is means of education, recreation and even a statement decor piece. Yes, you heard that right, a decor piece – we can't all live under starry skies but we can certainly find them on the best nights. I have picked the best telescopes for you under INR 5000 available in India.
Best Telescope under 5000
The Celestron holds a 50mm objective lens diameter. It is favourable to watch terrestrial and celestial observations. This is a go-to telescope for any use because it has a portable design and you can carry it for camping, hiking, or forests. The supervision done for this telescope is very rare because this is rugged in construction. For a better view, it has a focal length of 360mm. With the help of fully coated glass optical elements and a 45°erect image diagonal gives the proper angle of view and clearer images. The aperture of 50mm ensures you give the best view on low lights.
The wobble-free viewing is obtained with help of the Altazimuth mount. The software 'The SkyX First Light Edition' can be able to comprise a database of whopping 10,000 objects and printed sky maps. It has 75 high-resolution images for identifying various objects. The magnification is up to 118x. The preassembled full-size aluminium photographic tripod gives you the best experience of viewing. This is the best affordable telescope with the best customer feedback.
Check the cheapest price on Amazon
2. Frizen 150X Professional Space Astronomical Monocular Telescope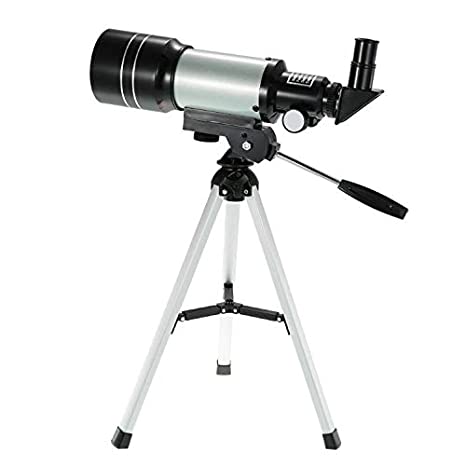 If you are a beginner and trying to find out which is the best telescope you can start with then Frozen 150X is the best choice. Because this telescope is best suited for beginners and kids. This comes with a 2X Barlow mirror and a couple of eyepieces I.e., H20mm, and H6mm. So the modification obtained is up to 15X to 150X. So this will be best suited for watching the moon, planets, and stars. It has a 70mm aperture so the vision will be a very clear and focal length of 300mm. This has a phone adapter so this helps you to share the pictures on your social media. It has a metal moon filter, this allows you to watch the moon during the full moon. For a better view, there is a 90° adjustment in the vertical direction and 360° in the horizontal direction.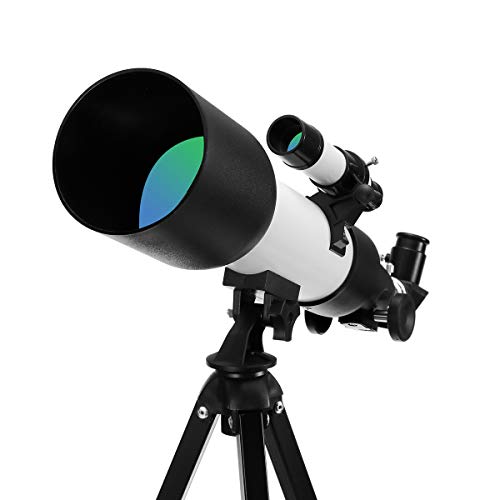 This telescope has a tripod with the adjustment at five levels for better sky gazing and this can be well suited for any age group. It has a 300mm focal length and aperture of 70mm. The view of the telescope is clear and surely it will be a feast to your eyes because it has Multi-layer high light transmittance coated lines. The precise positioning star finder allows you to easily locate the stars in the sky. This telescope comes with a phone holder for taking pictures on your phone. The H20 eyepiece gives the magnification of 15 times and another eyepiece of H6mm which can give 50 times magnification. The telescope outlook is classy because the material used is metal. This is a go-to telescope if you want to gift it to your kids or a beginner astronomer.
Check the cheapest price on Amazon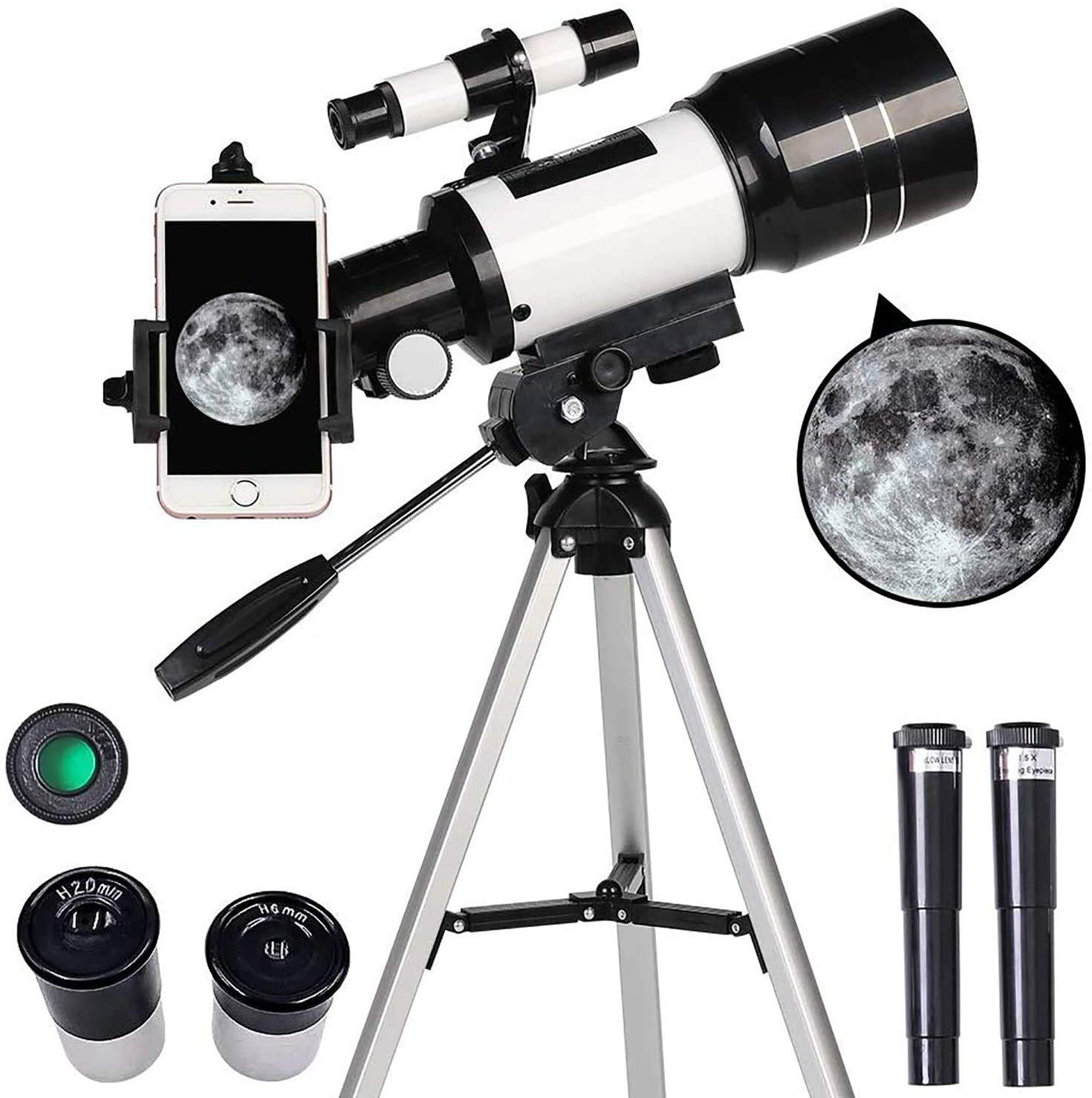 This is the best telescope if you are a beginner or want to gift it for any kids to develop their scientific knowledge in the field of astronomy. It has a 3X Barlow lens. The two eyepieces included in this are H20mm and H6mm. So the magnification is 15X to 150X. The telescope comes with a smartphone adapter and one wireless camera to snap the beauty of celestial bodies. It has an aperture of 70mm and a focal length of 300mm. So the vision is clear and brighter. There is a manual that assists you to install and assemble.  This is best suited for kids because it is easy to install and handle. You can carry this telescope anywhere you want because it is easy to assemble and disassemble.
Check the cheapest price on Amazon
5. LUCARIA 90X Zoom Astronomical Land and Sky Refractor Telescope
This telescope is suited for kids, adults and teenagers and it is handy while you are driving, hiking, watching wildlife, concert, bird watching, travelling. This telescope has an optical glass lens of good quality and a metal optical tube. The telescope is equipped with a 90x advanced land sky monocular refractor telescope for witnessing the night stars and day sky. It has a tripod for steady observation of celestial bodies. This telescope is made in India. The material used for this telescope is metal. It is easy to install.
6. Anand Traders 50500 Astronomical Telescope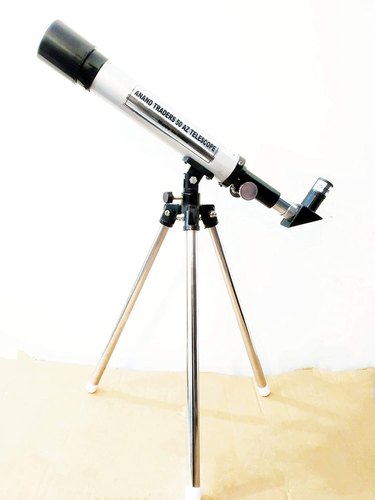 This telescope has the best zoom capability so you can view the moon craters, the beautiful things of Saturn clearly, the satellites of big giant Jupiter, and also the m45 star cluster. It has a 50mm achromat doublet objective and also a focal length of 500mm. The eyepieces available in this telescope are 25mm and 8mm. The tripod is 18 inches. This telescope is made in India. If you are a beginner astronomer and want to hands-on telescope then this is the best telescope recommended at this price level. This product has the best reviews by the previous buyers. So it is an affordable at the same time qualified product. This can also be gifted to your friends or kids who are trying to study astronomy at entry-level.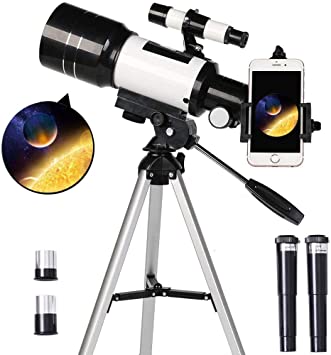 This telescope is equipped with two eyepieces, it allows you to target different magnifications for different targets. The H20mm and H6mm eyepieces are used to watch the surface of the moon and craters of the moon, moon sea respectively. The respective magnification gives you the experience of watching the target easily. The height of this telescope is 40cm and it is very easy to install. It has a 70mm long diaphragm object lens to make the image brighter, sharper. The tripod is made up of aluminium so it is lightweight and durable. This telescope is applicable for bird watching, surveying the environment, observance of sun, moon, planets, maritime reconnaissance landscape, geographical supervision.  This is an affordable telescope for people who want to develop their scientific knowledge.
Check the cheapest price on Amazon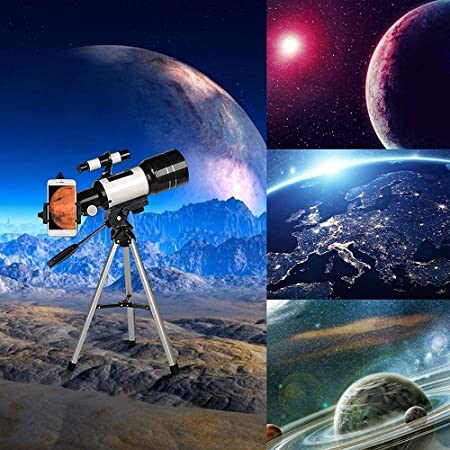 This telescope has all the requirements for a beginner or kids. It has a 2X Barlow mirror. The two eyepieces included are H6mm and H20mm. The magnification for kids is 15X to 150X. It had a focal length of 300mm and an aperture of 70mm. So the images will be brighter and clear. The telescope is delivered with a backpack. This is a 70mm telescope and it holds the phone adapter to connect to your phone and share the images with your friends or on social media. There is also a metal moon filter(green) to protect your eyes from glare during full moons. There is also a constellation diagram to develop your knowledge and find the constellation easily while gazing. It has one 90° mirror and finder scope. This telescope can also be used to view wildlife, scenarios. This telescope has a capability of 99% transmission of light. This telescope is made in china. It also has the best customer review.
Check the cheapest price on Amazon
Conclusion
So now you know, you do not have to keep telling yourself that your dream to buy a telescope is expensive. These are some of the best telescopes under INR 5000 that you can, almost literally, lay your eyes on. My personal favourite is Celestron and I have personally recommended this to so many people, I've lost count. While buying the telescope the most important you must consider is the aperture. Anything above 70 mm aperture is a good buy. The more the aperture, the better the attention to detail.
I hope you liked the article and it helped you find the best telescope for your home.
Also Read: 7 Must-Have Cool Gadgets