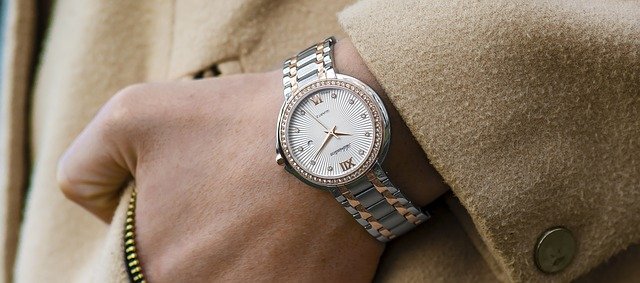 10 Best Watch Under 10,000 in India 2021
"Time is money, my friend"- People keep saying that. But where to keep track of your time? Obviously, it is your wristwatch. So, for those who are looking for some budget watches, here we are with the 10 best watches under 10,000. 
I know if you start looking for something smart, technically advanced, and yet classic, finding one under this budget can be a challenging job. But, you don't need to look any further. 
Down there, you will find watches that people are loving the most. Good news? They are all so damn reasonable; you don't even need to think about the price anymore. 
So, enough bragging, let's start with the list of the best watch under 10000 in India. 
Best Smartwatches
Let's begin this with some excellent smartwatches. So, here are the top 5 ones. 
1. Xiaomi Mi Watch Lite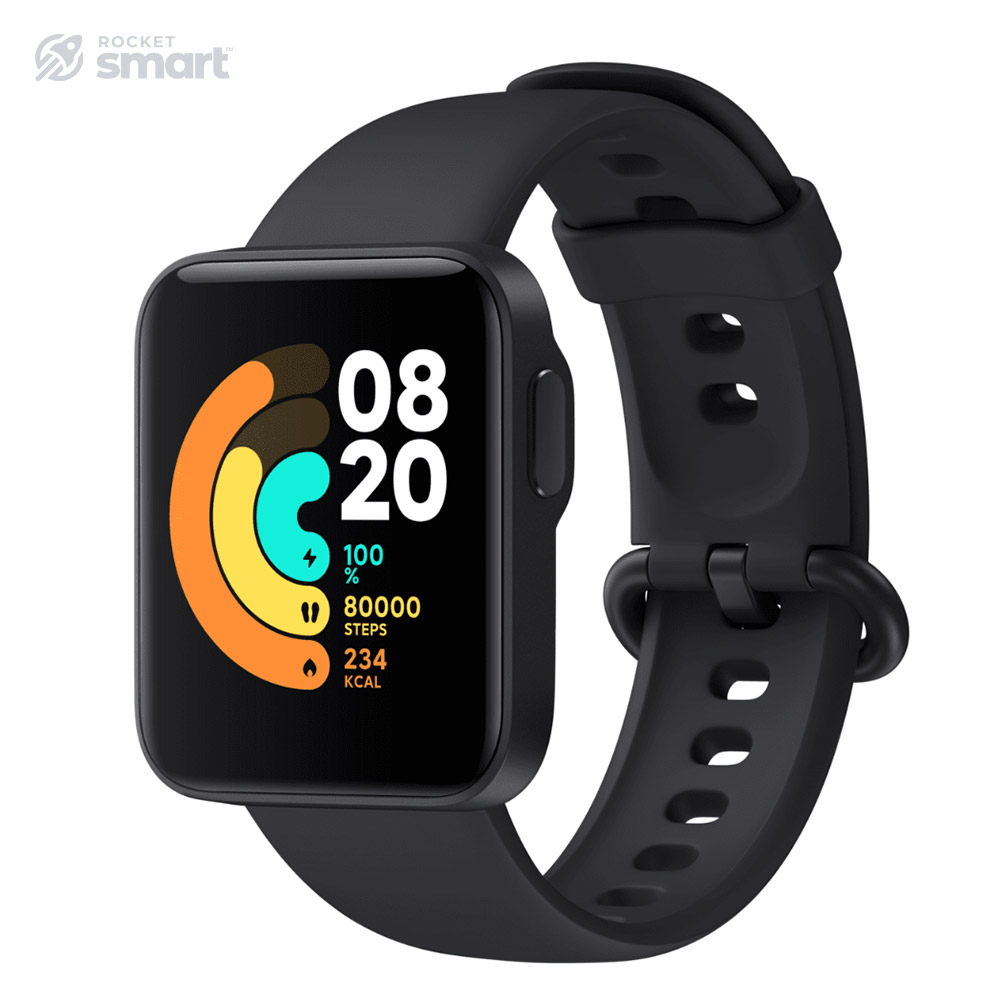 Being a more extensive and better-looking design than other Xiaomi watches, Its Mi Watch Lite has excellent features that you would just love to have. What is so special about it? Well, this is the watch that comes with GPS connectivity. What does that mean? It means you don't need to depend on your mobile GPS to keep track of your workout routine.
It won't be wrong to say that this one is best for you if you work out more often. There are around 11 options available for you, like running and cycling. There is a monitor to help you see your heart rate, blood flow, and much more. So, a pretty good option for that passionate athlete inside you.
Features of Xiaomi Mi:
It comes with a 1.4 inch TFT LCD screen (320 X 320 pixels)

350 units Brightness.

60% NTSC color space

Super comfortable and elegant-looking matte black strap. 

There is 230 mAH battery life. 

Comes with exciting magnetic charges.

Costs you Rs 10,000.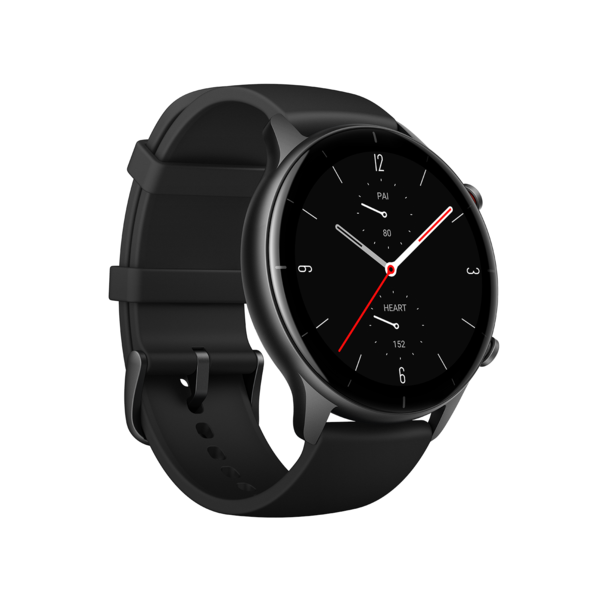 This is our next best watch you can have under just INR 10,000. AmazFit GTS 2e is, just like it says, known for its incredible fit. Plus, it looks classy on your wrist. To talk about its features, you will get unique functions in its tiny 1.39-inch display.
One best thing about this watch is its battery that works for 24 days straight. How awesome? There is in-built Wi-Fi support. But if you are a sports person, there cannot be a better option because this has over 90 sports modes.

Features of AmazFit GTS 2e
Trendy Alexa support.

580 watts water-resistant, works excellent underwater. 

You'll get a GPS connection. 

Supports Health assessment and sleep monitoring. 

Get your watch-microphone

It'll cost you Rs 9,999.
Check the cheapest price on Amazon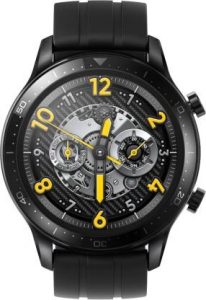 Talk about budget watches? RealMe is the brand you need and trust. Now, this Watch S Pro has this beautiful circular-shaped dial of 1.39-inch diameter. The display of this watch is quite remarkable. What you will notice is that it supports more than 100 display faces. How amazing is that?
Let's talk about its battery. This one works for 7 days once fully charged. It usually takes around 2 hours to set this watch completely. But, if you switch on its power-saver option, it will go for like 20 days. Besides, this one has 50+ sports display mode with exciting monitoring systems.

Features of RealMe Watch S Pro:
Stylish looks

Oxygen and heart rate monitor

Controls your camera and music

The stainless steel glass case

454X454 resolution

Water-resistant

Comes at a price of Rs 9,999. 
Check the cheapest price on Amazon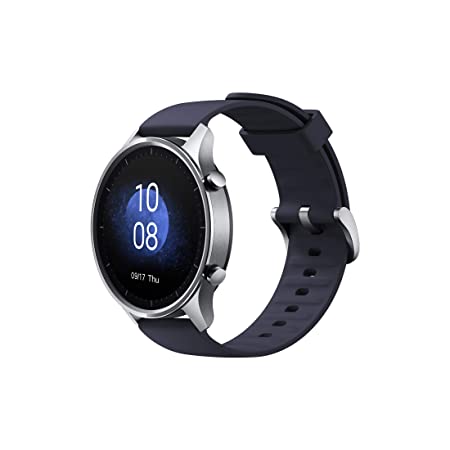 Again one fantastic product by Xiaomi. This Mi Watch Revolve was launched in 2020 in India, and since then, people have been going crazy for its functions. It has this gorgeous round screen of 1.39 inch with a pro-level HP Amoted Display.
Well! Obviously, you spend damn 10k on a watch; it has to be super protective. No worries because this Mi Revolve comes with a super-protective and robust Corning Gorilla Glass and a stainless frame. Besides, it has this gorgeous metallic body that gives it more of an aesthetic look.
Features of Mi Watch Revolve:
It comes with a PPG heart rate sensor to track your real-time activities.

Automatic light detector

It has a sleep quality monitor

There are over 10 sports modes.

In-Built GPS support

Works with Bluetooth 5.0 

100+ watch faces

The battery works for up to 14 days.

It will cost you somewhere around Rs 9,999.
Check the cheapest price on Amazon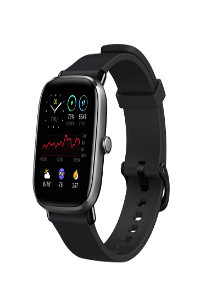 You know, Amazfit is so unique that we have to list its other models as well. Now, why Amazfit GTS 2 mini? It's because we loved the performance of GTS 2e, but that would be out of budget. So, here is its mini version that comes with a great feel, classy looks, and the perfect features you want.
In its 1.55-inch display screen watch, this amazing watch works for 21 days straight once charged fully. If you are a sports lover or included in a lot of physical activities, this is a great fit. Here, you will find more than 70 sports modes and many other functions that will help you with it.

Features of Amazfit GTS 2 mini:
It has sleep, activity, and stress monitoring functions.

Renowned for its best-buy title.

Bluetooth connectivity

Heart Rate reader

Get your Alexa assistant

Known for its quick and smooth functions.

Absolutely value for money

It will cost you a Price of Rs 7,000.
Check the cheapest price on Amazon
Best Manual Watches
Now, let's see what all manual and elegant-looking watches we have under INR 10,000.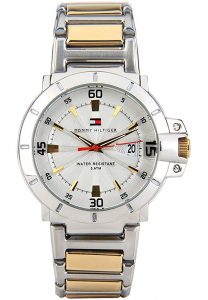 This one is a men's watch that will surely create an image of your personality. Tommy Hilfiger itself is one of the most reasonable and internationally renowned brands for its gorgeous creations. So, this Analog Silver Dial men's watch is what you need for your fashion statement. 

Features of Tommy Hilfiger Analog Silver Dial:
It is a water-proof watch.

It weighs 170g, so, pretty lightweight.

Comes with a leather band

Dial with a diameter of 42mm.

You will get a warranty of 2 years. 

It will cost you around Rs 8,500.
Check the cheapest price on Amazon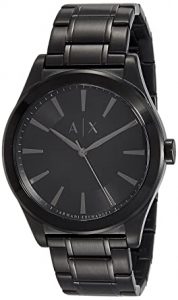 Here comes Armani, which is one of the best pocket-friendly luxury brand coming straight from Italy. Now, as we talk about its watches, you cannot resist having this magnificent Analog Men's watch. Trust me; you will not regret marking your fashion statement with its manly look. 

Features of Armani Exchange Men's watch:
Comes in black and white colors.

Has a water-proof body.

Weighs 408g, comparatively heavy.

Has a 46mm diameter dial. 

Beautiful metal straps

2 years warranty.

It costs just Rs 7,000.
Check the cheapest price on Amazon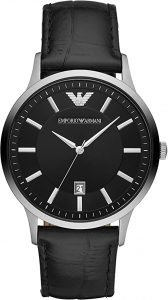 Well! One big difference between Exchange and Emporio Armani is their substantial price differences. Emporio being the expensive one here. But this Analog Men's Watch is what makes all the similarities here. More price= More luxury look and features. So, down there are the features to have a look at:

Features of Emporio Armani Analog Men's Watch:
It weighs something like 250g.

Comes with a 41mm dial.

Matte-finish leather strap.

Water-resistant body

It has a stainless steel metal case

2 years warranty remains constant.

It will cost you Rs 9,000.
Check the cheapest price on Amazon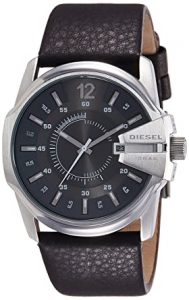 Again we have something from a famous Italian brand, Diesel Analog Men's Watch. Just like the other 3 this one also receives immense love for its remarkable looks. But one thing that makes it different is its oversized dial and textured straps. So, if you are not looking for something sleeky, this is your go-to option. 

Features of Diesel Analog Men's Watch:
Stainless Steel case body

Brown Textured leather Straps

It weighs 300g, can be a little heavy.

Dial with a diameter of 46mm.

30-meter waterproof body.

Comes with 2 years of warranty.

Costs somewhere around Rs 9,000.
Check the cheapest price on Amazon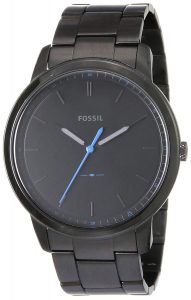 I know what you must be thinking. We have been talking about the best watches, but there was no mention of Fossil. So, here you go. You are presenting the best watches brand in the world- Fossil Analog Men's Watch. Fossil often comes up with cheap prices while launching its watches. So, this one is a really great option. 

Features of Fossil Analog Men's Watch:
The dial has a diameter of 44 mm

Stainless steel matte-finish body.

Black Matte Finish Metal Strap.

Weighs 250 gms

Has a warranty of 2 years.

Costs Rs 10,000. (To the point)
Check the cheapest price on Amazon
Conclusion
Having the best watch under 10,000 in India is quite a pretty reasonable range. But when it comes to smartwatches, this is something cheap. But these 5 best smartwatches will surely give you everything you were looking for. 
Still, nothing can replace the classic feels of that mainstream wristwatch. So, here you go, have the best brands with their world-class watches at super low prices. 
What are you waiting for now? Go and order one for yourself right away. You never know, when some price may even drop. 
Also Read: The Best Non-Chinese Watches in India 2021