Best Bluetooth Earphones in India in 2020
Did you know that headphones, a precursor of earphones, were the only way to listen to audio signals before the amplifiers were invented? They provided poor sound quality and worked on a much different principle than the ones we know today. You will be even more surprised to hear that the first headphones were invented in the 1880s, way before MP3s, dubstep, and Spotify.
Finally, in 2001, the iPod slightly changed the music universe by releasing earbuds. Almost twenty years have passed, and here we are, massively using earphones, now with a Bluetooth connection. Of course, the wireless connection is used to make things as simple as possible, by getting rid of annoying cables. However, getting the right earphones might not be as simple as it seems.
In this article, we will make choosing the right earbuds be an easy task for you. We will talk about all the qualities that the right earphones should have, and of course, provide you with the best options that you can find in the market.
| Model | Type | Max Battery Life | Water-Resistant | Good for Sports | Noise Cancellation | Rating |
| --- | --- | --- | --- | --- | --- | --- |
| Noise Shots X5 | Completely Wireless | 16 hours | Yes | Yes | Yes | 5/5 |
| Jabra Elite Active 65t | Completely Wireless | 15 hours | Yes | Yes | Yes | 4.5/5 |
| Bose SoundSport Wireless Earphones | Neckband | 6 hours | Yes | Yes | No | 4.5/5 |
| Sony Extra Bass MDR-XB50BS | Neckband | 7-8 hours | Yes | Yes | Yes, but not too much | 4.5/5 |
| OnePlus Bullets V2 | Neckband | 14 hours | No | No | Yes | 4/5 |
| Tagg Inferno | Neckband | 7 hours | Yes | Yes | Yes | 4/5 |
| Sony WI-C400 | Neckband | 15-16 hours | No | No | No | 3.5/5 |
Qualities That Great Bluetooth Earphones Should Have
Easy charging. Nobody likes to be muddled up in a big collection of chargers in their home. Nowadays, most chargers are universal, and the same should apply for your Bluetooth earbuds. Therefore, you should be able to charge your earbuds via USB port, which will reduce the number of chargers in your crib and keep things simple.
Excellent filtering. The fact is, you won't use your earphones only to listen to music. Bluetooth earphones are also a great way of taking calls on the go. You need to be sure that they can properly filter out the surrounding noise so that there is a decent clarity while you talk. Besides, the filters should function properly and use the latest technology that allows easy repair.
The ability to talk through earphones. Not many earphones have that feature, but it's very useful. It allows two persons to talk without even calling, by letting earphones communicate with each other. Of course, to do that, you would have to stay in the Bluetooth range of 10-15 meters.
Proper accessories. You should take a note about the minimum accessories that Bluetooth earbuds should have. Since you don't want accessories to fill up the entire bag, an earpiece that can directly connect to the charger is a great solution.
AI control. Imagine how awesome it would be if you could install Alexa on your earbuds. Well, in some way, you can find earphones with a similar feature. Although they usually cost a lot more, they allow you to control the earpiece with your voice. Not only that it's wireless, but you literally don't need to use your hands after you put the earbud in the ear. It significantly simplifies stuff.
Portability. Good portability is, by all means, one of the most important things to have in mind when buying Bluetooth earbuds. You want them to be used across a large number of devices without any problems. Besides, when it comes to size, every earphone Bluetooth can usually fit in the pocket and be carried everywhere, so if your Bluetooth is too bulky, it might be a problem in the long run. Note that some devices also use NFC technology, which is relatively new and performs great!
Besides all of the listed features, there are other features that you should look for, such as shape, color, manufacturer, and so on. Also, your earphones should be able to perfectly capture your voice in various environments, such as an echoing hallway, for example.
People say that buying the right Bluetooth earbuds is an art that can only be mastered with experience; at some point, we agree. That's why we are presenting you with the best models out there, to save you both time and money.
Top 7 Bluetooth Earphones in India in 2020
#1 Noise Shots X5
Type: Completely Wireless | Max Battery Life: 16 hours | Water-resistant: Yes | Optimized for Sport: Yes | Noise Cancellation: Yes
+ Amazing sound quality
+ Beautiful design
+ Comes with a practical carrying case
+ Extremely comfortable
− Not ideal for taking calls

As you might have noticed, since Apple released the AirPods back in 2016, every audio gear company tried to make something more or less similar. The fact is that a completely wireless design requires very smart engineering, and that's why most manufacturers make earbuds with neckbands.
Noise, a company popular for bringing expensive concepts to people, but for affordable prices, has made something similar. So, what you get are two very small earbuds that sit in a carrying case. They are extremely comfortable, and their design makes it almost impossible to fall off. You also get an extra bunch of tips, in case the original ones are not comfortable.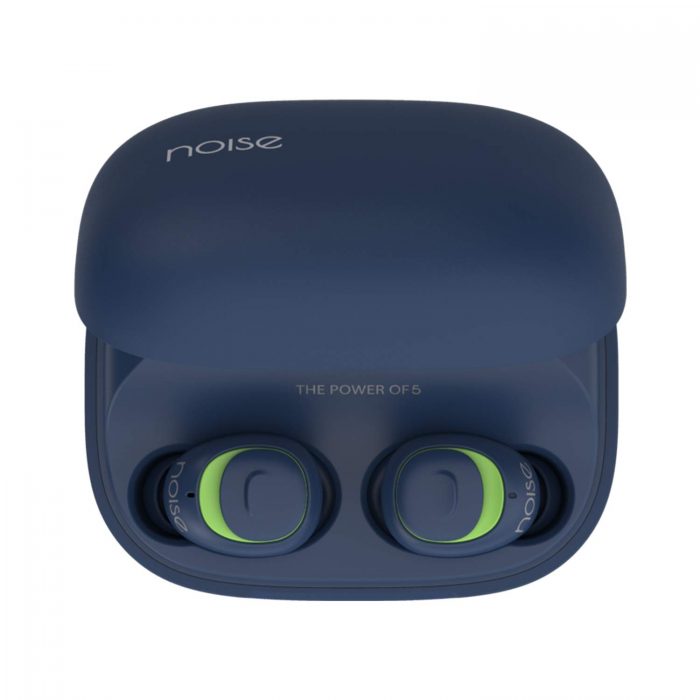 Both of the earpieces have a power button on them, which can also be used for initiating pairing. The buds have LED indicators, which are very subtle. They glow white when the buds are charging, and red when the battery is low or they are disconnected.
However, beauty doesn't end with earbuds. The carrying case, which looks similar to a contact-lens box, makes the whole thing very smart. For example, the slots in which earbuds sit have magnetic pins that start charging as soon as you put the buds on them. Also, as soon as you pop out the earbuds, magnetic housing immediately activates the Bluetooth connectivity. It comes with an awesome 2200 mAh Li-ion battery, so you don't need to charge each of the buds individually. Besides, each earbud holds a 60 mAh power reserve, just in case.
Since the connectivity itself is a very important factor, Noise has taken care of that, too. X5 comes with Bluetooth v5.0 and never lags. The connection reminds stable no matter if you use an iPhone or Android device.
One of the best aspects of Noise Shots X5 is audio quality. It's a very pleasant surprise since we didn't expect wireless earphones to sound that great. Noise Shots X5 comes with an extremely rich and full sound, and a well-balanced soundstage. After a full week of testing, we noticed that earphones literally provide a clear and crisp sound in all frequency levels – amazing bass, and excellent mids and treble.
The only downside that we noticed about these earphones is taking calls. Yes, there is a stereo mode presence when calling, but the problem is in the microphone. Since it's far away from your mouth, it might be a bit tricky to talk in the louder environments. However, if you are in a quiet room, you will face no problems.
We can say, with full confidence, that Noise Shots X5 is the best that you can get for the money. If you want a truly amazing set of earphones, don't miss Noise Shots X5!

#2 Jabra Elite Active 65t
Type: Completely Wireless | Max Battery Life: 15 hours | Water-resistant: Yes | Optimized for Sport: Yes | Noise Cancellation: Yes
+ Built-in accelerometer
+ Full focus on sports
+ Excellent bass
− Relatively tight

Incredibly comfortable earbuds with an amazing battery life of up to 15 hours and accelerometer for run tracking. If you are looking for the best wireless earphones for working out, look no further – Jabra Elite Active 65t is your best choice.
These earphones are small, sleek, and simple. No one will notice your Jabras, unlike Apple's AirPods which are noticeable from a kilometer away. They are circular-shaped, with a small "arm" that help to better fit the ear.
You can find them in black and blue variants, with titanium inlay for the black, and copper for the blue. On the left earbud, there are notches that show where to skip or repeat tracks.
The earbuds come with a small, oval, charging case. It stores the Elite Actives and keeps them from getting lost, while also, it looks very cute. However, a downside about the case is that it's a bit difficult to open. It took us some time to figure that you have to squeeze and open the case at the same time while prying it apart with your fingernails.
When it comes to comfort, Elite Actives are probably the most comfortable earbuds that we tested so far. Some sets can be uncomfortable because of the specific design that keeps them in the ears and prevents falling off. However, these earbuds are very comfortable, and still, they sit securely in the ears. We tested them while running, walking through the city, and cycling. In all three cases, they didn't move at all. It's amazing!
Another interesting feature about Elite Active is that they come with a built-in accelerometer. It doesn't log automatically, so you will have to open Jabra Sound+ app, and tap the button to start tracking your progress. There is also Active Mode which allows in ambient noise, via the Jabra HearThrough feature. Besides, the app will provide you with useful information, such as the time elapsed and steps per minute.
You can also find audio presets in Jabra Sound+ app to fine-tune the sound. There are preset profiles, such as Bass Boost, that works fantastic! No sound cracking or distortion, even at high bass volume. It delivers an awesome sound, especially for the workout, since the in-ear tips perfectly block all the outside noise. Also, phone calls are loud and incredibly crystal to hear.
As mentioned, the earbuds battery lasts for around 15 hours, however, it's a bit tricky. The buds itself can last for around 5 hours, so you will have to put them in a charging case in-between workouts, for an additional 10 hours. Only after that, you will have to charge the case.
Elite Active earbuds are awesome, and yet, they are two times cheaper than Apple's AirPods pro. After many hours of testing, all that we can say is that we are overly satisfied with these earbuds, especially when it comes to workout. Be sure to check them out!

#3 Bose SoundSport Wireless Earphones
Type: Neckband | Max Battery Life: 6 hours | Water-resistant: Yes | Optimized for Sport: Yes | Noise Cancellation: No
+ Very comfortable
+ Good for calls
− Not good for noisy environments

We couldn't help but mention Bose SoundSport. Yes, they are expensive and cost even more than some Bluetooth speakers, but they've got much to offer. So, what makes Bose SoundSport so great?
Well, at first, it's very comfortable to wear, it's well built, sounds excellent, and looks outstanding. Are there any drawbacks, then? Of course, every product has its drawbacks, but we'll come to that later. For now, it's enough to say that, despite its drawbacks, Bose SoundSport is a very good choice.
As you can notice, it has a specific, "open" design. What it means is that, unlike most earphones, you don't have to jam the earbud into your ear and seal off your ear canal completely. Instead, thanks to its StayHear+ eartips, the buds sit loosely on your ear, while still remaining secured in place.
SoundSport is equipped with different eartips than Bose's earlier earphones, so they are not interchangeable. Also, due to their design, you might have some trouble wearing these under some helmets.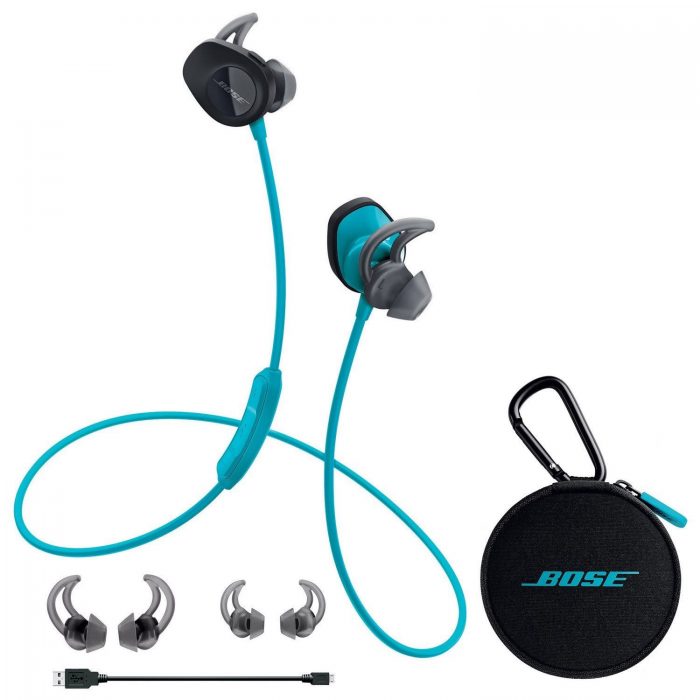 The earpieces are a bit bulky, although they don't feel heavy while wearing. It's true, they could have been more discrete-looking, but with today's battery life standards, it's an art to create small earphones that will serve you for hours.
Many rival headphones, such as Monster's Adidas Sport Adistar for example, allow you to shorten the cord length, in case you want earbuds to be closer to the neck. SoundSport doesn't have that feature, however, it comes with a specific clip that you can hook on the back of your shirt to keep the cord from moving. It seems like a pretty low-end solution, but it works perfectly. The cord will remain very stable, even if you use them while running.
The only downside is related to its open design. It looks awesome, but the truth is, it does let ambient sounds to leak in. SoundSport is not a perfect choice for noisy environments. However, if you are outside biking or running, it won't be a problem. You will be able to listen to your favorite music, and at the same time, you will know if a car is coming. That's why most bikers and runners prefer open-design headphones.
As we could expect, the headphone is sweat- and water-resistant. It also comes with a mic and a remote that allows you to skip songs, adjust the volume, and take calls. SoundSport provides a very reliable and stable Bluetooth connection with minimal hiccups.
These Bluetooth earphones are available in two colors – black and aqua. No matter which one you choose, both look fantastic. However, you should know that it needs the Bose Connect app to work, and also, wireless charging is not available. Other than that, you won't find better earphones for the price!

#4 Sony Extra Bass MDR-XB50BS
Type: Neckband | Max Battery Life: 7-8 hours | Water-resistant: Yes | Optimized for Sport: Yes | Noise Cancellation: A little bit, but not significant
+ Amazing bass!
+ Supports NFC connection
− No 3.5mm port for wired connectivity

With a very good low-frequency (bass) performance and water resistance, XB50BS is one of the best activity-orientated wireless earbuds. Although mids are a bit compromised and the design is slightly awkward, it's still the best choice in this price range.
When it comes to audio, XB50BS sounds quite sweet. It's obvious that the focus is mostly on bass, but higher notes are also soft and sound pleasant. Mids, however, suffer a bit because of the heightened low-frequency performance. You will notice it only in particular songs, where the voice sounds a bit thin. They lack a bit of emphasis on leisure listening, but for a workout, they are great.
As you can notice, they seem a bit bulky, but it's mostly to keep them in place during various activities. On the right piece, you can notice a power button and volume controls, with a MicroUSB charging port on the rear of the earbud. Also, the buttons are placed on the bottom side of the earpiece, which makes them convenient and easy to access in any situation.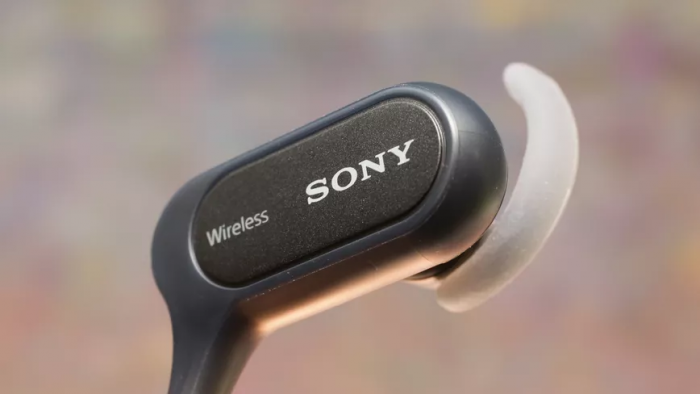 A little downside that we found is that you don't get a 3.5mm port for wired connectivity, so you have to make sure they are constantly charged. Also, a neckband is convenient and prevents from losing one of the earpieces while not using them. You can also keep them suspended around your neck when you are taking a break or talking to someone, and although a bit bulky, they are still pretty light. You won't notice any pressure on your ears while wearing them.
An awesome thing about XB50BS is that besides Bluetooth, it can also connect via NFC. We tested it while 12 meters away from the smartphone, and it still worked pretty great. The battery life is excellent, and XB50BS can last up to 7 hours, while it needs less than an hour to completely charge.
It's very impressive in terms of the audio it provides, compared to the other earbuds in the same price range. The slight compromise in the balance of the mids is noticeable but other than that, it is definitely convenient for sports usage.

#5 OnePlus Bullets V2
Type: Neckband | Max Battery Life: 14 hours | Water-resistant: No | Optimized for Sport: No | Noise Cancellation: Yes
+ Bluetooth v5.0 for a best, stable connection
+ Quick charging is awesome
− The microphone is definitely in a bad position

Although not water-resistant, these earphones have much to offer. They come with Bluetooth 5.0 version, excellent isolation, quick charging, immersive sound quality, and much more. Of course, they also look very nice, with the buds which look like bullets.
When the first version of "Bullets" was released, it received numerous positive critics. The good thing is that the second version is similar to the first but significantly improved. Sound quality is much clearer, and the bass is excellent.
The neckband design is cable-like, minimalistic, and it's hard to notice. It seems that the focus was mainly on the earbuds. Also, a neckband is made of very smooth coating that provides a very comfortable amount of friction when wearing.
Unlike the original Bullets Wireless, you will notice that the wingtips are not included. You will get three pairs of ear tips which perfectly stay in place. However, don't forget that you shouldn't exercise with these. They are not water- / sweat-proof, and OnePlus' safety information strictly advises not to let earbuds contact any liquid. Warranty doesn't cover any damage that occurred due to contact with liquid. Honestly, we are not sure why such good earbuds are not waterproof, but that's how it is.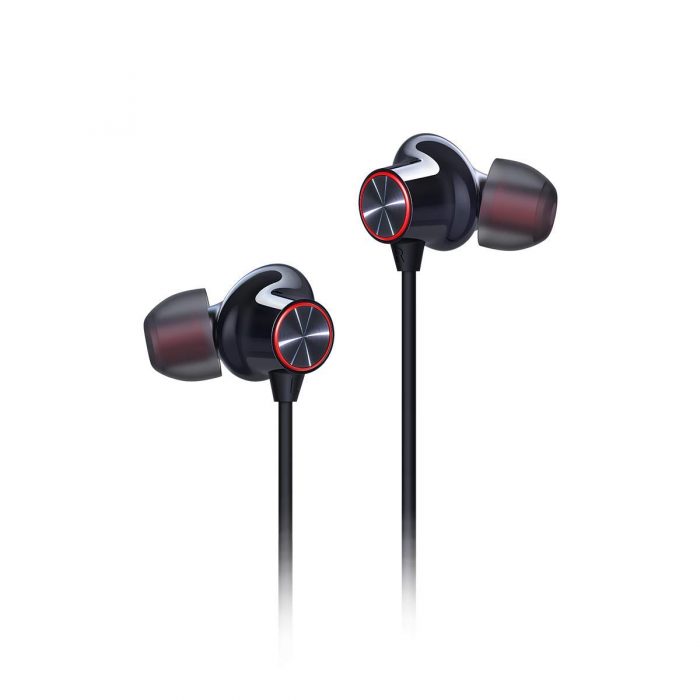 Another great thing is that the battery is not an issue for OnePlus Bullets V2. We have tested them and can confirm that, as the OnePlus states, you can actively use them for up to 14 hours. Sometimes even slightly more. When the battery gets depleted, you can charge them with the USB Type-C cable. However, if you are in a hurry, a quick-charge option is fantastic. After only 10 minutes connected to the cable, you will get an additional 10 hours of playback.
Let's talk a bit about the Bluetooth connection. Is it good, and why does it matter? The fact is that different phones decode Bluetooth audio codecs with different efficiency, which means that how an earbud's sound also depends on the phone itself. For example, if you use OnePlus V2 with OnePlus 6T, you will experience less latency, then if you used Huawei Mate 20 Pro. Bluetooth 5.0 also allows you to pair earbuds with various devices, and you can easily switch between devices by double-tapping on a shortcut button. As simple as that!
The sound quality of OnePlus Bullets V2 is impressive. Bass is a bit louder, but it doesn't seem to be a problem since it's very clear. Isolation is excellent, and since most of the outside noises are blocked, you won't have to turn on the volume to potentially dangerous levels. You can enjoy your favorite music, at a normal volume, without any environmental sounds interference.
But is it good for phone calls? The first thing that we noticed about the microphone is that it's very good, but it's placed in a bad position. If you wear a jacket while talking, the mic can often get rubbed against the collar, which can make unpleasant, cracking noises. Therefore, you would have to make sure that the microphone is fixed and not swinging into your clothing.
Basically, if you are looking for an affordable, yet awesome Bluetooth earbuds, OnePlus Bullets V2 is a very good solution. Although not everybody likes the neckband design, with these earbuds, it's very sophisticated. On the other hand, if you are not a passionate music listener, and don't care too much about the audio quality, you might be more interested in the original OnePlus Bullets that cost much less.

#6 Tagg Inferno
Type: Neckband | Max Battery Life: 7 hours | Water-resistant: Yes | Optimized for Sport: Yes | Noise Cancellation: Yes
+ Very nice design
+ Excellent noise cancellation
− A little bit fragile

The first thing that we noticed on Tagg Inferno is a beautiful, a bit sci-fi design. It looks awesome, and also, its ergonomic design provides the highest degree of comfort. However, the design is not the most important thing to look for in wireless earphones, so let's see what else does it have to offer.
The Bluetooth 4.1 CSR technology and all the other high-end components provide awesome sound quality. It makes you feel like you are listening to live music. With its Stable Signal Transmission feature, you can enjoy an extreme clarity in the sound. We can confidently say that when it comes to noise cancellation, these earbuds are among the best! The noise reduction feature does a great job of preventing outside sounds from coming in, such as the sound of airplanes, traffic, or any hustle in your office.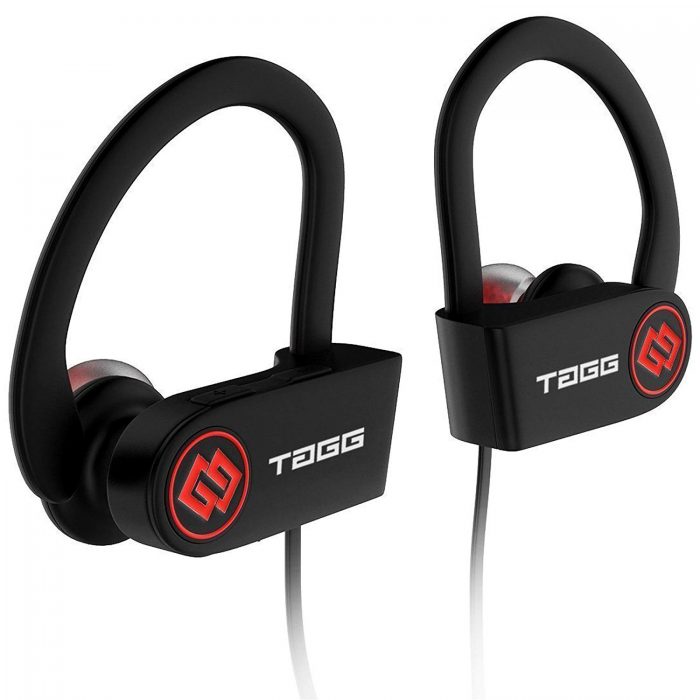 Besides, a nice, ergonomic design prevents the earbuds from slipping out while jogging or cycling. It comes with a hands-free calling feature that allows you to accept or reject calls while in the middle of any activity. Because of extreme clarity, it's even possible to make Skype calls and video conferencing.
The 100 mAh battery is very good and allows you to listen to music for up to 7 hours, non-stop. Also, you can recharge the earbuds via a USB port in a pretty decent amount of time. The only objection that we have is about the long-distance calls, which can be slightly uncomfortable, and the padding could have been better.
Other than that, Tagg Inferno is light, has an awesome battery, and provides a terrific music experience. It's relatively cheap and we are sure that you won't find anything like that in that price range.

#7 Sony WI-C400
Type: Neckband | Max Battery Life: 15-16 hours | Water-resistant: No | Optimized for Sport: No | Noise Cancellation: No
+ Excellent battery for that price
− High latency

To be honest, WI-C400 is not the best earphones when it comes to listening to music. They have high latency and a bit heavy treble, that might often sound piercing. If you have a developed music ear and want to perfectly hear every single instrument in a song, it's not the best choice for you. However, if you occasionally listen to music, or want to use them in your office, they are a very good, affordable choice. WI-C400 is also pretty lightweight, provides easy and quick connectivity, and has a decent battery.
We could notice that Sony has made some impressive noise-canceling earphones over the last few years. Besides, earphones with neckbands have become quite popular recently, since they provide an almost wireless experience and come with a much better battery.
As you can see, WI-C400 doesn't look too special. It's neither ugly nor beautiful. Yes, they are flexible, but you can't twist them and put them in your jeans' pocket.
It has a minimalistic design, with a thing that goes behind the neck, and two casings at both ends. They are used to carry the battery, microphone, buttons, and other components. Although they might look a bit fragile, they are not. The material is pretty durable, and the only weak point is the thin audio cables.
Another thing that we noticed is that you don't get any carrying case with the earphones. It leaves you with two choices, to carry them around the neck all the time, or keep them in a bag since they are obviously too large for a casual pocket.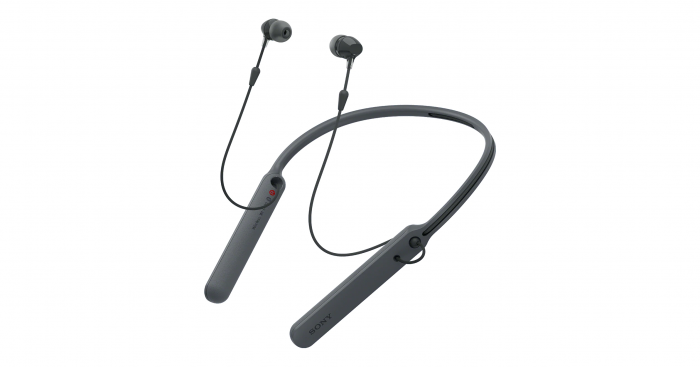 Anyway, let's talk a bit about their performance. The truth is, they are not designed for hardcore audiophiles. On the other hand, they have pretty decent bass, impressive mids, and loud audio. We also noticed that the sound doesn't crack even at the highest volume, however, that can vary from song to song. Also, the bass can sometimes be a little boomy, so it's not the best solution for HipHop and DnB fans.
They have a good mid-range, but there is a specific bump in high-mids, which makes high-pitched sounds seem a bit honky. The treble is satisfying, but in some cases, it might seem a bit overemphasized.
An amazing thing about WI-C400 is leakage performance. There is a minimal leakage, and only a treble is heard out of the headphones, but only if you are half a meter away. Or even closer. A microphone is also very good, especially in isolated environments, and makes no muffling sounds. However, it does pick up some ambient sounds, so it's not a perfect microphone for talking if you are in an extremely noisy place.
In the end, we want to mention the best, most amazing thing about WI-C400, and it's the battery. When fully charged, you can actively listen to music for up to 16 hours! It's impressive. Also, it takes around 3 hours only to charge fully.
Sony WI-C400 is undoubtedly a comfortable and lightweight solution for everyone who listens to music throughout the whole day. They don't offer perfect audio, nor an extremely good microphone, but an amazing comfort and battery life make up all the downsides. If you are not a hardcore audiophile, these earphones might be ideal for you.

Best Bluetooth Earphones in India: Shopping on a Budget
Not everybody aims for the most expensive earphones out there. Or maybe, you just want them to be wireless and use them for other stuff, rather than listening to music. No matter what is the reason, let's mention a few very good models, for all the people who want to shop on a budget.
Best Bluetooth Earphones in India under Rs. 5000
If you want to buy decent earphones that cost less than 5,000 rupees, be sure to check out the original OnePlus Bullets. These are an excellent, on-the-budget alternative to OnePlus Bullets V2 that we reviewed.
Best Bluetooth Earphones in India under Rs. 2000
If you want even more affordable Bluetooth earphones, Skullcandy Ink'd and Boat Rockerz 255 Sports both cost less than 2,000. These are the best in that price range.
Best Bluetooth Earphones in India under Rs. 1000
As a bonus tip, we are presenting you with Xnate Mana and PTron Tangent Evo. Both of these cost less than 1,000 rupees and offer a pretty decent sound quality for that price range. If you are looking for the best earphones among the cheapest ones, these two are definitely the best. Be sure to check them out!
A Few Words in the End
So, we have come to an end, leaving you to choose your favorite. The earphones that we listed are the best ones that you can buy in India. However, if you want to look for some other model that is not on the list, be sure to check out the tips that we provided at the beginning of the article. Buying perfect earbuds can be a tricky job, but we are sure that our buying guide will help you out. Good luck!
Do you own any of the earphones that we talked about? Also, if you have a suggestion about the model that should be on the list but isn't, please let us know in the comments below.