Best Microwave Ovens in India in 2020
Did you know that the modern microwave oven was invented after World War II, and was developed from radar technology? It was first named "Radarange" and the first unit was sold in 1946. Today, we know them as microwave ovens, or simply, microwaves.
These devices can be found in almost every kitchen since they are very useful and relatively affordable. They are popular for reheating previously cooked foods or even cooking different ones. However, there are numerous things that you should consider when it comes to microwaves, so buying one can be a slightly tricky job. That's why we have carefully prepared this guide for you. We will clarify all the things that you need to understand if you want to buy a new microwave oven.
Conventional or Convection microwave?
There are two types of microwaves on the market. The conventional microwave heats up water particles in the food through emitting microwaves. It is not fueled by gas and heats up the food very efficiently. However, this microwave technology is unable to brown or bake your food. A conventional microwave uses sensors to adjust cooking time by detecting levels of moisture. Also, the three basic features of a conventional microwave are reheating, boiling, and defrosting.
A convection microwave is a combination of both, microwave radiation and heat produced through gas or electricity. This helps in cooking the food evenly from all sides ensuring efficiency. A convection microwave is able to brown your food and you can even use it to bake. Since it is part microwave, it is able to do everything a microwave can do such as reheating, boiling, and defrosting, and some of them even have sensors to adjust cooking times. However, it also features an electric oven that can help with roasting, baking, and crisping. It also allows you to preheat the oven which is a requirement for baking, and this feature is not possible in a conventional microwave.
Location matters
If you are looking to buy a new microwave, it is essential to know where you would ideally want the microwave to be placed. The location will determine the price, features, and size of the microwave. There are three options to choose from when it comes to location, which are countertop, over-the-range, and built-in.
Countertop microwave ovens are easier to install relative to the other models available on the market and are pretty much cost-effective. They are generally small in size and easy to slide into empty corners on your countertop. Depending on the availability of space on your countertop, you may want to invest in a small microwave or a cart to place your microwave on. If both of these options are not suitable then we advise you to look for other microwaves. Countertop microwave starts from 10 by 18 by 14 inches in size and goes all the way up to 14 by 24 by 20 inches with an internal capacity of less than 1 cubic feet and more than 2 cubic feet respectively. They are by far the least expensive of the three and can cost between $40 to $700 depending on the brand and features. These microwaves typically draw on 600 to 1200 watts of power when fully functioning, so you should keep that in mind, too.
Over-the-range microwaves are installed above your range and can help you save on some countertop space. These types of microwave ovens are very well ventilated and come with lights illuminating the cooktop when in use. Over-the-range microwave ovens are slightly wider than the countertop microwaves and are 16 by 30 by 15 inches in size. The internal capacity of these ovens ranges from 1 to 2 cubic feet. They are a bit pricey relative to countertop microwaves and the price starts from $190 all the way up to $1,300, depending on the brand and features that they have.
Built-in ovens, as the name suggests, are paired with custom cabinets or built-in within the walls. These types of microwaves are designed to look like drawers and installation of these is easy relative to other microwave ovens available on the market. Built-in ovens vary in size but usually come in 15 by 30 by 26 inches in size. They are by far the most expensive of all the three and the price starts from $500 and can go well over $5,000 depending on, again, the design, brand, and features.
Size and Wattage
The size and wattage mainly depend upon your needs. If you are looking to simply reheat your food or defrost some meat then a compact countertop microwave fits your needs perfectly. However, if you're looking to do proper cooking and baking with it, then you need to consider the other two options.
You also need to measure the space that you have available and try to find a microwave oven that fits nicely in that space. The size will determine whether you need a compact countertop microwave, over the range or a built-in microwave oven. The internal capacity also varies across microwaves but most of them offer an average of about 1.4 to 1.8 cubic feet.
The performance of the microwave is related to the power it consumes. Generally, the rule with wattage for microwaves is that the higher the power, the faster your food will cook evenly. Most of the microwave ovens on the market draw between 600 to 1200 watts. Smaller microwaves utilize around 500 to 800 watts, medium-sized microwaves draw in around 800 to 1000 watts while full-sized microwaves utilize around 1000 to 1200 watts. Please note, the lower the wattage, the more time it'll take to cook/heat your food, but also, the lower wattage is good when it comes to electricity bills.
Features
Most of the microwave ovens come with similar features you can use such as shortcut settings that help adjust cook time, defrost settings, power levels, and timer. All the inputs have to be fed into the microwave oven manually.
Most of the units come with a defrost setting menu for thawing different foods. Some of the more expensive microwaves have additional features such as a touch panel to navigate through the settings with ease or pre-programmed menu items that let you cook or heat your food without the need to adjust power levels or timers. However, remember to keep the reference guide for the microwave oven safe, since it will guide you through different features and settings whenever you need it.
Some of the expensive and recent microwave ovens come equipped with smart technology that allows you to connect your microwave oven to your mobile phone through WiFi. Smart microwave ovens ensure perfection by using humidity sensors to analyze moisture content within the food, adjusting the heat and time accordingly.
Most of the microwave ovens come with a round turntable that moves around to ensure the food is evenly cooked or heated. Also, more advanced microwave ovens come with a rotating rotisserie for roasts or rectangular trays that can easily be taken out. All of that stuff is very useful, especially if you use the microwave frequently.
| Model | Dimensions | Max Power Output | Power Levels | Warranty |
| --- | --- | --- | --- | --- |
| Samsung 28 L | 517 x 310 x 474.8 mm | 2100 Watts | 6 | 1 year |
| IFB 20 L | 262 x 452 x 390 mm | 2200 Watts | 10 | 1 year |
| LG 28L | 510 x 495 x 305 mm | 900 Watts | 5 | 1 year |
| BPL 20 L | 452 by 262 by 388 mm | 800 Watts | 11 | 1 year |
| BAJAJ 17 L Solo | 520 x 410 x 310 mm | 700 Watts | 5 | 1 year |
| IFB 30L | 539 x 440 x 300 mm | 900 Watts | N/A | 1 year |
Top 6 Microwave Ovens in India
#1 Samsung 28 L Convection Microwave Oven (CE1041DSB2/TL)
Dimensions: 517 x 310 x 474.8 mm | Max Power Output: 2100 Watts | Power Levels: 6 | Warranty: 1 year
+ Offers numerous features
+ Bacteria protection
+ Spare parts are widely available
− Lacks steam options

This Samsung 28L convection microwave oven can be used for grilling, heating, defrosting, cooking, and baking. It spans over 517 by 310 by 474.8mm in size and comes with 134 pre-programmed local Indian recipe settings saving you time in the kitchen. Overall, the design is attractive and the build quality is up to par with some of the premium-priced microwave ovens on the market.
It is a full-size oven and offers 6 power levels. The Samsung convection microwave oven utilizes 1400 watts when simply reheating, 1500 watts when using the grill, and 2100 watts when using in convection mode. The oven boasts a superior ceramic interior allowing for an easy clean and has antibacterial and scratch-resistant properties. The turntable in the oven is around 318 mm wide. It can be turned on and off, and once it is off you can utilize every inch of space within the oven.
The microwave comes equipped with slim fry technology. It was initially implemented in air fryers found in the markets today, but Samsung has incorporated this type of technology in this microwave variant. The slim fry technology allows users to cook food with less oil, which helps you stay healthy.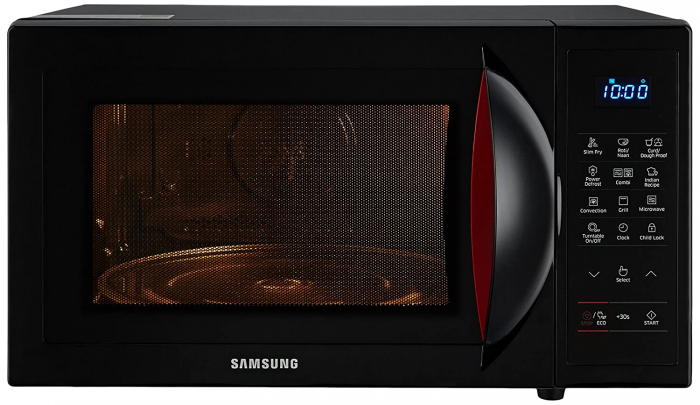 The microwave is suited to the local Indian as it comes with tandoor technology that replicates the heat produced within a tandoor ensuring crispy and perfect roti or nan. It also comes with a fermentation setting which even allows users to start the fermentation process for yogurt. A nice thing is that you don't need to constantly monitor the situation as the microwave intelligently does it all for you. Now you can enjoy fresh quality food made right in the comfort of your own home.
It comes packed with all the standard settings, and even more. The oven has various cooking modes, eco mode, auto cook, child safety lock, clock, 30-second plus, and preheating capabilities. It also comes with a deodorizer setting that eliminates any bad odor ensuring your food remains fresh and tasty. However, it lacks some features that might be useful to some users such as a timer, memory, language options, and steam clean. The oven has a hard-press touch panel layout interface which some users might find annoying when compared to the dial interface. The oven also showcases a crystal blue LED.
Samsung 28L microwave oven comes with accessories such as wire rack and a crusty plate but lacks accessories such as a rotisserie, multiplan, and steam options. You also get a 12-month warranty, which starts from the date of purchase. This microwave oven is perfect for large families with a huge food demand on a daily basis.

#2 IFB 20 L Convection Microwave Oven (20SC2)
Dimensions: 262 x 452 x 390 mm | Max Power Output: 2200 Watts | Power Levels: 10 | Warranty: 1 year
+ Very useful, child-lock feature
+ Auto-clean menu
+ Auto-reheat feature
− The reheating can sometimes take longer than expected

The IFB 20 Liters convection microwave oven stands out with its stylish metallic silver finish and comes with 24 auto-cook menus. It also stores 3 different types of cooking cycles in its memory. With 262 by 452 by 390mm and approximately 14.3 kgs weight, it falls into the category of medium-sized microwave ovens, which can be used for cooking and grilling.
It uses 1200 watts when grilling or reheating food, although the convection power consumption might stand at 2200 watts. The microwave boasts 10 different power levels with a maximum temperature of 200 degrees and comes with a turntable diameter of around 245mm.
This IFB microwave comes packed with safety features that are useful in a household with kids. It has a safety child lock which prevents the microwave misadventures that might happen with kids around and also has an overheating protection and sensor malfunction protection that automatically switches off the microwave if any of the indicators go off. This is especially useful in case you forget to take the food out from a running microwave.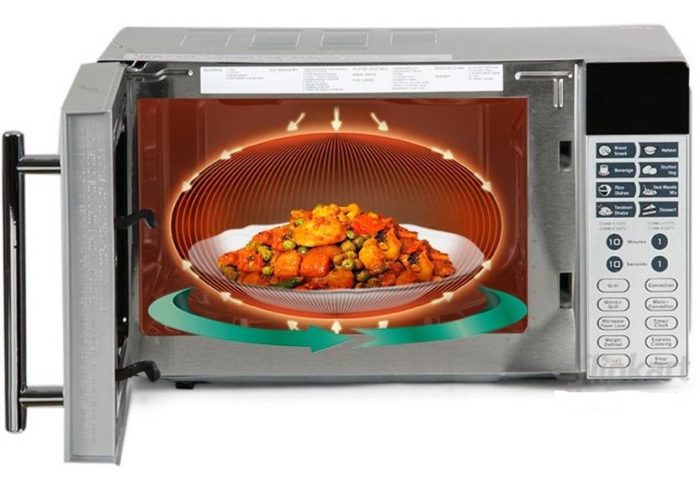 What we like about this oven is the easy-to-read digital LED to view the clock, the power level, and the timer. The LED keeps the user informed of this type of data throughout every phase of the heating process. It comes with 10 different temperature options allowing you to become a baking expert. It also features a weight and speed defrost whereby a user enters the weight of the food item and the microwave heats it accordingly saving you time in the kitchen. Pretty useful!
There is also a membrane touch keypad which is quite sensitive and perfect for users tired of pushing on hard button layouts. It comes with a one-year product warranty and 3 years warranty on Magnetron & Cavity, giving you peace of mind. The box includes a warranty card, user manual, starter kit. This makes it a great and reliable choice for a small family or for bachelors with adequate cooking requirements. On the other hand, note that some people might find the cavity too small to fit a rice pot in it.

#3 LG 28L Convection Microwave Oven (MC2886BRUM)
Dimensions: 510 x 495 x 305 mm | Max Power Output: 900 Watts | Power Levels: 5 | Warranty: 1 year
+ Very affordable
+ 251 auto-cook menus, with 175 that originate from India
− Buttons could be of a better quality

The LG Convection microwave offers some pretty useful features such as the Diet Fry is equipped with over 250 auto-cook menus, including 175 Indian menus. It is the best microwave for those who seek out a bigger and more powerful microwave for cooking larger meals. It also comes with a 1-year warranty on the product and 5 years on the magnetron. The Diet Fry feature lets you prepare meals with minimum use of oil, which makes it great for those who want to live a healthy lifestyle and enjoy food without any worries. It has a capacity of 28 liters and is large enough to fit an 11-inch plate or even a 9-inch square casserole dish.
As you can see, it features a classy design made of stainless-steel cavity while a black color that gives off a stylish finish. It's best suited for a medium to large size family and its capacity of 28 liters is more than sufficient for an average-sized family.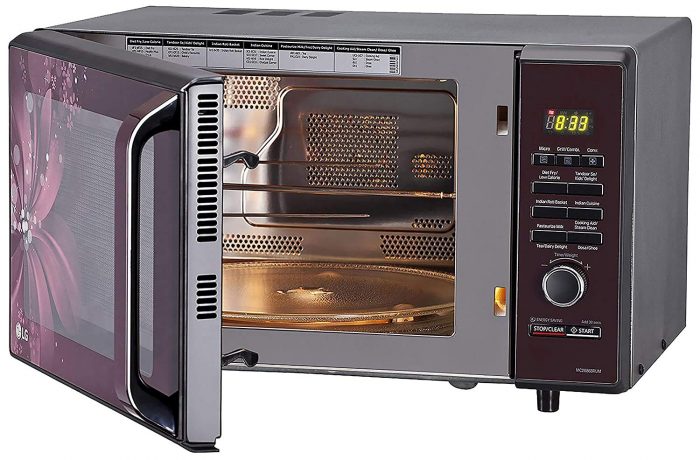 Using this microwave is as easy as it gets since it comes with an intuitive touch panel control. It does come with a user manual, but you will not be needing it since it's incredibly simple. The touch panel is fully automatic and also allows you to browse through all the pre-installed auto-cook menus. There is also a child-safety feature, which is quite useful in keeping your child out of any harm. It also comes with a feature called Combination Cooking which allows the use of both microwave and oven, at the same time. The LG 28 L convection microwave oven is fully equipped with an inbuilt fan to allow for cooling of the interior. However, it does run for several minutes after the cooking is finished to completely cool down the microwave oven.
Another nice thing is that cleaning this oven is not a hassle since there aren't too many gaps and holes that can trap food particles. LG 28L also comes at a much more affordable price than what a convection microwave generally costs. Compared to any other microwave in this category, it performs much better in every possible way.
Although the buttons and dial on this Microwave oven are inferior in quality, the overall design quality makes up for this little problem. Its stainless-steel cavity enables better reflection and uniform heating, which ensures perfect, even cooking. It consists of a 360°-degree motorized rotisserie for easy and hassle-free barbeque, at home. The' pasteurize milk' feature helps remove bacteria and retains nutrition of the milk, getting rid of the time consuming conventional boiling process.
So, if you are looking for a big microwave oven for a large family, with nice quality and an affordable price, you should definitely check it out.

#4 BPL 20 L Convection Microwave Oven (BPLMW20C1G)
Dimensions: 452 x 262 x 388 mm | Max Power Output: 800 Watts | Power Levels: 11 | Warranty: 1 year
+ 11 power levels to choose from
+ Allows customized power usage for different foods
− It lacks a rotisserie
− The interior could be slightly larger

BPL 20 L convection microwave is a medium-sized oven that measures across 45.2 by 26.2 by 38.8cm and weighs in about 12.5 kgs. Its sleek black design makes it attractive from literally every angle. It doesn't feature a button to open the microwave door, however, it does have a handlebar for that purpose. The oven is capable of baking, grilling, cooking, reheating and defrosting.
The interior of the oven is made from stainless steel which allows for even circulation of heat ensuring a perfectly cooked or heated meal. The interior is also scratch-free and stain-resistant, which increases the longevity of the product. Another nice thing is that you can simply clean it with a microfiber cloth.
The microwave draws 800 watts during use and is able to cook your food properly even at such a low wattage. This is because of the smart power technology that allows for customized power usage for different foods. There are also 11 power levels to choose from, depending on the food you are cooking, and how cooked you want it to be.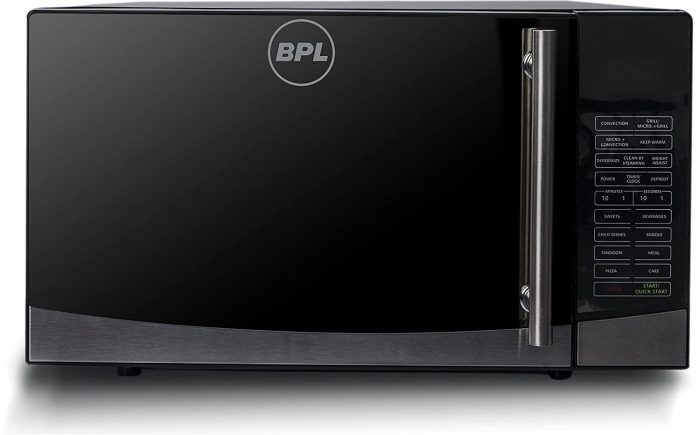 There is a nice LED screen that shows time, power and other indicators that can help you with preparing your meal. A child-safety lock is included, ensuring that your child is safe whenever around the microwave. This lock allows the microwave to instantly stop the heating process as soon as your child opens the microwave door. Awesome!
As we noticed during testing, the BPL 20 L convection microwave oven is a basic microwave with some great features for that price. It is a bargain microwave with a stylish design and interactive button layout. Due to the smart power technology, it is able to perform very well compared to other premium brands out there in the market. You get a starter kit with various useful accessories to get you cooking and baking pretty easily, and it also comes with a one-year comprehensive warranty. However, the microwave does lack a rotisserie and it would be nice to see some extra options or even more interior space to fit in the larger dishes.
It is suitable for bachelors, small families, and even patriots; since the idea for such an affordable microwave that caters to our daily cooking needs originated in India, and is also produced in India.

#5 BAJAJ 17 L SOLO MICROWAVE OVEN (1701 MT)
Dimensions: 520 x 410 x 310 mm | Max Power Output: 700 Watts | Power Levels: 5 | Warranty: 1 year
+ Power output of 700W is good if you don't want higher electricity bills
− Easily catches fingerprints
− It has to be fixed in its position

With a capacity of 17L, the Bajaj microwave is suitable for small families and is compact enough to fit anywhere in your kitchen. It can be used for reheating, defrosting and cooking, and comes with a 1-year warranty. The Bajaj 1701 has a maximum cooking time of 30 minutes and when the cooking is complete, an indicator will go off to notify you.
An interesting thing is that it has a power output of 700W and although 700W is considered relatively low wattage for microwaves, the cooking quality is quite good. It's not that far from the 800W like the previous one, but still significantly better than the 600W, which is considered pretty low.
Bajaj 17L microwave comes in a beautiful white color, keeping it simple and classic. Also, it's made of stainless steel, which means it is extremely durable. Stainless steel is resistant to water damage and rust, which is very important for most kitchen devices. However, you should keep in mind that stainless steel attracts a lot of fingerprints, as well as small marks and smudges. So, if you don't like to spend a lot of time cleaning your appliances, this stainless-steel microwave may seem less appealing.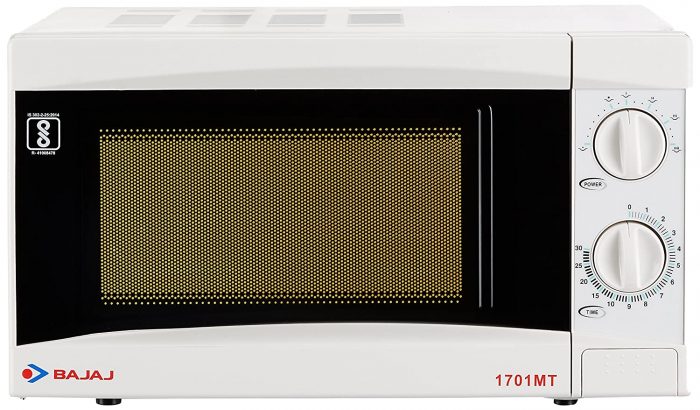 There are 5 different power levels that you can choose from depending on the food you are cooking. This feature allows you to control the temperature, according to your cooking requirements. For example, a low power level (10%), allows for heating food and softening butter, cheese, and chocolate. On the other hand, a high-power level allows you to cook food or boil various liquids.
You should note that this microwave oven also allows you to defrost the frozen food that's been kept in the freezer for a long time and lets you enjoy sufficiently warm food. The presence of mechanical knobs in the Bajaj microwave allows you to maintain the temperature and heating levels in no time. It's easy to use and will ensure that you do not need to open the user manual, which is also included in the package.
Although the built quality and design is good, the glass door opens with a push button, which is not secure in a square socket. This can create a problem, as the button gets pressed from the lower side and might break if you do not push it properly, especially if you do it frequently. When pushing the button, the microwave tends to be pushed back as well, so the microwave has to be fixed in its position. However, this isn't a big issue and can easily be resolved without a hassle.
Bajaj 17L is one of those less expensive microwaves, hence these minor issues and the 700W power output. If a simple microwave that does a decent job at a low price point is what you are looking for, then this microwave is your best choice. If you want something of a higher quality and greater wattage, then you should check some of the models above, although those are a bit more expensive than Bajaj.

#6 IFB 30L Convection Microwave Oven (30BRC2)
Dimensions: 539 x 440 x 300 mm | Max Power Output: 900 Watts | Power Levels: N/A | Warranty: 1 year
+ Suitable for large families, with a capacity of 30 liters
− Grilling is quite slow
− Heating sometimes fluctuates up and down

The IFB convection microwave is a larger microwave that is suitable for large families. It has a capacity of 30 liters and comes with a standard warranty period of 12 months and an additional warranty of 4 years on the magnetron.
Having a 900W power, 230 voltage, and 50 Hz frequency, this microwave does a sufficient job and fulfills all the basic requirements that a decent microwave should fulfill. it can do much more than just reheat your food, from preparing poultry dishes in the rotisserie to grilling to fermenting dough, milk and other sorts of batter.
It includes special features such as 101 auto-cook menus, fast cooking, auto-reheat, weight defrost and multi-stage cooking. Also, a child lock feature is available and it ensures the safety of your child and prevents any possible microwave accidents.
Another useful thing is a disinfect option, which allows you to sterilize baby bottles and other vital utensils, in just a couple minutes. The steam clean option cleans your microwave with steam in only a couple of minutes, removing all the grease. It is one of the fewest microwaves to feature a steam clean option, which is awesome, considering its price. The weight defrost option ensures defrosting of large dense items thoroughly, while avoiding partial cooking on the outer portions of the items.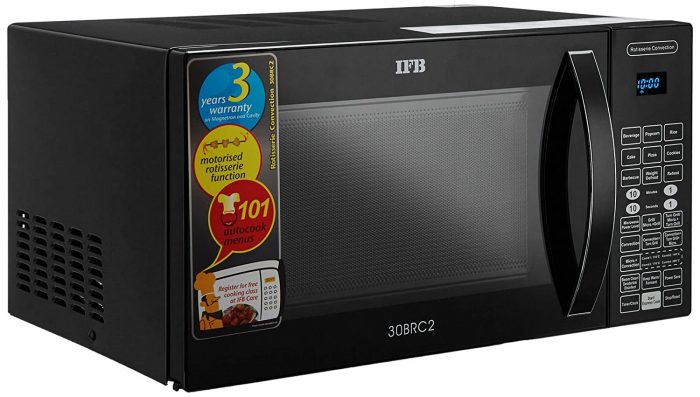 It has a stainless-steel cavity which significantly improves the durability and makes it water-resistant. Also, the stainless-steel does need to be cleaned often, since it is not fingerprint-proof and smudge-proof.
The power save feature of this microwave helps keep the cost of the electricity bill down and offers pre-set choices depending on your menu. The IFB microwave oven is a stylish and efficient device, with a sleek design and its black color is popular in demand. It has an aesthetic and elegant outer design and there is also an LED display, which shows the cooking option selected, with clarity.
However, IFB microwave has its flaws just as much as it has its good points. After a while, the buttons of this microwave stop working and the door sensor becomes faulty. Many users have reported it as being a faulty product, not long after the purchase. Then, the grilling power is quite slow, and it also causes problems with some foods. Besides, even though there is a power save option, it does quite the opposite and consumes too much power in some cases. The heating in this microwave is not consistent and fluctuates up and down, which can lead to your food being ruined and wasted. In the end, the high temperatures can sometimes lead to the damage of the microwave, as its strong structures weaken due to the high temperature.
With all this in mind, this microwave has its good and bad points. You can find better microwaves but at the expense of a higher price. This microwave does fulfill the basic microwave requirements and has good wattage so if you need a microwave that carries out the basic functions, then it is worth considering buying.

Best Microwave Ovens in India: Bonus Tips
Best Microwave Oven Under Rs. 15,000
15,000 Rupees is considered to be an ideal price for a decent microwave. If you are looking for a microwave oven in that price range, you should go for the first choice on our list, the Samsung microwave. It provides numerous great features, as well as high quality, so be sure to check it out.
Best Microwave Oven Under Rs. 10,000
Among almost 30 microwaves under Rs. 10,000 that we tested, our definite winner is IFB 23L 23BC4. It comes with a starter kit and various features, such as 71 auto-cook options, steam clean, 1400W output power, and many more.
Best Microwave Oven Under Rs. 7,000
Finding a great microwave oven under Rs. 7,000 can be a tough job. After testing numerous models, we can conclude that the best choice is definitely Samsung 23L Solo Microwave Oven. It comes with all the basic, necessary features, and is an excellent choice for people who want to shop on a budget.
Best Microwave Oven for Baking
Baking is an art that takes time to master. However, if you are looking for the best microwave for baking, you should check out Bajaj 2200 TMS. It's a pretty good conventional oven with 22 liters capacity and a very nice design that fits every kitchen.
Best Microwave Oven for Grilling
Not every microwave is ideal for grilling – some ovens don't even have that feature. However, among all that do, our top choice is Samsung GW732KD. It offers 20 liters of capacity, and output power of 750W, and 7 power levels to choose from, depending on the food. What we especially liked is the perfectly uniform cooking that it provides.
Conclusion
As mentioned above, choosing the right microwave oven mainly depends on your needs. However, you can't go wrong by getting a Samsung 28L Convection microwave, which is also the first on our list. On the other hand, if you are looking for a more affordable solution that still does the job pretty good you should check out Bajaj 1701 MT.
Have you ever owned any of these microwaves? What is your experience? Please let us know in the comments below.