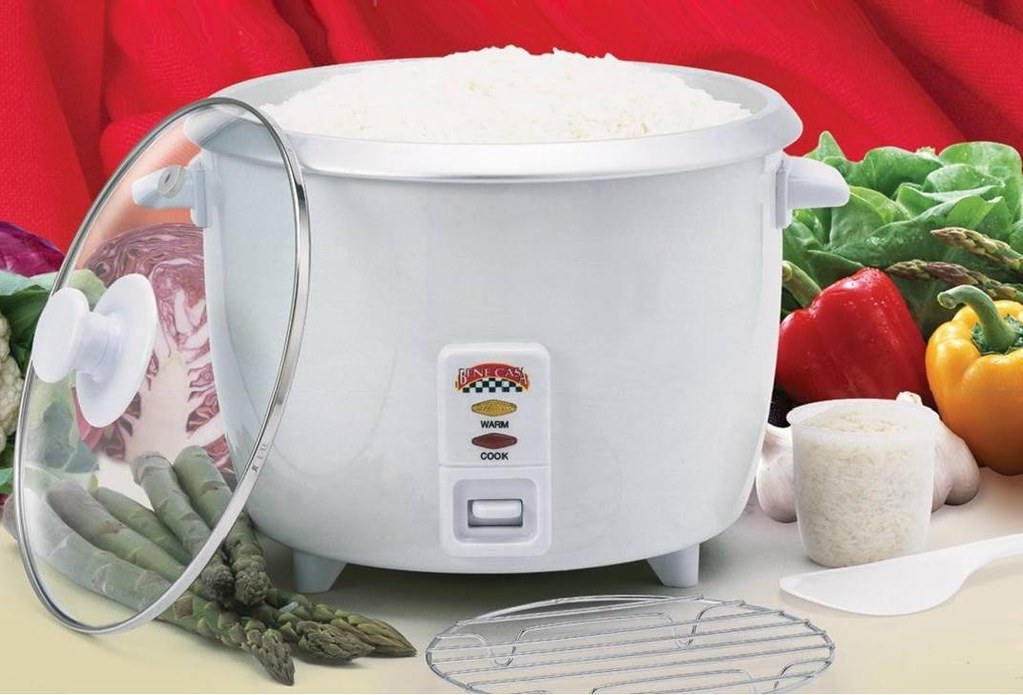 10 Best Rice Cookers In India 2021
Each year, India consumes more than 100 million tonnes of rice. But how many of you feel the need to have something that makes rice making much easier? No matter how traditional ways you use, you will always feel the need for technically advanced gadgets. In this case, it's the best rice cookers in India.  
After one hectic day, who wouldn't feel frustrated to step into the kitchen and cook their meals? How about an excellent rice cooker that will help you cook your rice perfectly in a few minutes?
If you are looking for something great, you are in the right place. Here we have a list of the 10 best rice cooker in India. These will surely change your life. 
So, read on to find out your perfect fit. 
1. Havells Xpress Cook Aluminium Rice Cooker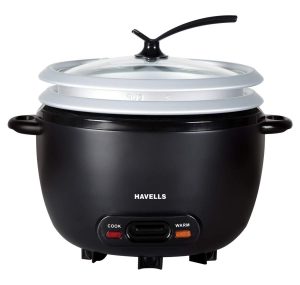 Havells is undoubtedly one of the finest companies for home appliances. So, this Havells Xpress Cook Aluminium Rice Cooker, with a capacity of 1.8 litres, is what a family of around 6 members should have. This steamer allows you to focus on other important tasks while your rice is in making. 
This Xpress Rice Cooker has amazing features including its 'keep-warm function. Yes, you guessed it right. Your rice will stay piping-hot and fresh for long. It comes with glass lid that helps you keep an eye on your rice-cooking process. Hence, it's a package of easy monitoring, comfort of cooking, and flexible usage. 
Features
It has a capacity of 1.8 litres and works with 700 watts of energy. 

Its rice-level indicator is Fabulous. You can easily measure the rice and water ratio for a better cooking experience. 

The rice will stay fresh and hot for longer. 

It cooks rice in a container of 1mm thickness. This size is perfect for even cooking. 
2. Pigeon Rice Cooker with Single Pot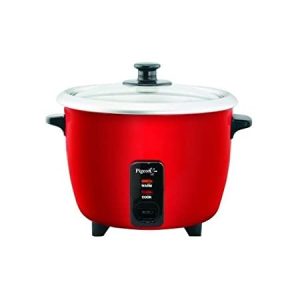 Have a small family? Here, as the second-best rice cooker in India, is this remarkable Pigeon Rice Cooker as your to-go cooker. It gives you complete adaptability and comfort while cooking rice. Its size and capacity suit best for a small family. 
Let's dig a little deeper and know what features it has. To ease up your work, the Pigeon Single-pot rice cooker comes with cool-touch handles. Apart from that, there is an automatic switch-off feature to prevent burning. What else? It comes with the package that includes a glass lid, aluminium utensils, and steam vents. Moreover, your rice stays fresh for about 5 hours, which means Yeahh!!!
Features
It has a capacity of 0.6 litres. 

This one works with 350 Watts of power.

You will have 2 years of warranty but just for the heating plate. 

There is a micro-control for easy cooking

You will also find a warm and cooking indicator. 
3. Pigeon Smart Rice Cooker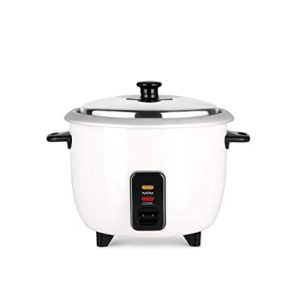 Here is another appliance from Pigeon. This awesome Smart Rice cooker can prepare the whole menu for you. So, if you are expecting some guests, this one would be a lifesaver. 
Just it's the single-pot rice cooker, this one also has a comparatively small capacity. Along with the cooker, you will also receive cool-touch handles, utensils made of aluminium, and stainless-steel lids. Besides, it has the quality to preserve all the nutrition of your food through its slow-cooking technique. 
Features
It's a 1-liter cooker that uses 400 watts of power.

Ability to preserve nutritions

Comes with a 1-year warranty and 2 years warranty on the heating plate. 

Perfect for easy cooking because of its microswitch control.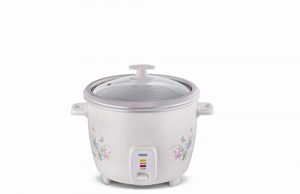 Talking about home appliances and not mentioning Usha? Not fair. So, this is one elegant Automatic Rice cooker that adds value to your kitchen. With this, you will be just 1 touch away from having a hassle-free cooking experience. On the other hand, its thermostat for temperature will serve you perfectly cooked rice.
Along with the cooker, you will find a heavy lid with break-resistant quality and features to avoid any rattling sound of cooking. It comes with an automatic keep-warm function. You can leave your cooked rice for about 5 hours and it will stay moist and warm. 
Features
This 1-liter cooker works at a power of 500 watts.

There is an aluminium anodized cooking pan

It boils rice with dry protection. 

Food is cooked nicely with its water level indicator

The cooker comes with a 2-year product warranty. 
Check the cheapest price on Amazon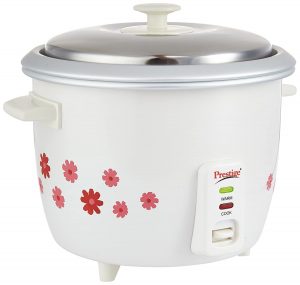 Up next, we have Prestige Delight Electric Rice Cooker that is popular for its design, lightweight, and durability. It is perfect for cooking multiple things and not just rice. From soup, stew, idli, to pulao, veggies, and porridge, you can have anything ready in a few minutes. 
This one is big enough with a capacity of 1.8 litres. We can call in an all-rounder but when it comes to rice, you will surely fall in love with its awesome cooking. It has some high-quality features that fit best among your other awesome appliances in your kitchen. 
Features
It has 1.8 litres of capacity.

It consumes 700 watts of power. 

You will find additional cooking pans, a measuring cup, and a rice scoop.

It can cook multiple things

Talk about assurance, it comes with a 1-year warranty and a 5-year warranty of the plate.
Check the cheapest price on Amazon
6. Panasonic SR-Y18FHS 660-Watt Automatic Electric Cooker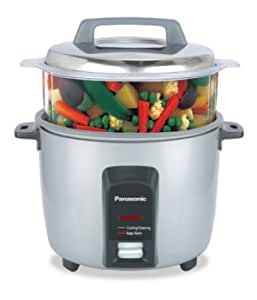 Have a get-together at home? This Panasonic Automatic electric cooker is what you need. This will not only help you prepare food with ease but also in large quantities. It has a capacity of 4.4 liters which is outstanding. This one genuinely gives you the experience of cooking like "Never Before". Moreover, the best part is, it consumes very low power as compared to its cooking capacity. 
It has a heat-proof bridge handle with an excellent grip and a powerful motor that uses just 660w. The best part is, it is super-easy to clean, has a non-stick pan, and cooks everything with just one touch. 
Features
It has total volume of 4.4 litres

Convenient bridge handle

Comes in nice colours like silver and burgundy

It has a 4-hour keep-warm function.

This one supports compact and energy-efficient cooking.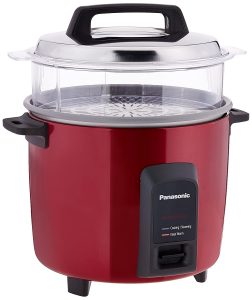 Another great Rice Cooker in India is Panasonic automatic rice cooker. You can say that it is a top-notch product by the company. All its equipment, including measuring cups, cooking plate, aluminium container, and scoop, are really impressive. It has a classy design that would look great in your modular kitchen. 
This cooker's body is made of quality CRCA, food-grade material. Its cooking pan has anodized aluminium that makes it a strong product. The 2 handles are heat safe which shields your hands from any possibility of burning.
Features
This comes with a volume of 2.2 kg.

There is an automatic cooking feature to keep the food fresh and warm for about 5 hours. 

It has a power of 750 watts

You will have a 2 years warranty on the product and 5 years warranty on the heater
Check the cheapest price on Amazon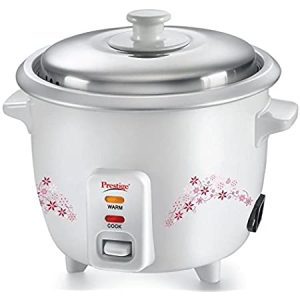 Looking for something amazing? Try out this highly-reviewed model from Prestige. Its delight electric Rice Cooker is perfect for your multipurpose cooking. You can experiment with this product and cook delicious foods such as vegetables, stew, idli, oats, and whatnot.
To cover your food, you can rely on its strong and close-fit lid. The cooker, overall, guarantees you authentic flavours that stay fresh even after a few hours of cooking. In a nutshell, this is what you can call an "essential apparatus" for your kitchen. 
Features
This electric rice cooker has a capacity of 1.5 liters

You can cook steamed vegetables soup, pulao, and idlis easily

The warm feature of the electric cooker comes with a water level indicator

There are a 1-year warranty and a 5-year warranty on the coil heater.
Check the cheapest price on Amazon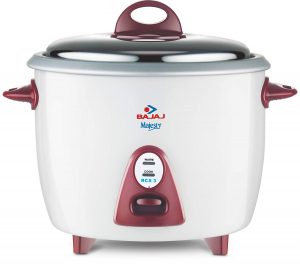 An ideal cooker must have the ability to preserve the natural taste of all the ingredients you use. This is what Bajaj Majestic cooks are good at. It cooks your food slowly that prevents any loss of natural flavors. Besides, it is renowned in the market for maintaining the nutrition of the food. 
There is another factor that makes it great- The thermal fuse. This one is what maintains extra safety for the user. You can have up to 1 kgs of rice in the container because it can hold a volume of 1.5 liters only. Furthermore, it is lightweight, easy to carry, beginner-friendly, and has a stainless steel lid. 
Features
It works with a power of 350 watts. 

Can handle 1.5 liters of food capacity. 

Best for preserving taste, nutritions, and real flavours. 

The additional thermal fuse is great for extra safety

You will have 2 years of warranty with it. 
Check the cheapest price on Amazon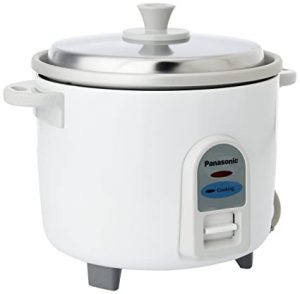 Last but not least is one popular automatic rice cooker by Panasonic. You can make a variety of rice foods in this one. With the capacity of 1.8 litres, this one is best known to save power and encourage convenient cooking. Undoubtedly, it is one of the best rice cookers in India. 
Features
This electric cooker has a capacity of 1.8 liters

Superb quality lockable lid

2 years warranty + 5 years warranty of the heater. 
Check the cheapest price on Amazon
Conclusion
People are adopting new means of convenient working. This is why electric cookers are a preference for people. You must have one too. So, choose the best rice cooker in India and enjoy convenient cooking.