Best Keyboards in India in 2020
You can't use your computer without a keyboard. It's the main input device, and since you need to use it constantly, choosing the right keyboard is of great importance. However, what is the right keyboard for you might not be the right one for somebody else. That's why there are various types of these devices, ranging from gaming keyboards, over keyboards for programmers, to the ones made mainly for fast typing.
If you don't want to pay a lot and be unsatisfied with the product, be sure to check our buying tips and the list of best keyboards that you can buy in India. We have considered several factors and tested multiple products to sort out the ones that will suit all your needs. So, let's see what the market has to offer!
Purpose: Work or Pleasure?
There are varieties of keyboards available on the market, and each of these keyboards is designed to fit a certain purpose. You need to consider the kind of work you aim to achieve before you buy it. At first, there are keyboards designed especially for gamers, which have special keys that can be programmed to assist you during your play. If you need a keyboard to help you with work and have enormous amounts of daily typing, then you need an ergonomic keyboard which will ease the tension on your wrists when you type away all day.
If you work with a lot of numbers, you should consider a keyboard that has a numeric pad or enlarged numerical numbers for easy number crunching. There are different types of keyboard catering to different uses. You need to look at which one is more suitable for the work you want to do, especially if you do it in the long-term on a daily basis. Don't go around spending money unnecessarily because there are pricey keyboards on the market that might not be suitable for the type of work you do, or that offer features which you don't need.
Key and Key Switches
Keys are the most important component of the keyboard and they vary from model to model. Dome-style key switches can be found in desktop keyboards. The unique characteristics of these types of key switches is that they are relatively thicker than a laptop key, require more travel and can sometimes be much harder than laptop keys. However, due to the increased popularity of laptop key switches, desktop keyboards have adapted the laptop-style key mechanisms. It also helps with transitioning between a laptop and a desktop, since it eases the typing.
Another important thing to note about keys is the keystrokes. You don't want to regret your purchases later by realizing the keystrokes on the keyboard aren't suitable. Take your time in checking and testing how the keys feel, are they relatively tougher to press, are they placed conveniently apart, and so on. This is because there are keyboards in the market with keys that are only registered with extra pressure, and then, there are keyboards with sensitive and soft keys. Both get the job done, mainly depending on your needs.
There are other switches besides the dome switch, such as scissor switches and mechanical switches. All have their own purpose. These switches have different sensitivities, noise levels, and comfort. It is better that you spend some time learning about them before picking out the right one for you.
Connectivity: Wireless or Wired?
Before purchasing a keyboard, you need to consider your requirements. Do you need a wired keyboard or a wireless one? Most keyboards can be connected to a computer through USB ports and this type of connectivity is much more convenient than the old obsolete PS/2 ports.
There are some keyboards that connect wirelessly through Bluetooth technology. These can be a bit cumbersome to set up because advanced wireless keyboards require software to register function keys, unlike the USB plug and play keyboards. Wireless keyboards also tend to have a certain lag which might affect gameplay if your purpose of purchase is solely gaming. Also, wireless keyboards need to be charged often since they run on batteries or need battery replacements now and then. This increases the costs associated with wireless keyboards, so keep that in mind, too.
There are also keyboards with multiple connectivity options, both wired and wireless. Identify the type of connectivity you require, but be sure to do your research on which type of connectivity is supported by your laptop or computer.
Design
There are three types of design categories when it comes to keyboards – standard, gaming, and ergonomic.
Standard keyboards are the most basic and most popular keyboard types. They come with the standard 104 keys and additional multimedia keys.
Gaming keyboards have the standard and the multimedia keys with other special function keys that can be registered for gaming.
Ergonomic keyboards are very well researched keyboards that are specially designed to reduce the strains on a user's wrist by natural positioning of the hands. These types of keyboards can leave a dent in your wallet but are worth the money for those that might suffer from carpal tunnel syndrome or those that simply like the feel and positioning of it.
There are also various keyboards out there that cater to different purposes, such as illumination for those that enjoy using the computer in the dark, or waterproof for those prone to accidents. Also, there are ones with a DVORAK layout rather than QWERTY, which are mainly designed for programmers. There are also washable keyboards and flexible ones, small and substantially large. You need to choose the one that suits your needs best, so be sure to consider everything before buying.
Extra function keys
Keyboards are said to be faster than manual writing due to their design. However, there are other function keys across the keyboard that ease normal day to day tasks. These function keys could help launch an app or control the brightness and volume of the device or simply play or pause your multimedia. Some of the keyboards come with dedicated programmable keys, shortcut keys and special character layout which can be quite useful at times. Some keyboards also come with a mouse touchpad, similar to the one found on laptops, while others replace the touchpads with an elegant mini joystick.
Price
The market is flooded with keyboards that offer attractive features and shiny design which can tempt you. The more advanced a keyboard is, or the more features it displays, the pricier it is. Remember, it is important to get the best value for your money so stick to your requirements and your budget. Don't get carried away by amazing features that you don't actually need.
| Model | Software | Connectivity | Key Switches | Media Keys | Warranty |
| --- | --- | --- | --- | --- | --- |
| Corsair K95 RGB Platinum XT | Corsair iCue, Elgato Stream Deck | Wired | Cherry MX | Yes | 2 years |
| SteelSeries Apex 7 TKL | SteelSeries Engine 3.0 | Wired | SteelSeries QX2 Mechanical RGB Switch in linear Red, tactile Brown, and clicky Blue | Yes | 1 year |
| Corsair K68 RGB | Corsair iCue | Wired | Cherry MX | Yes | 2 years |
| HyperX Alloys Origins | NGenuity | Detachable USB cable | HyperX Red (linear) or HyperX Aqua (tactile) | With FN | 2 years limited |
| Kinesis Freestyle Edge RGB Split | SmartSet | Braided cable | Cherry MX | With FN | N/A |
| Logitech G Pro X | Logitech G Hub | Detachable USB cable | Logitech GX | No | N/A |
Top 6 Keyboards in India
#1 Corsair K95 RGB Platinum XT
Software: Corsair iCue, Elgato Stream Deck | Connectivity: Wired | Key Switches: Cherry MX | Media Keys: Yes | Warranty: 2 years
+ Suitable for video streamers
+ Comfortable, even after several hours of use
+ Synchronization with other Corsair products
− A bit pricey

Corsair K95 RGB Platinum XT took one of the already best gaming keyboards and turned it into a device that is also suitable for video streamers. The stylish sleek cut design on the K95 makes it pop out from the crowd, and the keyboard also comes in a pretty decent size. It spans across 18.3 x 6.7 x 1.4 inches and weighs in at 4.8 pounds.
Corsair K95 features a newly designed cushioned leatherette palm-rest which aims towards gamers who tend to play several hours in a sitting, or for those who enjoy editing. Besides, what we really liked is that it is a tough keyboard with maximum endurance. It is built to withstand a lifetime of gaming due to its aluminum frame and 104/105 key ultra-durable PBT double-shot keyset. The key-switches, made in Germany, with its accurate tactile response and an audible click every time you press, deliver reliability like none of the keyboards that we have tested.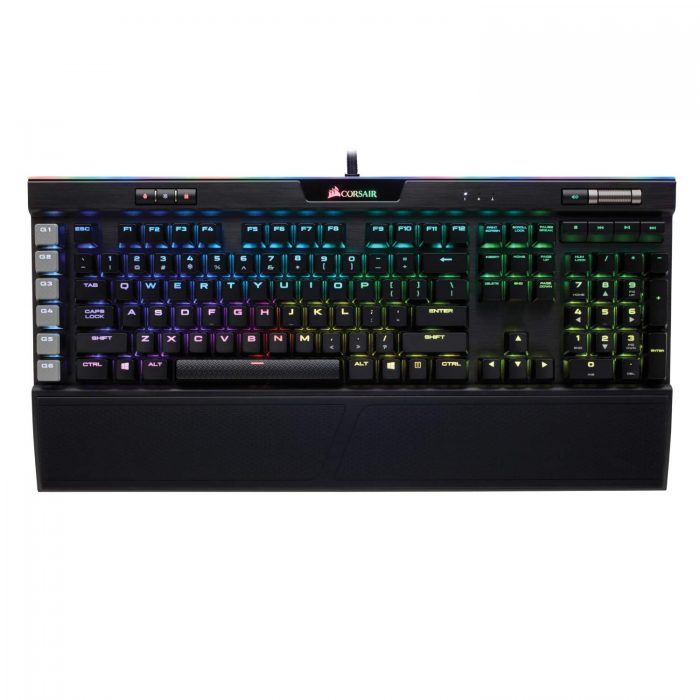 Nice RGB backlighting is installed behind every button and delivers a dynamic lighting effect which completely immerses the user in the Corsair experience. You can add up to 5 different lighting profiles with the 8mb onboard profile storage. It also comes with the Corsair iCue software that helps with the lighting control and light synchronization with other Corsair products such as coolers and fans, providing an unparalleled level of lighting customization. The iCue software is able to take the action beyond the screen by making the K95 RGB lighting react to in-game events. This is truly innovation at its best!
The keyboard comes with 6 dedicated macro keys or key remaps that help gamers get that in-game advantage with quick weapon switches or for any other utility they have programmed the keys for. You can even program special streaming commands on these macro keys with the Elgato stream deck software.
The Corsair K95 offers wired connectivity with two USB 3.0 and 3.1 type-A ports, which can be used with a desktop PC or a Mac. It is compatible with Windows 7 and above installed or macOS 10.13 or later. However, internet connection is required to download iCUE software and you would require windows 10 if you wanted to customize your keys with the Elgato stream deck integration. All in all, the keyboard is well made and beautifully designed. It is an upgrade from its predecessor with additional features to appease different markets such as video streamers, so be sure to check it out!

#2 SteelSeries Apex 7 TKL
Software: SteelSeries Engine 3.0 | Connectivity: Wired | Key Switches: SteelSeries QX2 Mechanical RGB Switch in linear Red, tactile Brown, and clicky Blue | Media Keys: Yes | Warranty: 1 year
+ Mechanical keys
+ Magnetic wrist-rest
+ Provides 100% anti-ghosting
− OLED screen doesn't help much

The steel series apex 7 TKL is a serious contender when it comes to the best keyboards under 20,000 INR. With its transparent layout and mechanical keys, it gives you exactly what they paid for, being an exclusive gaming keyboard. It comes equipped with a premium magnetic wrist-rest which allows lots of comfort and you can also attach and detach it whenever you require.
The keyboard is made from an aircraft-grade aluminum alloy which provides an incredible, lifetime durability. The series 500 metal frame is not only a unique material to use for keyboards but also looks extravagant. The brown mechanical gaming switches will also last a lifetime with the consistent performance of 50 million keyclicks. The keys feel very soft on touch, yet, you do feel every click. It provides 100% anti-ghosting which means no matter how fast you click, the keyboard will register every single click without fail. It's craftsmanship at its finest.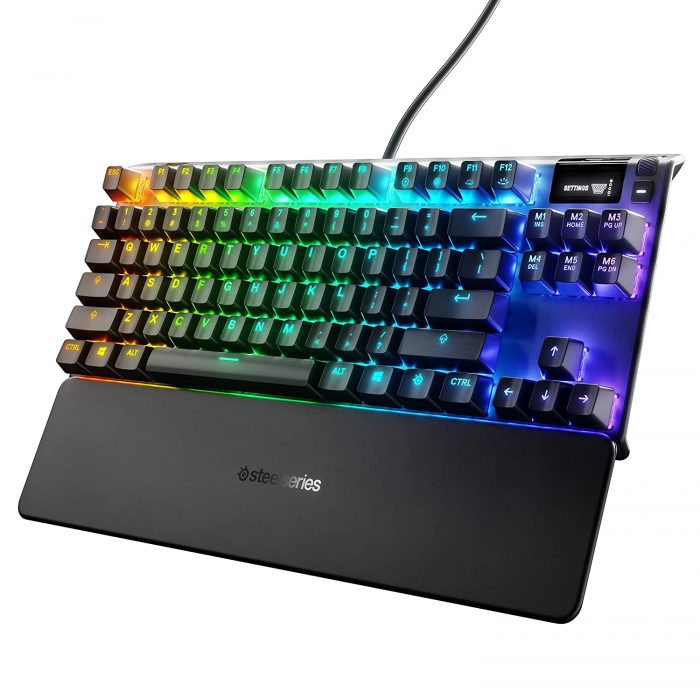 The steel series apex 7 TKL flaunts per-key dynamic RGB lighting, giving users unlimited color combinations! You can design the entire lighting layout according to your imagination since you'll never run out of color options. This is perfect for users who are big fans of customizable RGB lighting on a keyboard and is probably the best RGB-customizable keyboard on the market right now.
It comes with an integrated command center in the form of a small OLED smart display. It can be found at the top right of the keyboard so that it doesn't become a distraction while performing different tasks. The display shows key information in regards to settings, changing profiles, and notifications. With that little thing, you do not need to tab out of whatever you're doing because the keyboard shows all the important details.
Note that you can save up to 5 different profiles on the keyboard without the need for software and the custom macros can be used to control prism effects on the keyboard. TKL allows for USB passthrough port so that you can connect any USB device or any device that can be connected via USB to your keyboard directly. It's convenient since now you are no longer required to get up and plug your devices or hardware at the back of your PC/Mac. The keyboard frame has built-in channels to route your cables preventing it from getting in your way, as well as from stretching or any other sort of damage.
As you can see, Apex 7 TKL offers plenty of interesting, yet very useful features. It's definitely worth considering if you are looking for a serious keyboard to enhance your daily computing experience, whether it is gaming, or just browsing the web.

#3 Corsair K68 RGB
Software: Corsair iCue | Connectivity: Wired | Key Switches: Cherry MX | Media Keys: Yes | Warranty: 2 years
+ Spill-resistant cover
+ Detachable grip and nice, textured wrist-rest
− Blue switches can be too loud

The Corsair K68 RGB, introduced in June 2017, has noticeably improved upon its predecessors by simply moving from red LEDs to RGB LEDs. It weighs only 1.4kg, and as the Corsair states, you get the 2-years warranty. You can buy it safely, knowing that it will work like the first day even after two years.
The K68 RGB utilizes Cherry MX Red switches just like the original, and it also has a spill-resistant cover. After only a few minutes, we noticed that the K68 is impressive for its toughness. It has also earned an IP32 certification, due to its resistance. However, note that although it is spill-proof waterproof. A rubber silicone sheet protects the inner areas of the keyboard, but it's not ultimate protection, so you should still watch out when it comes to having juices around the keyboard.
Coming on to the Cherry Red switches, they feature an actuation force of 45g and an actuation point of 2.0mm. These switches are preferred mainly by FPS players for their quick and quiet responses, which have proven to be very, very useful. Besides, it has a great typing quality and the keys feel stable, while the clicks of the blue switches provide great tactile and audio feedback. The keycaps are, however, slightly taller than the standard keycaps and that may take a while to get used to. The keyboard does have good spacing and that helps to get rid of typos.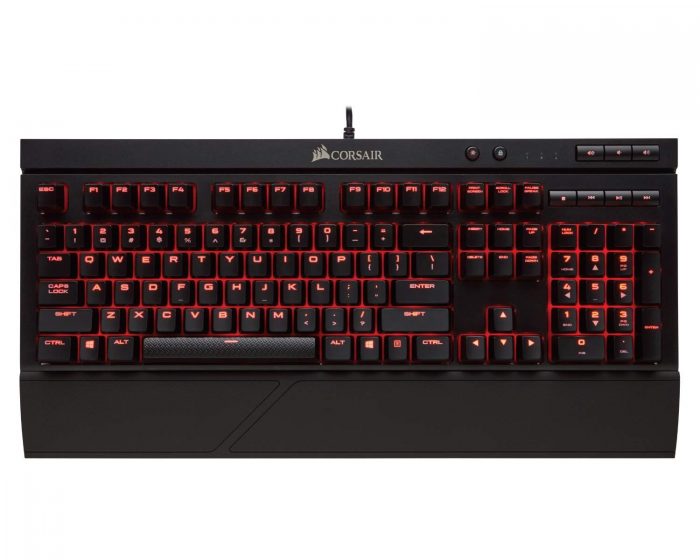 One downside of this keyboard is the Corsair Utility Engine (iCUE) because it isn't the friendliest software for the customization of the appearance of the keyboard. It does, however, offer many templates for quick customization and all the tools to style the lighting to your preference, in a matter of minutes.
What we really like is that the Corsair Keyboard comes with a detachable grip and textured wrist rest, but unlike other wrist rests at this price point, this one is not magnetic. It attaches by pinch-able plastic prongs, so it won't accidentally detach. However, it does become troublesome to attach and remove and might become annoying if you have to do it often. The connection between the keyboard and the wrist rest feels weak and the plastic used for the wrist rest isn't really soft compared to something with a bit more cushion. The keycaps are concavely curved to help the fingers get centered, but they are not able to hide the grease.
The Corsair K68 comes with great extra features, such as dedicated media keys to play/pause, skip tracks, or to control volume directly, at the top of the keyboard. However, the blue switches make the Corsair K68 a loud keyboard and make it unsuitable for use in office settings. In that case, the variant with MX Cherry Red switches would make a better option. You should also note that the keyboard is fully compatible on Windows but only partially compatible with the macOS and the Linux.
Compared to the K68, the Corsair K95 Platinum is a better keyboard with a noticeably better build, but it is priced at a higher price point. The K68, for its cheaper price point, offers a similar package to what its competitors do. It is an excellent choice for those who need a good quality mechanical keyboard with great lighting, at a cheaper price.

#4 HyperX Alloys Origins
Software: NGenuity | Connectivity: Detachable USB Cable | Key Switches: HyperX Red (linear) or HyperX Aqua (tactile) | Media Keys: With FN | Warranty: 2 years limited
+ Excellent RGB lighting
+ Very useful height adjustment
− The software could be slightly more intuitive
− No dedicated media controls

The Alloys Origins is a full-size mechanical keyboard, measuring 1.4 × 17.4× × 5.2 inches and weighing 2.4 pounds. It comes with a removable braided USB-C cable, which makes the keyboard more travel-friendly. The HyperX keys actuate at 1.8mm and bottoms out at 3.8mm, while the keys are stable and well-spaced. They don't feel cheap, even though they are made of ABS plastic.
The Alloy Origins has brilliant software support and can be customized with the NGENUITY software. You can download the software from the Microsoft Windows Store but sadly, this limits its compatibility with other operating systems. The NGENUITY software allows you to customize the backlight, program macros and save profiles. The software is only partially compatible with Linux and macOS and not compatible with Android or iOS at all. This keyboard has full RGB backlighting and with the NGENUITY software, each key can be customized individually. We could notice that the lighting is bright and vivid but at the default setting, the lighting can get too bright, so if you are using it in a dark room, you might want to do a bit of customization.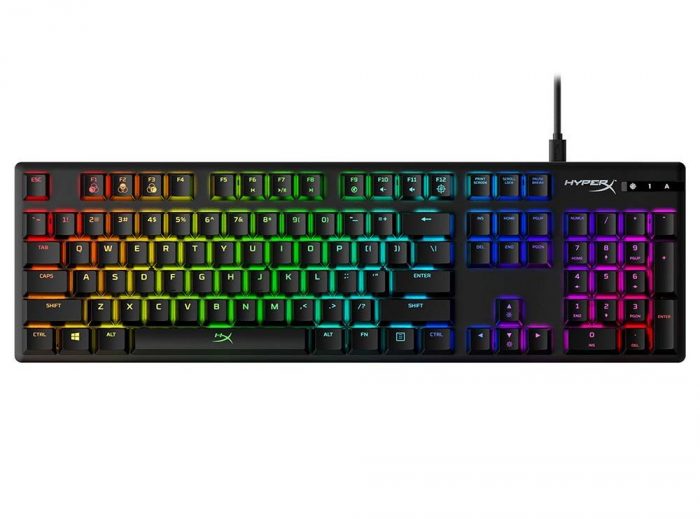 The Alloy Origins features a full metal frame and adds heftiness to the keyboard, despite being fairly thin. The keys have an anti-slip UV coating, but the downside with these keys is that they pick up finger grease easily.
The switches of the Alloy Origins are fast and the travel distance and activation points are shorter than the standard. However, compared to Cherry MX, the Alloy or the HyperX Linear Red switches are slower.
There are also 2 inclined settings, but not a wrist rest. Besides, it comes with good-quality kickstands that won't collapse if the keyboard is pushed forward. Besides, it's suitable for office environments as well, since the typing noise is quiet and not a disturbance.
What we immediately noticed is that the dedicated media controls seem to be missing on this keyboard, as they are relegated to secondary functions on F6-F11. However, we didn't find it to be an enormous problem. The keyboard also offers full anti-ghosting and the N-key rollover and the HyperX has a great lifespan of 80 million clicks per key.
Since it comes with the removable cable, it's pretty adequate for cable routing. The cable, however, is too rigid – it has low flexibility and kinks are formed easily, which can be hard to remove. This is the opposite of the cables that come with the gaming equipment, which are soft, more flexible and have a more premium feel.
A standout point of this keyboard is the fact that, although it is a full-sized keyboard, it looks pretty compact, compared to other full-sized keyboards. To sum it up, the HyperX alloy Origins does all that a great keyboard is supposed to do. The built quality surpasses expectations for its price point and the switches are also good for gaming, although not outstanding.

#5 Kinesis Freestyle Edge RGB Split
Software: SmartSet | Connectivity: Braided cable | Key Switches: Cherry MX | Media Keys: With FN | Warranty: N/A
+ Comfortable ergonomic design
+ Great lighting customization
− Steep learning curve
− Optional "lift kit" costs extra

The Freestyle Edge, like the original, comprises two half-keyboards which are made of hard, matte-grey plastic. The two halves are connected by a braided cable, up to 20 inches long, and this gives you plenty of room to configure the keyboards as you see fit.
This keyboard is quite large and takes even more space when split into halves, but weighs only around 1.2 kilograms. The keys are set in a 75% layout, which has the same number of keys as the tenkeyless board but in a tighter configuration. The configuration of the keys cut down on the size of the layout but on the other hand, it increases the learning curve for players new to ergo-keyboards.
It might take a while to get used to this keyboard and learning to use two hands on two parts of the board takes even more time. However, this ergonomic split keyboard does help reduce stress and pressure on your forearms, shoulders, and back, which is a plus point for long play sessions. A downside to this keyboard is that it doesn't come with feet/lift, and to get that, you have to purchase a lift kit that bumps up the cost of this keyboard.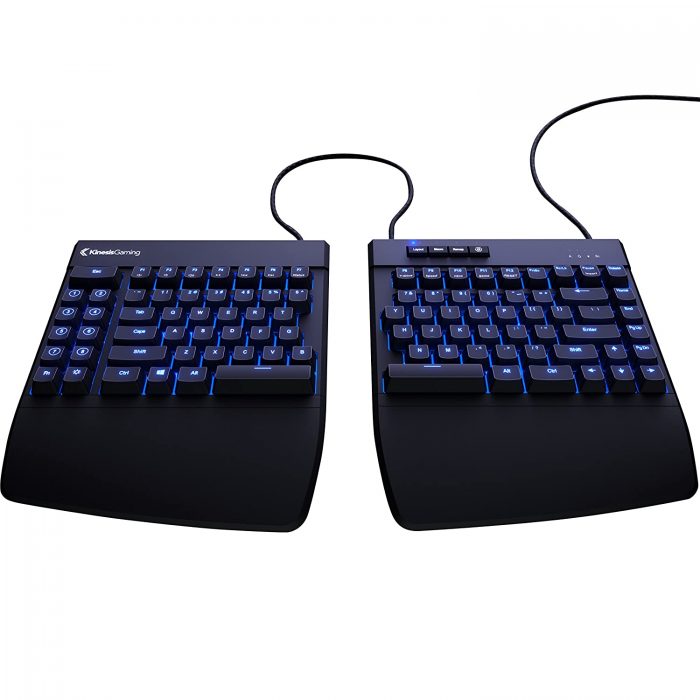 The Kinesis equips with Cherry MX switches and you can choose from red, brown, and blue varieties. Whichever color profile you choose, the letters illuminate crisply and the base glows under and around the keycaps.
The Freestyle Edge offers a great typing experience, similar to the Freestyle Pro, but with a nicer texture of the keycaps. The typing is less noisy and is light enough, while the wrist rest is very comfortable. Another thing that you don't have to worry about is compatibility. It's fully compatible with Linux and Windows, partially with MacOS, but it's not comfortable with most mobile devices.
When it comes to media keys, you can access them via the use of hot-keys. With the Cherry MX Brown switches, the keystroke offers small tactile feedback, with a very small bump. Note that also, the RGB lighting is limited to 11 different customizable color schemes and patterns, but there are plenty of customizations available. You can also control the brightness level directly on the board, which is not a high-end feature but is very useful and quick to access.
Despite the downsides of the driverless SmartSet app, the optional lift kit's extra cost and the learning curve of this keyboard, the Kinesis brings an awesome product to the gaming-keyboards world. It greatly helps with not stressing out your wrists and delivers one of the most comfortable experiences, although all of this comes at a greater price.

#6 Logitech G Pro X
Software: Logitech G Hub | Connectivity: Detachable USB cable | Key Switches: Logitech GX | Media Keys: No | Warranty: N/A
+ Detachable USB cable is very durable
− Only F keys can be remapped
− No dedicated media keys

The Logitech Pro X keyboard provides an excellent addition to the Pro X headset that was launched earlier in the year. Unlike the original Pro keyboard, it's tenkeyless and features full per-key RGB lighting, that can be customized using the new G-Hub software experience.
It weighs an amazing 980g and comes with a 1.8m cable. The Logitech has a big advantage, which is its portability, while it's not that smaller in size than most tenkeyless keyboards. However, Logitech still managed to make it compact. The Pro X ships with Logitech's GX switches, which are similar to the Cherry MX ones. The keyboard comes with a single set of switches pre-installed, and additional sets that are available at an extra cost.
Pulling the switches individually is relatively quick and easy to do, taking just over 30 minutes to pull and replace all 87 keys on the keyboard. Being able to swap between the keys gives you the benefit of having both types of keyboards in one, but the time it takes to do so and the cost are counter-intuitive.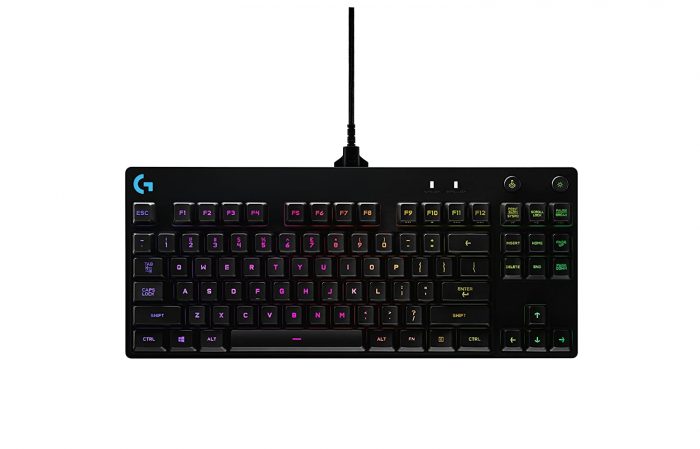 The GX Blue switches that come as a standard with the Pro X feel great and have a nice quality tactile responsiveness. If you want to make certain keys feel different, then you can simply switch them out. The switches seem to have a solid fit into the keyboard itself and only fit in a single direction. However, the keys don't have any wobble to them and do not come out without the included tool. The switch kit also comes with 92 switches in total, which is 5 more than what the keyboard has. There are also 5 extra switches, just in case you lose a switch from the original set.
The Pro X plugs into the laptop with a USB 2.0 cable which is provided in the package. However, the biggest problem with this keyboard is that the Pro X costs more than the existing Pro keyboard, and each switch set increases the total costs. If you don't need to change switches, it's hard to justify the additional cost. Another problem is the shape of the Micro USB cable used to connect the Pro X to the PC. Due to its pronged shape, this cable cannot be used with any other devices.
The design of the keyboard does, however, make it easier to take with you to tournaments, and the small footprint frees up desk space for low-sensitivity mouse movement. The Pro X is a solid pick, but the cost and its nature will relegate it, realistically, to a niche item for most players, regardless of what level they play at.

Best Keyboards in India: Bonus Tips
Best keyboard for typing practice
If you want to enhance your typing skills, then we suggest keyboards that have solid keys with a bit of weight. The best keyboard for typing practice is Leopold Fc660c since it is pretty compact and provides a satisfying feeling while typing, which allows you to type away the whole day.
Best keyboard for writers
Writers have demanding requirements when it comes to the turnaround time of their work. They require a keyboard that is fast and reliable. If you're a writer and looking for some keyboard that will suit your needs, then look no further. The Roccat Vulcan 100 is perfect for writers as the company claims that their titan switches are 20% faster than any other keyboard on the market.
Best keyboard for programming
If you're looking for the best keyboard for programming then consider Filco Ninja Majestouch 2. With front printed labels and a sturdy body, this keyboard is a hit with programmers. Also, we noticed that there are already numerous satisfied customers around the world.
Best keyboard for gaming
Without a decent gaming keyboard, you won't experience the game at its finest. If you are a gamer, then we suggest getting the Corsair K95 RGB. It is an amazing keyboard that is completely tailored to gamers and their needs.
Best keyboard for beginners
If you are a beginner in tech and it's your first time buying a keyboard then we have just the right keyboard for you. Das Keyboard Prime 13 features a minimalistic design, with Cherry MX switches and a simple led backlight. It is perfect for first-time gamers or anyone who simply wants to type at work or home.
Conclusion
So, let's sum it all up. If you are looking for a keyboard that is, by all means, the best in the market, we strongly recommend you to check out Corsair K95 Platinum XT. However, if you want a cheaper solution that still provides a great value for the money, you should aim for keyboards like HyperX Alloys. It's not the best out there but provides more benefits than any keyboard in the same price range. On the other hand, if you want to shop on your own, be sure to check out buying tips first.
If you have ever owned any of the keyboards above, or plan to buy a new one, please let us know in the comments below.