Best Gaming Mouse in India in 2020
So, you've set up your gaming machine, bought an amazing graphics card, a very fast CPU, and backed it up with lots of RAM. However, all of that equipment is not enough. If you don't have proper input and output devices, like a good display, keyboard, and mouse, your gaming experience might not be complete. That stuff, especially keyboard and mouse, will make insignificant costs compared to all the other components but will make you enjoy long gaming nights at max.
What makes a mouse be considered as a  "gaming" mouse is not only the way it looks. There are various factors that make your gaming experience smoother and easier. For example, a gaming mouse usually has an ergonomic design, to make your hand stay in a comfortable position. Besides, it's stuffed with various handy buttons, so unlike the casual two-button mice, a gaming mouse has at least 4-5 buttons.
However, many companies nowadays make a mouse and state that it's a gaming mouse. It might look visually appealing, but whether it is really good or not, you can see only after using it for some time. To save your time and effort, we have tested the best gaming mice in India that you can buy in 2020. Be sure to check it out, but first, let's check a few useful buying tips that we have prepared for you.
All-Purpose or Specialised Mouse?
No matter what the company that sells mouse states, there is no gaming mouse that is perfect for every genre. Therefore, you should choose wisely depending on your needs. If you built a PC to play all possible kinds of games, you should aim for all-purpose mice. On the other hand, if you primarily play a specific genre, like FPS, RTS, RPG, and so on, you should buy a specialized mouse. All-purpose mice are the most common in the gaming market, and these come in all sizes and shapes. Since they should be equally ideal for all types of games, they don't feature any special design. However, let's talk about specialized mice.
There are specialized mice for all types of main game genres. If you often play Call of Duty, Quake, Rainbow Six, and similar games, you should, of course, look for an FPS mouse. Although these mice are similar to all-purpose ones, these usually come with a distinctive "sniper" button beneath the thumb. It's a button that immediately slows down DPI in order to achieve difficult shots. Right after that, you can set DPI back to its previous value. An excellent example of an FPS mouse is Logitech G402 Hyperion Fury, which you can buy for around $60.
Another interesting type of mice is the MMO mouse. If you have ever played World of Warcraft, for example, you probably know how important it is to quickly reach those slots for magic, potion, attack, or anything similar. It's especially difficult if you have many slots assigned at the moment. That's where bulky, MMO mice come in. These can be a bit heavier than FPS ones since mouse speed is not that much important, but you can also notice that most of these have 9-12 buttons on the left side, near the thumb. They look different than most mice, they are also heavy and sometimes a bit uncomfortable, but that's the sacrifice that you have to make if you want slot buttons at your thumb.
There is nothing special to say when it comes to RTS mice. Although many people are googling for those, they actually look very similar to all-purpose mice. On the other hand, there is no popular strategy game that's made a huge splash in the previous decade, apart from StarCraft maybe. If you are an RTS fan, you should look for the all-purpose mouse, that is also lightweight and has additional buttons. You can't go wrong with that.
Customizable mice are also a very interesting choice. They are quite expensive but totally worth the money. For example, take a look at The Razer Ouroboros or Mad Catz R.A.T. Pro X, which let you customize literally everything, from the angle of the palm, to how the buttons feel when you press them. However, be ready to burn $150-200 for a proper customizable mouse.
Laser or Optical Sensor?
For quite a long time, gamers have been arguing which one is better – laser or optical sensor. Even today, we can't give a proper answer, but let's take a look at the pros and cons of both. At first, let's mention that laser mice are more adaptive to different surfaces, while for the optical one, you would have to consider the surface on which you will be using it. However, you can always invest in a good mouse mat, which is not expensive. Also, laser mice are usually more accurate, but they are also more sensitive to dust and they easily skip under high acceleration.
Another thing that you should keep in mind is that laser mice have a higher lift-off distance. It means that when they are above the surface, but not directly touching it, they will still receive some readings. So, can it be bad? Well, in some cases when the mouse reaches the end of the mat, and you want to lift it and pull it back, it might keep acting like it's still on the ground. It might be a bit of trouble in some FPS games, but in other situations, it shouldn't be a big deal. On the other hand, some companies managed to partially solve the lift-off distance issue by implementing a special 3D infrared sensor. Also, some mice allow you to manually customize the lift-off distance via the software.
Are DPI and Polling Rate Important in Gaming?
At first, let's clarify what these terms are, and how they are important when it comes to gaming. The polling rate refers to how many times the mouse reports its position to the computer, and it's measured in Hz. The default polling rate of a classic mouse is 125Hz, which means that it reports its position to the computer every 8ms. However, for proper gaming, you need a polling rate of at least 500Hz, which reports the position every 2ms, or even a mouse of 1000Hz polling rate, which reports the position every single millisecond. Although mice with 1000Hz are excellent, the difference between 1 and 2 milliseconds is barely noticeable, especially if you are not playing the whole day, every day.
Another term, DPI, measures the mouse sensitivity, and it means Dots Per Inch. Basically, the higher the DPI, the less you have to move the mouse. If you ever used a mouse that you move only a little and the pointer goes all the way across the screen, it usually means that it has a high DPI. If you are tired of making too long hand gestures, you should look for a mouse with high DPI. Most mice have the button that allows you to change DPI on the go, but why is that important? Well, if you need to make fast movements over the large area, a lower DPI would be better. On the other hand, you should look for higher sensitivity if you need to make precise movements over a smaller area.
A DPI is important depending on the genre that you play. It is not too important for World of Warcraft, but for games like Counter-Strike, it's crucial. Some companies build mice that provide up to 12,000 DPI, but honestly, most of the gamers find a sweet spot between 3,000 and 5,000.
| Model | DPI | Polling Rate | Connectivity | Ambidextrous | Warranty |
| --- | --- | --- | --- | --- | --- |
| Logitech G402 Hyperion Fury | 4,000 | 1000 Hz | Cable | No | 2 years |
| Logitech G903 Lightspeed | 12,000 | 1000 Hz | Bluetooth, Wireless Dongle, Powerplay | Yes | 1 year |
| Razer Lancehead Tournament Edition | 16,000 | 1000 Hz | Cable | Yes | 1 year |
| SteelSeries Sensei 310 | 12,000 | 1000 Hz | Cable | Yes | 2 year |
| ASUS ROG Gladius II | 12,000 | 1000 Hz | Cable | No | 1 year |
| Logitech G603 | 12,000 | 200-1000 Hz | Bluetooth, Wireless Dongle | No | 1 year |
Top 6 Gaming Mouse in India in 2020
#1 Logitech G402 Hyperion Fury
DPI: 4000 | Polling Rate: 1000Hz | Connectivity: Cable | Ambidextrous: No | Warranty: 2 years
+ Great ergonomics
+ Excellent for any FPS game
+ Ultimate Polling Rate
− Scroll wheel could be slightly better

When Logitech makes a product, it's usually a good one – and the same rule applies to this gaming mouse. Over the years, Logitech has been a true leader in PC parts manufacturing, so that's why we wanted to test this mouse. It's needless to say that we weren't surprised – the top quality was completely expected.
G402 is an advanced version of a gaming mouse, that comes with various useful features, such as customizable DPI, a fast processor, and nice OS compatibility. While testing, the first thing that caught our attention was the lightweight and the easy-grip of this mouse. It moves very smoothly, and while playing CS: GO and Call of Duty, we noticed that it's very easy to switch controls, due to its customizable options. The mouse has a nice ergonomic design, and even after a few hours of playing, we didn't experience any hand pain – which was the case with most of the other mice. G402 is an excellent mouse for any FPS game!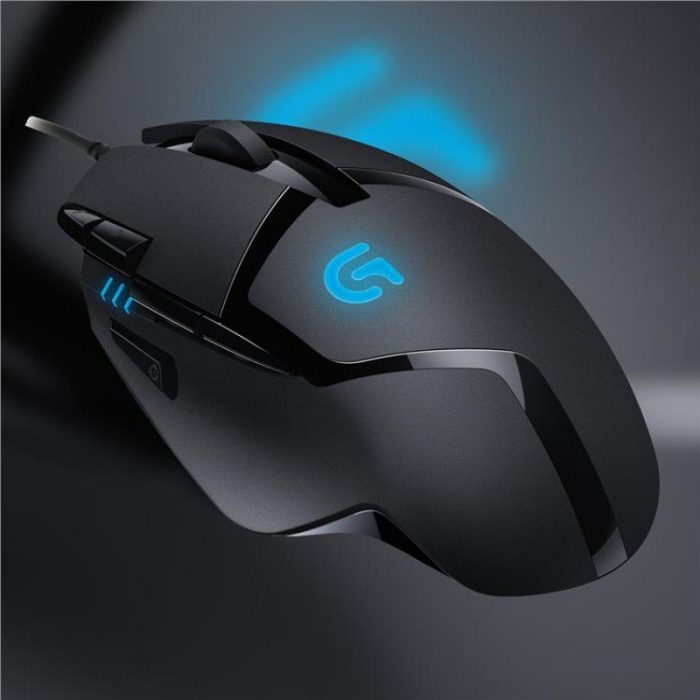 In the text above, we mentioned the importance of the polling rate. This mouse comes with a rate of 1000Hz, which allows position readings every single millisecond – you really can't find a mouse faster than that. Besides, it features a fusion engine high-speed tracking and comes with a pretty nice, 2.1m long cable. Left and right buttons are very durable (20 million clicks according to Logitech), and it also comes with 8 programmable buttons.
Let's also mention that G402 offers up to 4,000 on-the-fly customizable DPI, and the company provides a 2-year warranty, as well as a 10 days replacement. Basically, if you want a mouse with a comfortable, ergonomic design, high polling rate and DPI, which also offers plenty of customizable buttons, your best choice is Logitech G402 Hyperion Fury. Before looking further, be sure to check this one out, first.

#2 Logitech G903 Lightspeed
DPI: 12000 | Polling Rate: 1000Hz | Connectivity: Bluetooth, Wireless Dongle, Powerplay | Ambidextrous: Yes | Warranty: 1 year
+ Powerplay system
+ For both left and right-handed users
+ Lightweight, yet strong
− A little bit expensive

G903 is another Logitech gaming mouse that won our hearts. One of the primary reasons it's not our TOP choice is its price. It costs around $100, but on the other hand, it comes with amazing features, and also, it's wireless. So let's see what Logitech G903 has to offer.
The first feature that caught our attention is its Powerplay system, which is awesome! But what is it all about? Well, there is a special mat that you can buy separately (and therefore increase the total costs), which charges your mouse as you use it! It's an amazing feature, but the bad thing is that the mat is compatible only with G703 and G903. So, is the mouse worth buying if you don't want to buy a mat? It definitely is.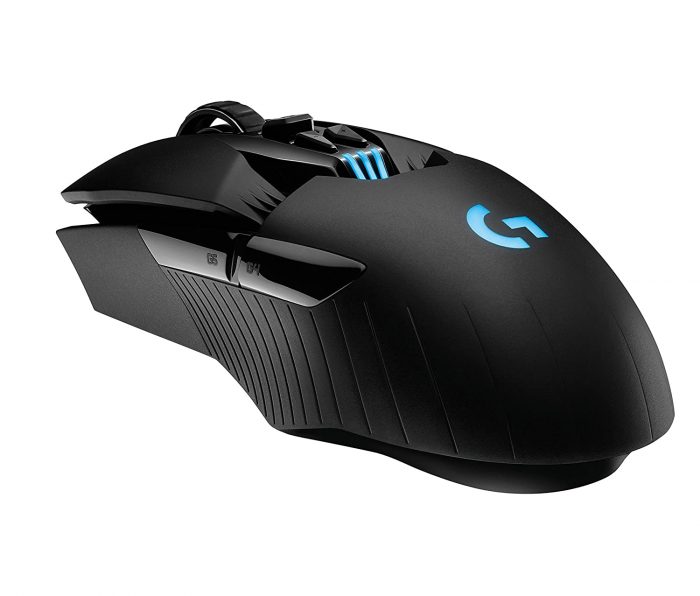 As soon as we started using the mouse, we noticed how comfortable it is. Okay, honestly, we noticed its awesome design first, which is unique, ergonomic, and very nice. The mouse offers 9 buttons, although two are disabled by default. The reason why they are disabled is that G903 is made for both left and right-handed users. The disabled buttons are covered with a stabilized piece of plastic, which is connected magnetically. You can easily swap it out and put the two right-edge buttons if you are left-handed.
As mentioned, you can buy a power mat and have the mouse constantly charged. If you don't want to buy the mat, you can still use it as any other wireless mouse. The battery lasts pretty long (around 12 hours under constant use), so that's not the thing that you have to worry about.
The ambidextrous design might scare away some people, but with a dual-mode mouse wheel, premium switches, lightweight chassis, and very, very low latency, it's an excellent choice for every gamer. It's a bit expensive, especially if you buy it with a power mat, but it's definitely a worthy investment.

#3 Razer Lancehead Tournament Edition
DPI: 16000 | Polling Rate: 1000Hz | Connectivity: Cable | Ambidextrous: Yes | Warranty: 1 year
+ Very good 5G sensor
+ Buttons provide a satisfying feeling when clicked
− Might be too small for some people

Razer Lancehead is another ambidextrous mouse with pretty interesting design – business in the front, party in the back.  It comes with a very precise optical sensor, large rubber side grips, and 2 years of warranty. There are two side buttons on each side, very conveniently placed, as well as a button on the bottom to switch between profiles. The buttons have almost no travel time and produce nice and crisp clicks. Although, the side buttons feel a bit "slow".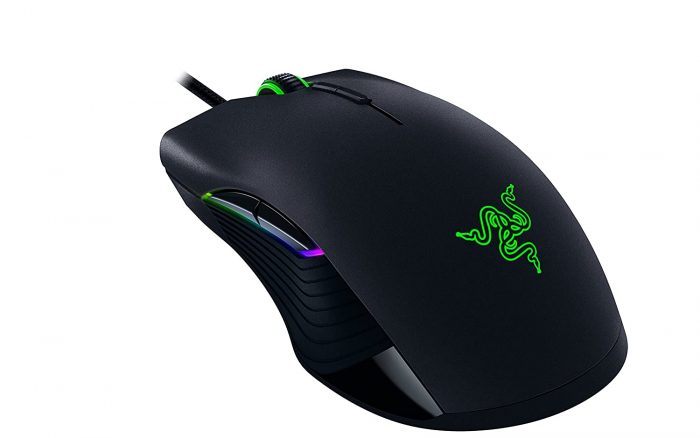 When it comes to performance, we noticed that Razer Lancehead TE features a 5G sensor, which is a Razer's branded sensor that works flawlessly, like a charm. Before dwelling into some serious gaming, it's smart to install Razer's Synapse, which allows you to do various stuff to your mouse. For example, you might want to disable the side buttons that you won't use, and also, configure DPI and other settings. The mouse can store up to four different profiles, which is ideal if you often play competitions or tournaments with friends. It's especially useful if you play games on a laptop and carry it to your friends' house.
We must notice that Lancehead TE is ideal for people who don't want a full palm over a mouse since the mouse is not very large. If your hands are big, it might feel too small and not be adequate for proper gaming. Apart from that, Razer Lancehead TE has everything that a gaming mouse should have – flawless sensor, crispy clicks, enough buttons, a flexible cable, and if you are okay with the shape, it might be the ideal option for you. We should also notice that the mouse is relatively affordable, so be sure to check it out!

#4 SteelSeries Sensei 310
DPI: 12000 | Polling Rate: 1000Hz | Connectivity: Cable | Ambidextrous: Yes | Warranty: 2 year
+ Improved build quality over previous models
+ Reasonably priced
+ Very comfortable
− Lacks sensor calibration support

With a completely new sensor and improved build quality, SteelSeries Sensei is back and better than ever. It's reasonably priced and very comfortable, and although it lacks sensor calibration support, it's a very good choice for gamers.
Sensei 310 has definitely inherited the shape and 8-button layout from its predecessors, but it features a quite modern design. To provide an easier grip, the company swapped classic faux chromed finish with a sandy matte coating, which we noticed in the very first few minutes of use. The mouse weighs only 90 grams, which kinda reminds of those cheap, low-quality mice, but it's definitely not. The build quality goes far beyond the usual, cheap plastic. Besides, it really feels that every curve is exactly in its place, providing a pretty nice comfort.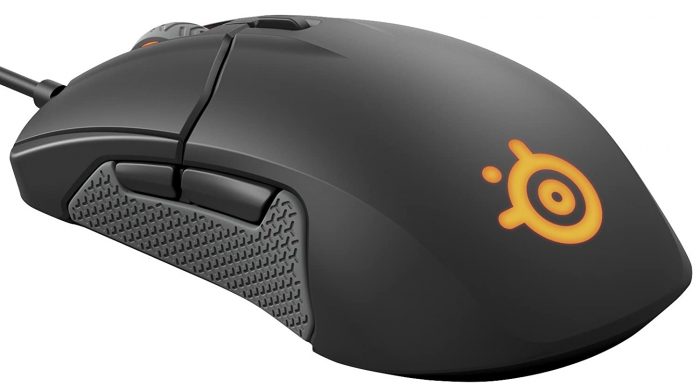 When it comes to performance, the first thing that we should state is that Sensei 310 is updated with the TrueMove3 optical sensor. It's engineered in partnership with Pixart, a company that has extensive experience when it comes to making optical mice. The sensor offers a maximum CPI of 12,000, which many gaming mice promise to deliver. However, with advanced jitter reduction, Sensei 310 smooths out all the micro-movements, allowing you to deliver perfect headshots.
Besides, if you are left-handed, the SteelSeries Rival 310 is the ergonomic twin of Sensei 310, literally the same in every way, but for left-handed people. Be sure to check it out!

#5 ASUS ROG Gladius II
DPI: 12000 | Polling Rate: 1000Hz | Connectivity: Cable | Ambidextrous: No | Warranty: 1 year
+ Awesome polling rate and acceleration
− Expensive
− We expected more features for that price

ASUS ROG (Republic of Gamers) brand is well-known for making excellent gaming mice, and with Gladius II, it perfectly continues the tradition. With its 12,000 DPI optical sensor, 1000Hz polling rate, and 50g acceleration, it ensures to provide you with a fast and accurate experience.
As you can see, Gladius II is not covered in buttons, like many other gaming mice. However, it has enough buttons to give you the ideal gaming experience. Left and right buttons can be removed using a special modification switch, and there are also extra switches included in the box. Their main purpose is to increase the lifespan of the mouse, which is especially good for people who like frantic clicking. Being able to change the type of switch under the main buttons is a very handy feature, especially if you like that sort of flexibility. There is also a DPI target button, which lets you easily lower the current DPI mode. It's excellent for FPS games when you need to deliver quick and precise headshots.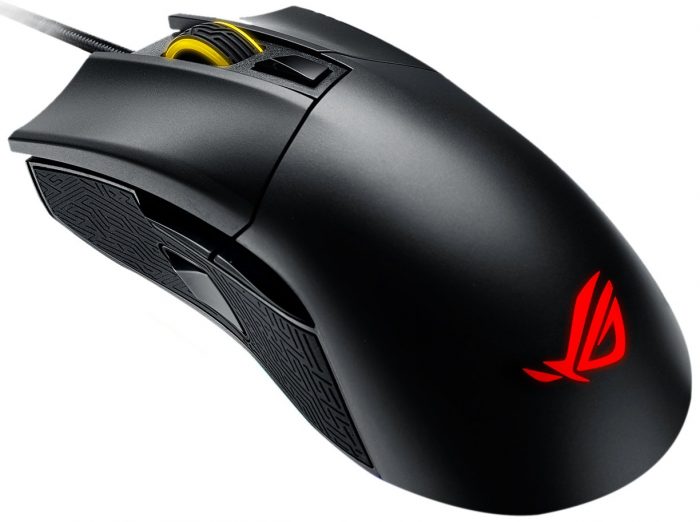 The mouse comes with a very nice RGB lighting, which illuminates three areas: the wheel, the ROG icon, and the area along the underneath of the mouse. It's needless to say that RGB lighting looks very nice, especially if you like to play in the dark. You can also configure the lighting effects in the ROG Armoury software, which allows you to do a bit of personalization on your mouse. On the other hand, although lighting effects and animations look very nice, they don't affect the gaming performance in any way.
We tested Gladius II on various genres, but no matter if we played Battlefield 1 or League of Legends, the mouse provided an excellent, smooth experience. However, it can be a bit of a struggle to use it for serious MMORPGs, since those games require lots of buttons. We also found the DPI target button very handy, but the one thing that this mouse lacks is swappable weights. After all, we can state that Gladius II is an excellent all-round gaming mouse, with the immersive build quality, at a very reasonable price. It's definitely a device worth checking out!

#6 Logitech G603
DPI: 12000 | Polling Rate: 200-1000Hz | Connectivity: Bluetooth, Wireless Dongle | Ambidextrous: No | Warranty: 1 year
+ Affordable
+ Excellent battery
− Still, not an ideal gaming mouse to satisfy everyone's needs

The first thing to notice about Logitech G603 is that it looks like a casual desktop or laptop mouse. There is no special design that will make you think this mouse is made for gaming. However, it actually is. Besides, it's really inexpensive, and since it's made by famous Logitech, we decided to give it a try.
After some testing, we realized that Logitech Lightspeed technology perfectly provides ultimate responsiveness and reliability. Besides, no matter the simple design, the mouse is really comfortable for the hand. It offers six buttons, which include left and right buttons, a clickable scroll wheel, DPI adjuster, and two thumb buttons – enough for most video games.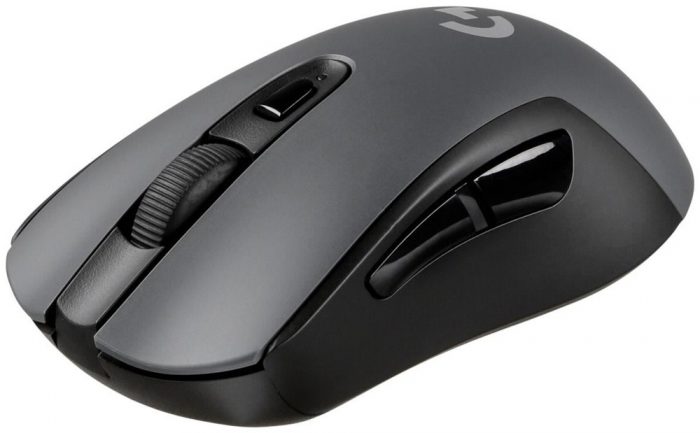 What we really like about it is its wireless technology. You can connect it either via wireless dongle or Bluetooth, and Logitech advertises around 500 hours of battery life. Besides, depending on your current battery level, you can switch between gaming and a power-saving mode. Honestly, you don't need 1,000Hz polling rate and 8,000 DPI while typing in a Word document or surfing the web. When it comes to the gaming mode, we tested G603 on various games across various genres and were very satisfied. It showed very well in both Witcher 3 and Call of Duty: Black Ops. Although it might require additional slot buttons for MMO Role-Playing Games, it's still a very decent gaming mouse overall.
Logitech G603 is basically one of the most affordable gaming mice that still provides you with the "gaming" feeling. It's very comfortable to hold, and with excellent battery life, we were very comfortable to put it on this list. If you don't have an enormous budget for a high-end mouse, but still want to get an awesome gaming experience, we strongly advise you to check it out.

Best Gaming Mouse in India: Bonus Tips
Best Gaming Mouse Under Rs. 2000
2000 rupees is definitely not a ton of cash to invest in a good gaming mouse. If you want to buy a gaming mouse in that price range, you should get Logitech G302. It similar to G402, the first on our list, and the fact that you can get it at a very affordable price is amazing.
Best Gaming Mouse Under Rs. 1000
If you are looking for an even cheaper gaming mouse, be sure to check out Dragonwar Leviathan ELE-G1. It comes with 3,800 DPI and a very nice, a bit futuristic, yet ergonomic design.
Best Gaming Mouse Under Rs. 500
Finally, if you are looking for the cheapest, and yet good gaming mouse on the market, Logitech M235 is the way to go. Okay, it's not the best mouse out there, and it can't be completely considered a gaming mouse, but you can't get a better one for that price.
FAQs
How are wireless mice different from the USB ones?
Since people are constantly arguing which ones are better, but let's clarify the actual difference. Bluetooth mice are more flexible, but on the other hand, you don't want to run out of battery in the middle of long, heavy gaming. They mainly differ in the way they work. While USB mice, obviously, connect via the USB port, the other ones need an in-built Bluetooth feature in order to connect. However, in-built Bluetooth is quite common nowadays, especially in laptops, and especially in gaming laptops.
What is the difference between a gaming mouse and a classic mouse?
If you need a mouse for surfing the web now and then, there are various features that you don't need. For example, you don't need a high DPI and Polling Rate, you don't need an ergonomic design to comfort you for several hours, and you don't need too many programmable buttons. On the other hand, if you are a gamer, it's the stuff that you will need by all means, and you will get all of these features in a good gaming mouse.
Why is there a CPU in a mouse?
There isn't yet a clear answer to that question, but it indeed is intriguing. Most people speculate that it's just another form of advertising – you put a brand name on a mouse's CPU, and every time a person uses a mouse, he will remember the logo. Moreover, microchips are very affordable nowadays, so it doesn't make a big cost to simply put a CPU with a brand name inside.
(Only) A Few Words in the End
To sum it up, if you are looking for the best gaming mouse in India, you should definitely buy Logitech G402 Hyperion Fury. You literally can't get better than that. On the other hand, all the other mice on this list are great. They might not be as perfect as G402, but they are totally worth the price. Be sure to check them out!
Do you think that there is a good mouse that we forgot to mention? Please let us know in the comments below.