Best Wireless Printers (For Home Use) in India in 2020
Every office wants to go paperless, but sadly most of us still need a printer, especially wireless printers that can be connected to all devices. There are tons of choices to choose from if you are looking for one, but not all of them are recommended. We have figured out some of the best that may meet your needs, through its reliability, connectivity, and durability for your personal use at home. All of them can be easily found through Amazon's online marketplace in India. Although there may be some shortages and unavailability during the Corona lockdown.
Wireless printers are not too much different from normal printers, except for its method of connectivity. Instead of using traditional USB cables, wireless printers use Wifi connectivity to print, making it easier for home users to print from a distance. The demand for this ability has risen in India, and most of the printers released within the last year come with this ability.
In this article, we will review the best wireless printer for personal home use in 2020. We have used 3 key indicators to make it easier for you to understand: price, features, and performance. But before we start, you need to consider some of the types of printers below and decide which one has the features that will help you the most.
Which Wireless Printer is Suitable for Me?
You may ask this question before heading out to find the most suitable wireless printer. There are 3 types of printer available that we recommend for home use, these are:
⦁ Wireless laser printers: pros: regarded as a very good option to print high speed, often with larger paper capacity than other printer types, and often features a paper tray or finisher. Cons: longer warm-up times and often larger footprints.
⦁ Wireless ink tank printers: pros: suitable for printing high-quality images with shorter (to none) warmer up times and have small footprints. Cons: slower printing speeds, higher cost per page, produces wet prints.
⦁ Wireless all-in-one printers: pros: it can be used for all office purposes (photocopying, printing, scanning, and faxing), more efficient than buying all the devices separately, and power-efficient. Cons: higher cost per page and produces wet prints.
Quick Tips before Purchasing a Wireless Printer for the Home
Find the specs that suit you. When it comes to printers, its specs are essential, especially when you are looking for a printer for the home. Most of them have difficult acronyms and sometimes it is confusing. So, you must dive in more to get to know about them, then choose the one that suits your needs. Read about the reviews. We know sometimes reviews can be fabricated, but it can help you to understand about the printer's quality. Try to look into them on Amazon, there you can find a lot of reviews, both positive and negative. You can compare them, so you can choose the printer wisely. Match your budget with your needs. Nowadays, there is a wide variety of printers you can find, from the cheapest to expensive. The cheapest is not usually the worst, but you must make sure it can last a long time.
Opting for a more expensive printer can be a good idea since it is often offering you a longer warranty and has better build quality. Calculating your additional print supplies. Maybe you can find a cheaper printer option, but it does not mean you will not need anything else later on. You still need to buy ink refills for your printer. So, before you are amused by its price, try to calculate how much you have to spend. If your calculation looks promising, go ahead, and purchase it. But if it costs more, you may want to re-think your decision. Each of the aforementioned printer types has its own pros and cons. Now you are familiar with them and ready to choose the right wireless printer for your home, it's time to move on to the next question: what is the best wireless printer in India in 2020.
| Model | Dimensions | Best for | Compatibility |
| --- | --- | --- | --- |
| Epson L3150 | 37.5 x 34.7 x 17.9 cm | Low cost color print | Wifi direct print, USB cable |
| Canon Pixma G3000 | 44.5 x 33 x 16.3 cm | Color print for home use | Wifi direct print, USB cable |
| Brother HL-L3270CDW | 43.9 x 46.1 x 25.2 cm | Printing through NFC | Wifi direct print, USB cable, Ethernet, NFC |
| HP Ink Tank Wireless 419 | 52.5 x 31 x 15.8 cm | Printing with Voice Assistant | Wifi direct print, USB cable |
| HP Deskjet 2622 | 47.2 x 34.4 x 18.8 cm | Printing with Voice Assistant | Wifi direct print, USB cable |
Top 5 Wireless Printers (For Home) in India in 2020
1. Epson L3150
Dimensions: 37.5 x 34.7 x 17.9 cm | Best for: Low cost color print | Compatibility: Wifi direct print, USB cable
+ Cost per paper is cheaper
+ Spill-free refill system
+ Borderless print for images
+ Automatic cleaning system
– A little noisy when operating
– Limited support for macOS

It is time to say goodbye to pricey print! With Epson L3150, you can have a cheaper print with high-quality results. From the tests performed, we calculate the cost for every page printed using this printer is around 7 paise for black & white and 18 paise for color print, while the speed of this printer is also dependable, with a capability to print around 33 pages (for black & white) or 15 pages (for color) per minute, which will save you a lot of time. Besides that, the Epson L3150 comes with a pack of four ink bottles of Cyan, Magenta, Yellow, and Black colors. Refilling it is pretty easy as well, unlike inkjet printers that require more effort. But you must make sure that you do not touch the printer heads while refilling the tank, so you do not have the ink spill around.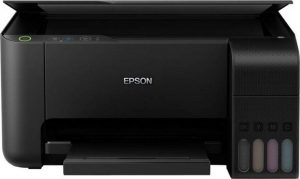 The printer head has automatic and manual cleaning options. It allows you to go without printing for 20-30 days, so you can use the printer as needed without having to worry about the ink drying. The print head has a life span from 3-5 years, so you can use it without too much maintenance for a longer period of time. The image quality produced through this printer is wonderful. It can print the image with resolutions up to 5,761 dpi. We found the printed result noise-free and quite vibrant on each page. So, it is reliable if you want to print your own photos back at home. Epson also brings up advanced technology through this printer, with pre-installed ink tanks that will not leak and guaranteed to be spill-free. The design is compact and weighs around 4.5 kg, which is perfect for homes with limited space. If you are working within a group, the Epson L3150 also comes in handy, since it features Wi-Fi connectivity to print from 4 smart devices without router. The only flaws that we found on this printer are its noisy nature when operating and limited support for macOS. Despite that, this printer meets our criteria for price vs quality.

2. Canon Pixma G3000
Dimensions: 44.5 x 33 x 16.3 cm | Best for: Color print for home use | Compatibility: Wifi direct print, USB cable
+ Crisp and clear image print
+ Easy to refill
+ High-speed printing speed
+ Integrated ink system
– Quite expensive
– Lack of Ethernet port

The Canon Pixma G3000 is another option if you want to purchase a printer with pre-installed ink tanks. It features integrated ink tanks that will come in handy if you have to transport this printer without having to worry about leaking ink and also has a nice compact design with a weight of 5.8 kg. We tested this printer to print some images and the result is mesmerizing. It produces a crisp image with almost zero noise. Canon claim that the Pixma G3000 can be used to print around 15,000 pages within its life cycle. The cost per page is around 9 paise and of a single-colored print is 23 paise. Although it is slightly more expensive, you can obtain high-quality results from it.
But that does not mean the Canon Pixma G3000 is all perfect. We found several flaws in this product as well.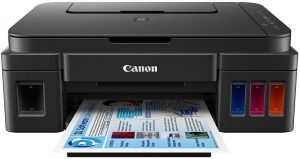 Unfortunately, the printer does not have an Ethernet port which will be a disadvantage for some home office users. To cope with this, a direct Wi-Fi connection is available for printing work through mobile devices, which means we have more connectivity options besides the USB cable. It is also quite noisy in normal mode but produces high-speed results. Silent Mode is available, although it will make the speed decrease if switched on. Despite its pros and cons, Canon Pixma G3000 still shows promising results. The package also includes 4 ink bottles for a refill, so you do not need to hassle yourself on bringing home all the time. If you want to find a printer that you can rely on whether to print some pictures or documents back at home, then this printer is a go-to choice.

3. Brother HL-L3270CDW
Dimensions: 43.9 x 46.1 x 25.2 cm | Best for: Printing through NFC | Compatibility: Wifi direct print, USB cable, Ethernet, NFC
+ Print from mobile devices through NFC
+ Crisp and clear print output for text
+ High-speed printing
+ Paper duplex storage up to 250 sheets
– Bulky design
– Cost per page is a slightly higher

As the print-only version of the Brother HL-L3270CDW, this printer is one of the best printers features vs price you can find on the market. It features an LED printing feature that allows you to print a higher volume of papers within minutes unlike other types of printer. The Brother HL-L3270CDW has quite bulky dimensions of 43.9 x 46.1 x 25.2 cm, which makes it quite big on your working desk. Although it takes more space, the speed performance really shows its value.
The main reason why the HL-L3270CDW is a bit bulky compared to its competitors is that it has a 250-sheet paper capacity. This will come in handy if you would like to print in higher volume. It also possesses the ability for duplex printing, which is really great for home-users to save some bucks.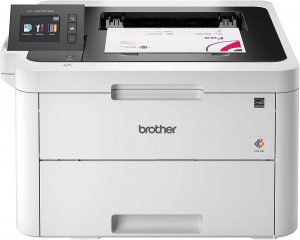 The other reason why we put this printer on the list is that it is packed with NFC printing ability. This technology allows you to print directly from your mobile devices like a smartphone or tablet without having to turn on the Wifi. You only need to get the document ready and put your devices near the printer to start the process. But your mobile device needs to have NFC tech inside it to make this feature work. Other connectivity methods you can rely on with this printer are Direct Wifi, USB cable, and Ethernet network. It can also print from mobile phone connection options such as Brother iPrint&Scan for remote printing, Air Print, Google Cloud Print, and Mopria. The printing speed of the HL-L3270CDW is also wonderful. We got around 25 pages per minute using this printer. We tried to print text and the result is crisp and clear. But since it produces high-quality results, the cost per page is slightly higher within its class. It still does justice though, because we are satisfied with this printer. So, if you only need to print around 200-300 sheets per month, this product is a perfect choice for you.

4. HP Ink Tank Wireless 419
Dimensions: 52.5 x 31 x 15.8 cm | Best for: Printing with Voice Assistant | Compatibility: Wifi direct print, USB cable
+ Pre-installed ink tank
+ Easy setup using a smartphone
+ Ability for borderless printing
+ Exceptional print quality
– Built quality is not top of its class
– Large sturdy ink tank attached to the main body

Another option you may consider if you are looking for an all-in-one printer at an affordable price. The HP Ink Tank Wireless 419 features pre-installed ink tanks that allow you to refill using printer-grade ink at ease so you don't need to worry when you have to deal with printing in high volumes. But the design is not all perfect since the tank placement is not too comfortable (just attached to the main body). So, it is better to keep this printer in a safe place and outside of your kids' reach.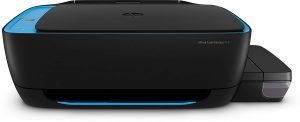 For the print quality, we tested the performance of the HP Ink Tank Wireless 419 by printing some text and images. It turns out that this printer can produce exceptional print quality. The ink on this print is fine and has zero smudges. The paper used for printing also remains clear and does not show any ink overflow on the edges, which is good for home users. The connectivity of this printer is also quite good. You can print directly from Wifi through PC, laptop, and even mobile devices. But to print through smartphones or tablets, you have to install the HP Smart App first. We did not have any problems when connecting it. Print work using a wired cable is no different since we were able to print within seconds after it was plugged in through the USB connection. We tried to scan using the HP 419 and had no problem with it. This printer can scan just like any other all-in-one printer can, it usually takes 10-20 seconds for scanning. Overall, this printer meets our criteria for budget, performance, and quality. We are quite satisfied with the HP 419.

5. HP Deskjet 2622
Dimensions: 47.2 x 34.4 x 18.8 cm | Best for: Printing with Voice Assistant | Compatibility: Wifi direct print, USB cable
+ Voice activated with Google Assistant and Alexa
+ Easy setup using a smartphone
+ High-speed printing
+ Convenient output tray to avoid paper jam
– The cartridge cannot be refilled
– Only suitable for occasional use

If you opt for an inkjet that is better than an ink tank printer, then the HP Deskjet 2622 needs to be on your list. It features voice-activated programs that allow you to print using Google Assistant and Alexa, which will be very useful when you have to print faster without searching for a Wi-Fi connection first. But, since this printer is using an inkjet system, its cost per page is higher. So, it is only suitable for those wishing to work with small volumes. To overcome this, you can find additional cartridges sold separately. On the other hand, this printer comes with a user-convenience tray, which will help to save desk space when it is closed and reduces the risks of paper jamming. It also has a compact design with luxurious looks that will make it stand out on your working desk at home.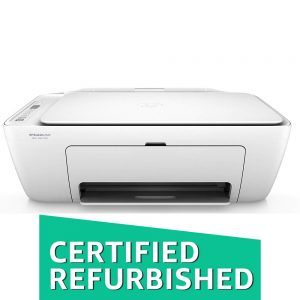 Our experience with the Wi-Fi setup is also quite good. We did not have any problem pairing the printer with mobile devices like smartphones or tablets. USB cable connection is dependable, so you will not have to run out of connectivity options for both mobile and on-desk printing. Another thing that you may have concerns about with the printer is its buttons. The button display comes with touch screen icons that are quite hard to find if you do not look for them carefully. But, copying and scanning using this printer are pretty easy, with just a few clicks. Despite its flaws, we still recommend you purchase this if you are looking for an affordable all-in-one printer. It is a price matched quality product you do not want to miss.

Best Wireless Laser Printer in India
When it comes to budget-friendly wireless laser printers, the Canon imageCLASS LBP6030W is a great option. It may not be a top-of-the-class printer, but it is reliable enough for personal home use. It was introduced to the market back in 2014 but is still our personal favorite ever since. The reason we choose this printer is its compact design with 41 X 30 X 26 cm dimensions and a weight of just 7 kg.
Best Wireless Ink Tank Printer in India
Another option that we recommend for wireless ink tank printers is the Epson L805. It is designed as a photo printer that has extraordinary quality when you have to print your own pictures back at home. Not to mention it also has a high-speed printing ability and Wi-Fi or USB connection choice, which makes you comfortable to perform hassle-free printing. You can also print CD or DVD covers directly, which is useful for personal home usage.
Best All-in-One Printer in India
All-in-one printers can be pretty useful if you have the need for copy, scan, and print features all packed into one device. You can opt for the HP Deskjet 5275 for budget-friendly printing. It has all the abilities you would expect from a premium all-in-one printer, including voice-activated printing through Google Assistant and Alexa. This one can be a good choice for your home.
Most Frequently Asked Questions about Choosing a Printer
After you know about the type and the brand of a printer you want to purchase, it is better to take a look first at the most frequently asked questions people have in terms of choosing a printer so that you can get more insight and get the right one for your home. Here are some of them:
Which printer works the best for home use?
Every printer has its own pros and cons. If you have to print a lot of documents at home, we suggest you choose a laser or ink tank printer, since both can work fine for printing large documents. But if you are more into preserving family pictures, then an all-in-one printer can be a great option.
What is Duplex? Do we really need it at home?
Duplex printing actually refers to scanning or printing both sides of the page that requires no manual flip the page. Nowadays, many all-in-one printers feature automatic document feeders (ADF) for the scanner that also allows you to duplex. You actually do not really need it if you do not print too often. But if you do, Duplex can help you to save paper when single-side printing is not necessary.
Do we require a Wi-Fi connection for printing?
No, you can print using a USB cable, although most of the printers on the market usually feature Wi-Fi connectivity options. But, using direct Wi-Fi on your printer can save more time, since you only need to connect your mobile device without having to worry about driver setup. Some printers even offer one-button wireless setup — if the router it is being connected to supports it — making network pairing as easy as opening your screen.
Should we buy replacement ink often?
Before you buy a printer, make sure you do the research about the cost of replacement supplies needed for future usage. Depending on how often you plan to print pictures or documents, it is best to buy a more expensive printer and fewer ink cartridges. Besides that, try to explore the possibility of refilling your own cartridges, which can decrease your cost dramatically rather than buying new cartridges. But please keep in mind to do it by following the right instructions so as not to break your printer.
Conclusion
After reading about the pros and cons of each printer category, knowing about the best printers in India, and also understanding the answers to various questions people usually ask, you are ready to purchase your own. But, please make sure that the printer you choose really meets your needs. You can read this article again if you need it for future reference. We hope you get the right one.