Best External Hard Disks in India in 2020
Sooner or later, we all get to the point when we run out of disk space on our computers and laptops. And almost every day we have more and more data that needs to be stored somewhere. Well, external hard disks are one of the best solutions to that. Not only you can store all your important data on them, but you can easily transfer all that to literally any computer or laptop in the world. External hard disks are quite convenient for travelers as well as they can use them to transfer the data from their computers to their laptops in no time.
Of course, not all the external hard disks are the same. There are certain things you should know before buying one. In this guide, you will find out what are the most important factors to consider while choosing an external hard disk. Although there are too many options out there, we picked some of the best products in terms of value and quality for you to choose from. So let's not hesitate anymore and begin with the guide.
Storage Capacity
Something that people first notice while they are looking for an external hard drive. Storage capacity is surely one of the most important elements of a hard disk. But how big should a storage capacity be? Well, it all depends on your needs. Most people make up their minds for the 1TB external hard disks. A lot of people find them the best solution since their capacity is neither too big nor too small. Most of the brands out there release their external hard disks in different capacities, frequently ranging from 1TB up to 6TB. That way you get a variety of options to choose from. But of course, there are some low storage hard disks with 500GB or 250GB in case you don't need that much space.
Speed
Remember size is not the most essential thing. Transfer speed is also extremely important. To some users, the transfer speed of an external hard disk is even more important than the storage capacity. But why is transfer speed so important? Well, if you are planning to use the device to transfer big files to a huge drive on a daily basis, you need your hard drive to be as fast as possible. Now, there are certain factors that determine whether an external hard disk is going to be slow or fast. One of them is connectivity technology. In terms of connectivity technology, there are several commonly used options to consider. Almost all the drives nowadays use the USB interface, but there are a few generations that are quite different from each other. Starting from the oldest one USB 2.0, which is still often used by many users. Unless you are planning to use the device for transferring nothing but some small files, you should avoid buying USB 2.0 hard disks. The next generation is USB 3.0 which is significantly better than USB 2.0, its transfer speed is up to 5Gbps, making it a much better option. The last one is USB 3.1, also known as USB 3.1 Gen 2, it is definitely the fastest possible option as it offers up to 10Gbps transfer speed.
HDD vs SSD
The most common choice people have to make is whether to buy an SSD or an HDD. The main difference is that HDDs use a magnetic spinning disk for storing data. That is why HDDs are much slower and easily damaged. But they are most of the time larger and way cheaper. Aside from connectivity technology, there are other factors like storage technology that determines the speed of a hard disk. Therefore, choosing an SSD is a much better option since they use a much faster technology. Not only that SSDs are faster, but the fact that they are more resistant to damage than HDDs makes them sound even more attractive to buyers.
Gaming
If you are planning to use your external hard disk for gaming while you are on the go, there are some certain things you have to be aware of. Choosing an external HDD for gaming is probably not a good idea as it is going to affect game responsiveness. And the last thing you want is to fall behind your competition because of a slow drive. Therefore choosing an SSD that is USB 3.0 or USB 3.1 is the best possible option.
Portability
If you are going to use your external drive only for backups in your home, portability is the factor you should worry about that much. But if you are about to keep it with you all the time, the device must be as light and as small as possible. Speaking of portability, SSDs are a much better choice, since they tend to be a lot smaller and lighter than HDDs.
| Model | Storage size | Type | Dimensions | Item weight |
| --- | --- | --- | --- | --- |
| Samsung T5 SSD | 500GB, 1TB, 2TB | SSD | 7.4 x 5.7 x 1 cm | 51 g |
| WD My Passport Go SSD | 500GB | SSD | 9.4 x 6.6 x 1 cm | 55 g |
| Adata SD600Q 240GB SSD | 240GB, 480GB, 960GB | SSD | 7 x 4 x 1 cm | 59 g |
| Seagate Backup Plus Slim | 500GB, 1TB, 2TB, 4TB | HDD | 11.5 x 7.8 x 1.2 cm | 308 g |
| Transcend TS1TSJ25M3S StoreJet | 1TB | HDD | 13 x 8.2 x 1.9 cm | 227 g |
| Toshiba Canvio Basic A3  | 1TB | HDD | 15 x 13 x 4.3 cm | 200 g |
Top 6 External Hard Disks in India in 2020
1. Samsung T5 SSD
Storage size: 500GB, 1TB, 2TB | Type: SSD | Dimensions: 7.4 x 5.7 x 1 cm | Item weight: 51 g
+ Highly compact
+ Easy-to-use software
+ Full metal enclosure
− No backup software

The prices of SSD's have fallen quite a lot and have become viable options for everyday laptop and PC users. Of course, by buying an SSD, you won't get anywhere near the same storage capacity as you would with an HDD at the same price point. But still, no one can deny that the durability, speed, and convenience you get with an SSD are worth sacrificing some storage capacity or investing some more money. If you need a device that is small enough to fit in your pocket, but still fast enough to transfer large files from one computer to another in no time, Samsung T5 SSD is the right choice for you. It is a great suit for people who are always on the go, not only because it is light and compact, but it has one USB 3.1 Gen2 Type C port. Therefore, USB transfer speeds are up to 10GBps. Unlike many other SSDs, this one includes cables to connect to both old and new devices. It features a useful AES 256-bit hardware encryption, making your sensitive data fully protected. After we tested the software of Samsung T5 we were quite surprised. It has a clean layout and is very pleasant to navigate. Setting up encryption or checking for updates is like a breeze on this external hard disk. The hard disk measures 74 x 57 x 10.5mm and is only 51g heavy. Another convenient feature is the indicator light that lights up when it is connected and blinks when it transfers.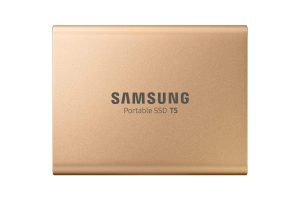 The design and the built quality are very good, it is entirely made of metal. Aside from the power LED, the Type-C connector. and the Samsung logo, there is nothing of note to comment on. Basically, the design is quite similar to the T3. The metal chassis increases the endurance of the device and ensures that the chips are properly cooled. Furthermore, the drive is shock-resistant and capable of handling drops of up to 2m. Moreover, it is fully compatible with Andriod devices. Samsung T5 achieved respectable read/write speeds of 433MBps and 323 MBps using a USB Type-C Gen 1 connector. According to Samsung, you will achieve much higher numbers using a compatible USB Type C Gen 2 connector. Along with the hard disk, you get USB Type-C to USB Type-A and USB Type-C to USB Type-C cables, both about 30cm long, software suite for Windows macOS, and Android, and a 265-bit AES hardware encryption.

2. WD My Passport Go SSD
Storage size: 500GB | Type: SSD | Dimensions: 9.4 x 6.6 x 1 cm | Item weight: 55 g
+ Very light and pocketable
+ Integrated USB cable
+ Quite durable
− Cable too short

WD Me Passport Go SSD is designed to be durable enough to withstand bad usage conditions. It was made to survive 2-meter drops with a shock resistance of up to 1400 g-force. Therefore it is perfect for all the people who work outside a lot as well as for all of those who travel a lot. WD Me Passport Go SSD is just a little bit wider than a normal credit card and as thick as a smartphone. Another reason this product would be a good companion for traveling is a cutout on the bottom for the USB cable. So you never have to worry about losing the cable anymore. Even with the attached cable, this product is absolutely pocketable, and only about 55g heavy. The cable of this external hard disk is short, which shouldn't be a problem for laptop users, but it means that it would have to dangle from USB ports on most PCs. However, compared to any HDD with a spinning disk, WD Me Passport Go is way more durable and far less likely to suffer a physical failure. And of course, it will be much easier to carry around.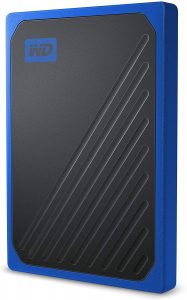 This model comes in only two capacity options: 1TB and 500GB. In terms of speed, WD advertises speeds of about 400MBps. This product uses a standard USB 3.0 technology and should be compatible with both Windows and Mac right out of the box. WD's included Discovery software is not a must, but if you install it you can do things such as copying content from cloud storage accounts or your social media to a WD drive. The backup option works only on windows and allows you to create backup sets and schedules.

3. Adata SD600Q 240GB SSD
Storage size: 240GB, 480GB, 960GB | Type: SSD | Dimensions: 7 x 4 x 1 cm | Item weight: 59 g
+ Light and portable
+ Affordable
− Not waterproof
− The cable can easily get damaged

While most external SSDs nowadays tend to be stylish and slim, with minimalistic discrete designs meant to highlight how portable, tiny and compact they are, Adata, with a bulky square body, has completely gone in the opposite direction. The device is available in three colors: blue, black and red. As Adata claims the device is encased in silicon so it could absorb shocks and it is rated to survive drops from up to 4 feet. Therefore, it meets the MIL-STD-810G standard. Adata SD600Q is tiny: about 7 x 4 x 1 cm and weighs 59 g. This external SSD has a blue indicator light that shines when the device is in use. unfortunately, this device is not waterproof. Adata SD600Q comes in three capacity options: 240GB, 480GB, and 960GB. There is no software bundled with this portable SSD. You can download OStoGO which allows you to install Windows 10 with it. Another good software you can download is HDDtoGo that allows you to keep your personal data available on the road.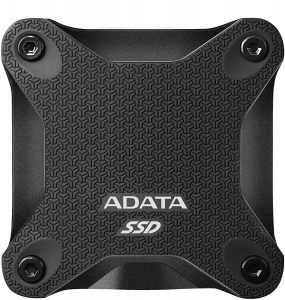 Adata SD600Q comes with a three-year warranty and it supports 5GBps transfers. We tested the device on both MAC and Windows and we noted that it is capable of transferring data anywhere between 95MBps up to 250MBps. But of course, you can expect higher speeds as it all depends on the type of hardware used, the type of storage your PC has, and the type of files you are transferring. All in all, Adata SD600Q is a good traveling companion and is definitely an option you should consider having in your bag while on the go.

4. Seagate Backup Plus Slim
Storage size: 500GB, 1TB, 2TB, 4TB | Type: HDD | Dimensions: 11.5 x 7.8 x 1.2 cm | Item weight: 308 g
+ Very fast
+ Pocket size.
− Universal Storage Module is not supported.

Seagate Backup Plus Slim comes in four capacity options: 500GB, 1TB, 2TB, 4TB. This drive is ideal for people who want to carry their entire music and video library with them on the go. In our testing, this drive proved to be one of the fastest of its kind. Furthermore, this portable HDD includes helpful backup software for your social-media content, local data, and even mobile devices. The 4TB option is one of the largest capacity options for a single-volume external hard disk. Many desktop drives have a few times smaller capacity and are a few times larger in physical size. The Seagate Backup Plus has two editions. The first one is 0.5-inch thin and it is called Backup Plus Slim. It is available in four colors: black, silver, blue, and red. The other edition is slightly thicker, about 0.8 inches, it is called Seagate Backup Plus and is available only in black. Other than that, both editions are the same.
The drive comes formatted in the NTFS file system. So, it works properly with a Windows computer right out of the box. However, to make it work on Mac as well, you have to install an NTFS driver. Performance is slightly better than average. The Backup Plus Slim scored 144MBps on read speeds and about 137 on write speeds in CrystalDiskMArk and Atto benchmarks. On the downside, the Backup Plus Slim drive has only a 2 years warranty, while most of the drives on the market have at least 3.

5. Transcend TS1TSJ25M3S StoreJet
Storage size: 1TB | Type: HDD | Dimensions: 13 x 8.2 x 1.9 cm | Item weight: 227 g
+ Extremely durable
+ Decent transfer speeds
− Not the slimmest external HDD

When it comes to external HDD, a lot of them suffer from 2 main problems. The first problem is the speed. In certain situations, like backing up entire hard drives to external drives, speed is essential. With slow external HDDs, it takes ages to perform such actions. The second problem is protection. Since all HDDs use spinning disk technology, they can easily be damaged. But luckily, this external HDD overcomes these problems admirably. The Transcend StoreJet 25M3 is encased in three layers, including a reinforced outer case and a shock-absorbing shell. Moreover, it has been drop-tested to US Military standards. Therefore it is ideal for those who need an external HDD for traveling. Furthermore, the device is USB 3.0 compatible, which gives you transfer speeds of up to 5GBps. Compared to some other sturdy external HDDs like Silicon Power Rugged Armor A60, this one is a bit more lightweight and compact.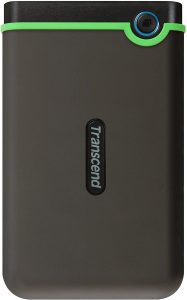 Not only that the Transcend StoreJet 25M3 is protected from the outside, but from the inside as well. It comes along with a free software application called the Transcend Elite. The Transcend Elite can enable 256-bit AES encryption for files and folders inside the drive. This basically means that you can secure all the data on the drive using a password. Aside from that, you can also download RecoverRx. That software can help you to recover any data that you deleted by accidentally formatting the drive. The device also comes with a USB 3.0 Type-A to USB 3.0 Micro-B cable.

6. Toshiba Canvio Basic A3
Storage size: 1TB | Type: HDD | Dimensions: 15 x 13 x 4.3 cm | Item weight: 200 g
+ Good speed results
+ Inexpensive
− No backup utility

The Toshiba Canvio is, as the name suggests, a basic portable external HDD. It doesn't come with a bunch of extra features. But still, the drive is fast enough for everyday use and does quite a decent job storing data. It includes an indicator light and a micro USB type B connection. The Toshiba Canvio supports both Windows and macOS, but you can only use it with Windows right out of the box. You will have to reformat the drive in order to use it with macOS. Due to its plastic shroud, the device should be able to survive a few drops, but anything beyond that would most likely cause the spinning disk to break.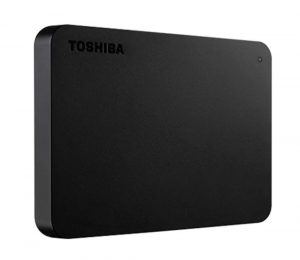 The product is quite lightweight and is really easy to use. Therefore it is a good choice for anyone looking for a cheap but still good external HDD. Canvio basics drives are basically the external hard disks you can use on your travels to store data, but not much else. On the other hand, if you are looking for an ultra-fast drive that can survive 2-meter drops with no problem, you might want to take a look at other products on this list.

Best External Hard Disk 1TB in India
ADATA HD710 Pro is definitely one of the drives that can be categorized as an all-terrain drive. It exceeds the requirements of the IP68 standard. The HD710 Pro can withstand being 2 meters underwater for 60 minutes. The full protection is achieved when the USB port is covered. This product also stands up to US Army MIL-STD-810G 516.6. And that basically means that the device can easily survive 1.5-meter drops. This external drive hits about read/write speeds of 123 and 119 on the CrystalDiskMark test. Adata has equipped this device with shock sensors that automatically turn on the internal protection mechanisms.
Best External Hard Disk 2TB in India
With Seagate Backup Plus Ultra Touch you don't have to worry about protection as all your data gets secured with 256-bit AES hardware encryption. It is also USB-C compatible and comes with an 18-inch USB micro-B to USB Type-A cable. The Ultra Touch comes pre-formatted with exFAT and is compatible with both Windows and macOS right out of the box. This HDD features Toolkit as well. Toolkit is the backup software that will help you enable the encryption feature. Physically the drive measures 11.7 x 78 x 114.8mm and is about 150 grams heavy.
Best External Hard Disk 4TB in India
If you are looking for an ultra-portable SSD with a lot of storage space, ADATA HV620S is the right choice for you. The design of this 4TB SSD is simple but elegant. The HV620S runs via USB 3.2 Gen 1. The smooth reflective surface and the sleek lines highlight its elegance. It also features a LED indicator light that lets you know when the files are being transferred. Not only that it looks good, but it is also very slim. Therefore it can easily fit in any briefcase or backpack.
Best External Hard Disk for Mac
If you have a thunderbolt port on your Mac device and want to make use of it, Buffalo MiniStation Thunderbolt is a great choice. It is two times faster than any other standard USB 3.0 HDD. Also, it is much more expensive compared to some other Thunderbolt drives.
Frequently Asked Questions
Which amount of storage space is enough?
Well, it all depends on your needs. You may not need a huge amount of storage space if you need an external drive only for storing music and pictures. Yet, if you are planning to store some bigger files, 4K videos or video games, you should aim for at least 1TB of storage. On the other hand, bigger storage size means more expensive, especially when it comes to SSDs, so you should find the perfect balance between the speed and the storage size.
Why is protection important?
For people who work outside and are constantly on the go, this is one of the most important factors. We have already learned by now that HDDs are less durable than SSDs because of the spinning disk they have. If the spinning disk gets damaged, the HDD is practically useless and all the data that was on it is gone. That is why, if you are planning to buy an HDD, protection is one of the factors you should definitely pay a lot of attention to.
Conclusion
As you can see, there are a lot of things you have to know before buying an external hard drive. You won't go wrong by buying any of the devices from this list. But as we have come to the end, it is time to choose the winner. Samsung T5 proved itself as the best external drive on this list. Not only is it highly compact, good looking and fast, but it features many useful things such as AES 256-bit hardware encryption and full metal chassis. However, there are other devices on this list that may suit your needs better than this one, so make sure to check the list again and find the perfect one for you.