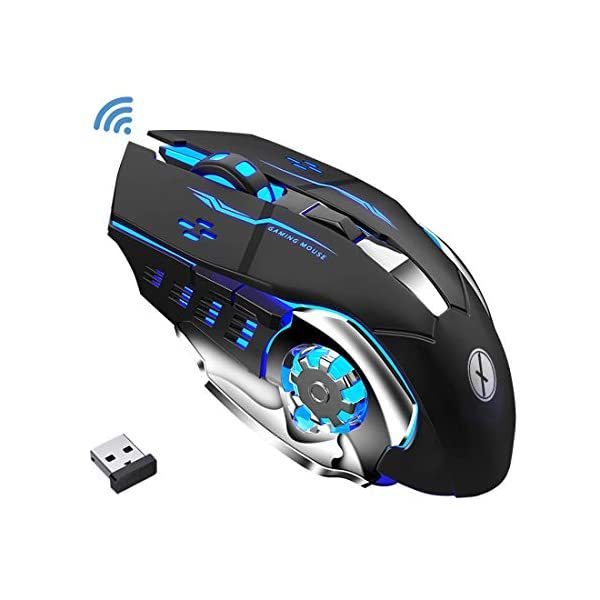 Best Wireless Mouse in India in 2020
Almost everyone nowadays has a PC. But using it without a mouse could be a bit of a problem. Whether it is wireless or not, it is still one of the most important things to have. But there are some certain elements you have to pay attention to while buying a wireless mouse.
Either you are someone who wants to improve his setup or just an average internet surfer, you should stay with us. Because, right now, we are about to go through some steps and show you a couple of tips that are essential to choosing the right mouse.
Wireless Connectivity
Well, in the past few years things about wireless mice have changed quite a lot. Until very recently, gaming with a wireless mouse seemed to be impractical, since there were many issues with connectivity, battery life, latency, etc. Speaking of wireless mice, the most common option is Bluetooth. Bluetooth mice are increasingly popular and they are also a safe choice for most users. Now some mice don't come with a Bluetooth dongle, which shouldn't be a big problem for notebook users, because a lot of contemporary notebooks have Bluetooth radios built-in. But if you use a PC, you are going to need to purchase a Bluetooth dongle. Another popular way of connecting a mouse is through a USB-RF. The main differences are is that unlike Bluetooth mice, all USB-RF mice come with a dongle and they are generally much more responsive.
Ergonomics
There are thousands of differently designed mice in all shapes and sizes. So if you are planning to use your new mouse for a while, you should consider buying one you feel comfortable holding. Now there are three types of grips- fingertip grip, claw grip, and palm grip. It is up to you to figure out what kind of a grip you looking for. Therefore, if you are used to a certain kind of a grip, You should pay attention to what kind of a grip is the mouse made for.
DPI
You may have already encountered this term, and if you haven't yet, you definitely will while searching for a mouse online. The word DPI stands for Dots Per Inch. It basically represents the physical distance you have to make with the mouse to move the cursor from one side to the other. But why is it so important for you to know that? Well, DPI is one of the most important, if not the most important factor you should take into account while buying a new mouse. Does that mean the higher DPI, the better mouse? Of course not, it all depends on what you are used to. Some people prefer a faster mouse so they don't have to make big movements with their hands to move the mouse across the screen, while on the other side we have people that want the mouse to be as slow as possible. So the DPI itself is not as important as being able to switch between multiple DPI options.
Gaming Mice
Having a good gaming mouse that suits your needs is not going to make you a professional player, but it will definitely make your gameplay a lot easier. A good gaming mouse should be ergonomically designed to make you feel comfortable while playing, especially on some lengthy playing sessions. Another very significant feature in the area of gaming every mouse should have is the DPI switch. Being able to change the DPI while playing is a very big plus. At some points, you are going to need your mouse to be slower and more accurate, while sometimes you just need a fast cursor speed to win in a fast-paced first-person shooter game.
Travel Mice
If you are always on the go, having a good travel mouse can save you a lot of time and energy. Most travel mice are made to be just simple and convenient. But there is no perfect travel mouse that would suit everyone. Some people want a mouse to be small but still comfortable, while others just need the smallest one possible, so it could fit in small places. Since it is a travel mouse and you won't be able to charge it all the time, it is very important that it has long battery life.
| Model | Battery Life | Battery Type | DPI | Connectivity | Weight | OS Support | Colors |
| --- | --- | --- | --- | --- | --- | --- | --- |
| Logitech G304 | 9 Months | AA | 200-12000 | USB-RF | 99g | Windows, Linux, Mac, Chrome OS | Black, White |
| TeckNet M003 | 18 Months | AA | 1000-2400 | USB-RF | 18g | Windows, Linux | Black, Grey, Blue, Purple, Red |
| Logitech MX Anywhere 2S | 2 Months | AA | 200-4000 | USB-RF, Bluetooth | 106g | Windows, Linux, Mac | Flounder, Midnight Teal, Light Grey |
| Xmate Zorro Pro | 7 days | Lithium Built-in | 800-3200 | USB-RF | 120g | Windows | Black |
| Logitech M235 | 12 Months | AA | 1000 | USB-RF | 86g | Windows, Linux, Mac, Chrome OS | Red, Grey, Blue |
Top 5 Wireless Mice in India
1. Logitech G304 Wireless Gaming Mouse
Battery Life: 9 Months | Battery Type: AA | DPI: 200-12000 | Connectivity: USB-RF | Weight: 99 grams | OS Support: Windows, Linux, Mac, and Chrome OS | Colors: Black and White
+ Very affordable
+ 1ms Latency
+ Lots of software customization options
− Loud clicks

You should keep in mind that the comfort of a mouse is probably one of the most significant determining factors whether you will like the mouse or not. Now the grip of this mouse tends to be the best for people who are used to a claw grip, they would be right at home with this one. The position of all the 6 buttons is quite good. They are all placed in such a way that you can easily access them without hitting the wrong button. Both thumb buttons make a very satisfying and clicky sound. The main left and right buttons may not feel as pleasant to click as the side buttons but are still very serviceable.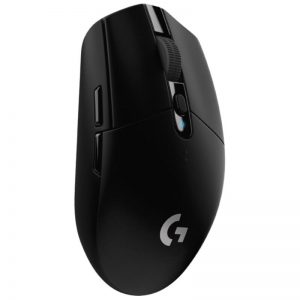 You can always use the DPI button to switch the sensitivity whenever you want. There is a light close to the DPI button that flashes yellow for the lowest DPI setting (400), white for the next DPI setting, then red and for the highest DPI setting (3200), it flashes purple. Of course, you can always use the Logitech Gaming Software to add more profiles or even increase the number all the way up to 12000. LIGHTSPEED Technology makes this wireless mouse feel just as good for gaming as a wired mouse, by reducing the latency to 1ms. Lightspeed technology and Hero sensor make the mouse extremely efficient and let you play games for over 200 hours with only one AA battery. At peak performance, Logitech G304 can last about 9 months of standard use, before you need to change the battery. But in case you are still worried that you will run out of battery when you need it the most, there is an indicator light that turns on when your battery life is on 15%.
Logitech G304 Gaming Mouse is pretty light, only 99 grams. The back cover shell of the mouse can easily be removed by just sliding it down. Another cool detail is that inside the mouse, behind the shell, there is an empty place for the USB dongle, so you can just put it inside and never worry about losing it.

2. TeckNet M003 2.4G Ergonomic Wireless Mouse
Battery Life: 18 Months | Battery Type: AA | DPI: 1000-2400 | Connectivity: USB-RF | Weight: 18 grams | OS Support: Windows and Linux | Colors: Black, Blue, Grey, Purple, and Red
+ Long-lasting battery
+ Great range
+ Ergonomic design
− Loud clicks

The designers did a really good job making this mouse. It is ergonomically sculpted and designed to provide comfort to your fingers and your palm while you are holding it. With the auto power-off function, that switches off the mouse every time the USB Nano receiver is disconnected or the PC is turned off, it also provides 18 months battery life from only one AA battery. The Nano receiver starts working as soon as you plug it into your computer and you don't have to install any additional software programs. A Tru-Wave motion sensor is probably the most amazing feature on this device. It is basically a sensor that makes TeckNet M003 so precise and accurate but also allows you to use the mouse on practically any surface.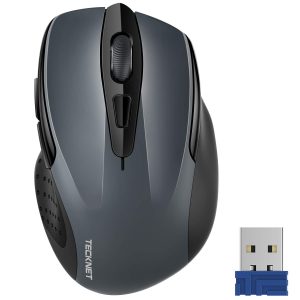 When it comes to connection, this 2.4GHz Wireless Mouse gives you a reliable connection with a working distance of 15 meters and eliminates all the delays and dropouts. This wireless mouse is compatible with all the following operating systems: Windows XP, Vista, 7, 8,  8.1, 10 and Linux. When it comes to DPI, TeckNet M003 gives you 3 DPI options. The default DPI setting is 1000. To switch to the other to you just have to press the DPI button on the top side of the mouse. The second DPI setting is 1600, and the third one is 2400. This mouse also has an indicator light on the left side of the mouse, and it will start flashing when the battery power gets too low.

3. Logitech MX Anywhere 2S
Battery Life: 2 Months | Battery Type: AA | DPI: 200-4000 | Connectivity: USB-RF and Bluetooth | Weight: 106 grams | OS Support: Windows, Linux, and Mac | Colors: Flounder, Midnight Teal, and Light Grey
+ Works on any surface
+ Works on both Windows and Mac
− Might be too small for some users

If you are looking for a good travel mouse small enough to fit in your backpack but at the same time help you get the things done while you are on the go, then Logitech MX Anywhere 2S is the right choice for you. It has a 4000 DPI sensor that works on most surfaces. But Logitech pointed out that you might have a hard time using it on a glass table unless it is thicker than 4mm. This mouse is available in 3 colors: Graphite, Midnight Teal and Light Grey. Now, there are two ways to connect the mouse to your computer, through Bluetooth or with a unifying receiver. Using Bluetooth makes it a bit easier since you don't have to use a USB port on your laptop.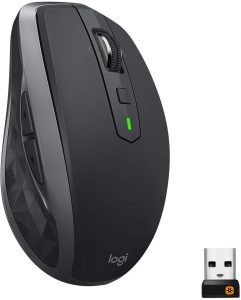 Another cool and useful feature on this mouse is that you can connect it three devices, and then just simply switch between them by pressing the button at the bottom of the mouse. There is also the power switch button on the bottom side, so you can turn it off whenever you want. The micro-USB port is located at the front part of the mouse, which is a really good position if you want to use it while being plugged in. You can also assign and customize any of the buttons by using The Logitech Options app. This battery lasts up to 2 months, and with the Logitech Options app, you can check on the battery life any time you want. It takes only 3 minutes for this battery to be charged enough for you to use it all day.

4. Xmate Zorro Pro
Battery Life: 7 days | Battery Type: Lithium Built-in | DPI: 800-3200 | Connectivity: USB-RF | Weight: 120 grams | OS Support: Windows | Colors: Black
+ Ergonomic design
+ Battery LED indicator
− The battery could be better

Whether you are a gamer, a graphic designer or just a regular person who needs a mouse for completing everyday stuff, Xmate Zorro Pro might be the mouse you are looking for. One of the things that make this mouse different than any other on this list, aside from a sci-fi futuristic design, is the battery. It has a 600mAh rechargeable lithium battery built-in which gives you about 7 days of battery life on a full charge. But it also has a battery saver feature also known as Sleep Mode that will give definitely give you more than 7 days. Basically how this feature puts the mouse to sleep mode every time it remains still for 8 minutes and you can always just easily wake it up by pressing any button.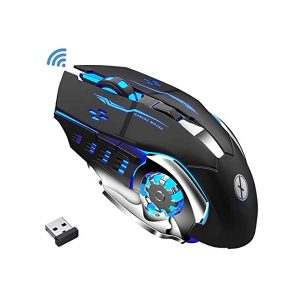 Xmate Zorro Pro comes in an attractive box that contains a receiver, user manual guide, and a Micro USB charging cable. The design and the build quality are quite decent, it is ergonomically designed and it gives you a really good feeling while you are holding it. The whole mouse weighs around 120 grams and all the buttons are very soft and responsive. This is a Plug-n-Play device, so there is no need to install any software. Of course, in order to program the buttons, you have to install the drivers. On the left side, there are 2 basic thumb buttons, four buttons on the top, including the DPI speed switch button. There are 4 DPI levels starting from the first one of 800, over 1200, 1600 to the fastest option of 3200. For each one of them, the light indicator changes the color (Violet – Blue – Purple – Red), but in order to save the battery, you can turn the light off.

5. Logitech M235 Wireless Mouse
Battery Life: 12 months | Battery Type: AA | DPI: 1000 | Connectivity: USB-RF | Weight: 86 grams | OS Support: Windows, Linux, Mac, and Chrome OS | Colors: Red, Grey, and Blue
+ Very comfortable
+ Ambidextrous design
+ All OS supported
− Too noisy
− Could be better for gaming

If you are not much of a gamer but are still looking for a good wireless mouse, Logitech M235 should suit your needs. Now when it comes to gaming, the experience with this mouse isn't bad, but you may not be as satisfied playing some fast-paced first-person shooter games as you would be with some Lightspeed technology mouse. So for gaming, we would recommend you to increase your budget and buy some of the mice mentioned above. On the other side, in standard usage, you won't see any difference between this one and some wired mouse at this budget. Logitech M235 does a pretty good job of performing everyday tasks.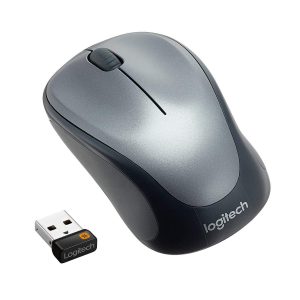 It comes in three basic colors: grey, red and blue. But what makes it so comfortable to use are the soft grips on both sides. The build quality is very decent and it has an ambidextrous design, which means you can use it with both hands. You can also turn off the device by pressing the button on the bottom side. When you remove the back panel of the mouse there is a battery and an empty space where you can put the unifying receiver. The biggest advantage of the unifying receiver is that you can connect multiple devices to your PC or laptop, without the need to have another receiver.
Another reason why Logitech M235 is probably not the best suit for gamers is that the DPI of 1000 is not changeable. The battery this mouse uses is a classic AA Type and as Logitech claims, it should be able to last for over a year.

Best Wireless Mouse Under Rs. 1000
Logitech B170 tends to be the best wireless mouse under Rs. 1000. With B170 you can enjoy a reliable wireless connection up to 10m away. It offers a good 12-month-battery life and good optical tracking features that allow you to use it on almost any surface. This mouse comes along with a Bluetooth dongle that will probably be placed inside the mouse. It weighs about 70 grams with battery and is compatible with the following operating systems: Windows 7, 8, 10, Mac OS X 10.8, Chrome OS, Linux.
An ambidextrous, attractive, stylish but still simple design is what makes HP X3000 Sleek so eye-catching. Its contoured shape gives you relief in the palm of your hand. The nano receiver is pretty small, it doesn't take much space and can be conveniently stored inside the mouse. HP X3000 works with 2 AA batteries and is about 80 grams heavy.
Best Wireless Mouse Under Rs. 500
ABRONIX is probably the best suit under Rs. 500 for everyone. It is ergonomically designed to provide you with long-lasting comfort and its symmetrical design lets you use it with both hands. It has 3 adjustable DPI levels: 800, 1200 (the default one) and 1600. It is compatible with Windows 2000, ME, XP, Vista, 7, 8, 10 and Mac OS.
We should definitely mention Amkette Hush Pro Air Wireless mouse that uses Senseflow Technology and gives you smooth wireless performance. Amkette Hush Pro Air is made with Special Silent Keys that minimize the clicking noise up to 90%. Thanks to its ergonomic design and the sweat-resistant surface you will have a very comfortable experience using it.
Best Wireless Mouse Under Rs. 2000
AmazonBasics Full-Size Ergonomic Wireless Mouse might be the right choice for you if you are looking to achieve improved control and efficiency under Rs.2000. A fast scrolling wheel is what makes this mouse perfect for navigating through documents and web sites. Equipped with a laser sensor, AmazonBasics offers good precision and can be used on almost any flat surface, including glass. AmazonBasics may not be the most silent possible solution but on the other hand, Logitech Pebble M350 offers you absolute silence while clicking and scrolling. Logitech Pebble can stay powered up for 18 months on just one AA battery. Both USB-RF and Bluetooth options are possible with this mouse.
FAQ
Are Wireless Mice Better For Gaming?
Aside from finally being free from cables, switching to a wireless mouse can be beneficial in many other ways. When you use a wired mouse, you are constantly forced to push and pull the cable as well. But getting rid of it can do wonders to your aim. Now a lot of gamers are worried about latency. Unless you are some sort of high-level pro gamer, we doubt you will see any difference.
Is An Ergonomically Designed Mouse A Must?
Well, it might not seem like a big deal, but using a mouse that you don't feel comfortable holding could cause a lot of problems. The very first thing you are going to encounter when you start using a mouse that is not ergonomic is hand pain. And that can really give you some hard time playing games for a bit longer. Even if you are not a gamer, a mouse that is not comfy, or even worse a mouse that causes damage to your hand is something you should avoid.
Bluetooth Or USB-RF Receivers?
Bluetooth is nowadays probably one of the most commonly used technologies. Smartwatches, headphones, speakers, keyboards, mice and a bunch of other types of devices very frequently use Bluetooth. But there are some considerable downsides of using Bluetooth instead of USB-RF receivers. The main disadvantage is latency. In video games, having a huge latency and falling behind your competition is the last thing you want. But if competitive gaming is not something you are worried about, then Bluetooth is not a bad option at all.
Conclusion
Taking everything into account, our top choice is Logitech G304. A wide range of DPI, 6 programmable buttons, good software customization, ergonomic design, LIGHTSPEED technology, Hero sensor, and a decent battery make this mouse suit almost everyone. However, depending on your needs, you might want to choose a different mouse with different specifications or a lower price. Therefore if you are still not quite sure yet, you should go and re-check the list again before making the final decision.