Best Smartwatches Under Rs. 5000 in India in 2020
Did you know that the first digital watch was made in 1972? It wasn't a smartwatch but has definitely paved the road to these devices that we have today. It had no special functions and features, but ten years later, Pulsar NL C01 was released. It could store 24 digits, which made it the first watch ever with user-programmable memory. Over time, digital watches were upgraded and improved bit by bit, so today, we have those fantastic devices that can track your fitness progress, health, allow you to take calls, and so on. Smartwatches of today are our life companions in every situation.
Shortly, smartwatches are wearable computers in the form of a wristwatch. Now, you might have heard of Smart Bands, Fitness Trackers, Smart-Bracelets, and so on. Although these are all very similar, there are still some differences which we will clarify in this article. The number one mistake that people make is to buy an expensive smartwatch, because "if it's expensive, it must be better." Then, after some time, they realize they could've made a much better choice.
Buying a smartwatch is not as simple as it seems. You need to clarify a few things and realize what exactly do you need it for. Then, buying according to the beautiful design of a smartwatch is another mistake that most people make. In this article, we will provide you with the best models that you can buy in India under Rs. 5000. If you still want to shop for yourself, be sure to check out our buying guide first. Those tips will help you a lot in choosing the right smart watch to suit your needs.
The difference between Smart Watch and Smart Band
Although these two might look similar, there are some differences. Smartwatches are, obviously – watches. That's why they are called Smartwatches. On the other hand, Smart Bands also called Smart Bracelets and Fitness Trackers, are different. They are mainly fitness-focused, while Smartwatches come with the whole package, which includes fitness, communication, answering the calls, and so on. So, if you are looking for a fitness-only solution, Smart Bands are what you are looking for. Also, Smart Bands are usually smaller and more convenient.
Operative System and device compatibility
Device compatibility is crucial since most smartwatches are designed to serve as life companions. Therefore, you shouldn't buy a watch with Android OS if you own an iPhone. There are some watches that work with both systems, but it's always easier to use a smartwatch that has the same OS as your mobile phone. If nothing else, the interface is very similar so you won't need a long time to get used to it.
On the other hand, if you want a smartwatch that works great on both systems, Fitbit Versa is a great one. However, Android phone users get an extra feature, which is quick replying to incoming text messages. If you buy a Google smartwatch, such as Google Wear, you can go to g.co/WearCheck and check if your watch is compatible with your OS version.
Display
Most of the smartwatches today come with an LCD display. It lets you view photos and other content in rich colors, and they are usually brighter. The downside is that it consumes the battery faster, but most of the companies are constantly working on improving battery life. Since color displays consume so much battery, most of them will automatically turn-off the display. You will have to "wake" the device completely if you want to check the time.
You should also pay attention to whether you are buying a watch with an LCD or OLED display. The fact is, LCD displays tend to be thicker, and that's why Apple developed the first OLED display. It looks awesome too, takes less space, and is less bulky.
Buttons versus TouchScreen
Another thing that you should pay attention to is the interface of your watch. It seems to be completely logical that you should aim for a touch-screen device. However, if the watch is too small, using touch-screen can be very tricky. An interesting thing that Google Wear provides is card-based notifications which you can simply dismiss with a swipe. However, there can be a lot of swiping until you reach other apps and options within apps. With the last update, it allows you to swipe notifications (cards) by flicking your wrist.
Apple did a great job of providing a combo solution. It offers both touch-screen and buttons on the right side. You can use them to zoom and scroll, or surf through the menu. We can notice that, over time, touch-screens are winning the battle. However, for people looking for simplicity, it seems that there will always be combo solutions.
Design and Customization
Most of the better smartwatches offer the ability to replace straps with the third-party ones or choose desired straps when you order the watch. They offer lots of customization before the purchase so that you can create a desired combination for the band color and material, as well as size, face color, and so on. Have in mind that comfort and simplicity of use become very important after some time. You should aim for the watch that is easy to open and close, and fortunately, most of the watches today use standard buckles. You might have also noticed that most watches today feature a classic, round design, while also getting slimmer and smaller.
Notifications, Alerts, Apps, and Similar Stuff
Every decent smartwatch should provide you at least with some basic notifications. For example, it should alert you about the incoming calls and text messages with a quick and silent buzz to your wrist. Also, it desirable to be able to check your social media accounts, such as Facebook and Instagram. Some watches also allow you to customize how do you want to receive your notifications. Therefore, you can choose if you want to check them with a swipe or by flicking your first, as well as which notifications you want to see first, and so on.
Smartwatches are becoming more and more popular over time, and that's followed by the increased number of apps on the store. There are literally hundreds or even thousands of apps available for most of the smartwatches. Apple Watch is a good example since there are over 20,000 thousand apps available for download. It allows you to install apps directly from the watch, instead of having to use your smartphone.
Fitness Features
Most of the smartwatches come with certain features to improve your fitness and training. If you want to use a smartwatch primarily for fitness stuff, it's better to aim for the fitness tracker then. However, most watches come with features such as a Heart Rate Monitor, Steps Counter, and similar, but they have proven to be more accurate on fitness trackers. Some watches also offer using the GPS but have in mind that it will consume the battery much faster.
With normal use, most batteries tend to last one to two days after fully charged. If you use them for talking, however, the battery will drain much faster. Apple Watch is pretty good since it lasts around 18 hours of mixed-use after a single charge.
| Model | Battery Life | Waterproof | Fingerprint-proof | Gorilla Glass | GPS | Sleep Tracking |
| --- | --- | --- | --- | --- | --- | --- |
| Huami Amazfit | Up to 45 days | Yes | Yes | v3 | Yes | Yes |
| Amazfit Lite | Up to 45 days | Yes | Yes | v3 | No | Yes |
| Mevofit Space | 5-6 days | Yes | No | No | Phone's GPS | Yes |
| Noise ColorFit Pro 2 | 10 days | Yes | No | No | No | Yes |
| Noise ColorFit Pro | 6-7 days | Yes | No | v5 | No | Yes |
| Intex Irist Pro | 5 days | Yes | No | No | No | Yes |
| Alcatel OneTouch Go | 4-5 days | Yes | No | No | No | No |
Top 7 Smartwatches in India Under Rs. 5000
#1 Huami Amazfit
Battery Life: Up to 45 days | Waterproof: Yes | Fingerprint-proof: Yes | Gorilla Glass: v3 | GPS: Yes | Sleep Tracking: Yes
+ Very bright display
+ Extremely good battery
+ Lightweight and comfortable
− Not ideal for swimming or diving

Amazfit is a great choice for everyone who wants a perfect combination of solidness and quality. It has a minimalistic design, and with 1.28″ LCD display that comes with fingerprint protection and Gorilla Glass 3, it provides a fantastic experience. So, what makes Huami Amazfit such an excellent choice?
At first, it has a stylish polycarbonate body that weighs only 31g. With that pressure, you won't even notice that you are wearing it. Besides, Amazfit is a great fitness companion, since it comes with heart rate monitor, and can track your running, cycling, walking, track activity history, and even use GPS.
With Gorilla Glass 3, it's pretty easy to use it even if your fingers are sweaty from exercise. The colors on display are vibrant and provide good contrast. It is also very bright so you can read the display perfectly on a sunny day. What's even better is that it has an always-on feature to prevent it from sleeping during constant use, such as when exercising.
Amazfit comes with 4 sports modes, which are indoor running, cycling, outdoor running, and walking. It provides you with detailed info on your progress, such as duration, speed, distance, heart rate, and even slope. Besides, it will also inform you in case of excessive heart rate and speed, which ensures that you will have a safe and efficient workout. With a built-in GPS sensor, it can track your route and distance even if your phone is not around. Its PPG sensor monitors heart rate at an excellent accuracy, which helps you plan your training and achieve the optimal results.
If your phone is on silent, Amazfit will vibrate to discretely let you know that you got a message, a call, or anything else. It can also connect with your Facebook and Instagram, which is awesome. However, the best part is its battery. On low consumption and 10% display brightness, the battery can last up to 45 days, but if GPS is constantly used, it will last less than a day. However, moderate use of GPS will allow you to use it for around 2 weeks. It takes 2.5 hours to fully charge it, and on standby, it will last around 4 months. Fantastic!
If you went for a jog and it suddenly starts to rain, don't worry – Huami Amazfit is completely waterproof. It also comes in four different colors to choose from, and two pre-loaded watch faces. However, you can select from a wide range of customizable faces via the Amazfit App. Among all the good things, let's also mention that it comes with a 1-year manufacturer warranty.
The only downside that we spotted is related to swimming. The fact is, although Amazfit is waterproof, it's not swimming certified. If you use it in the pool, you might end up with a dead watch. Other than that, Huami Amazfit is an extremely good choice that you shouldn't miss!

#2 Amazfit Lite Smart Watch
Battery Life: Up to 45 days | Waterproof: Yes | Fingerprint-proof: Yes | Gorilla Glass: v3 | GPS: No | Sleep Tracking: Yes
+ Ideal for diving
+ Excellent build quality
+ Continuous heart rate measurement
− Slight responsitivity problems

Amazfit Lite is another excellent smartwatch, that comes with a long-life battery, pretty good water resistance, and only 32 grams of weight. The battery can last for up to 45 days, and if you plan to go diving, your watch will be safe up to 30 meters in depth.
Since it comes with Transflective Display, its safety is guaranteed by the Gorilla Glass, and also, the watch is fitted with fingerprint coating. Besides, the coating makes it resistant to scratch, and you will find it pretty simple to clean. You will also notice that the buttons and straps feel pretty strong and solid, and yet, the watch is very comfortable to wear. However, what we like the most is how customizable it is. Depending on your taste, you can create your own variation by choosing from the wide variety of straps and clock faces from the watch's UI.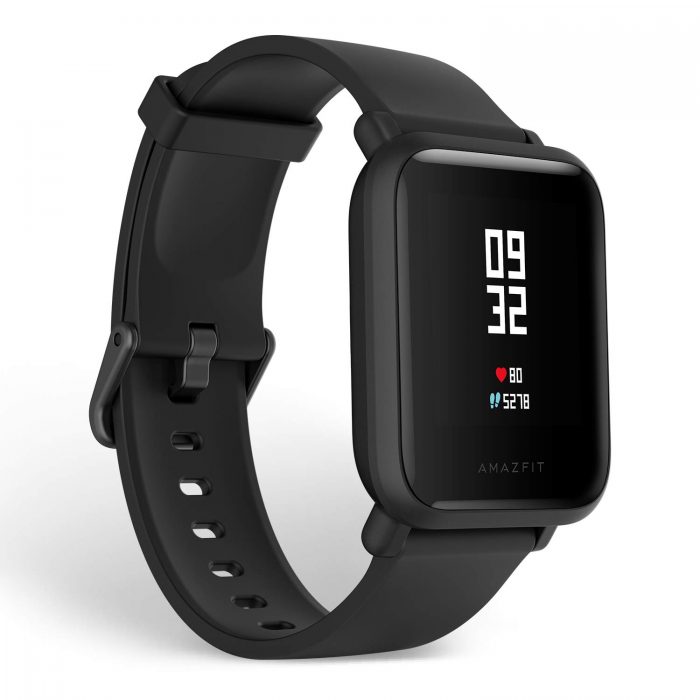 It's a great smartwatch for all fitness persons. It provides a constant heart-rate measurement, while also being capable of recording various sports activities. No matter if you are into walking, running, cycling, or swimming, Amazfit Lite will be your ideal pal. After you finish the activity, you can easily sync the data on your phone via the Mifit app. As you can see, the watch looks very nice and slightly reminds of the Apple watch. Besides, the battery life of around 45 days is perfect, considering the fact that it also gives notifications through custom apps.
However, we have to mention that with Amazfit Lite, we had slight problems with responsitivity. It is very responsive and smooth working, but sometimes, although rarely, it takes slightly longer to perform certain actions. It's not a big deal, but it can be a little bit frustrating if you are in a hurry.

#3 Mevofit Space
Battery Life: 5-6 days | Waterproof: Yes | Fingerprint-proof: No | Gorilla Glass: No | GPS: Phone's GPS | Sleep Tracking: Yes
+ Very nice, trendy design
+ Weighs only 28 grams
− Relatively short battery life, compared to similar watches

If you are looking for a smartwatch that comes with various features, such as blood pressure tracker and blood oxygen monitor, Mevofit will be your best choice. With a beautiful OLED display and a quick charging time of 1 hour, it's one of the best smartwatches under 5000. However, there are many other things that make this watch an excellent choice.
At first, let's mention that it looks very trendy and weighs only 28 grams! The dial button, made from polycarbonate, is very durable and can sustain any accidental drops. The straps are very comfortable, and there are also special holes that prevent sweating and allow the skin to breathe properly.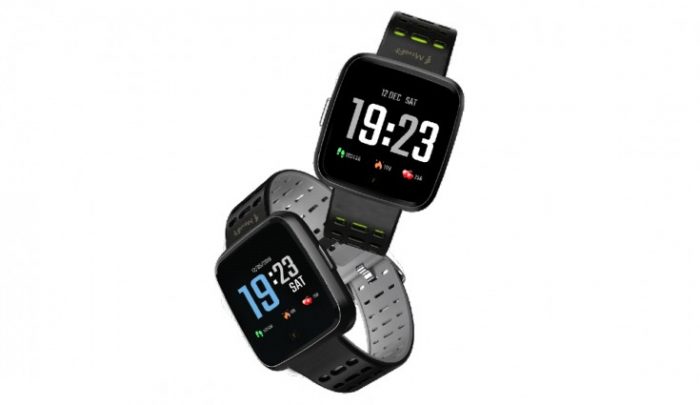 Mevofit has a nice, bright 1.3″ TFT display. It doesn't have too much contrast, but we found it bright enough and easy to use on a sunny day. You can also change the brightness in the options and adjust it according to your needs. Besides, it has 7 sport modes that precisely track your steps, distance, speed, and heart rate, and provide a detailed analysis of each of your workout sessions. However, it doesn't have a built-in GPS, but it can successfully use your phone's GPS to provide very accurate data with minimum errors. With the ability to measure blood pressure and blood oxygen levels, Mevofit is also a great watch for people with diabetes and heart diseases. It also comes with a sleep tracker feature, which helps you check your sleeping schedule and plan sleeping hours.
The display is very nice and trendy, and shows notifications, incoming calls, allows you to control music, and you can also use it as a camera shutter. It makes it very easy to adjust the music during volume or take group photos when the phone is not in your hands. There are 3 watch faces to choose from, and the Mevofit app is very simple and useful. It provides you with numerous workout tips, diet plans, healthy and delicious recipes, and many more. On top of all that, it is waterproof, so you don't have to worry about a sudden rain. You can also use it while showering, however, diving is not recommended.
What we don't like about this watch is its battery life. The battery can last up to five or six days, which is quite low compared to other watches in a similar price range. However, it takes only an hour to fully charge, and besides, Mevofit comes with a 1-year manufacturer's warranty.

#4 Noise Colorfit Pro 2
Battery Life: 10 days | Waterproof: Yes | Fingerprint-proof: No | Gorilla Glass: No | GPS: No | Sleep Tracking: Yes
+ Packed with features
+ IPX68 water-resistance rating
+ Detachable straps
− No fingerprint protection
− No Gorilla Glass

Most of us would like to have a Samsung Galaxy or Apple watch, but that might not fit everyone's budget. However, there are many startup companies that develop similar quality watches, at an affordable price. Noise is one of those companies, and it does its job pretty well. We used Colorfit Pro 2 for more than a week, and there is much to say about this great device.
At first, when you look at Noise Colorfit Pro 2 for the first time, you might mistake it with an Apple Watch. They look very similar, and upgrading from Colorfit Pro resulted in a big, nice, 1.3-inch display with the upfront dial and improved comfort. You can buy it in three colors, which are Teal Green, Jet Black, and Mist Gray. The watch comes with comfortable silicone straps, which are excellent at preventing sweating during the workout. The straps are detachable, and you buy other ones in many different colors, to style them with different clothes. Another great thing is that the watch weighs only 35 grams, and the size is universal. It can fit any wrist due to the ample holes on the strap. There is a button on the right side, which you can use to switch between options on the menu or start and stop activities.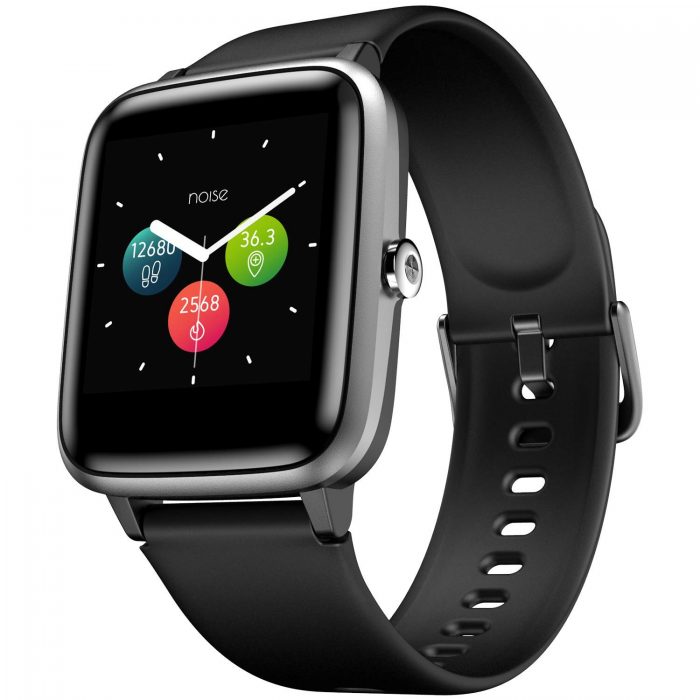 The display is very good and provides a 240×240 resolution. It's also very responsive and works smoothly, but now and then, it lags a little bit. We realized that every once in a while, the touchscreen doesn't respond to touch, but luckily, it happens rarely. Besides, the display is pretty solid and bright enough for any weather condition. It doesn't have a Gorilla Glass, though, and no fingerprint protection.
After you download Noise Fit Pro 2 app, you can use the watch with most Android and iOS devices. As soon as you start the app, you will have to fill your physical details like age, gender, weight, and so on. After that, you will have access to numerous features that this watch provides. An interesting feature is sleep analysis. The watch tracks your motions during sleep and provides you with info on how to improve sleep quality and sleep schedule. Besides, it can also track your menstrual cycle and predict the dates of your periods in the next month. The predictions are not 100% correct all the time, but it's a pretty useful feature.
When it comes to battery, we were pretty much satisfied. After 3 hours of charging, you can use the watch for approximately ten days. It also comes with a one year manufacturer's warranty, it's waterproof, and the best choice for people looking to shop on a budget.

#5 Noise ColorFit Pro
Battery Life: 6-7 days | Waterproof: Yes | Fingerprint-proof: No | Gorilla Glass: v5 | GPS: No | Sleep Tracking: Yes
+ Very good, 240×240 display
+ Compatible with both Android and iOS
+ Pairing it with a mobile phone is completely effortless
− A little bit heavy, compared to smartwatches in a similar price range
− The battery could be a bit better

We already reviewed ColorFit Pro 2, but the original ColorFit shouldn't be neglected. The truth is, it's not as good as its successor, but it's relatively cheap and still pretty good. It comes with a slightly smaller display of 1.22 inches and can be used with both Android and iOS devices. If you compare it with most of the other watches in a similar price range, you will notice that ColorFit Pro is definitely the best of all.
The watch looks pretty plain and simple. It's made of a zinc magnesium alloy and appears to be very smooth and good-quality. However, we were surprised by the fact that the screen doesn't support touch, and that the only way to navigate through options is via the physical button. The display comes with the Gorilla Glass 5, which is very good, but it easily catches fingerprints. Although the Noise states that it's completely scratchproof, we did get a few scratches while testing. On the other hand, scratches are barely noticeable from the distance.
On the back of the body, there is a heart-rate sensor and electrodes for attaching the charger. The watch also comes with rubber bands that can be bent and twisted and still show no sign of wear. If you wish, you can also remove and replace them with standard bands to suit your style. Besides, you can also pay around Rs. 800 and buy Nike Sport Bands for Apple Watch to make it look even better.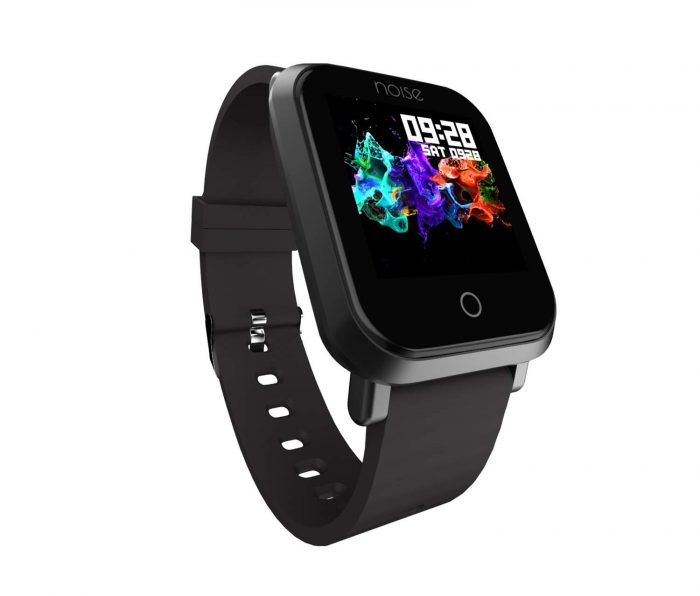 Noise ColorFit Pro comes with an IP68 rating, which means that it's waterproof up to 30 meters. It means that you don't have to worry about the rain or accidentally exposing it to water, but also, you can use it for swimming and amateur diving. Also, it weighs 58 grams but doesn't feel heavy.
The watch doesn't offer an unlimited number of tracking activities, but it's still pretty good. It allows you to accomplish basic tasks, such as reading notifications, controlling music, setting pictures as watch faces, and so on. When it comes to fitness, it can track basic things, such as daily steps and other fitness activities. The watch comes with a heart sensor, which can also be used to measure blood pressure and blood oxygen saturation. What we like about the watch is that it tracks steps and sleep very accurately. Besides tracking your light and deep sleep, it can also identify your naps during the day. However, you should know that a heart sensor should be used while you are still. If you want to measure your heart rate while walking or running, it might not be that precise.
So, to sum it up, Noise ColorFit Pro is a watch that comes with some nice features. It's built of high-quality materials, comes with Gorilla Glass 5 protection, you can use it for swimming, and the battery lasts around 6-7 days. On the other hand, there are no touch controls, screen space is poorly utilized, and a blood pressure monitor is not very reliable. However, it's still the best smartwatch in that price range, so you should give it a look.

#6 Intex Irist Pro
Battery Life: 5 days | Waterproof: Yes | Fingerprint-proof: No | Gorilla Glass: No | GPS: No | Sleep Tracking: Yes
+ Pretty simple and convenient UI
+ Comes with an in-built speaker and microphone
− Not ideal for fitness
− The speaker is a bit muffled

In short, Intext Irist Pro is a decent watch, with a pretty simple design. It's not minimalistic – just simple. Therefore, if you are looking for a futuristic, sci-fi, high-tech-looking gadget, it's not the best choice for you. However, if you don't care too much about the design of your new smartwatch, and aim for lower prices, Intex Irist Pro might just be what you are looking for.
The first thing that we noticed is that it comes with leather, a bit old-school straps. In fact, the company doesn't give you an option to switch to steel ones. The good thing is that it comes with a nice, big, and solid 1.6-inch display. It's big enough to use it properly for any activity, including sports, of course. The watch has two buttons on the right side, one for locking/unlocking, and the other one which acts as a Back button. Although the watch is pretty big, it doesn't feel heavy on the wrist and is very comfortable. However, you will need some time to get used to wearing it while sleeping. It's also water-resistant, so you don't have to worry about spilling a coffee or any other liquid on it.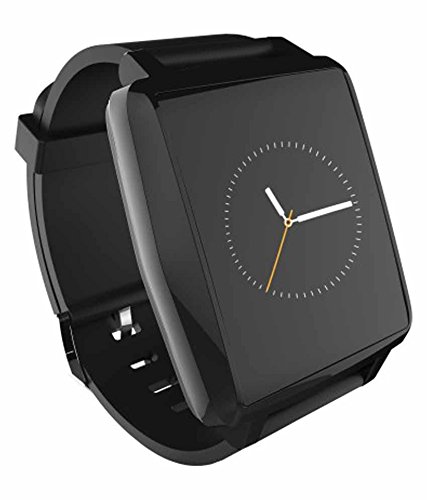 The watch is portable with all Android 4.4 and newer versions of the operative system. All the navigation can easily be done using a touchscreen, and the interface is very clean and easy to navigate. It's very customizable, and you can choose between many watch faces, or manually select the apps and the number of apps that you want on the screen. Of course, it supports all the trendy features, like music control, notifications about calls, messages, and so on. You can also choose which apps you want to send notifications, according to your preference. It has a built-in mic and speaker so that you can take calls on the go. However, the speaker is a bit muffled and low.
When it comes to fitness and health, Intex Irist Pro offers only a couple of features. It counts your steps, distance, and monitors your sleep. Basically, it allows you to set a goal but won't keep you striving to reach it. Also, you have to manually start the sleep monitor before going to bed, and also manually stop it when you wake up. Intex Irist Pro is not the best smartwatch out there, but it offers a pretty decent quality having its price in mind.

#7 Alcatel OneTouch Go Smartwatch
Battery Life: 4-5 days | Waterproof: Yes | Fingerprint-proof: No | Gorilla Glass: No | GPS: No | Sleep Tracking: No
+ Affordable
+ A built-in USB connector
− Lack of features
− Laggy display

In the end, we are presenting you with a pretty affordable smartwatch, for all the people that don't need tons of features. As you can see, it looks the most classy of all the watches on the list, or more precisely, it doesn't look like a casual smartwatch. However, it's still water-resistant, weighs 52 grams, and comes with a 210 mAh battery.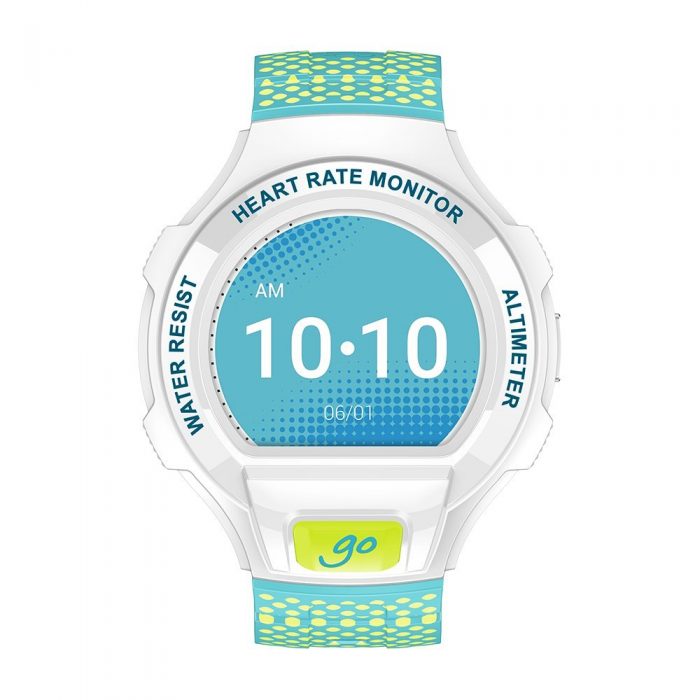 There isn't much to be said about this watch. Its design is fresh on the market, and the materials are strong and durable. On the other hand, its overall quality can't be compared to any of the premium watches. It comes with an in-built USB connector, which is a pretty smart solution. You don't have to worry about any cables, and it's also a great way for the manufacturer to cut down costs. The watch also comes with some features, such as a heart-rate measurement and a pedometer, but it's not as accurate as some of the premium devices. Still, it can be very useful.
On the other hand, we noticed that its functionality is pretty thin. There aren't many features, and the other downside comes to its display. Most probably, it works on low FPS to save power, but it results in a bit laggy experience. Therefore, if you are not too demanding when it comes to choosing smartwatches, you will find OneTouch Go an excellent, very affordable choice.

Best Smartwatches in India: Bonus Tips
In the end, we are presenting you with some quick bonus tips. Since some people are mainly looking for 4G or Fitness smartwatches, we have sorted out the best ones that you can buy in India, at a reasonable price.
Best 4G Smartwatches Under Rs. 5000 in India
If you are looking for a 4G smartwatch in India, the best choice would be the WellTech smartwatch. It's very affordable, looks pretty nice, and comes with some useful features that every good smartwatch should have.
Best Fitness Smartwatch Under Rs. 5000 in India
Some people want their smartwatch to be their best fitness pal. If fitness is your number one priority, the best choice for you is Amazfit Bip. It comes with 40+ days of battery life, a GPS, a barometer, a geomagnetic sensor, and many other useful features. Besides, it's also water and dust resistant and weighs only 32 grams. You will find it easy to wear on any occasion, such as high-intensity cardio training, or even while you sleep.
Final Words
After spending a decent amount of time testing the best smartwatches in India, it's time to choose the winner. Obviously, it's a bit tough decision to choose between Huami Amazfit and Amazfit Lite, since both are excellent. However, with its built-in GPS, extremely precise PPG sensor, and 4 months of standby time, Huami Amazfit is our top choice. On the other hand, if you want to get a medium quality watch at an affordable price, be sure to check out Alcatel OneTouch Go.
Do you own any of these smartwatches? Or do you think we forgot to mention some other watch on this list? Please let us know in the comments below.