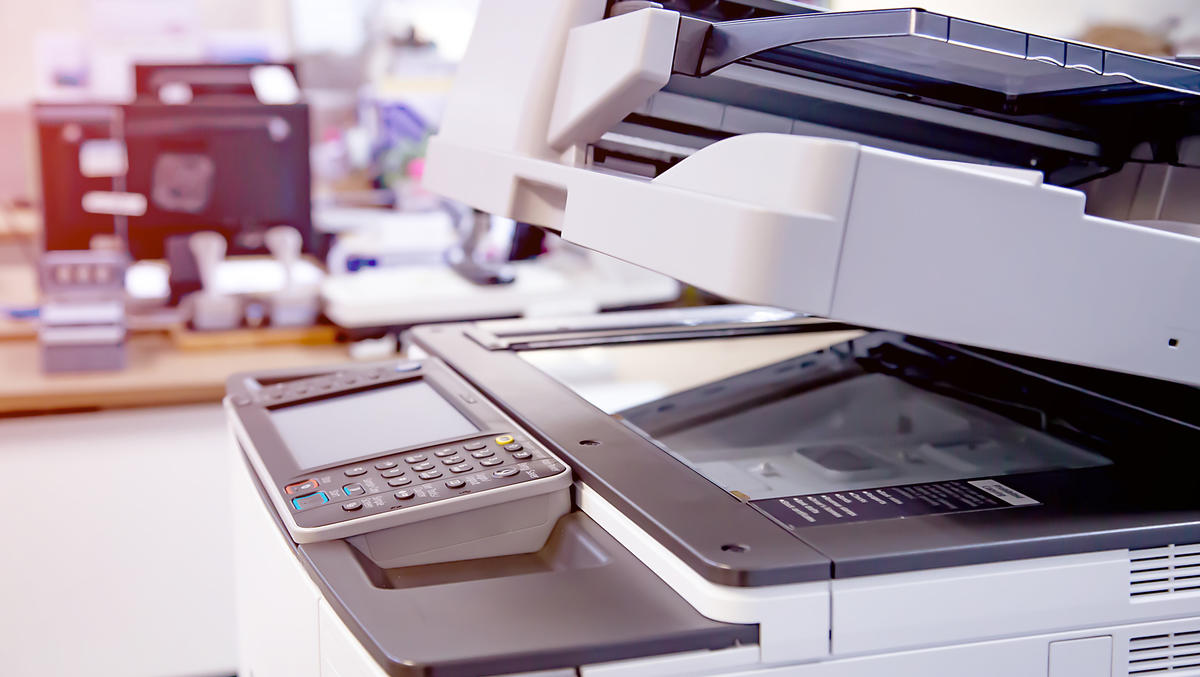 5 Best Multifunction Laser Printer Under Rs 20000 in India 2021
Believe it or not, working from home has now become a new normal life. This is the reason you need a full office set up at your house. Yes! Computer, table, chair, and even computer accessories are needed but are you looking for a multifunction laser printer? If yes, then you are at the right place. 
With extensive browsing and research, we have made a list of the best multifunction laser printers under Rs 20000 for you. Something that can meet the requirements of its user. 
Before starting with the list, you must know what makes a printer the best purchase for you. You must pay attention to its:
Connectivity

Output, 

Pages per minute

Duty cycle (how many pages a month)

Supporting page size

Type and cost

Resolution (very important)

Page yield (How many pages it can print with a cartridge)

Duplex printing
The options that we have mentioned in this list top all these features. 
So, read on and pick out your best Multifunction Laser Printer.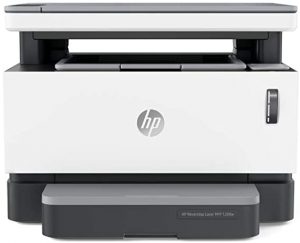 Right on top, we have the king of computer accessories, HP. Talk about its printers? They produce some top-notch models that everybody adores. This is why we have this NeverStop Laser WiFi multi printer which is pretty much a combination of classy design and advanced technology. 
If you have something extraordinary to print, this one is the best option you can have. It has a page yield of 5,000 pages and a duty cycle of up to 20,000 pages. Amazing, right? This doesn't stop here. Every page you print will cost you just 29 paise a single page. That is like the lowest price available in the market. 
This Neverstop printer is famous to reload any design in just 15 seconds with a ready-to-print page. This one works with smooth execution, small body, and fast-problem solving solutions. 
Features
It works with an LED display type.

It has memory storage of 64 MB

You can operate this using your smartphone. 

This one has a resolution of 600*600 DPI. 

It has a Monochrom output

Can print 20 pages per minute. 

It costs around Rs 18,500. 
Check the cheapest price on Amazon
2. Brother DCP-L2541DW Monochrome Multifunction Printer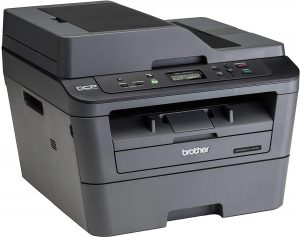 Here comes the next best multifunction printer by Brother. Its monochrome MultiFunction printer is a remarkable All-in-One piece with a scanner, printer, and copy. It is an absolutely in-budget office product that can fulfil all your printing and designing needs. 
This Monochrome printer works with a speed of 35 paper per minute and has a duty cycle of 10,000 pages a month. The best thing about this printer is its connectivity. You can connect it using a USB cable, Wi-Fi, and power sources. 
If you wonder about size support, it goes for A4, A5, A6, and many other sizes. So, no matter where you wanna print it, you can get the work done in no time. Besides, you may have OS, windows, and Mac software. 
Features
You can zoom the print area from 25%-400%

It supports two-sided printing with high resolution

It offers a world-class productivity

Excellent connectivity

It costs around Rs 18,000.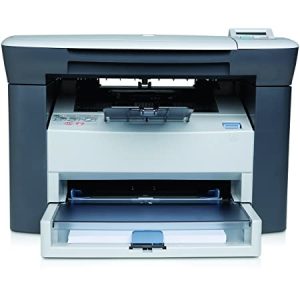 We have another best product by HP- the awesome LaserJet M1005 printer. This silver and white colour printer is something that you would adore for a long. The reason? Because it gives you consistent results through its impressive print carriage technology. 
This HP printer works on a Powder-based colour system instead of ink colours. Not too big and not too small, this printer is the best choice you can have to print multiple black-and-white pages. Its duty cycle (ability to print A4 size sheets) goes up to 5,000 per month. That's just awesome. 
Undoubtedly, it is one of the best sellers in the category of three-in-one printers. Its supports copy, printing, and scanning along with 32 MB RAM. Its scanner can scan 19200 DPI pixels. Down there are more features you can enjoy. 
Features
It allows you to adjust dark and light colours. 

direct/instant printing option that allows you to print as soon as you switch it on. 

It supports more, cancels, and deletes options for all three functions. 

This one operates on 55 watts 

The paper tray can hold as many as 150 pages at once. 

It costs around Rs 20,000.
Check the cheapest price on Amazon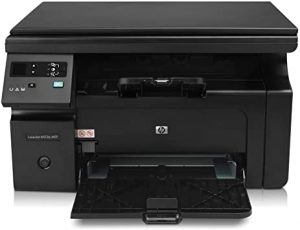 You must be wondering, why HP again? Well! The truth is, it is so great that we cannot get enough of it. So, why not?

This M1136 printer is just like any other, is an all-in-one laser printer. It allows you to print multiple sizes be it A4, A5, L, R, B5, and many other options. Talk about its speed? This one can print as many as 19 black-and-white prints and 18 colour prints. 
Apart from that, you will get a dual-digit numeric LED display for better functioning that works with a speed of 400 MHz. Besides. If you require something extremely compact and lightweight printer, this one can be the best choice for you. 
Another great thing about this printer is its auto-on-off function. So, it starts working instantly as you switch it on and it shuts down when not in use for long. All these outstanding functions are a little benefit here in a beautiful body that costs a very reasonable price. 
Features 
Every page you print will cost you as low as 2 paise per page. 

Its resolution can go as much as 600 X 600 DPI. 

Its duty size is

8,000 pages per month. 

This one consumes a maximum power of 375 watts. 

The best thing, it supports a power-saving function. 

It costs around Rs 14,000 (pretty cheap. 
Check the cheapest price on Amazon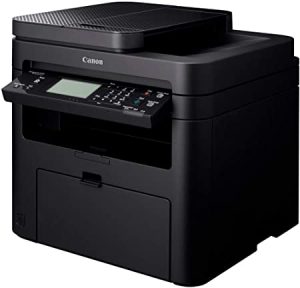 Canon is one of the most versatile companies you will find in India. We know that it is very famous for its cameras but its goodness doesn't stop there. This company manufactures world-class printers that give their best performance throughout its life. Therefore, here we are with one great piece- the ImageCLASS MF235 laser printer. 
This printer is super easy to use because it allows you to print anything using your WiFi connection. Even if you don't have a WiFi connection, you can still print without USB by connecting through Hotspot WiFi. If nothing works, there is always wire connectivity. How amazing is that? 
Where all the other printer is available for scanning, printing, and copying, this one goes beyond and offer you a fax service. It works with a blazing fast speed and printer around 23 pages in a minuter. Also, as one monochrome printer, this one works with a touch-screen functioning, one-key straight solution, and LED screen display. Classy + dedicated technology. 
Features
It supports pages of sizes: A4, B5, A5, Legal, and Letter. 

Ideal for your company as well as a home office.

This one has a page yield of 2400 

Works with print resolution of 600 X 600 DPI. 

RAM size 152 MB

Costs around Rs 18,500. 
Check the cheapest price on Amazon
Conclusion
Now that you have the list of the 5 best Multifunction Laser Printers under 20,000, you know which one will suit you the best. So, what are you waiting for? Go and order it right now and create your own office at home. 
Which one did you like the best? Let us know. 
Also Read: