Best 3D Printers in India in 2020
We've gone over many detailed reviews of 3D printers in India. Now, our team also put in lots of hours to research and test many of these printers. So, we have a strong reason to nominate the 3D Bazaar ELEGOO LCD 3D Printer as the best 3D printer in India in 2020. Out of the different models that we analyzed and reviewed, this product is reliable. Also, it offers a very good user experience even for beginners. Its screen is large enough at 3.5 inches and comes with touch functionality. But we also love the superior output that results from the Elegoo Trademark resin, known for very amazing results.
We are a reader-supported brand and commit to creating trusted, independent reviews. Keep in mind that purchasing through the website links that we post will yield commissions for us from many of the retailers. But rest assured that our selections are not influenced in any way by this as we only give practical advice.
To help you make the right choice of 3D printer that fits your needs, we have included a buyer's guide and FAQ section. If you are new to 3D printers, make sure to read our buyer's guide. This will help you determine which of the machines we have reviewed that will meet your requirements better.
OUR BEST TWO PICKS FOR 3D PRINTERS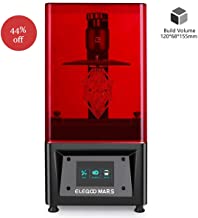 The first of our best two picks is the 3D Bazaar Elegoo Mars that is very seamless to use and is accurate. It also comes with a steel ball structure for balance and it tops our list for good reason. This is because of how smooth this printer is for rookies. But that's not all as this 3D printer is equipped with the Chitubox Slicing software which is capable of slicing 30mB STL files within 60 seconds. We won't also forget to mention that it gives much better output, thanks to the Elegoo Trademark resin.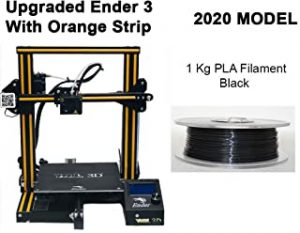 We rate the WOL 3D very high because of the very advanced tech that it is built with. This is a way of guaranteeing high performance with the help of an upgraded extruder. This means there is a much-reduced risk when it comes to plugging. This 3D printer almost produces no noise and is known for durability. In less than five minutes, the hotbed can attain as much as 100°C. But we also love the power cut protection facility. If you're looking for a good machine for a long duration printing, the WOL 3D is a great pick.
Why Trust Us! 
We have a dedicated team of researches, reviewers, and editors. They put in lots of hours to compare and analyze products so that our readers get the best value for their money. We do not post sponsored articles but receive commissions if you go through any of our links to make product buys. This is how we finance the work we do in creating unbiased reviews just for You.
BUYING GUIDE FOR 3D PRINTERS 
3D printers have a higher cost when compared to other types of printers. This is why it is necessary to conduct detailed findings and analysis before making a final decision. Thankfully, we have simplified the process by doing the required research to help you determine what 3D printer is best for your needs. But before we go ahead to tell you about these 3D printers, we have put together a buying guide for you. This guide will tell you about the 3D printer types and what factors to consider when choosing any product in India.
Types of 3D printers
3D printers come in four basic types and what differentiates them is the kind of technology on which they are built. For you to make the right decision, you will have to decide why you need a particular 3D printer and the reason for purchasing it. Here are the four basic 3D printer types to know about –
1. Fused Deposition Modeling (FDM) 
This is a very common type of technology on which 3D printing operates. FDM printers perform object creation and printing by using heat filaments, as well as long tubes. It is through the basic extrusion of X, Y, Z-axis shapes and the flow of hot resins through the tubes that this type of 3D printer works.
There are two things that you need to know about this type of printer. You may not trust it 100% to give you very smooth output and it also produces horizontal layer lines. When it comes to FDM printers, Delta or Cartesian-style frames are more of what the output looks like. The beds of Cartesian printers usually move along the y-axis but in the case of individual motors, the movement usually occurs along the x and z-axis. A not so common style is the Delta construction which uses three motors of even spacing to initiate the movement of the extruder.
If you are someone that is a hobbyist when it comes to 3D printing, FDM printers are a great choice. In fact, most people usually like to go for Cartesian FDM printers. The reason is simple. They do this because you are guaranteed greater control and more refined results.
2. Stereolithography Printers (SLA)
It is easy to decipher how this type of printer works by looking at its name. Stereolithography has to do with a process known as photo solidification. This process involves the formation of layers with the help of chemical reactions. This is possible by focusing light photons on particular areas. This then leads to the solidification of the SLA resins. SLA printers work with very precise photons which make the result very accurate and smooth. If you use these types of printers, rest assured that you'll have high-quality results.
3. Digital Light Processing Printers (DLP)
Just like with SLA printers, DLP printers function in a similar manner. The individual layers used in the creation of a print are also made with the use of vat polymerization. The process has to do with targeting light at specific points which trigger direct hardening. Although the quality of output is not very much like that of the SLA printer, you are sure of clean printing. This also with high-quality in contrast with FDM printers. Another thing about DLP printers is that they work at very high speeds.
4. Selective Laser Sintering Printers (SLS)
Much the same as SLA printers, SLS printers differ in that they make use of powdered resin other than liquefied resin. The process with the SLS printer involves focusing specific points in the powder vat with a laser to create new layers. With the movement of the laser from one point to the other, the solidification of powder occurs in layers. Do you have very complicated industrial designs that need to be manufactured and printed? You will enjoy using SLS printers. They also come in handy where the focus is on print detailing.
Understanding Printing Materials 
Now that you are familiar with the types of printers, you also need to have a grasp of various kinds of print materials. You already know that traditional printers make use of paper but this is different for 3D printers. These types of printers function in ways far above using just ink to print. There are special types of materials that are necessary to get the desired output. The first thing you have to do is to choose between filament-based or resin-based printing.
While many printers work with other print material types, SLS and FDM printers make use of resin. You can find resin in three different forms as follows –
Tough Resin – This type of resin is very tough and is used in the creation of very strong tools and applications. Any object created with tough resin is known to have high resistance.
Standard Resin – The coloration for the standard resin is anywhere from clear to white. It is best for the creation of prototypes and small gadgets. However, it does not have enough strength and resistance for the creation of long-term objects.
Medical grade Resin – You will mostly find them in medical products like hearing aids, oral prosthetics, and more. There are some enhanced forms that are used to produce other types of prosthetics and limbs.
Additionally, in this case, Resin is available in two kinds of materials for printing. They are -Thermoplastic and Thermosetting.
When it comes to thermoplastics, it is possible to melt them so that they return to a liquid form. But this is different from thermosetting materials that maintain their form as soon as they solidify. You can decide what material to go with depending on how permanent you want your output to be.
Most people prefer to go with thermoplastics when choosing their inputs. So, we will focus on them a bit. Thermoplastics usually come in two forms –
1. Poly Lactic Acid (PLA)
If you are a beginner or want to put the environment into consideration, this material is a good choice. It is basically produced from cornstarch and can help to carry out simple or miniature object creation and printing. PLA gets cold easily and is also biodegradable. Since it does not have a high melting point, you may find that some models can become easily deformed when exposed to high-heat environments.
2. Acrylonitrile Butadiene Styrene (ABS)
This type of plastic is mostly used to make various objects that you find in the home. It happens to be petroleum-based and is renowned for how flexible and strong it is. Thanks to its flexibility, you can come up with all kinds of materials. And the fact that its melting point is quite on the high side means you can create long-term objects. You need to exercise care when using this model since it can give off fumes while the printing is ongoing.
Factors To Consider When Buying Printers – Read Carefully
Type of Printer 
Knowing the various types of printers and how they function, the next step is for you to know your reason for wanting to buy a printer in particular. What purpose will the machine serve and what do you hope to achieve?
Do you undertake manufacturing and more detailed projects? We recommend SLA or SLS 3D printers. But if you are looking for a machine that can work faster. One that can help you achieve your prototype requirements or accomplish production in mass. You might be better off with DLP printers. A rookie in the game of using printers may benefit more from FDM printers.
Material types
Is your priority on environmentally friendly products or are you looking to build something temporary? PLA-built materials are highly recommended. And the possibility of experiencing warping or fast cooling down is greatly reduced. On the other hand, if your focus is on building more permanent products, we recommend that you consider using ABS thermoplastic materials. This is a great idea for beginners and the output is also good enough.
Type of 3D printer software  
Now that you have made a decision about the type of printer and print material, the next place to focus on is the software. 3D printers usually make use of slicing software and there can be variations. This relates to other factors such as usability and compatibility. IdeaMaker, Cura, and OctoPrint are some of the printer software you'll find. Your printer can only determine how the printing should be carried out with the help of the slicing software. The software contains detailed instructions on the generation of layers, where to begin, what parts to fill, what areas to avoid or cut, and more.
For many of the 3D printers, you can download the software or access them in a disc. While many of them can run on Mac OS or windows, you will find some which are compatible with OS X and Linux. You should consider going with a simple software if you are just starting with 3D printers.
The Modeling Software 
Modeling the output is very important before the final print slicing. This is where modeling software comes in. You may be able to get direct digital model files from various sources but nothing surpasses having a custom version for yourself. We recommend rookies to consider going for 3D modeling apps such as SketchUp, Seamless 3D, and Cubify Sculpt. That's because these modeling applications are free and easy-to-use.
Finding A Community 
Once you get the modeling software settled, we recommend finding a community. This should be one that has a theme built around your preferred product or brand. You know how sensitive the world of technology is. you might encounter problems or difficulties along the line. Connecting with the community can be a solution point should you come across any problems or troubleshooting. It will also help to increase your knowledge about working with 3D printers. Online communities can help and we recommend finding one.
Warranty 
You would hardly find a 3D printer that does not have up to 12 months warranty, at the very least. Since these printers are relatively expensive, you shouldn't only be concerned about the warranty. You need to also find out what the customer support service looks like. Yes, some brands may offer only a few months of service or manufacturer's warranty but you can always look out for better options.
Frequently Asked Questions 
1. Are closed 3d printers better? 
Closed 3D printers are more preferable because they offer several benefits and that puts them ahead of open-frame 3D printers. Fully enclosed 3D printers ensure that the machine parts stay protected for longer. They also increased safety since you will barely come in contact with any of the moving parts.
2. Is 3D printing expensive? 
This will mostly depend on the nature of the materials involved in the printing process. Some projects are more affordable than others. This is especially true when it involves printing smaller or larger objects.
3. How long is required to 3d print a miniature?
You will have to invest about 10 minutes of printing time. Smaller, low-quality objects only need some detailing and basic settings. This shouldn't take lots of time. But the size and complexity of a project, as well as scale and other factors, could see a project last anywhere from hours to days. The slicing software will also determine how fast your 3D printer works.
4. What are STL files? 
In the world of 3D model printing, STL happens to be the standard file format. A lot of CAD software can generate these files or you can use modeling software to create them.
5. Is 3D printing dangerous?
It is suggested that the films that come from some print materials can put you at risk of developing certain conditions. This is because there is thermoplastic feedstock associated with 3D printers. It gives off vapors and gases that are dangerous.
OUR ROUNDUP OF THE BEST 3D PRINTERS 
FULL REVIEW – BEST 3D PRINTERS IN INDIA IN 2020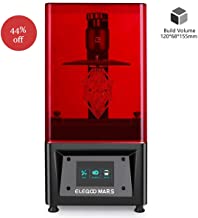 This is our first recommendation if you're looking for the best 3D printers in India in 2020. The Elegoo Mars UV photocuring 3D printer has quite an interesting design. it comes with aesthetics that looks like a box enclosure. Its Chitubox slicing software is the very latest. So, it guarantees a superb printing user experience. You will require about 60 seconds to slice a 30mB STL model file in contrast with other open-ended devices that require about 10 minutes.
Let's also talk about the color touchscreen which is large and measures about 3.5 inches. To make it easier to print in offline mode, this 3D printer comes with the Elegoo Chitubox 5.0. You will also notice that it has a steel ball balancing structure. This is what allows you to set up in 5 minutes and start printing in quick fashion.
With the aid of Chitubox, the printed model can get hollow cuts prior to slicing. This helps to conserve resin as soon as the photocuring stage commences. The UV lights of this printer are worth about 40 Watts. You are also assured a relatively high-quality output print. This is all thanks to the Elegoo Trademark resin.
This 3D printer utilizes a 2560*1440 2K HD masking LCD. This is to ensure that the XY axis (0.00185 inches / 0.047mm resolution) has a better accuracy within.
 Pros
This brand is well known for creating top-notch 3D printers
The Elegoo Mars is easy to use
Set up timer 5 minutes means you can start working faster
Equipped with the Chitubox slicing software that offers superb user experience.
Cons
Comes with just 1-year manufacturer's warranty but it isn't specified if it's meant for Indian or American buyers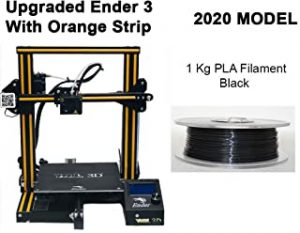 Here, you have another easy-to-setup 3D printer and this can be done within 2 hours or less. The WOL 3D Creality Ender 3 as a do-it-yourself manual which you will find quite beneficial. The Y-rail mounting groove has a CNC machining. Its purpose is to ensure precision in positioning, thus guaranteeing great output. Its engraving capabilities are highly accurate at about 0.1 mm nozzle size even if it has a 0.4 mm single nozzle size. With a 180 mm per second print speed, the WOL3 3D is one of the best printers you will find around. But keep in mind that very high-speed printing can impact the product's overall quality. You can also use ABS and PLA print materials.
It's a noiseless machine since its V-Slot is fitted with POM wheels. The advanced tech of this 3D printer helps to reduce bad extrusion, as well as plugging risk. The Resume Print Function is the printer's USP which means that even in the event of the loss of power, it will continue to print without difficulties. You will also love this machine with a hotbed that can get up to 100 degrees within five minutes or less. In all, the WOL 3D satisfies the criteria needed to qualify as a top-performing printer.
Pros
The WOL 3D Ender 3 has a great 0.4mm nozzle size for stellar output
Power cut protection
Very easy to use
Saves the cost of printing with its new platform sticker feature
Y-rail mounting grooves have CNC machining
Easy to assemble
Cons
Ideal adhesion can be hard to attain due to the depression in the middle
Not the best for large projects
Absence of thermal runaway protection
The firmware is outdated and needs to be updated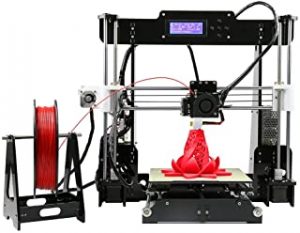 Third on the list is the Anet A8 3D printer which is also easy to assemble. By just following the directions that you find in the setup manual, you will get to love the efficiency with which 3D printers perform even more.
The Anet A8 is an open frame system that is compatible with a wide range of filaments such as Wood, Nylon PVA, PLA, ABS, and even luminescent 3D printing. No matter what your age or experience is, you'll find this 3D printer to be a good pick. This machine can also integrate well with Linux, as well as Mac and Windows OS. So, if you're on the lookout for an easy-to-use 3D printing machine, you might want to consider the Anet A8.
Pros
Performs very well even at a relatively cheaper price
Recommended for print jobs at the medium level
Helps you learn more about 3D printing technology
Can integrate with different filaments
Cons
It's an open-frame printing machine
Limited safety due to heated parts
Moderate starter kit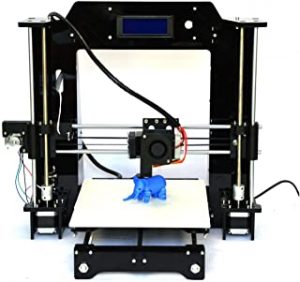 What you have here is a high-performance 3D printer. Prusa 13 is simply phenomenal and is loved for its speed of delivery which happens to be its biggest highlight. It has a 210*210*210 mm print bed size and can handle large projects. This is an FDM printer that can work with materials such as PVA, HPS, PLA, and ABS.
Requiring minimal time for the print bed to get hot, you are sure that you can perform quick jobs. Beginners will love this printer that comes with a nozzle measuring 0.4 mm. And with its great speed delivery, it's an ideal 3D printer for handling large projects. The Y-rail mounting groove has a CNC machining to help make the printer more stable and give precision to its positioning. You'll also find that the print bed of the machine is PCB heated aluminum. So, what you have here is a lightweight 3D printer.
Simply make use of the do-it-yourself kit and manual to set up this printing machine. And if you have a background in engineering, connecting the laser engraving elements shouldn't be a hassle for you.
Pros
The Rapid Rabit Prusa 13 performs very well
Very ideal for large projects
Highly user-friendly as it is an FDM machine
Cons
You'll have to do some upgrades to enhance its performance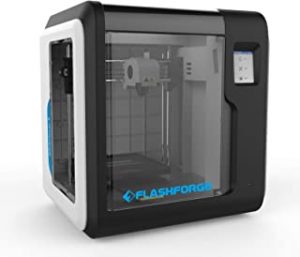 This is a close frame 3D printing machine that guarantees security while giving you superb performance. The Flashforge Adventurer 3 will not risk having dust particles sticking to its filaments or other parts. This is because it operates in the enclosure.
The Flashforge Adventurer 3 comes with auto filament feeding, as well as a platform that you can remove. Its extruder structure is detachable and guarantees stability at all times. So there is no need for leveling printing which conserves expenditures and time. With the help of its cartridge feeding function that is built-in, this 3D print that can easily and automatically recognize the filament to commence the loading process. What you have here is a 3D printer that can take care of small and large projects without stress.
The Flashforge Adventurer 3 also features cloud printing to ensure that you can work remotely. It has a built-in camera to allow you to keep tabs on the machine wherever you are. And with the presence of a closed frame, this 3D printer is simply noiseless while you can effectively monitor all activities through its transparent window. The precision of printing ranges from 0.1 mm to 0.2 mm and it can work with materials such as ABS and PLA. Since it is detachable, cleaning the different parts of the printer and reassembling them shouldn't be a problem.
Pros
Comes with auto-leveling features
Supports cloud printing
Easily manageable due to the removable extruder
Excellent performance and closed frame
Cons
When the print bed bends, it can be hard to resolve due to the auto-leveling feature
The high cost of calibrating and fixing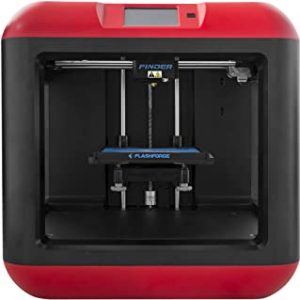 Just like the Flashforge Adventurer 3, the Finder 3D printer also happens to be a close frame printer. So, rest assured that you will be safe while working with this printing machine. This machine will be delivered to you already preassembled which means you don't have to bother about installing and setting it up. But you might have to do some tweaking to get it up and running. And we are absolutely sure that you will fall in love with the touch screen panel.
The Flashforge Finder comes with a filament-exhaust recognition capability, second-generation WiFi connectivity, and a USB stick. So, you can also work remotely. We also love its aesthetics where the cables are concealed, with a clean design that makes the machine very safe. You won't even have to come in contact with heated components. Its assisted leveling system makes it quite different from the Adventurer 3.
Also, the presence of the non-toxic PLA filament means that you've got an environmentally friendly machine on your hands. Prone to have a printing position of about 0.1 mm, it comes with a 0.4 mm nozzle diameter which is ideal for many kinds of 3D printing products. It also records a printing speed of about 40-200 mm per second. So, you are guaranteed quality output whenever you use this machine. The Finder 3D printer also integrates with ABS and PLA.
Pros
Safety is assured with this closed frame printing machine
Comes with assisted leveling
Quality output guaranteed
High precision and accuracy when carrying out print projects.
Cons
Has a not so standard spool size
Relatively expensive
The printer will require a separate spool holder
RECOMMENDED 3D PRINTERS BASED ON CATEGORY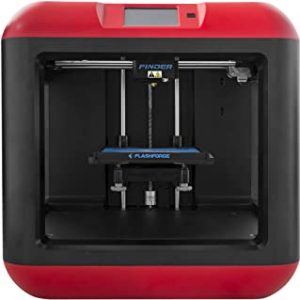 With its simplistic design and the presence of the much-needed basic features, this 3D printer is fairly priced, making it ideal for rookies. Thanks to the ease-of-use, you will be able to operate this machine with no stress even if you are new to working with 3D printers. This is a great bargain for novices. The Finder 3 make sure that you don't have to go through the pain of calibration associated with many other 3D printers.
The Flashforge Finder comes with a filament-exhaust recognition capability, second-generation WiFi connectivity, and a USB stick. So, you can also work remotely. We also love its aesthetics where the cables are concealed, with a clean design that makes the machine very safe. You won't even have to come in contact with heated components. Its assisted leveling system makes it quite different from the Adventurer 3.
The Finder 3D printer also happens to be a close frame printer. So, rest assured that you will be safe while working with this printing machine. This machine will be delivered to you already preassembled which means you don't have to bother about installing and setting it up. But you might have to do some tweaking to get it up and running. And we are very much sure that you will fall in love with the touch screen panel. This is a full-color touch screen that has easy-to-navigate controls and supports a wide range of languages such as English and French, as well as Korean and Chinese.
Although the Monoprice is relatively low-priced, don't let that fool you. This 3D printer has the full features necessary to qualify it as a quality printing machine. And if you are new to the world of 3D printers, we can recommend that you start with the Monoprice Mini V2.
However, when compared with some other more expensive brands, this 3D printer can be challenging to set up. You should also know that it has an exposed print surface which is one of the downsides. This means that your printing will be exposed to environmental elements. You will also need to do some level of troubleshooting, as well as calibration and tweaking, to start to derive the best results. But it has a pre-loaded SD card and you'll eventually get the hang of the machine.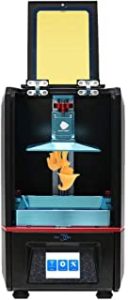 Regardless of how aesthetically pleasing a 3D print looks, it is only a step by step layered plastic design. So, you're bound to see surface imperfections, obvious layer lines, and a not-so-clean look. To take rapid prototyping design to another level, Resin printers come into the picture if you're looking to get very high-quality prints just like one that comes straight from the factory. Rather than make use of a hot nozzle to print 3D, thereby depositing filament bits, UV light is utilized by resin printers to fix liquid resin.
This may not be too pleasant because resin may have a bad smell and needs to be handled with rubber gloves. Don't forget you'll also need a print space that is highly ventilated. To get the print washed as soon as it's done, isopropyl alcohol is needed too. And a UV lamp will help to finalize the duration process.
Gladly, the Anycubic Photon delivers amazing results and we rate it the best when it comes to sharp details. It has a 25-100 microns resolution and is simply amazing and delivers superb results.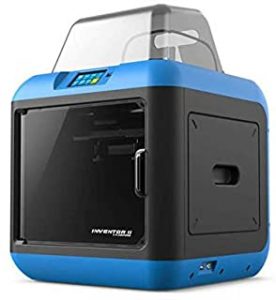 Give it up for Inventor II when it comes to quality. Although this 3D printing machine is quite similar in size and has a virtually similar build volume when compared to the Adventurer, it has very high quality. This machine features a color touchscreen that is somewhat bigger when compared to others and we consider that to be a big step up. So, it's easier to key in your Wi-Fi password before you commence work. This printing machine also pauses the printing process by itself should you open the door, thanks to the enclosed space.
When contrasted with the Adventurer, it seems to have a slightly better production speed and it gives you more options to calibrate and fine-tune the 3D printer. But this doesn't imply that all is perfect with this machine. Even if it gives you very fast printing speed, the enclosed filament housing can only contain filament spools that are smaller. But you will get a very clean and highly detailed print quality with a 50-400 microns resolution.
IN CONCLUSION…
The 3D Bazaar ELEGOO LCD 3D Printer and WOL 3D Upgraded Creality Ender 3 are our top picks for the best 3D printers in India in 2020 as they are very easy to use and highly accurate.
We love the 3D Elegoo LCD's steel ball balancing structure and it is a machine that beginners will love. Don't also forget that its slicing software is the Chitubox Slicing Software which has what it takes to slice 30mB STL files with 60 seconds. On the other hand, we rate the WOL 3D very high because of the greatly advanced tech that it is built with, guaranteeing high performance with the help of an upgraded extruder.
With the help of our buying guide and clean reviews of other 3D printers, it should be easier for you to determine what printing machine best suits you need. If you have any questions or suggestions, do not hesitate to let us know what your thoughts are in the comments section below.