Best Home Theater Systems in India in 2020
Nowadays, almost everyone enjoys music and movies. But you won't get full experience watching movies and listening to music unless you have good audio devices. Home theater systems are designed for music and movie lovers as they have great bass and a crystal-clear sound. However, some people may not even know what a home theater system is. Basically, it is a combination of video and audio components set up in your house that makes the experience of watching a movie just like in a theater.
Still, before you even think of buying one, there are some certain things you need to know. Therefore, we have prepared a buying guide that should make things a lot more simple for everybody. Once you have read it, you will have enough knowledge to choose the best theater system for you, on your own. And that is why we have made a list of products you can choose from.
Space
When it comes to space it is very important to take the size of your room as well as the free space and speaker placement into consideration. For instance, if you have a small room, you should opt for a package that has bookshelf-sized speakers. On the other hand, if your room is slightly bigger, you can opt for a package that comes with floor-standing speakers.
Speakers
There are two main types of speakers: bookshelf-sized and floor-standing. Mostly, home theater systems come with either 7.1 channel or 5.1 channel speakers. Both 7.1 and 5.1 channel speakers come with satellite speakers and a subwoofer. The satellite speakers should be set up in the front, center, and rear part of your room. The .1 refers to a subwoofer, which is there to reproduce low frequencies.
A/V Receivers
A/V receiver is one of the most important things to consider while buying a home theater system. It is the heart of any setup. and that is why you should make sure that the package you pick has a high-quality one. Thanks to advancing technology, these days, A/V receivers come packed with a bunch of cool features.
Power
In order to offer enough power to the connected speakers, your receiver must be powerful enough. For optimum performance, the A/V receiver should be able to deliver at least 100 watts to every channel. In terms of speakers, another factor that specifies them is impedance. Most of them are rated at 8 or 6 Ohms. But you shouldn't be worried about that since home theater systems already come properly paired by the manufacturer.
HDMI
The number of connectivity ports available on a receiver is also very significant. Some older A/V receivers come with 1.3 HDMI ports, while on the other side the newest models might come with some newer version of HDMI. The new standard offers support for ARC, 3D video, and Ethernet over HDMI. HDMI ARC not only offers flexibility to upstream the audio but also eliminates the need of having S/PDIF. The more HDMI input ports an A/V receiver has, the better. Ideally, look for one with at least three HDMI ports. That would allow you to connect multiple devices to the system such as DVD player, PC, gaming console, etc.
4K Upscaling and Video Conversion
Even though it is considered as a premium feature in A/V receivers, most of the latest models are capable of upscaling and video conversion. Video conversion feature allows you to connect some slightly older video/audio devices and using a single HDMI cable, send output to the TV. But the 4K scaling feature is also very important. For example, if you want to buy a 4K resolution TV, or already have one, this feature will really come in handy.
Surround Sound Processing
If this is the first time you are buying a home theater system, it can be quite overwhelming to decide which surround sound option to pick. Almost every new A/V receiver supports DTS and Dolby Digital soundtracks from DVDs, Blu-Ray discs, HDTV broadcasts, Netflix, etc. And that is not all, both Dolby True HD and Dolby DTS-HD are supported by the latest receivers.
Radio
Now, we know there are quite a lot of internet stations where you can find and listen to all genres of music. But still, it is a very good thing if an A/V receiver features an in-built FM/AM tuner. With the tuner, you can access and listen to the local radio stations easily.
Remote Control
The control features are very important and that is why a remote control is included in most home theater packages. Ideally, it should have enough buttons to cover all the things that an A/V receiver features. Also, if you don't know which factors determine whether a remote control is good or not, it is operating range, build quality and the kind of batteries it works with.
Those were the most important things that anyone buying a home theater system must know. Now it is time to move onto the list of the best products available in India.
| Model | Item weight | Brand | Wattage | Type | Dimensions |
| --- | --- | --- | --- | --- | --- |
| Sony BDV-N9200W | 29.2 kg | Sony | 1200 W | 5.1 | 48 x 21 x 8 cm |
| Sony BDV-N7200W | 19.9 kg | Sony | 1200 W | 5.1 | 59 x 50 x 42 cm |
| Yamaha YHT-2910 | 20.4 kg | Yamaha | 100 W | 5.1 | 106.7 x 20.8 x 10.7 cm |
| Sony HT-RT5 | 3.8 kg | Sony | 550 W | 5.1 | 12.8 x 108 x 5.6 cm |
| Logitech Z906 | 11.3 kg | Logitech | 500 W | 5.1 | 12.7 x 12.7 x 12.7 cm |
| Sony HT-IV300 | 11.8 kg | Sony  | 1000 W | 5.1 | 62 x 37 x 30.1 cm  |
Top 6 Home Theater Systems in India in 2020
1. Sony BDV-N9200W
Item weight: 29.2 kg | Brand: Sony | Wattage: 1200 W | Type: 5.1 | Dimensions: 48 x 21 x 8 cm
+ Compatible with Bluetooth within a range of 300 meters
+ Offers a magnificent Virtual Football Mode for watching football matches
+ The rear speakers are very light and quite reliable
− The look may not be very appealing to everyone

This brand is already well known and appreciated all over the world. It offers a wide range of high-quality products. Sony BDV-N9200W Tallboy Blu-ray Wireless is a home theater 5.1 channel system that has made it possible for you to enjoy the magnificent theater experience at home. This system can be operated using different modes. Starting from USB and 3D Blu-Ray, over NFS to Bluetooth. Another feature that makes this product user-friendly is its own mobile application called SongPal, which makes operating a lot easier. Furthermore, you can transfer any image, video or game from your tablet or smartphone using SongPal. Moreover, with NFC enabled, you can stream videos and play music in the surround speaker system.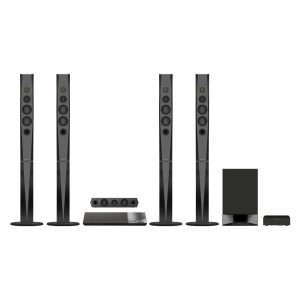 Not only it has its own app, but it also has a built-in Wi-Fi feature, making this home theater system even more user-friendly. It also includes a web browser right out of the box, so you can easily access the internet for playing music. If you are a fan of football, you will definitely like the Virtual Football mode. Basically, if you are watching a football broadcast you can activate this mode and the system will create a stadium-like environment and significantly enhance the experience. The maximum output power of this setup is limited to 1200 W. The whole point of limiting the output power is to improve power saving. Since a number of other theater systems don't pay enough attention to power consumption, this one outperforms the rest. Due to the energy-saving technology, the system consumes only 0.5 W in standby mode and only 1.7 W in network standby mode. The standby mode will automatically activate after being still for 20 minutes unless you manually adjust the settings. And that is the feature that makes this theater system economic and energy-saving.
Aside from all the cool features mentioned above, Sony BDV N9200W also includes a beautiful and colorful display. The lighting effects create a unique and charming surrounding effect, adding much more beauty to the product.

2. Sony BDV-N7200W
Item weight: 19.9 kg | Brand: Sony | Wattage: 1200 W | Type: 5.1 | Dimensions: 59 x 50 x 42 cm
+ Includes a set of batteries for continuous power supply
+ Powerful sound system
+ Great video streaming capability
− Only one HDMI at the back panel

N7200W is a wireless 5.1 Blu-Ray home theater system. The package includes two surround speakers, two front speakers, one center speaker, and a subwoofer. The innovative and unique design of the product, as well as its features, make a perfect combination of quality and performance. Speaking of design, this home theater system really stands out from the crowd. The moody black finish and the forward-sloping top panel give a futuristic, funky feel. But some people may be worried about cables snaking all over the room. Well, worry no more, because this home theater system includes wireless rear speakers. Both the horizontal center speaker and the passive subwoofer are styled to visually match the rest of the system. Even though the subwoofer is large, it won't disgrace your room since it is clad in a pleasant black finish. The sound speakers are made to operate in two different ways. But what does that mean? Basically, 2-way speakers have two drivers. The first one is a woofer that controls the intermediate-range and low frequencies. The second one is a tweeter, and its purpose is to deal with the high-level frequencies. Together, they provide perfect sound quality.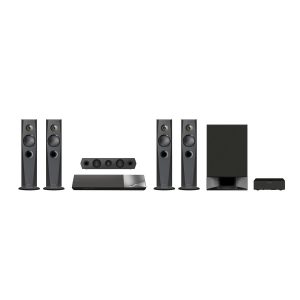 The main unit includes an HDMI output that supports 4K upscaling, two HDMI inputs, ARC, 3D, and BRAVIA Sync. Aside from that the main unit also includes analogue, FM aerial input, optical and digital stereo inputs, an Ethernet port, and a minijack for the supplied microphone. On the front side, there is a USB port you can use to connect devices such as external hard disks. Another big advantage of this setup is power consumption. It takes only 1.7W while in network standby mode and only 0.5W of power in standard standby mode.
We can all agree that music takes a huge part in our lives. Therefore, everyone will probably love and enjoy the Clear Audio+ feature. Clear Audio+ is a sound feature that configures every music track and provides the perfect sound field for each one of them. There is also a built-in FM tuner in this product.

3. Yamaha YHT-2910
Item weight: 20.4 kg | Brand: Yamaha | Wattage: 100 W | Type: 5.1 | Dimensions: 106.7 x 20.8 x 10.7 cm
+ 4K HD Display
+ Good suit for music instrument connection
+ Major sound encoders like Dolby HD, Digital Plus and others
− Has only FM wireless connectivity option

Yamaha YHT-2910 is a quite stylish and powerful home theater system. The A/V receiver of this setup ensures that all kinds of movies with loud and dynamic soundtracks will sound spectacularly realistic. On one side there is a strong subwoofer that uses Yamaha's exclusive Advanced YST technology to provide clean, crisply powerful bass. While on the other side we have high-quality surround, center, and front speakers capable of delivering high definition audio. Even without installing the rear speakers behind the viewing audience, Virtual CINEMA DSP provides a realistic surround with just two speakers. Virtual CINEMA FRONT is a feature that lets you enjoy the sound with better resolution and quality by simply installing all the surround speakers in front of the listening position.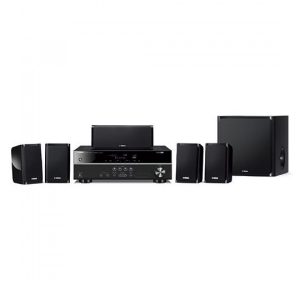 This product provides way richer bass than you would expect from a speaker this size. Even with the bigger amount of bass, it manages to maintain good sound balance and localization. While the subwoofer is in use, it enhances the low range volume of the entire system, not just the front speakers. Thanks to Yamaha's Servo Technology (YST), this system delivers incredible bass from small speaker enclosures. The full power of the waves goes through the air port, giving you clear and powerful bass.
Now, since 4K resolutions have been gaining popularity lately, this A/V can pass it from the source to the monitor for clarity way beyond nowadays standards. Yamaha YHT-2910 also features a USB port you can connect your iPhone / iPod with, and charges when connected. Yamaha YPAO system will automatically analyze the acoustics of the room and provide the optimal sound at the listening position in no time. The most user-friendly feature on this device is the Four SCENE buttons. They make using the receiver a whole lot easier. Four SCENE buttons are already set right out of the box. They have four default settings DVD/BD Movie Viewing, TV Viewing, Radio Listening, and CD Listening.

4. Sony HT-RT5
Item weight: 3.8 kg | Brand: Sony | Wattage: 550 W | Type: 5.1 | Dimensions: 12.8 x 108 x 5.6 cm
+ Auto-calibration system
+ Classy, minimalistic design
+ Great cable management
− Not that good for listening to music

Sony HT-RT5 is not a typical system. It is a hybrid: half surround package, half soundbar. This home theater system is a perfect suit for all of those who want the convenience of a soundbar, and a decent surround sound with rear speakers at the same time. Fortunately, this package includes an auto-calibration set-up and a mic. Therefore you can optimize and get the best surround sound. The calibration system will sort out everything and the only thing you have to do is to make sure that both rear speakers are at the same distance from the bar.

The cable management is very good as each component of the HT-RT5 comes with only one cable that powers them and nothing else. Setting everything up is also quite straightforward. In terms of design, Sony keeps it quite simple and minimalistic, allowing you to experience the full depth of the audio quality without smoke and mirrors. The soundbar, subwoofer, and speakers all have the same design, draped in an all-black casing, keeping it simple and classy. This way the system won't distract your eyes away from the TV. Therefore it is a pretty good choice for all the people who need a theater system for gaming. Another very handy feature is that the soundbar comes built-in with Spotify and Chromecast. That way you can connect your laptop or smartphone easily. The number of ports available at the backside of the soundbar is the thing we loved the most. It comes with an HDMI ARC output port, three HDMI-in ports (4K capable), a LAN port, an Analog input port and a host of Optical input ports.
Sony HT-RT5 does a great job, making your movies sound awesome. But on the other hand, it doesn't work the same way for music. For instance, when you are watching movies the subwoofer and speaker placement can be far enough apart and still deliver good sound quality. But using it for music is not ideal as it is very one-dimensional and the sound goes only in the direction the speakers are facing.

5. Logitech Z906
Item weight: 11.3 kg | Brand: Logitech | Wattage: 500 W | Type: 5.1 | Dimensions: 12.7 x 12.7 x 12.7 cm
+ The speakers are THX certified
+ It can handle signals from six sources simultaneously.
− The console can be distracting with so many LED lights.
− Very expensive

Logitech is already known across the world for many useful and high-quality products. If you are looking for a sound speaker system that can turn your room into your personal home theater, Logitech Z906 is the right choice for you. With this theater system, you can hear practically everything from approaching footsteps to the rustling of leaves and tire squeals. Logitech promises that this model can provide a crisp and clear sound even at full volumes. But since the peak power of this home theater system is 1000 watts, you will probably never exceed 50 percent volume. The satellite speakers are rated at 65 watts each, while the subwoofer alone boasts of 165 watts.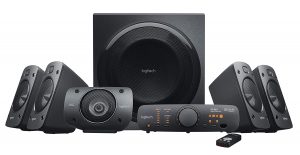 In terms of sturdiness, the satellite speakers of this product feel really strong and are built to survive a couple of falls. Besides, they have sufficient shielding that prevents dust buildup. Logitech Z906 has a control unit that uses an orange LED display with a volume dial. Gamers may find this layout a little bit distracting in the dark. This system also features individual controls that can be really convenient. With the individual controls, you can easily arrange the sound of each satellite speaker for optimal performance. This setup is also capable of streaming from six sources at the same time.
However, probably the most interesting feature is 3D stereo as it can improve the experience of playing old games that don't support Dolby by adding a certain amount of 3D awareness.

6. Sony HT-IV300
Item weight: 11.8 kg | Brand: Sony | Wattage: 1000 W | Type: 5.1 | Dimensions: 62 x 37 x 30.1 cm
+ Number of connectivity options
+ Very loud
+ Very good design
− The bass is too boomy
− The sound loses its clarity at high volumes

If you are looking for a decent and affordable home theater system for playing video games and watching movies, you should definitely consider Sony HT-IV300. On the other hand, if you are a purist looking for a theater system with perfect sound even at high volumes, you may not be fully satisfied with this product. 1000W output rating is probably the first thing that grabs everyone's attention. With such a big number we can attest to the loudness of this system. Sony HT-IV300 also features the ability to connect to the DTH box with HDMI, without requiring a receiver. This feature is really noteworthy since it allows you to easily set up the system, plug it into your box and enjoy the 5.1 output.

In terms of ports, this system includes a USB port, 1 HDMI-out and 2 HDMI-in ports, an Optical port, ports for the system's speakers and coaxial output ports. The two HDMI-in ports allow you to connect two audio sources to the system (for instance, a Blu-Ray player and DTH box) and easily switch between them. Speaking of connectivity options, wireless specifically, Sony HT-IV300 offers support for Miracast, Wi-Fi, NFC, and Bluetooth. When it comes to design, Sony did quite a good job here. The satellite speakers have metal grills with plastic bodies and a reflective metallic silver name on the side. Their unique hexagonal shape is what makes them look way different from any usual box. With such a design, this system won't look out of place even in the most meticulously designed rooms. The subwoofer is in a completely black painted wooden box with a foam cover on the front. The remote control that comes with this product is packed with a lot of buttons. Although some people may find that kind of overwhelming and intimidating, it is really useful to have control over all the features with remote control.
Now, one of the biggest downfalls is that even though the system can be pretty loud, after a certain threshold, the sound output loses its clarity. The bass is very boomy, not the punchy kind, and if you don't turn on the ClearAudio + feature, dialogues in movies and video games can be extremely difficult to understand.

Best home theater system under Rs. 5000
Philips IN-MMS6080B/94 is a really good suit if you are looking to buy a decent theater system under Rs. 5000. It includes a 5.25-inch subwoofer that delivers rich and clear bass. Philips IN-MMS6080B/94 also features an LED display and 4 buttons to change tracks. The build quality of this system is excellent.
Best home theater system under Rs. 10000
Are you someone who loves listening to loud music and partying? Well, if you are, F&D F5060X is exactly what you need. With an 8-inch bass driver and a sound output of 135W, you can enjoy music with heart-thumping bass. Furthermore, this setup offers several connectivity options such as AUX, USB, and Bluetooth. Digital PLL FM technology is another noteworthy feature that allows you to store 100 FM radio stations.
Best home theater system under Rs. 20000
Samsung company is widely known for manufacturing high-quality theater systems. Samsung HT-J5100K offers a sound power of 1000W as well as rich and deep bass. The product also has Crystal Amp Pro technology. Other features that you get with this system are Karaoke scoring, USB recording, Key control, and CD ripping. Samsung HT-J5100K also comes with a 1-year warranty.
Best home theater system under Rs. 25000
Philips HTD 3520G/94 includes one subwoofer, two rear speakers, two front speakers, and one center speaker. The DVD player that comes with it is quite sleek and classy. It offers high performance and many useful features such as HD Upscaling. You can also connect an external drive via USB.
Frequently Asked Questions
What is RMS?
A lot of people stumble upon this question while searching for audio speaker drivers. The word RMS stands for root mean square. That basically refers to how much continuous power can a speaker handle. For instance, a speaker with a 50W RMS rating and a peak rating of 100W can comfortably run with 50W with bursts of up to 100W from time to time.
How many speakers should a home theater system have?
Well, it depends. There are literally dozens of different combinations that can give a good home theater sound. But the most common one includes 5 satellite speakers and one subwoofer (5.1). The center speaker should be centered right under the TV. The right speaker goes to the right and the left one to the left. The two rear speakers should be placed and installed behind the viewing audience, at the rear part of the room. Typically, the front side speakers are bigger than the rear ones.
What wattage should I aim for?
Car performance is all about horsepower, the more you have under the hood, the better. It is the same with theater systems, the bigger the wattage is the louder your theater system will be.
A Few Words in The End
After we have spent some significant amount of time considering all the factors that come into play, we can confidently say that Sony BDV-N9200W is the best home theater system on the list. Not only that it offers high-quality sound even at the highest volumes, but it also has dozens of cool and useful features like SongPal, Virtual Football mode, and power saving. However, if this model doesn't suit your needs and you want something else, you might want to go over the list again before making the final decision.