Best 2.1 Speakers Under 3000 in India
The 2.1 Speakers are stereo systems that guarantee the home-theatre experience with a much less elaborate set-up. These include two stereos and one subwoofer. This set-up takes very little space and delivers exceptional quality audio. It is also relatively easier on the pockets. We have picked the best ten 2.1 speakers available under INR 3000 in India.
Best 2.1 Speakers Under 3000
Let's look at the top picks for the best 2.1 speakers available in India under INR 3000.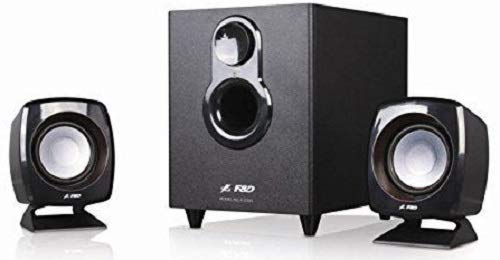 The F203G speaker range is exceptionally compact and lightweight. TV, PC, DVD, Mobiles, iPod, laptops, etc., are all compatible with these speakers. 
Let us look at the components included in the box:
1 unit of Subwoofer

2 units of Satellites

1 unit of Manual with Warranty Card, 

2 units of Cables

In the modest price area, it's a fantastic speaker 2.1 system. The bass wallop is wonderfully matched, as are the little speakers. These are not battery-operated. The bass isn't as powerful as the bigger f&d speakers, but it's more than adequate. The down-firing subwoofer has a lot of punch and is ideal for a compact room. The great aspect is that the satellite speakers are push wire linked, which means you can easily wire them with extra cable and then place the subwoofer close to where you're seated for maximum impact. Simply go for it if you have a medium to large space, and you will be pleased with your purchase. The on/off button on the rear and the bass and volume knobs are all easy to handle and set to the desired settings. It is available at a very reasonable price of Rs. 1,390.00.
Product Dimensions: 24.2 x 22.7 x 28.9 cm 

Weight: 2.1 kg
Check the cheapest price on Amazon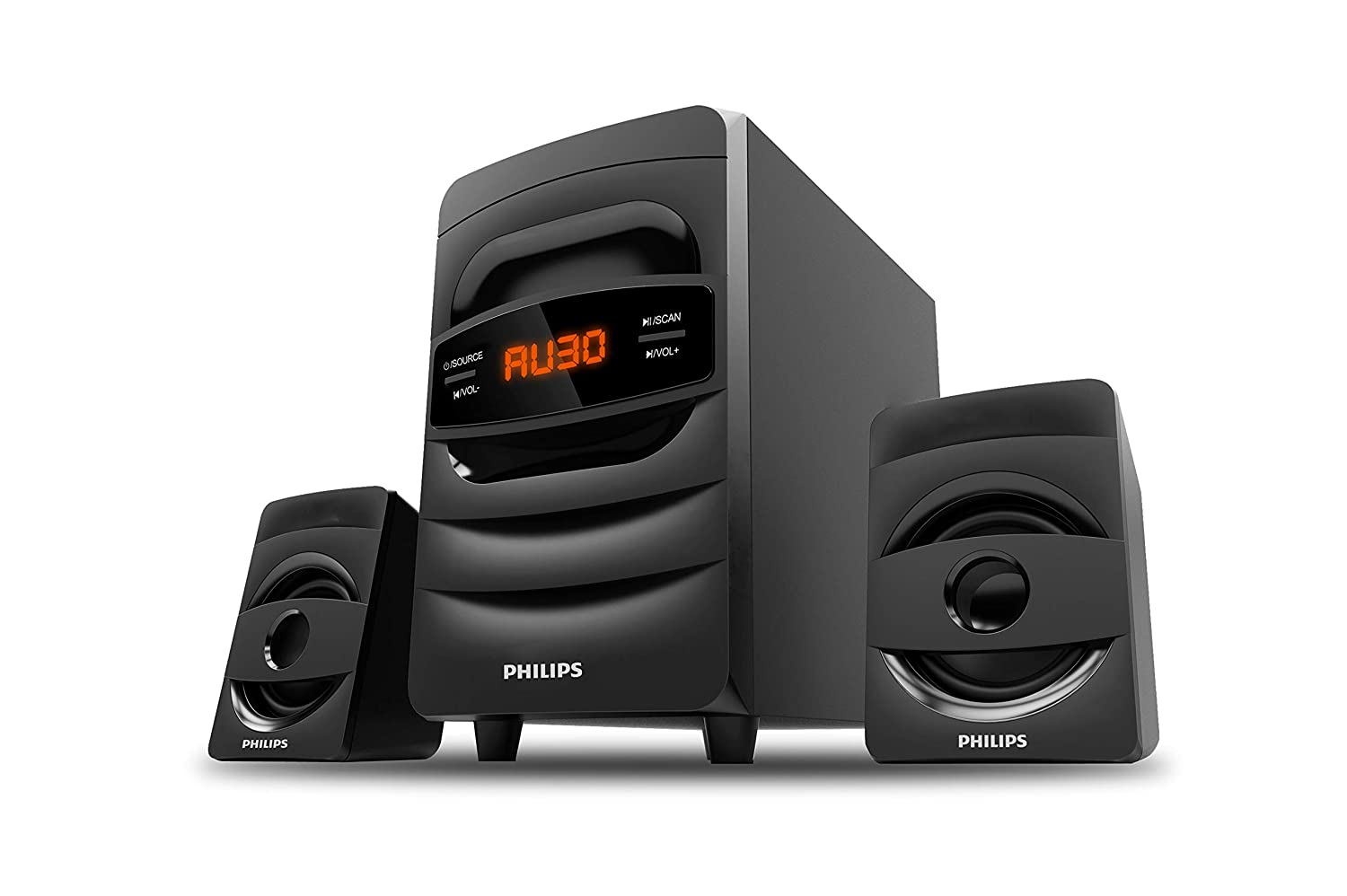 Philips 2.1 speakers are ideal for listening to music from a variety of sources, including MP3, PC, TV, and more. It also contains an FM radio tuner for listening to the radio. It has a total output power of 32 W RMS. These feature excellent Bluetooth wireless music streaming capabilities. They have an AUX-in port that allows them to connect to practically any electronic device. Their bass level can be increased to a maximum of 30 decibels, although we recommend not exceeding 18/20. 
The volume operating range of the System is up to 30 maximum. It has multiple equalizer modes and can play audio from USB, an in-built FM receiver, an aux input, optical in, and Bluetooth. As usual, Philips' sub-woofer is a great performer. Even at loudness level 2 and bass level 4/6, the sound quality is excellent. The only issue here is the poor quality of the remote, which is unacceptably low for a company like Philips. It also lacks treble control, however, this does not detract from the sound quality. One can be purchased for Rs. 2,990.00.
Check the cheapest price on Amazon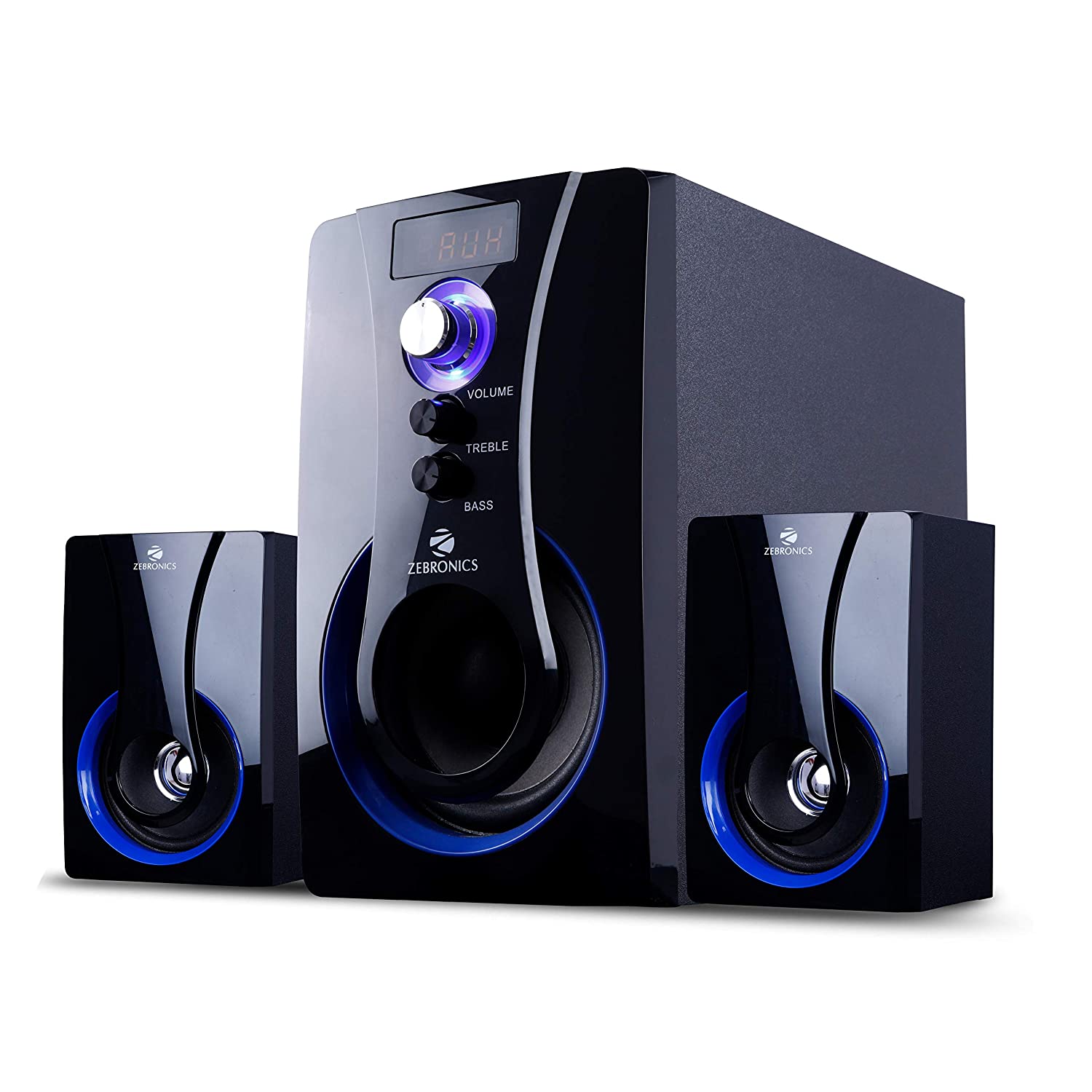 The ZEB-BT2490RUCF is a 2.1 speaker with a high gloss front panel and a stylish design. Volume, bass, treble, and other controls are available on the subwoofer cabinet. To begin with, these Multimedia speakers, in combination with the subwoofer, produce truly "High Quality" sound, and the subwoofer includes functions such as "Bass Control," which fully meets the criteria. You receive treble control, which results in immensely high audio quality and clarity. Also included is a built-in "high-quality FM radio" with an antenna. You also have SD/MMC card support and USB if you want to listen to music with them. The speaker has multiple connectivity choices, including Bluetooth, USB, SD, and AUX, to give you a wide range of connectivity options. You may get one for merely Rs. 2,860.00.

Check the cheapest price on Amazon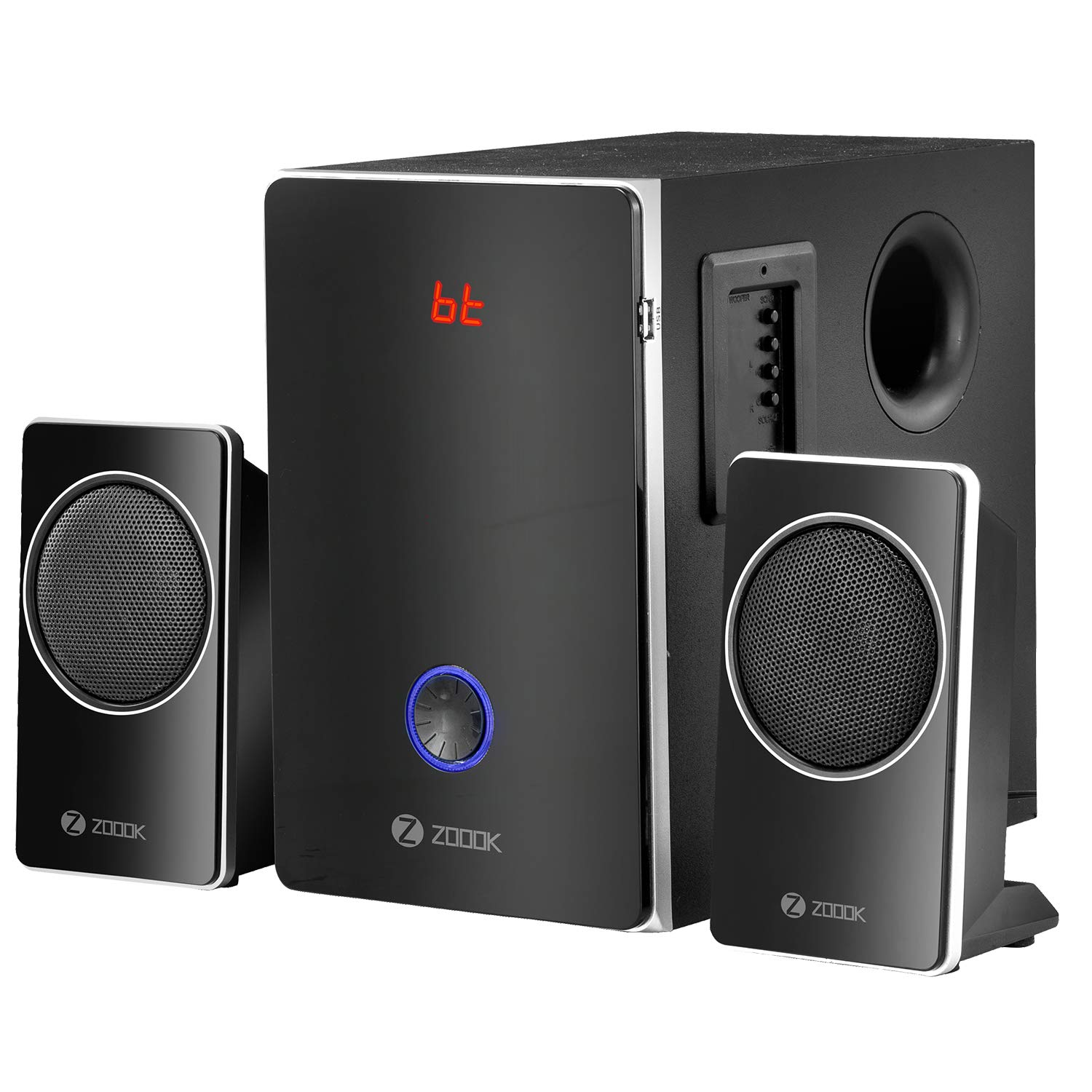 Zook Explode will give you the high-quality and immersive sound you deserve. From movies to zoom calls, voice calls to podcasts or even unlimited music sessions or unlimited gaming sessions, everything is fun with Zoook. It comes with a feature-packed remote. This lets you control the home audio entirely. It is aesthetically pleasing as it comes with a sleek LED display, easy smart digital controls, and analogue controls. It has a premium look to it. You go wireless by syncing your playlist with your Bluetooth-enabled devices such as computers, phones, and tablets. This 2.1 speaker system can be used as a solo entertainment station to listen to your favourite FM channels on a lazy Sunday. They are Universally Acceptable. Whether it's a USB, FM radio, DVD, AUX, or Bluetooth connectivity, multiple input sources help to provide a holistic experience. Zoook offers a one-year brand warranty. All of this comes at a very reasonable price of Rs. 2,499 just.
Check the cheapest price on Amazon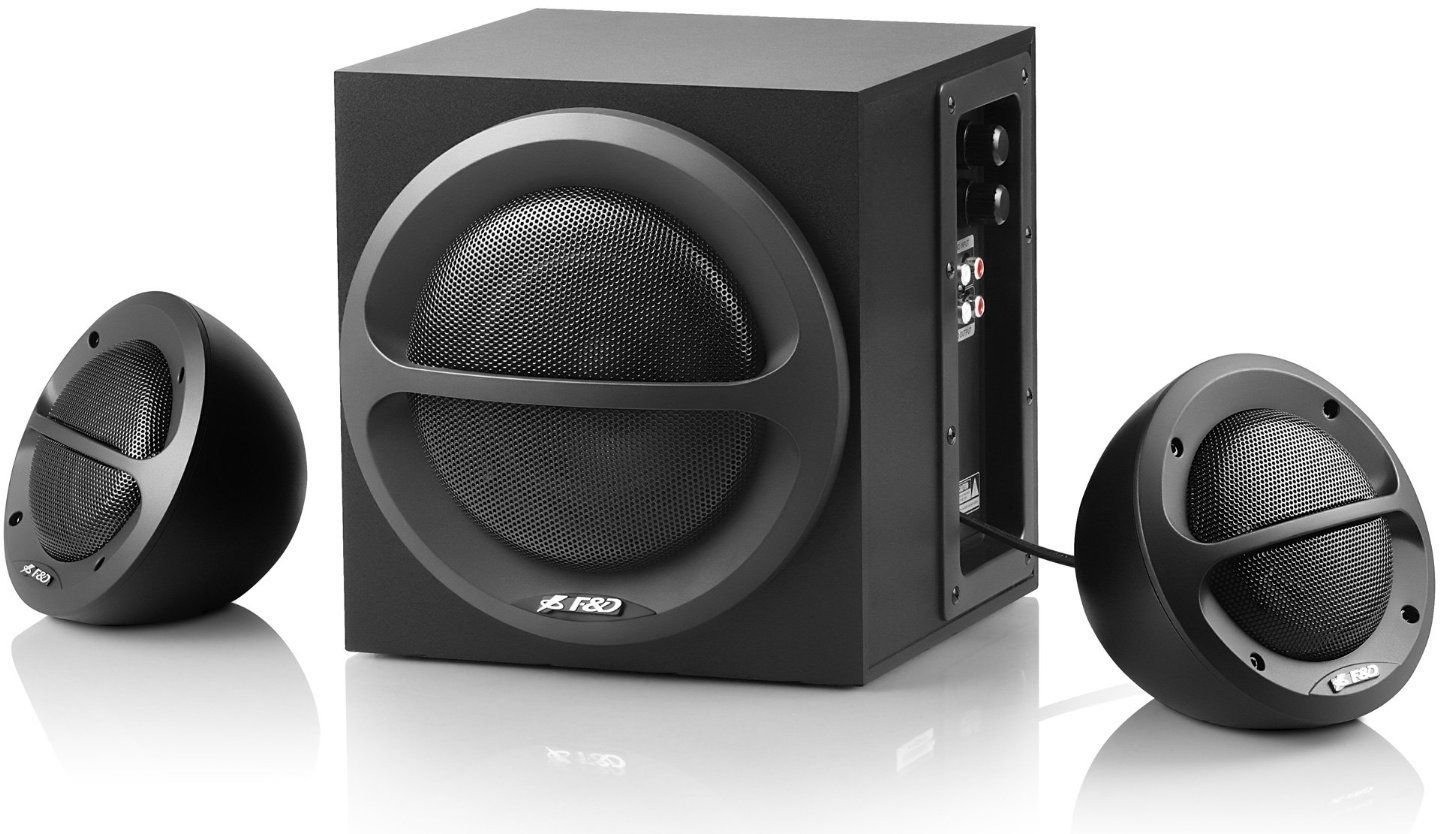 The F&D speakers offer an energy-saving design that uses less power, a built-in automatic voltage regulator for a wide main working voltage range, and are compact and portable. They're ideally suited to a 10×10-foot space. It has a panel on the side with volume and bass controls, as well as an LED indicator and generates 3000w. Its hardwood cabinet helps in reducing the distortion in sound and produces the thumping bass effect. 
The satellite speakers with the grill increase volume while keeping clarity. Throw this beauty in your bag while travelling and impress others with crystal sound on-demand with its elegant design that fuses with the aesthetics of any place whether it is your home or office. It comes with a weight of about 3 kilograms and is enabled with connectivity to many multimedia devices. These are available for the extremely low price of Rs. 1,999.00.
Check the cheapest price on Amazon
6. Edifier XM2PF 2.1 Multimedia Speaker(Black)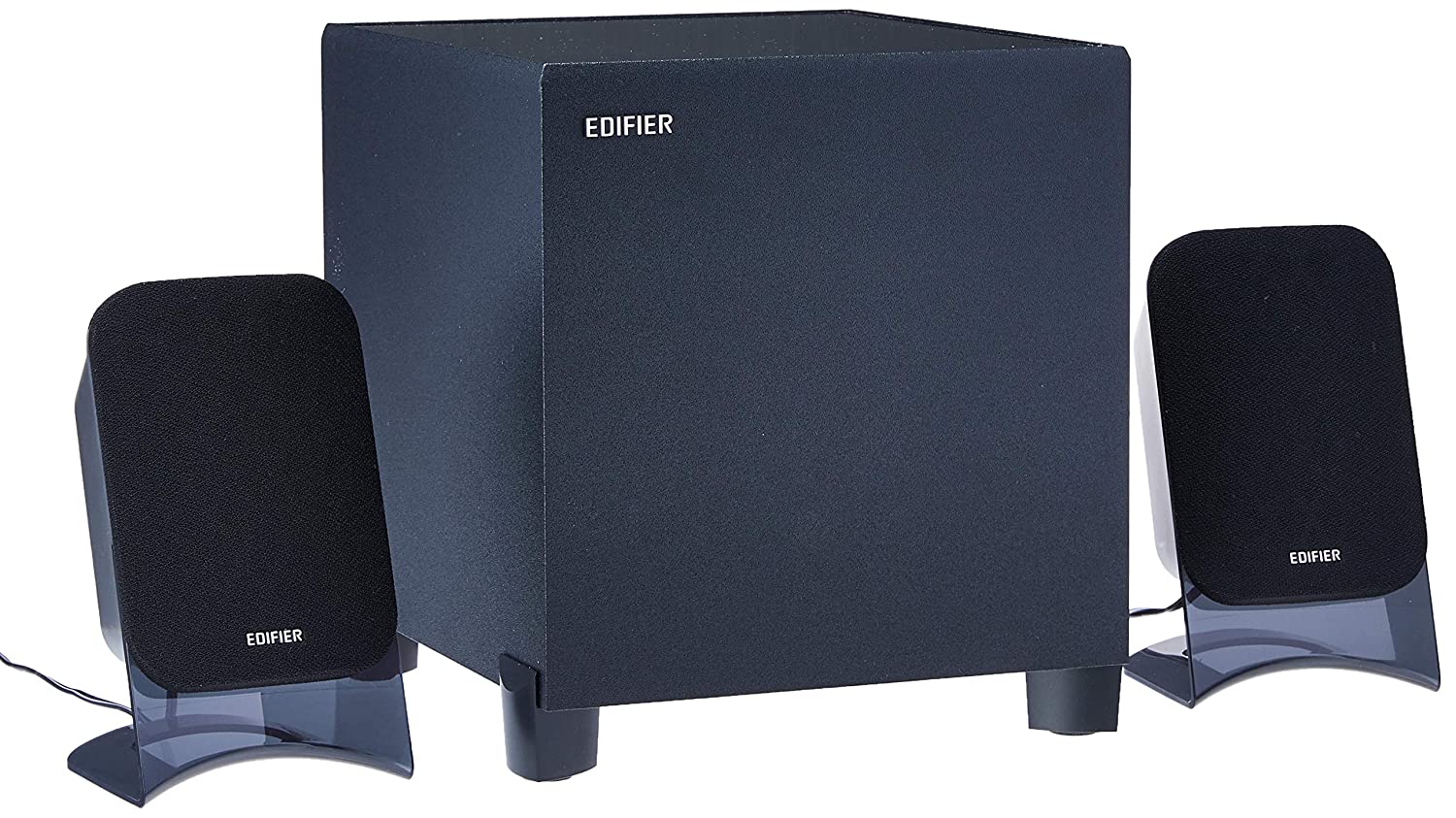 These provide the finest bass response you can get for the money, and there's nearly no mud. If you put the low frequencies correctly, which applies to any system, you will enjoy every bit of them. Because this arrangement is a pure waterfall experience, there isn't much to experiment with. It has incredible bass response and tone, and it's just stunning. These speakers are fit for any genre you can think of. The lows will deliver and be as precise as you can expect when ordering these, and you'll be surprised since they're much better than you expected. 
For signal, there's a 3.5mm Aux input, as well as USB audio. It has a 4-inch bass and 2 3/4 inch width and comes with a USB flash disc/sd card playback, FM function, and dimensions of 4-inch bass and 2 3/4 inch width. It contains mid-range and treble drivers, as well as breakpoint memory for USB/SD card playback. You receive six buttons for selecting the audio source, previous/next track, play/pause, and volume up/down, as well as a remote control to pick the source directly. It costs Rs. 2499 to purchase one.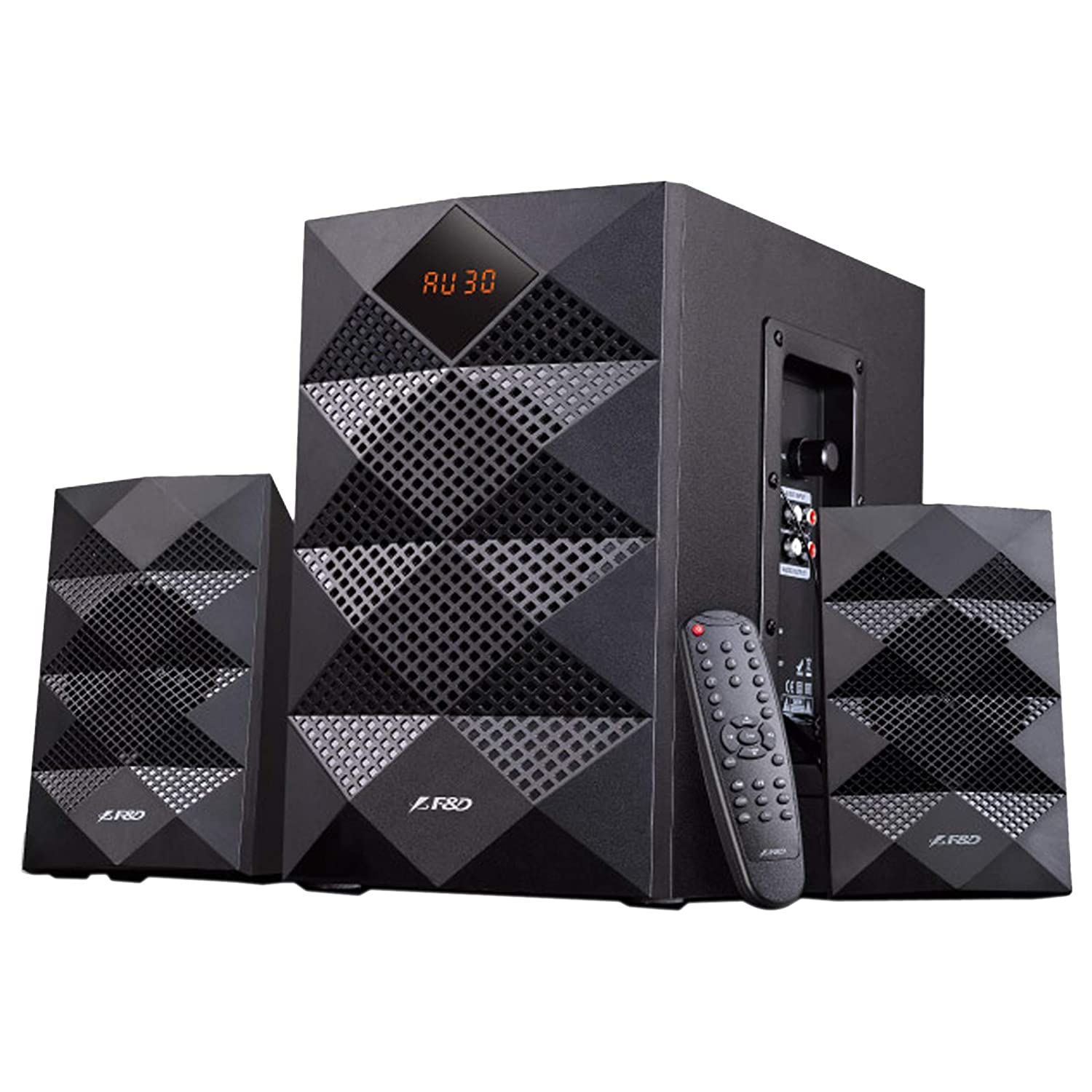 This speaker is jam-packed with features and might be your ideal music companion. It has Bluetooth connectivity and can wirelessly play music. The fact that FM is built-in is an added bonus. With clean sound and powerful bass, you can take your music experience to the next level. The output power of this speaker system is as follows: Satellite: 14 Watts x 2, Subwoofer: 14 Watts. As a result, audio clarity is improved. The tiny hardwood chassis of this Bluetooth speaker makes it sturdy and long-lasting. The wooden body also improves sound reflection, which improves audio clarity. This speaker system comes with a fully functional remote control. 
As a result, using the speaker functions is simplified. This speaker's body features an easy-to-read high-contrast LED digital display that makes seeing notifications a breeze. It will effortlessly fit into your living area. This speaker system is compatible with a variety of sources, including USB, FM, AUX, and Bluetooth. As a result, play music in whatever method is most convenient for you. All of this for the low price of Rs. 2,999.00.
Check the cheapest price on Amazon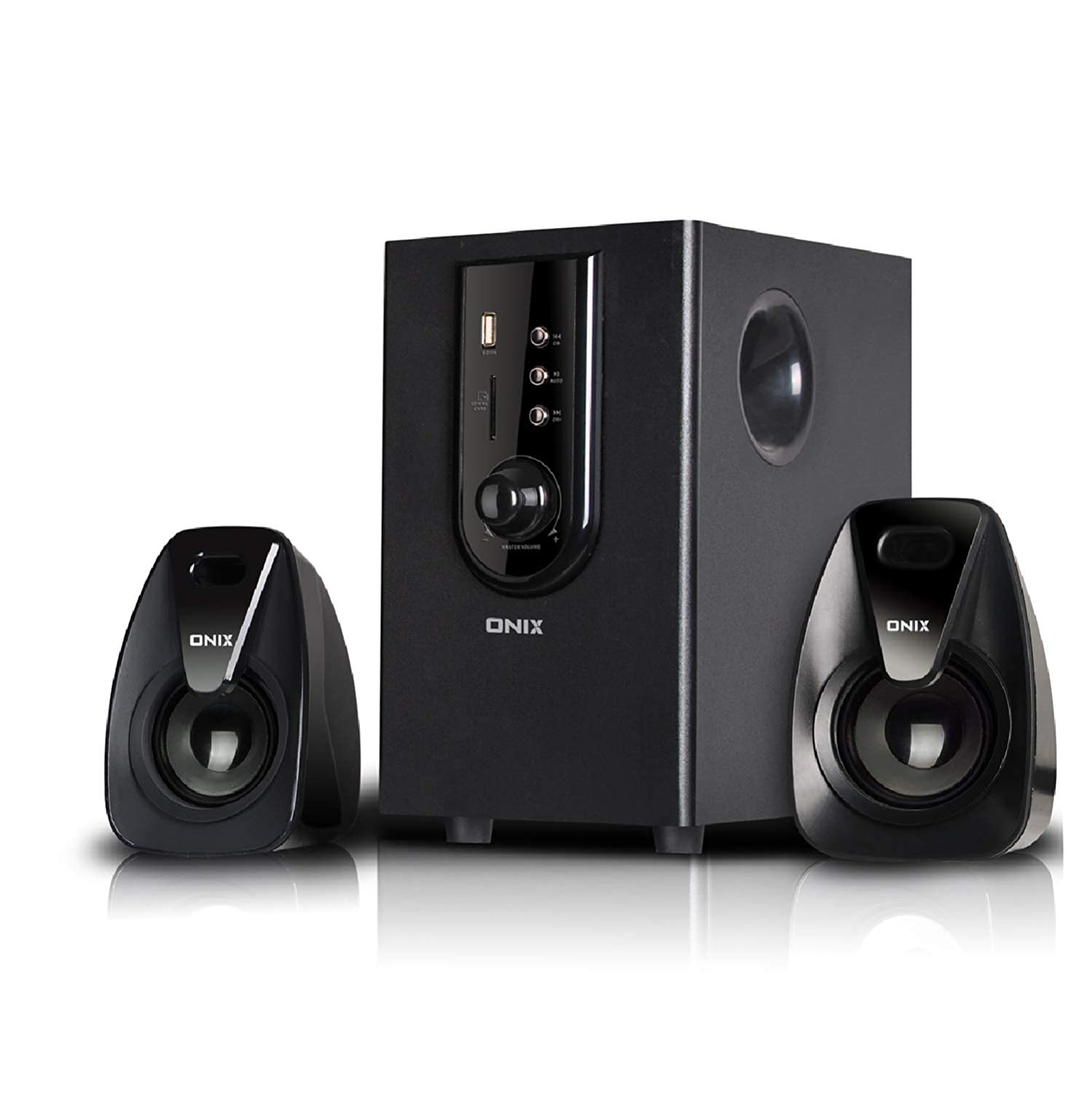 Onix introduced very robust, scalable and diverse speaker system types such as Stage Speakers, Tower Speakers, Trolley Speakers, Channel Speakers, and Bluetooth Speakers to give a compellingly realistic and powerful aural experience. They have been built from scratch, in order to work in the world of audio. These speakers help to create and supply top-notch speaker system series, whether you are performing or listening. As a result, you'll be able to capture everlasting audio. With the Onix 2.1 Channel, you'll experience sound quality as you've never heard before. With these powerful satellite speakers, you can enjoy crystal clear music at louder volumes. It has a total output power of 40 watts RMS. These Onix speakers come with a very shiny finish that makes them look incredible. These speakers have a sleek appearance that complements your living room's modern decor. Speakers work with a variety of digital gadgets. You can easily connect by USB, Bluetooth, MMC, SD and other methods.
There is also an FM radio station available. It helps you take pleasure in your live music. With its fully working remote control, you may control this item from the comfort of your house. With the remote's easy-touch controls, you can effortlessly play, skip or pause the next track. You can get all this at a price of INR 2670 only.
Check the cheapest price on Amazon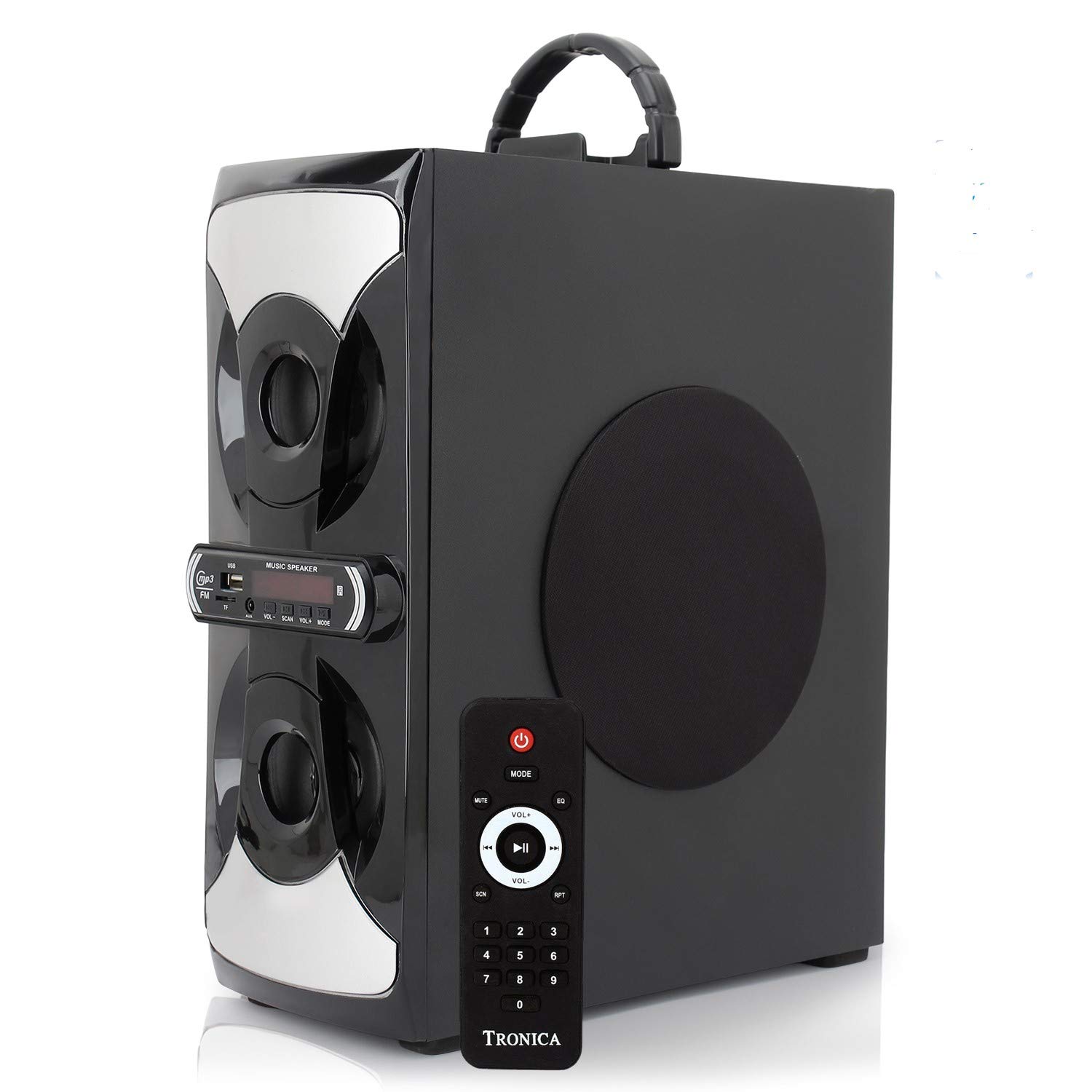 The incredible sound will enhance the ambience, making it ideal for all special occasions whether they are dance parties or family gatherings. Bluetooth, FM radio, USB SD card and AUX input are supported by this speaker. It also supports remote control as well as a digital display. Multiple options and powerful tools help to enhance your experience. The Bluetooth speaker has exceptional sound quality. The sturdy stereo and precise bass enrich the listening experience, whether you're on a business trip or at home. Retro style with remote control, listen to music to unwind after a long day at work or whenever you wish. You may easily recline in bed or on the sofa, and the remote control makes using this speaker more convenient and pleasant. The sound quality is excellent, and there is an FM radio. 
The speaker features a large strong four-inch 8-ohm Sub Woofer which has powerful impedance. It also comes with two speakers in the front with R.P.B Technology. This provides calming sound with rich bass. It is also Bluetooth-enabled. The clear and stereo sound makes listening to music highly enjoyable. Radio stations in your area can be found via FM radio. Connect the mike to the mic connector on the speaker's backside and bring the singer out of yourself. The combination of robust features with powerful sound creates an incredible experience. Volume as well as bass can also be adjusted using the knobs on the back. You can all this at a price of rupees 1,799 only.
Check the cheapest price on Amazon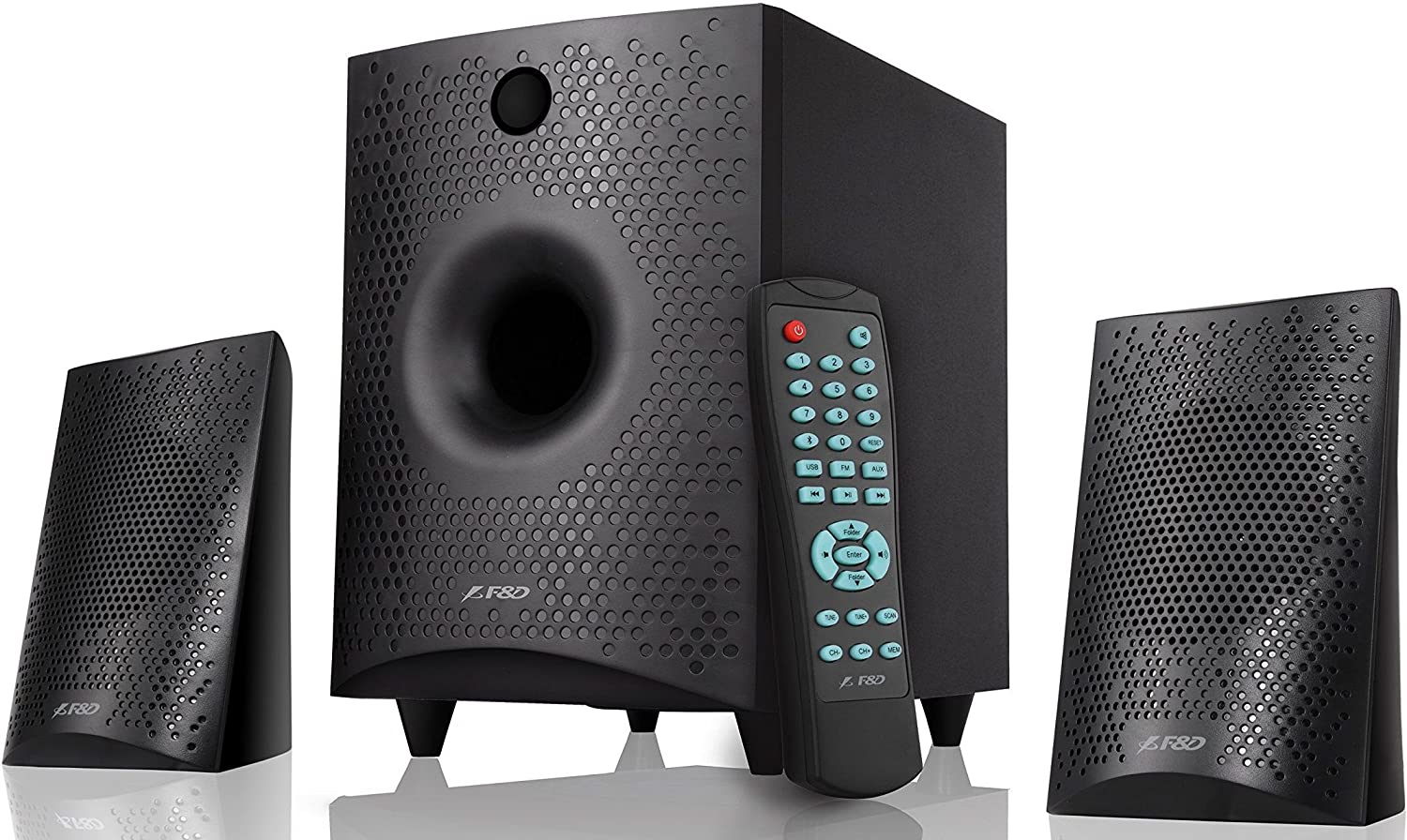 If you're looking for a 2.1 affordable speaker system, the F&D multimedia Bluetooth speaker system is a great option. The sound quality is outstanding, with excellent clarity and bass.
The audio output from the left and right speakers is excellent. The remote control is very easy to use. There are no fancy keys to perplex you. Everything is easy to understand, whether it's the Aux, USB, or Bluetooth setup. This is the greatest speaker to rely on if your budget isn't too tight. It has a nice appearance and takes up little space, making it ideal for a compact location. The Satellite speakers are adequate, and the Remote is pleasant to use and responsive. For this reason, Connecting through a computer, FM, Bluetooth, or aux is simple and does not require the use of a manual. When connecting to a computer or any other device via cable, make sure to push the Aux button on the remote. You can get all this at a price of rupees 2,199 only a bonus.
Check the cheapest price on Amazon
Conclusion
These 2.1 speaker set-ups come along well in your movie nights with family and game nights with friends. Some of our picks for you would be F&D and Zebronics Multimedia Speakers are some of the most exciting products at this price range. You can also go for Philips Audio MMS2625B 2.1 CH Bluetooth Multimedia Speakers if you are looking for durability at a slightly higher price.
Also Read: