Best Bicycles in India (For Adults) in 2020
Are you in the market for a new bicycle? It may be a little daunting as there are so many different types of bicycles out there. These bicycles have various unique features according to their specifications. Among the list, we have included mostly hybrid-type bikes and several different types of road bikes. Hybrid bikes are widely accepted to be comfortable for traveling long distances.
One benefit of cycling is that it is one of the most practical means of transportation among all others. Aside from being eco-friendly, the compact design saves you many minutes during traffic jams. Cycling is a much better alternative than taking public transportation. By cycling, your expenses will reduce significantly lower than usual. Your stress levels will also be minimized, as cycling is considered a great exercise that enhances your overall health.
Finding a bicycle most suited to your needs is difficult if you do not have much information about it. To help you with that, we have prepared the buying guide, narrowed down the choices and found the six best bicycles in India in 2020.
Frame
The frame is the most recognizable part of every bike because it occupies the most space. Therefore it can easily be called the heart of the bike. Not only is it the most recognizable part, but it also the skeleton structure that keeps everything together. It is very important that the frame is made of some durable and sturdy material. If the material the bike is made of is not good enough it is very possible that the bike will sooner or later start rusting or even break. But to avoid such things, you should aim for materials like aluminum, steel or titanium. Nowadays you can even find bikes made of carbon fiber. Such bikes are quite lightweight, carrying them around Is a breeze. However, bicycles made of carbon fiber are not very durable.
Wheels
We are not going to spend ages on this since we are pretty sure that you all know what wheels are and what is their function. The bicycle wheel consists of three main parts: the rubber tire, the hub, and the rim.
Suspension
Riding on rough terrain with a bunch of little rocks and bumps on it can be very stressful if your bike is not properly equipped to handle such a shock. Therefore, bike manufacturers often install suspension or shockers. Without them, the raider will be receiving shocks occasionally that could lead to the bike getting damaged or even the raider getting hurt. Suspension and shockers are often installed on both the rear and front end of the bike.
| Model | Wheel size | Speed rating | Bike type | Brand | Suspension |
| --- | --- | --- | --- | --- | --- |
| Montra Madrock Cycle, Medium (Orange/Grey) | 26 inches | 7 speed | All-mountain | Montra | Hardtail |
| BSA Lady Bird Shine Version 26T Cycle | 26 inches | Single speed | Road bikes | BSA | Rigid |
| Mach City iBike 7 Speed 26″ (Matte Black) | 26 inches | 7 speed | City bikes | Mach City | Rigid |
| Mach City Munich 26 Inches 21 Speed Cycle | 26 inches | 21 speed | All-mountain | Mach City | Rigid |
| Montra Rock 18 Speed Aluminium-Alloy Cycle | 26 inches | 18 speed | Unspecified | Montra | Hardtail |
| Omobikes Model-1.0 | Fast Light Hybrid Cycle | 26 inches | Single speed | All-mountain | Omobikes | Rigid |
Top 6 Bicycles (For Adults) in India in 2020
1. Montra Madrock Cycle, Medium (Orange/Grey)
Wheel size: 26 inches | Speed rating: 7 speed | Bike type: All-mountain | Brand: Montra | Suspension: Hardtail
+ A sturdy construction
+ Very responsive to sudden shifts and movements
+ Handles well due to the overall balanced weight of the frame
+ Equipped with wide tires that maintain friction with the ground
− The stock saddle is great for traveling long distances
− The suspension of the bicycle is average

Montra is considered the best among all of the bicycle brands in India ever since its foundation. Recently, a lot of other brands went ahead and made newly adapted and innovative products. So, Montra, feeling the need to compete with rival brands, created an innovation in Indian bicycles called the Madrock. The Montra Madrock bicycle has a resilient and robust build. It is made with materials mostly consisting of aluminum alloy. The bike keeps its frame lightweight. The body of the bike is provided with a bottle holder and a rack to help cyclers when they need to drink. The Montra Madrock also features both front and rear mudguards. This specific bike is also equipped with a suspension fork on its front part so that it can absorb sudden shock on the road caused by holes and bumps. This bicycle is suitable to be used on any kind of terrain, from smooth city roads up to bumpy hill paths. It is a very flexible bike, which makes it very possible to traverse over rocky and off-road terrains easily.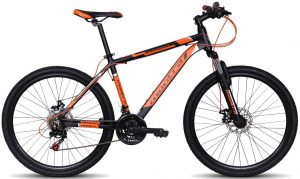 The bike's unique design helps reduce tremors when faced with obstacles in the road. Its design is made to be narrow to further support this characteristic of the bike for times of extremities. When riding the bicycle in challenging terrain, you should not fear as the uniquely designed braking system has been designed to be very responsive to sudden inputs. The Montra Madrock makes use of Shimano Tourney derailleur gears on its front and rear side. It also has a fast-response transmission system as the bicycle makes use of the Shimano Altus Shift. Due to this, the Montra Madrock is perfect for whatever terrains it encounters.

2. BSA Lady Bird Shine Version 26T Cycle
Wheel size: 26 inches | Speed rating: Single speed | Bike type: Road bikes | Brand: BSA | Suspension: Rigid
+ The braking system is top-notch, fast, and responsive
+ Equipped with a large basket on the front and a carrier on its frame
+ Comfortable seat
+ Considered one of the cheapest amongst the other brands
− Quite challenging to handle on rocky terrains, especially paths on hilly areas
− The rims of the bicycle are quite out-dated

Although from the shape and color, the BSA Ladybird Shine Version 26T cycle gives the impression of being targeted at girls of a younger age, it is an excellent choice for exercising and daily use. Young adults can also use it; usage is certainly not restricted by age. The build is flexible and suitable for regular travel on standard city roads. The BSA Lady Bird is perfect for rides on smooth pathways. It is convenient for use on your daily commute. This bicycle is equipped with a single-speed gearing system that makes it feel enjoyable when used upon the city streets. The build of the bike makes it very agile, which results in improved mobility. With this kind of build, you could ride it through the city's traffic without any worry or hassle.
It can also help you save time during traffic congestion and rush hour in the city. With every pro, there will be a con, of course. The BSA Lady Bird is not suitable for challenging terrains. The gearing system is not compatible with surfaces that are not smooth. It is better not to use this bicycle in mountainous or hilly areas, as it will be harder than ever to handle the direction of the bike. It is not impossible to use on uneven terrains, though, but it will be significantly harder to control if you are not an experienced rider. The bicycle is quite strong and durable because the material it is made of consists mostly of steel. You can use the bicycle on uneven surfaces too, but with the consideration of it being on city roads. Although its handling may at times feel challenging on uneven surfaces, the BSA Lady Bird Shine features a fast and responsive braking system.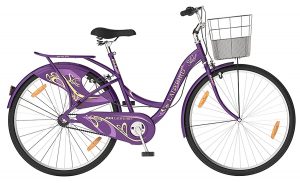 The BSA Lady Bird Shine makes use of several accessories that make it look more fabulous and stylish. It is considered a significant improvement over the previous products the company had launched before this series. The color and frame of the body are very aesthetic and pleasing to look at. The pretty bike is also fully equipped with a carrier and a large basket on its front. The basket is suitable for carrying many objects, which helps the user feel the bike is more efficient and practical while cycling.

3. Mach City iBike 7 Speed 26″ (Matte Black)
Wheel size: 26 inches | Speed rating: 7 speed | Bike type: City bikes | Brand: Mach City | Suspension: Rigid
+ Sturdy and tough frame build
+ Exceptionally light in terms of weight, although made from steel
+ The style is simple, yet looks incredibly attractive
+ Suitable for any terrain
− The Mach City iBike 7 requires a lot of regular maintenance

The Mach City iBike 7 is considered one of the most affordable bicycle series in India. It combines a low price with a high-quality product. Due to this, Mach City has become an extremely popular and well-known brand in India. They recently launched a new series of bicycles called the iBike 7 Speed 26″. No lesser than its predecessor, it instead brought improvement to the newly launched product. With such great qualifications, it still managed to be included in the list of low-priced bicycles. Even though it is priced no more than Rs. 10,000, this bicycle does not fail to meet the expectations of the users. This bike is also often featured in the list of best bikes in India, so we have no doubt that it is actually that good. The Mach City iBike 7 is suitable for daily usage, especially for people who travel long distances in a day. In a day, it could endure up to 10- and 15-kilometers range as the frame is durable and strong.
The Mach City iBike 7 is made mostly from steel, this results in the frame being sturdy and resilient. This bicycle could surely endure many kinds of challenging terrains, as it absorbs all the pressures and blows very nicely. Aside from that, the inclusion of steel makes the frame of the bicycle feel a tad heavier than bikes that use other materials. When a bike weighs more, it can sometimes present a challenge to handle it. This is due to the materials used causing an effect on the stability and balance of the bike. This bike looks a lot like its predecessor from an appearance point of view.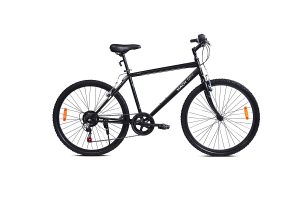 This specific bicycle is equipped with a 1×7 speed gearing system that allows it to move faster with more mobility. The mounting of Shimano's Tourney derailleur at the rear side of the bike is a welcome enhancement. The bicycle is also able to traverse rough terrains with uneven, rocky surfaces. For extra effectiveness, they also equip the iBike 7 with Shimano Revo Shifters. The Mach City iBike seven comes with SYPO V-brakes, both on its front wheel area and rear-wheel areas. This braking system is very efficient when used on both smooth and rough terrains. It has a quick grip and ensures a safe ride for cyclists when used. The brakes are quick in response to sudden stimulants.
The Mach City iBike 7 has a lot of exceptional qualifications, and it is pretty hard to find any negatives. The stock pedals provided with the bike make use of Velodrive technology to help users feel eased and less pressured while cycling through uneven, hilly terrains. The bike has a lightweight frame, but it is still sturdy enough to support the weight of the cycler and withstand terrain conditions. The bike does not come with any disc brakes or suspensions, which keeps the weight less than ordinary bicycles made from steel. This specific bike makes use of a 21 Shimano gear system with thumb shifters, which provide the cyclist more efficiency. The fast-response brakes on both front and rear wheels use regular wire brakes, which support everything just fine.
Every bicycle needs regular maintenance, or else it can get rusty and feel weighed down. The Mach City iBike 7 seat post is easy to release for quick and more efficient maintenance anytime you need it. The front wheel of the bicycle is also easy to release so that cyclists can easily change their wheels regularly, whenever they need to.

4. Mach City Munich 26 Inches 21 Speed Cycle
Wheel size: 26 inches | Speed rating: 21 speed | Bike type: All-mountain | Brand: Mach City | Suspension: Rigid
+ Easy to handle due to lightweight frame
+ Fast and maneuverable
+ Riding position is comfortable
+ Design is eye-catching and attractive
− The handlebars are not adjustable
− The seat is quite small

The Mach City Munich is one of the best bicycles in India, as recorded in many reviews of this particular bicycle. This bicycle has a body with a solid frame made of steel. This results in the bicycle being very sturdy and robust. Although the bicycle is made from steel, the company still managed to make it very lightweight. It weighs around 14 kg. The Mach City Munich is the perfect choice if you are the kind of person who likes adventure and going on off-road bike trips. This bicycle is tough and sturdy enough to battle through difficult terrains such as mountainous roads. The light body of the bicycle enables it to be handled easily without hassle. The lighter the weight, the more balanced and stable the bicycle will be. Even in the most undesirable condition, you will not face any problems handling the bicycle. That is how light it is!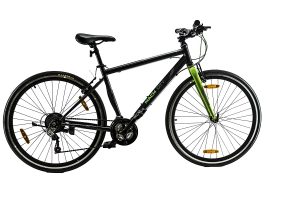 This bicycle comes with Japanese Shimano Tourney gears and Shimano EZ Fire Shifters giving a great riding experience to the cyclist. The Mach City Munich has a feature that helps cyclists shift the gears of the bicycle more quickly and does not require too much effort.
This new addition to the series has newly improved wheels. Mach City produced a unique wheel with enhanced width. The wheels are also known to have a tight grip and are excellent to be used on any kind of terrain, be it smooth, uneven, rocky with high slopes, you name it. The company has 26 inches of wheels added with aerodynamic rims. This bicycle is also equipped with a fast and responsive braking system, increasing its safety and effectiveness.

5. Montra Rock 18 Speed Aluminium-Alloy Cycle
Wheel size: 26 inches | Speed rating: 18 speed | Bike type: Unspecified | Brand: Montra | Suspension: Hardtail
+ The wheels have good tread and provide excellent traction
+ The aluminum alloy frame makes it strong and durable
+ The disk brakes of the bicycle are fast and very responsive, causing no delay
+ Very lightweight, making it easy to handle even on bumpy terrains
− Poor suspension

Montra Rock has always been considered one of the most successful lines from the Montra brand. Thus, the company never stops making constant improvements or changes with each series of models it launched. The Montra Rock 18 makes use of the base of a hardtail alloy frame. Rather than using steel, this model uses aluminum instead. The result is the bicycle being much lighter than its counterparts in the series. The lighter the bike, the easier it is to be handled. Even if the terrain is uneven and challenging, you will still be able to manage and ride this bike just fine. The frame build of the bike is also very strong, as it is known to be capable of taking a few blunt hits on its body. A special kind of wheels set the bike apart from the competition. The wheels are wider than ordinary wheels. Wide wheels help the cyclist balance themselves on top of the bike and ensure stability.
This is because wider wheels provide more grip and friction on the roads, preventing falls that are caused by slipping. Montra has also equipped the Montra Rock with a better and improved suspension system. The suspension helps in a way so that the cyclers do not feel irritated while sitting and crossing bumpy roads. The enhancement helps the cyclist maintain a good posture. The innovative suspension system helps reduce the back pains of the riders. It is effective in every aspect of resistance so that whenever the bicycle runs across a hole or a bumpy road, the vibration and shock can be absorbed almost immediately. There are many brands out there that do not provide comfortable seating, but Montra always strives to make the customer feel comfortable.
Montra always strives to make the customer feel comfortable.
The Montra Rock possesses the Shimano Tourney on the front and rear. One test from a review shows that this type of derailleur gears worked well with slow transmissions on smooth roads and flat trails. This bicycle uses a pair of Logan Mechanical Disk Brakes on both its front and rear. The brakes feel natural and are safe enough to use when cyclers are riding fast on flat trails, but not on steeply sloped areas.

6. Omobikes Model-1.0 | Fast Light Hybrid Cycle
Wheel size: 26 inches | Speed rating: Single speed | Bike type: All-mountain | Brand: Omobikes | Suspension: Rigid
+ Sporty but elegant design, very eye-catching
+ Not too heavy on the weight aspect, lighter than usual bikes
+ Easier to handle due to the lightweight
− The bike does not come with many accessories
− The seating of the bike is smaller than the standard size

Omobikes is one of the famous local companies that develop a series of bicycles with a lot of models. They are known to make products that are high in quality, but with a price range that is considerably more affordable. Recently, Omobikes launched a new bicycle named the Model-1.0. It has a cool and elegant touch to it, not forgetting the economical price. As this product is self-assembled, you need to be patient when the bike first arrives. The bicycle is a good, gentle mix of performance, comfort, and design. The Omobikes Model 1.0 works well as a daily means of transport and is also a great bike to be used for exercising or workout. The front wheel and seating come with a quick-release feature, so it is much easier to reassemble anytime you want or need to.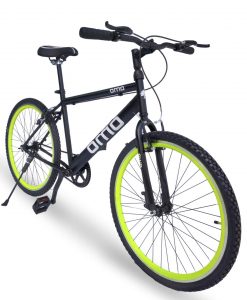 A carefully crafted frame and seating position ensure comfort while riding. The design is also very eye-catching with clean lines and neat shapes of the assembled parts. The neon-colored rims make heads turn due to the unique design. Moreover, the body of the bicycle is very lightweight, making it extremely easy to handle. Despite the lightness, the build of the bike is still very sturdy and durable. The Omobikes Model 1.0 is best suited for city roads rather than bumpy, uneven terrains. It is more suitable for daily travel use rather than for adventuring in rocky, mountainous areas. The first and foremost cause of this is because the Omobikes Model 1.0 does not have the right suspension system that absorbs the shock and vibration when bumping over holes in the roads. The seats are also not specifically designed for long-distance traveling or even for traveling on bumpy roads. If you travel on normal city roads and not trails, then it is still bearable to use.
The bike has an appealing design, consisting of black and many neon colors to choose from. The design is sleek and elegant. The bicycle frame also has a sporty touch to it. The design is simple and widely considered as one of the better-looking bicycles on the market. Another quality of the Omobikes Model 1.0 is wide wheels, slightly different from what is equipped as standard on most bicycles nowadays. This wide-type wheel helps the cyclist gain more balance and stability because it has a better grip on the ground with its unique pattern and wider contact with the area of ground. The wider wheel provides the rider with an improved grip on the road. A unique tire material makes them more resistant and resilient to punctures. In this way, cyclists should expect fewer occurrences of flat tires on their journeys going here and there. The bike is efficient for daily travel. The bicycle does not possess a gear system, which makes it much lighter than the other regular bikes. Unfortunately, as we have stated above, the bicycle is not great for use on uneven surfaces because of the lack of gear system and suspension. Other than a means for daily commuting, you can also use the bike to work out.

Other Best Bicycles Worthy of Mention
Aside from the six choices that we have mentioned above, we have found several other bicycles that are worthy of mention. Some of these bikes stick to the lower budget scheme. With such low prices, it will help you save money. Nevertheless, the quality of the bikes will still please you and fulfill your expectations. We have provided the list below. Check it out.
Best Bicycle in India under Rs. 5000
We have rounded-off our options and decided that the Btwin My Bike is the best choice in this category. Among all the low-budget bicycles, the Btwin My Bike scores the best qualifications over its counterparts. This is a good bike for your everyday means of transportation, or even for workouts or fitness. It is equipped with a solid steel frame, rims made out of aluminum, decent and guaranteed safety helical spring V-brakes, and a handlebar made out of steel. If you are looking for a decent bike on a budget, be sure to look into this.
Best Bicycle in India under Rs. 10000
If you are looking for an affordable bicycle with an elite design, the Hercules Roadeo A50 is perfect for you. This bicycle looks elegant and 'expensive' thanks to the decals on its body. It has a neon-bright and modern design to it. The aluminum alloy frame is quite sturdy. With an aluminum body, it is easy to carry around and maneuver. The bike possesses front suspension, so riders can travel over bumps and potholes with ease.
Best Bicycle in India under Rs. 15000
In search of a high-end bicycle that has astounding performance and comfort? You can put your bet on the Cosmic Trium 27.5 Inch MTB Bicycle. It is agreeable that this bike is the best bike under 15000 to buy in India. This bicycle is suitable for mountainous areas due to the 21 gear speeds. The handling is straightforward and allows the rider to take control over the speed. Disc brakes are present on both front and rear. The tires are 28 inches, so it provides the much-needed grip for challenging terrains and paths.
Best Bicycle in India under Rs. 20000
Our best option lands on the Firefox Momentum Bicycle. This bike has great features at a pretty low price. The frame is up there with those used in high-end bicycles. Moreover, the bike uses the Shimano Acera gearing system, which has a greater quality than its counterparts of similar price. The suspension is also of excellent quality, and it can withstand tough bumps on the road. The bike's only negative point is its weight. As it uses a good-quality material for its frame, it loses its lightweight quality. It does not have a significant effect, though, as the bicycle still performs very well.
Best Bicycle in India for fitness & exercise
There are quite a lot of options for the best bicycles in India for exercise, but The Hero Octane 26T has some of the best qualifications. This bicycle is not so expensive, despite all the top-notch specifications that it offers. It comes with an alloy frame, which makes it very lightweight. It is also equipped with a suspension fork, enabling it to be used comfortably even on bumpy roads. This bicycle has a disc brake on the front and V brakes on its hind. It comes with a rear reflector so that users can cycle safely during night-time.
Best Bicycle in India for long rides
If you are an adventurous person and are looking for a bicycle for touring or long-distance travel, then the Fuji Touring Bicycle is the perfect choice for you. It is durable and lightweight. The frame that comes with the bike is suitable for riders to use in rough areas, as well as flat, or even bumpy terrains. The rims have 36-holes, which makes it super stable. This is a great bicycle due to its affordability and wide range of great facilities to offer.
Frequently Asked Questions
Which of these bicycles are most suitable to be used by beginners?
All the bicycles listed here are suitable for beginners to use. Each of them is easy to handle, just search for the features that you feel like you require the most. Be sure to pick bicycles that are lightweight because the lighter it is, the easier it is to handle.
Which of these bicycles are suited for heavy terrains? And which are suited for urban or city areas?
The bicycles that we have listed above are most suited to being used in urban and city areas. Not all of them are suitable for mountainous terrain. Refrain from using the BSA Lady Bird and Omobikes Model 1.0 on rocky areas, because their design is not suited for usage on heavy terrains. Other than those two, the others we have mentioned are safe enough on rough terrains.
Are these bicycles too expensive for me, as a beginner, to try and buy?
The bicycles we have mentioned above are made mostly by local Indian companies. The prices are relatively low and affordable for beginners to try and buy before advancing to the next level of biking, which may burn a hole in your pockets. Do support and buy from local companies because their qualities do not differ much from those of imported products, even though the prices are a lot lower than imported bikes.
Conclusion
These are the bicycles you should consider buying if you are new to the world of bikes. The prices are economical, and the features are good enough for normal daily usage. As most of the producers are from India, it is easier for you to call the customer service if you have any problem with the bicycles that you bought. Our favorite is the Montra Madrock Cycle, due to its high quality and reasonable pricing. Happy cycling!