Best Binoculars in India in 2020
As soon as the telescope was invented in the 17th century, people used to mount two of them to get a binocular vision. It was just a matter of time when the first binoculars would see the world. Most of those early binoculars used Galilean optics with convex objective, which are still used today in cheap models or opera glasses.
To improve the image and increase magnification, people started to use Keplerian optics. It provides an inverted image, so different techniques are used to turn the image the right way up. However, we won't go too much into the details about that.
It's a truth that binoculars provide lots of fun. No matter if you want to watch birds or distant objects, those devices can keep you entertained for days. If you think you will feel bored on vacation, just take your binoculars with you, and you will have an inexhaustible source of fun.
However, choosing the right binoculars to satisfy your needs is not a simple task. You will need to watch out for certain things, such as magnification, lens diameter, exit pupil, eye relief, minimum focus, and so on. Stuff like that will have a direct impact on your end experience.
Although all of that might look confusing, don't worry – we will do our best to explain everything to you so that you can buy at ease. After a short buying guide, we will review the best choices that you can get in India, so be sure to read the whole article.
| Model | Magnification | Field of View (1000 yards) | Lens Diameter | Exit Pupil | Eye Relief | Prism | Minimum Focus | Lenses | Weight | Warranty |
| --- | --- | --- | --- | --- | --- | --- | --- | --- | --- | --- |
| Nikon Aculon A211 8x42 | 8x | 140m | 42 mm | 5.3 mm | 12 mm | Porro / BaK4 | 5m | Multi-coated | 755g | 1 year |
| Olympus 10x50 DPS | 10x | 114m | 50 mm | 5 mm | 12 mm | Porro / BK7 | 6m | 5 Elements in 3 Groups | 855g | 1 year |
| Bushnell 10 x 42 Powerview | 10x | 87m | 42 mm | 4.2 mm | 17.5 mm | BK-7 | 5m | Multi-coated | 670g | 2 years |
| Celestron UpClose G2 10x25 | 10x | 100m | 25 mm | 2.5 mm | 11 mm | Roof / BK7 | 5m | Multi-coated | 312g | 1 year |
| Protos 10X Black Binoculars | 10x | N/A | 50 mm | 5 mm | N/A | Porro / BK7 | N/A | Coated | N/A | 6 months |
| Occer 12x25 Compact | 12x | 84m | 25 mm | 20 mm | N/A | BaK4 | N/A | Multi-coated | 300g | N/A |
| Gor Compact 8x40 Red Eye | 8x | 130m | 40 mm | 3.7 mm | 17 mm | Bk7 | 3.6m | Fully-coated | 450g | N/A |
Some Basic Stuff
How do binoculars work?
In its simplest definition, binoculars are instruments made of two telescopes connected by a metal or plastic frame, which make you view distant images as if they were much closer. The magnification occurs by utilizing curved glass lenses and a few lenses inside the frame. However, each time that happens, some light is lost. In most cases, prisms are used, and they bend and reflect the light that enters the objective lens. Since many binoculars today use prisms that bend the light as it comes to the glass, they allow image magnification as it passes through the frame. The result is that we can have smaller binoculars, which are more powerful.
Most binoculars have a focus wheel in the center. You need to use it consistently, depending on how far is the object that you are looking at. It's used to make the image crystal and sharp. Also, most binoculars have eyecups, which are used to stop any additional light from interfering with eyepieces.
What do the numbers mean?
Whenever you look at the specifications of particular binoculars, you will notice that there are some numbers, such as 7×35, 8×40, and so on.
The first number represents the strength of magnification, while the second number is the size of the objective lens in millimeters. For example, if the first number is 7, it means that you will be able to see the image seven times bigger. When it comes to the objective lens, the bigger the lens, the more light is allowed to pass through. It results in a much better image and view experience, but it also means that binoculars will be bigger and less compact.
Sometimes, you will notice numbers such as 10-22x50mm. It means that you are looking at the Zoom Binoculars. The first two numbers represent the minimum and maximum zoom, while the last digit is still the objective lens size. If the binocular is 10-22x50mm, it means that you will be able to see the picture 10 to 22 times bigger.
Which binoculars should I buy?
The one thing that you should have in mind is, the higher magnification, the steadier your arms need to be. It's usually not a problem if the magnification is less than 12x. However, if it's 12 or more, you might want to invest in a stand or tripod. It means that every tiny hand gesture will be significantly amplified, and the fact is that our hands are constantly shaking, at least a little bit.
The most important things that you should consider are your budget, the primary purpose of binoculars, and who will be using the binoculars (people who wear eyeglasses, have poor vision, and so on). Once that becomes clear, it will be much easier to find the best binoculars for you.
For example, let's say that you need binoculars for sporting events and concerts, which are compact, and cost less than $100. In that case, a magnification range shouldn't be higher than seven times. You don't want to focus only on one player and miss all the other aspects of the game. Also, in that particular case, a smaller-sized zoom binocular would be a great choice. Yes, they usually cost more than $100, but you can still find some great models in that price range. Why we mentioned that it should be small is because you don't want to carry a bulky device with you on a soccer or golf game, since it might be exhausting. However, that's just one example, so that you know there are various things to think about when buying.
Another term to have in mind is the Eye Relief. It's a distance you can hold binocular away from the eye while still getting the full field of view. For example, extended Eye Relief reduces eye strain and is excellent for people who wear glasses, so if that's the case, look for binoculars with over 16mm Eye Relief. Binoculars with a low Eye Relief can cause a kind of "tiredness" in the eyes after long use.
You might have also heard of "Exit Pupil." It measures the circle of light that appears when you look through the binoculars while holding them close to the eyes. In other words, it means how well a binocular can perform in dim light. To understand what Exit Pupil size you need, use your pupils as a guide. For example, during low-light conditions, eyes' pupils open up to 7mm, and in bright conditions, pupils contract up to 2mm. Depending on the light conditions that you will usually use the binoculars, you should choose the one with Exit Pupil of the size that your pupil would be in that situation.
There is an easy way to measure the Exit Pupil if it's not written on the specifications page of the binocular that you want to buy. Simply divide the objective lens by the magnification of the binoculars, and that's it! For example, a 10×50 binocular would have an Exit Pupil of 5, and a 7×42 would have 6.
What lens size should I buy?
Remember, the lens size is the second number in the equation, and is measured in millimeters. Although the human eye will adjust based on the surrounding light and what you are viewing, usually, it should be five times the magnification level. For example, if you want to buy binoculars that have 7x magnification, you should opt for the lens size of 35mm, or a 7x35mm binoculars. If you're going to use binoculars in low light conditions, have in mind that a larger lens size will allow more light to enter. Have that in mind since it will directly affect your viewing experience.
What is the Field of View?
It's the size of an area that can be viewed with binoculars. But what exactly does that mean? For example, if two people are standing 1000 yards away from you, and the distance between them is 400 feet, then your field of view would be 400 feet and 1000 yards. Field-of-view can also be expressed in degrees and is then called the angular field of view. If you want to convert it to the linear field, simply multiply the angular field by 52.5, and that's it.
What are lens coatings?
Have you ever looked at the lake or a sea, with a sun shining on it? If you have, you must have noticed the amount of glare that comes out of the water. That's why more expensive binoculars are equipped with lens coatings, and some models also come with multiple coats.
There are four levels of coatings. On the cheapest binocular, you might notice that it says "Coated". It means that there is a single layer on a least one of the lenses. Then, there is Fully-Coated. It means that there is one layer on all air-to-glass surfaces. A more expensive choice is Multi-Coated binoculars, which have multiple layers on at least one of the lenses. In the end, one of the most costly is Fully Multi-Coated binoculars. Those have multiple layers of coating on all air-to-glass surfaces.
However, it doesn't always have to be that the cheaper ones have a lower level of coating and vice versa.
Top 7 Binoculars in India in 2020
#1 Nikon Aculon A211 8×42
Magnification: 8x | FoV: 140m | Exit Pupil: 5.3 mm | Eye Relief: 12 mm | Prism: Porro / BaK4 | Minimum Focus: 5m | Lenses: Multi-Coated | Warranty: 1 year
+ Wide length of view
+ High-quality, rubber-armored body
+ Very crisp and crystal image
+ Relatively good price
− Not waterproof

Aculon is an ergonomically designed binocular that comes in a traditional black look. It's reasonably priced, and its compact design makes it easy to carry wherever you go. This is an all-weather product that performs great in unfriendly environments, unlike most of the other binoculars in the same price range that are good only for nice weather.
If you prefer a slightly higher magnification, you will be delighted with A211. When it comes to color and brightness, we were amazed by the sharp and crystal image that it provides. It's designed for use in a variety of different settings.
For example, if you are a hunter, you will be satisfied with its rugged design. It allows A211 to be used in most of the environmental conditions that hunters might encounter. Nikon Aculon comes with special anti-fog coating on the lenses which make it excellent for spotting animals in the distance, in various temperature and humidity settings.
What we noticed is that A211 is perfect for marine viewing, but not only because it's waterproof. Sea air contains specific particles that can cause corrosive damage. However, special lens coating on A211 is very good at preventing those particles cause any corrosion on the lenses, and it's a coating that you won't see on every binocular. Great job, Nikon!
Nikon Aculon A211 is mid-sized and very lightweight. This makes it easy for sports spectators to carry around without the feeling of bulkiness or heaviness. Its adjustable focus allows you to get a broader viewing area so that you don't miss important parts of the game because of a short viewing range. The magnification is high enough so that you can have a decent view, and still, it's not too powerful so that you miss all the other parts of the game that you are currently not looking at.
We liked a lot how good A211 is for bird watching. At first, its large field of view is beneficial when tracking birds which are in flight, but on the other hand, it provides enhanced details, bright colors, and excellent magnification for watching small birds. Its magnification and field of view are perfectly optimized.
Aculon's glass lenses have a unique design and are made with round eco glass. They are coated with specialized treatment that significantly improves the viewing experience. The great thing is that A211's lenses perform very well in most lighting conditions, no matter if you are in a muted or very bright light. This binocular is also free of arsenic and lead, making it environmentally friendly.
With 8 times magnification and 42 millimeters lenses, A211 makes it very easy to see distant objects and landscapes. We found it very good since we wanted to see the benefits of a larger image without being overpowered by too big magnification, such as 12X. The magnification of 8X provides a level that's slightly increased than the casual magnification options, and yet, it gives a clear and undistorted image. A field of view is also very good, with 140 meters and 1000 yards.
When it comes to image quality, we are amazed. Multiple technologies were included in order to make the image perfect. At first, the unique lens design with multi-coating has a significant impact on the final image quality that you get. Then, further enhancement was achieved with BaK4 Porro prism, so that the colors are shown in their pure form, with minimal distortion. Also, the central focus knob is very smooth and easy to use, but still, not too smooth so that it rotates by itself when you put it away.
The only downside that we could notice is that sometimes, a little distortion and burring can happen around the edges. Apart from that, this binocular is a perfect choice for most viewing uses.

#2 Olympus 10×50 DPS
Magnification: 10x | FoV: 114m | Exit Pupil: 5 mm | Eye Relief: 12 mm | Prism: Porro / Bk7 | Minimum Focus: 6m | Lenses: 5 Elements in 3 Groups | Warranty: 1 year
+ High-quality coating that prevents reflection
+ Protection against UV rays
+ Dioptric correction modifications
− Not waterproof nor fog-proof

Among all the binoculars that you can buy in India, Olympus 10×50 DPS might not be the number one choice, but it's the best for the money. At first, let's clarify what DPS stands for. "D" is for the Bak-7 lens, "P" is for Porro Prism, and "S" is for "standard". We should also mention that Olympus is famous for its high-quality cameras and other optical devices, so right from the start, we did not doubt these binoculars. Olympus has already built trust among users since 1919 when it was formed.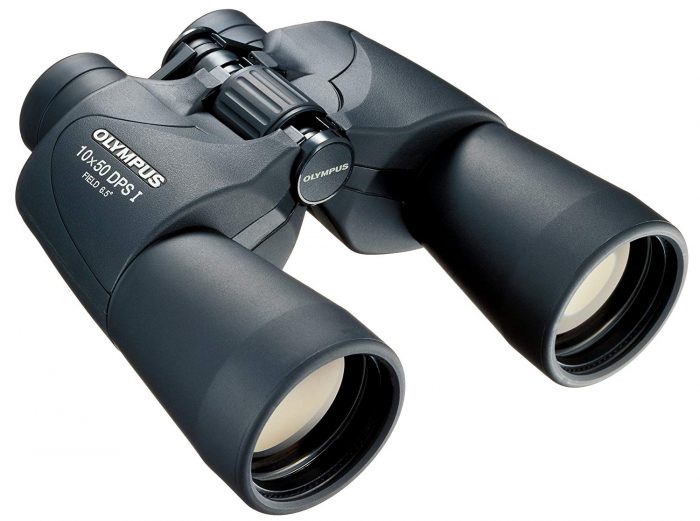 When it comes to delivering images, Olympus 10×50 DPS is fantastic. It brings bright, crisp, and crystal images even in low-light conditions, most probably due to its excellent prism. During the testing, we also noticed that there are no reflections or distortions. It comes with a pretty large field-of-view and the UV protection that adds more safety. The binocular combines robust construction and usability that's rarely seen on other models in that price range.
Besides, it comes with a central focal system, and a 10x magnification. Price is satisfying, but there are two little things that we didn't like. At first, it's a bit heavy, and also, it's not waterproof or fog proof.
When you order, you also get a soft carrying case, neck strap, and lens covers. It's good for safari, so basically, what you get is durability, brightness, details, and enough protection at a very reasonable price. Be sure to check it out!

#3 Bushnell 10 x 42 Powerview
Magnification: 10x | FoV: 87m | Exit Pupil: 4.2 mm | Eye Relief: 17.5 mm | Prism: Bk7 | Minimum Focus: 5m | Lenses: Multi-Coated | Warranty: 2 year
+ Excellent for long-range viewing
+ Shock-absorbing, rubber body
− Shipping cost is on the customer, in case of a defect

If you are looking for a great binocular, which is specially designed for long-range observation, look no further – Bushnell 10×42 Powerview is your best choice. A rule of thumb is that for a perfect magnification, you need it to be 10 times. If it's lower than 5, it's too little. However, if it's higher than 12, it will significantly amplify small hand movements and ruin the experience, unless you don't have a stand. Therefore, a 10x magnification pops out as the best choice.
Then, as mentioned, a larger lens diameter means more light in, which means that the image will be brighter and more apparent in lower-light conditions. Bushnell comes with a 42-millimeter lens, which is good. They are not as big as Olympus's lens, but the 42mm lens is pretty much enough.
Since a larger lens puts more light in, it's crucial to prevent as much as possible light from coming out. When lenses capture light, some of it is reflected right away. This reduces both the brightness and clarity of the image. However, Bushnell comes with specially coated lenses that reduce light reflection and allow binoculars to get more vivid images. It also has a BaK7 prism that is designed to provide a high-quality image with enhanced clarity. When it comes to image quality, we are overly satisfied with Bushnell 10 x 42 Powerview.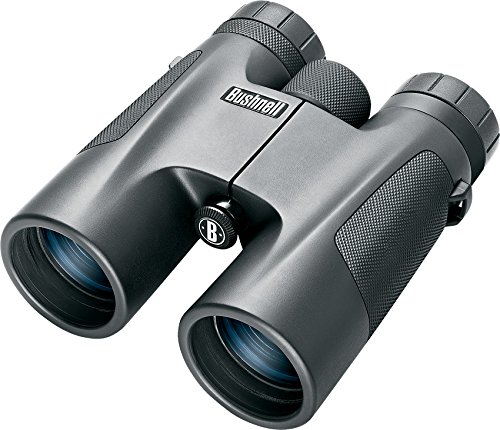 Another great thing about Bushnell is the comfort it provides. Nobody wants uncomfortable binoculars, especially if they're going to use it often. The body of Bushnell is made of shock-absorbing and robust rubber, which is also slip-resistant. Not only that it's hard for binocular to slip out of your hands, but even if it does, chances are it won't be damaged. Also, it has soft eyecups and feels pleasant to the eye.
Bushnell is very easy to use. It has a central focus knob and contains fold-down eye-cups. Besides, you will get an adjustable tripod base so that you can mount your binoculars and give your arms a little rest.
When it comes to security, it's always good to get a warranty on the product that you buy. It means that the manufacturer is confident that it won't break or stop working soon after you buy it. Bushnell binocular comes with a limited lifetime warranty, in case any defects were present in a time of purchase. Also, if you receive binoculars with any kind of flaw, the manufacturer will be able to give you a replacement in no time.

#4 Celestron UpClose G2 10×25
Magnification: 10x | FoV: 100m | Exit Pupil: 2.5 mm | Eye Relief: 11 mm | Prism: Roof / Bk7 | Minimum Focus: 5m | Lenses: Multi-Coated | Warranty: 1 year
+ Price
+ Waterproof
+ Comfortable for the eyes
− Adjustable diopter eyepiece is too slight, takes some time to get used to

If you are looking for affordability alongside good quality, UpClose G2 might be exactly what you are looking for. It's a budget pair of binoculars made by an industry-leading company, which is already popular for its high-quality products.
At first, let's mention that UpClose G2 is compact, and therefore, a bit smaller than we thought. For people with big hands, it might even feel a little awkward, since it's smaller than some of the new Android phones. The good thing is that its compactness makes it easy to carry wherever you go, and you can literally put it in every normal-sized pouch.
It's made of aluminum and has a black rubber casing, which leads us to believe that it is waterproof, as the company states. The rubber casing is sturdy and very comfortable around the eyepieces, providing a decent comfort.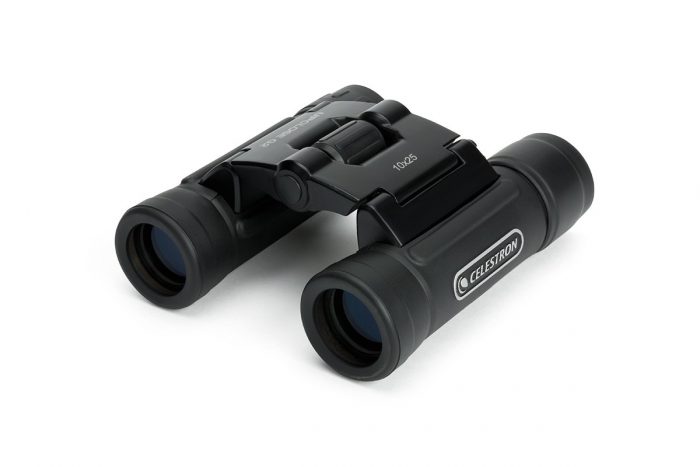 When it comes to the central focus wheel, it took us some time to adjust to it. The fact is, it's a bit too slight, so when you rotate it, the resistance behind the wheel changes noticeably. However, we got used to it after a couple of minutes.
The binocular comes with an adjustable diopter eyepiece on the right, but it's also a bit too slight. We had to calibrate it before every use since even placing it back in the pouch causes it to rotate a bit. On the other hand, we could notice that it's built of high-quality aluminum, and it's pretty strong and durable.
We were amazed by the imagery that UpClose G2 provides. We could quickly notice an enhanced contrast, and the view was much brighter than we thought that a 25mm lens could provide. As we mentioned, a smaller lens diameter means less light in the picture. However, it seems that the rule doesn't apply for UpClose G2. It comes with multi-coated lenses, so we had to test it by looking at the golf course that was 1.5km away, on the other side of the lake – and the results were excellent. Multi-coated lenses are fantastic!
UpClose G2 provides a 100 meters field of view at 1000 yards and 10x magnification. Besides, it's waterproof, comes in a soft carry pouch, and weighs only 312 grams. Absolutely amazing!

#5 Protos 10X Black Binoculars
Magnification: 10x | FoV: N/A | Exit Pupil: 5 mm | Eye Relief: N/A | Prism: Porro / Bk7 | Minimum Focus: N/A | Lenses: Coated | Warranty: 6 months
+ Amazingly lightweight
+ Very good image quality
− Not waterproof or fog-proof

Protos 10X is a decent-looking binocular, which we bought at a very affordable price. It's not the best out there, but if you are looking for a low-budget solution, it will suit your needs. Besides, it's pretty good for bird-watching or hiking.
At first, as you can notice, Protos 10X is a very lightweight binocular, but it's not fragile. It also comes with optics coated with different layers. The exterior is made of robust and durable plastic, combined with a bit of rubber, which provides a good grip. There is also a central focus knob that works pretty well.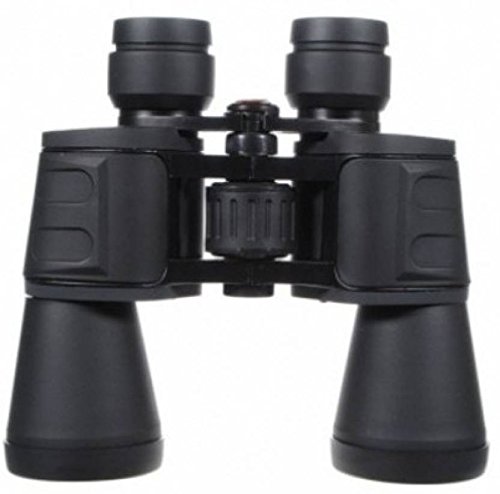 What we noticed during the testing is that Protos 10X is incredibly handy and easy to carry on any adventure. It provides a ten times magnification and comes with a 50mm lens, for fantastic image quality with lots of light. Since the lenses are multi-coated, most of the light reflection is prevented, which additionally improves the image quality. It also comes with a 6-months manufacturer warranty, which is pretty good.
The only downside that we noticed is that Protos X10 is not waterproof and fog-free. On the other hand, if you use it in normal-weather environments, that won't be a problem.

#6 Occer 12×25 Compact
Magnification: 12x | FoV: 85m | Exit Pupil: 20 mm | Eye Relief: N/A | Prism: BaK7 | Minimum Focus: N/A | Lenses: Multi-Coated | Warranty: N/A
+ Great magnification
+ Good for people who wear glasses
− Porro prism causes additional bulkiness
− The lens could be larger in diameter

When it comes to compactness, Occer 12×25 is, by all means, the best choice. Most people who want to buy binoculars are looking for smaller, more compact ones, but the image quality in compact binoculars is usually the problem. However, it's way different when it comes to Occer 12×25. Although very compact, it provides a pretty good image quality.
What makes this model exceptional is 12x magnification. Okay, we talked about magnification and stated that 10x would be the best option. It's true, too powerful magnification will amplify small hand movements and make the image unstable and shaky. However, if you have a tripod, you don't have to worry. This binocular will allow you to see distant images pretty well.
It comes with a BaK4 prism and lenses coated in multiple layers. The vision is also enriched with 12-millimeter eye relief, which is fantastic.
Thanks to the large eyecups, you can use the binocular for a long time with no issues. It's very comfortable, no matter if you wear glasses or not. Besides, the plastic is durable, and in combination with rubber armor around, it's an excellent toy for kids and adults.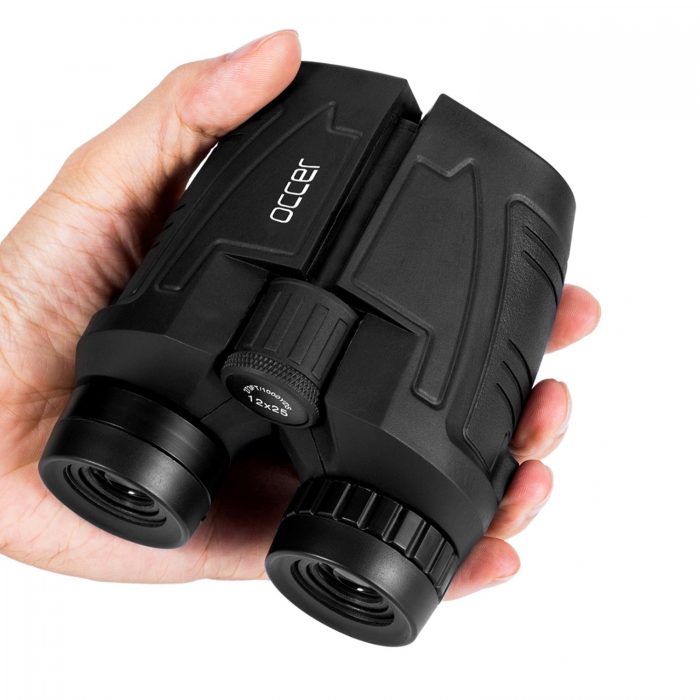 The lens diameter is 25 millimeters, which is a bit small and won't provide the brightest image. On the other hand, it gives a 273 feet field of view at 1000 yards and comes with a very compact focus system in the center and on the right eye.
Besides high magnification, a wide field of view, and quality, multi-coated lenses, this binocular is also waterproof, lightweight, and very durable. We only had a slight problem adjusting to the focus wheel, and, as we noticed, it can feel a little bit bulky sometimes because of the additional Porro prism. On the other hand, it's the prism that significantly improves the image quality.
Occer 12×25 is a compact binocular in every possible way, and shouldn't be neglected. It comes with a manufacturer's warranty and 10-days return policy at a very reasonable price.

#7 Gor Compact 8×40 Red Eye
Magnification: 8x | FoV: 130m | Exit Pupil: 3.7 mm | Eye Relief: 17mm | Prism: Bk7 | Minimum Focus: 3.6m | Lenses: Fully-Coated | Warranty: N/A
+ Very affordable
+ Fully-coated optics
− Very bad at low-light conditions

Gor is the last on our list and is not the best binocular out there. However, it's pretty affordable and provides decent quality for the price. It looks pretty nice and comes with fully-coated optics, as well as red eyepieces.
It's a perfect choice for people looking for an extremely versatile and economically priced optics. Gor offers a mid-range magnification of 8 times, which is pretty much enough for most of the situations. However, it's not ideal for looking at very distant objects, since the zoom of 10x would be much better in that case.
A good thing about this binocular is that it's built to last. It's made of an excellent combination of eco-friendly, yet durable materials, and has a nice, a bit futuristic design.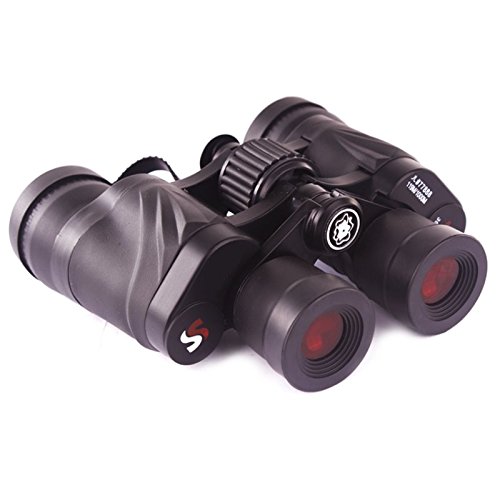 If you were wondering what red eyecups are, know that it has nothing to do with infrared sensors or anything similar, as most people think. Red eyecups are there mainly to protect you from sun rays, however, looking directly into the sun should be avoided. It also offers a field vision of 357-feet at 1000 yards, and come with a Bk7 glass. When it comes to low-light conditions, it's pretty tough to use the binocular in the dark unless there is a light very close to the object.
All in all, it's not binocular for professional use. It won't provide you any spectacular experience, but if you are looking for a decent binocular on a budget, it is your best choice.

Best Binoculars in India: Shopping on a Budget
Let's mention a few more, great models, for people who want to shop on a budget.
Best Binoculars in India under Rs. 5000
If you are looking for a great binocular for under 5,000 rupees, you should check out Celestron 71258 G2 20×50. It's similar to the Celestron binocular on our list and has received a lot of positive feedback among users.
Best Binoculars in India under Rs. 3000
Cason Professional HD Military is among the best choices in this price range. Although some people might not like the camo design, it offers very good image quality and is pretty decent in every other way.
Best Binoculars in India under Rs. 2000
The best Binocular under 2000 is, without a doubt, Iktu Compact 8×40. It comes with a precise dual-focus system, and is excellent for a wide range of situations, from watching birds to sports spectating.
Best Binoculars in India under Rs. 1000
If you are looking for a binocular under 1000 Rs, you won't be amazed by the image quality it provides. However, it can still provide lots of fun, unless professional use is what you are looking for. in that case, our top pick is Zhengtu Compact 10×25.
Best Night-Vision Binoculars in India
Night-vision binoculars are excellent since the dark won't prevent you from using them anymore. The best choice is definitely Bestguarder 7×31, which comes with 2-inch TFT LCD and Camera, allowing you to take photos of the imagery you are viewing. However, it's pretty expensive, and costs around 45,000 Rs.
Best Binoculars in India for Bird Watching
Bird Watching can be very interesting, especially if you have high-quality binoculars. Our top pick is Celestron TrailSeeker 8×42. Although it costs a bit too much, it's definitely worth the price and will provide you with a mesmerizing experience.
Best Binoculars for Long Distance in India
On the other hand, if long-distance viewing is that you are looking for, you should check out Nikon Aculon 10-22 x 50mm Zoom Binocular. It provides a fantastic zoom, however, you will need a stand, even if your hands are not shaky.
FAQs
What is the strongest magnification for binoculars?
It's widely believed that Sunagor 30-160x70s are the world's most powerful binoculars when it comes to magnification. It provides a magnification between 30 and 160 times, but it's very hard to use it without a stand. Just imagine how much the smallest hand gesture would be amplified at the zoom of 160x!
What binoculars are considered to be compact?
Compact binoculars are usually the ones that have lenses 25 millimeters or less in diameter. They are typically foldable and small for any kind of transport and usually weight. However, compact binoculars are not ideal for watching birds at high resolution or similar nature applications.
How do "zoom" binoculars work?
Most people with low experience of binoculars avoid those because of certain limitations that only "zoom" binoculars have. For example, they provide a significantly reduced field of view compared to binoculars of the same power. Those binoculars are mostly used for viewing static distant objects, or a night sky, while mounted on a tripod.
Conclusion
As you might have noticed, there is a lot of info to study when it comes to buying a new (or first) binoculars. To save your time, we listed the best seven binoculars that you can find in India. However, if you still want to search for binoculars that are not on the list, be sure to check the buying guide at the beginning of the article. We are confident that it will help you a lot!
If you own any of these binoculars or think that we missed some, please let us know in the comments below.