Best CCTV Cameras in India in 2020
The first form of the surveillance system was developed back in 1927 in Russia and was even presented to Joseph Stalin and Semyon Budyonny. It was a mechanical system with the resolution of a hundred lines and was installed in Moscow Kremlin to increase state surveillance. An interesting fact is that it needed constant monitoring since there was no way to record or store information back then.
Luckily for us, with the technology that continually advances, surveillance cameras of today are excellent and very practical. However, with the advancement also comes lots of various features and things to pay attention to, which makes buying a CCTV camera a tricky job. There is some stuff that we need to clarify, so that you can buy the best cam to suit your needs, instead of wasting your money.
To prevent you from a long and annoying search process, we have listed the best CCTV cameras that you can buy in India in 2020. If you, however, still decide to shop on your own, don't worry – we will also provide you with some handy tips. Be sure to check them out!
Professional Surveillance System or Cloud-Based Camera?
A cloud-based camera sounds very appealing. Everything that happens is recorded and saved directly to the Cloud. However, the truth is that it can be very impractical. At first, since the data is recorded continuously, it means A LOT of internet traffic every single day. It definitely increases the monthly budget that you need. Then, if the camera records in Full HD or Ultra HD, the files are much larger, which directly affects the traffic, and therefore the cost per month. Multiply all of that with the number of cameras, in case you want to install more than one. You will end up with pretty high monthly costs, so you have to consider that, too.
On the other hand, a professional surveillance system works a bit differently. Instead of storing data on the Cloud, it uses Digital Video Recorder or Network Video Recorder to store all the footage, with no recurring costs. It's more challenging to install it since you would have to run the wires, but it's a much better solution. There are no huge monthly costs, which is also very good in the long-term.
How Far Would You Like to See?
When buying a CCTV camera, you need to pay attention to the exact reason you need it. Do you want to have a perfect image in the night, complete dark, or day? Or all three? You can buy an excellent camera, pay a lot of money, and still be unable to see in the dark.
In daylight, cameras function similarly to the human eye, but the view distance is limited by the resolution. When it's dark, cameras usually view 5-10 feet less, and in some cases, frame-rate can drop significantly. If you buy a camera with an infrared sensor, night images will be black and white, due to how the infrared works. When using night vision, the camera emits the infrared light via LEDs, but that light is not visible by the human eye, and the camera can see it as black and white. That's how infrared allows the camera to see in the complete dark. To entirely understand all that stuff, you need to understand the following concepts:
Resolution of camera
Lens
Night vision (infrared)
Resolution of the Camera
You have probably seen that some cameras have 2MP, 5MP, 8MP, or even more. But what does that mean? Let's say that a camera can record in resolution 1920 x 1080. It indicates how many pixels the final video has in width and height, respectively. When you multiply these numbers, you get the total amount of pixels on the screen in any given moment, which is around 2 million. That's how many pixels the camera of 2 Megapixels provides. As you probably know, the Full HD resolution (1920 x 1080) is enough to see an entirely crystal picture, so why manufacturers bother with making cameras with more megapixels, even up to 50? That's because when you have more pixels, you will be able to zoom more, and therefore notice the tiniest details. For example, if you need to pause the video and perfectly see the face of a person who is far away, you will need a camera with more megapixels. In any case, we don't recommend buying a camera that provides less than 2MP. There are some cheap 1MP cameras on the market, but if you need the camera for serious surveillance, it's not enough.
Camera Lens
Another vital part of being able to see as far as possible is the camera lens. Depending on the lens, the camera can have a digital or optical zoom.
Most of the cameras have a fixed viewing angle of 83 degrees because they have a fixed lens. In that case, you need to use the digital zoom to see distant objects, which is directly limited by the camera's resolution. However, even the best cameras are limited to 70ft of facial recognition, and there is no camera that provides enough detail to identify a face 80ft away or further. But what does digital zoom do and why does it affect the picture quality? Well, it's the same as when you take a picture and then zoom it in with your mobile phone. As you zoom, the image quality declines.
If you still need to identify a face that is more than 70ft away, you will need a camera with a zoom lens. To better understand the difference, let's mention the critical concepts of digital zoom first. As mentioned, it's directly limited by the camera's resolution. Then, the digital zoom can be done live or on a recorded video. It's also important to understand that digital zoom is not provided by the physical manipulation of a lens. They can't do optical zoom because the lens is not movable.
Cameras with optical zoom are known and commonly referred to as "varifocal" cameras, and their zoom works on a different principle. The optical zoom is achieved by adjusting the lens, similar to some binoculars. That way, you can zoom the image while maintaining the perfect quality. However, even the optical zoom is not perfect, so for example, the field of view while zooming will shrink towards the center of the image. On the other hand, if you want to zoom only a certain spot, for example, to recognize a face, the optical zoom is a perfect solution.
In the end, one more thing to mention is that there are two types of zoom cameras: manual varifocal and motorized zoom cameras. When it comes to the first ones, you will have to adjust the zoom by hand. The other ones' zoom can be controlled electronically from the computer or phone app, which is usually a better opinion. You won't have to go out of your home or office, and you will also be able to zoom whenever you want, instead of fixing the zoom at one point.
Night Vision (Infrared)
The first thing to have in mind when it comes to infrared vision is that the night vision distance doesn't mean facial recognition distance. For example, 4MP infrared security cameras can see a face up to 30-35ft in darkness, but still, you can see if someone is trespassing 100ft away. No matter how good video your camera records, the same recording via infrared at night will have much lower quality.
What Type of Technology is Right for You?
Most of the security cameras use one cable to send audio, video and get power, which makes the installation process relatively simple. To simplify it even more, there are two types of security camera technologies: IP cameras and Security Cameras over Coax. Each of these technologies has its pros and cons, so you should choose depending on your needs. Let's clarify it a bit.
Security Cameras over Coax are, in some way, a replacement technology for older CCTV cameras. Those use Coax cabling to send a signal, hence the name "Coax". Coax cameras have been in use since 1970, and they are still in use in plenty of homes. However, HD cameras appeared over time, so people had to invest more money to upgrade to HD. That's why manufacturers created HD cameras over Coax, which allow resolutions of up to 4K to be transmitted. They use siamese security camera cables and can transfer video up to 1600ft.
On the other hand, there are IP cameras. They use a home-based network system for communication and sending data to the recorder. IP cameras can support very high resolutions, which will be even higher in the future. However, they do have one flaw. The longest distance that a network cable can be run is around 100 meters, which is, by no means, too much. To extend the data signal, you would need a PoE extender, but cameras with higher wattage can't use it due to power degradation as a result of PoE extender. The good thing is that IP cameras are usually much simpler to install and use, and of course, one of the pros is the resolution that they provide.
What Type (Shape) of Camera is Best for You?
There are four main types of cameras when it comes to their shape: bullet, dome, turret, and PTZ cameras.
Bullet cameras are straightforward to install, and there are no wires that vandals can cut. All the cables run through the bracket of the camera and are not visible. When you mount the camera, you can quickly point it to look in any direction, due to its 3-axis bracket. They are ideal for outdoor usage and long-distance viewing. Besides, they usually come with pretty good optical zoom and night vision.
Dome cameras are slightly complicated to install, but they look discrete. They are ideal for indoor use, such as in a hotel, a restaurant, or at home. Also, due to its shape, it's hard to tell in which direction the camera is looking. When installing, the camera has to be opened to install everything correctly and mount the wires. A good thing is that most dome cameras are waterproof, which makes them suitable for outdoor use, too.
Turret cameras offer the combination of pros of both bullet and dome cameras. You can position them at any angle like bullet cameras, but still, they are small and vandal resistant, like dome cameras.
PTZ (Pan Tilt Zoom) cameras can be adjusted by panning, tilting, or zooming (obviously). You can do it via the joystick, or even your smartphone. They cost more than any other camera type, but they provide more abilities. For example, you can put them in tour mode, which allows them to follow a specific path precisely, and some even have the ability to auto-track. If you want to actively monitor a large area and still be able to zoom with great detail, PTZ cameras are the perfect choice for you.
| Model | Resolution | Weather-proof | Alarm | SD Card Slot | Remote Control | Two-Way Audio | Warranty |
| --- | --- | --- | --- | --- | --- | --- | --- |
| Sricam SP Series SP005 | 1080p, 720p | Yes | Yes | Up to 128 GB | Yes | Yes | 1 year |
| ThinkValue T8855 IP Camera | 720p | Yes | Yes | Up to 128 GB | Yes | Yes | 1 year |
| D3D Wireless D8810 | 1080p, 720p | No | Yes | Up to 128 GB | Yes | Yes | 1 year |
| ProElite POD04 PTZ Camera | 960p | Yes | Yes | Up to 128 GB | Yes | No | Not specified |
| D-Link Marvel DCS-F1712 | 1080p | Yes | N/A | N/A | No | No | 5 year |
| Finicky World V380 | 720p | No | Yes | Up to 64 GB | Yes | Yes | 6 month |
| Mi SXJ02ZM Basic Security Camera | 1080p | No | Yes | Up to 64 GB | No | Yes | Not specified |
Top 7 CCTV Cameras in India
#1 Sricam SP Series SP005
Resolution: 1080p, 720p | Weather-proof: Yes | Alarm notifications: Yes | SD Card: Up to 128 GB | Remote Control: Yes | Two-Way Audio: Yes | Warranty: 1 year
+ Very precise motion detection
+ Fairly simple to install
+ Fantastic and smooth remote control
− Ineffective during a power blackout

Sricam CCTV camera models are, by far, the best ones that you can find in India. Most of them, including SP005, are fairly simple to install and use.
A nice thing about this camera is that you can control it via Wi-Fi. You can be literally anywhere in the world, and get the live stream on your mobile app, as long as you have an internet connection. It belongs to the PTZ category of cameras, which means that it's very compact. You can easily install it anywhere, whether it's in a kitchen, on a table, on a shelf, or even hang it on the wall.
Monitoring with this camera is very simple. All you have to do is to install the dedicated app on your phone and connect. Not only that you can monitor with the app, but you can also control the camera and change its rotation.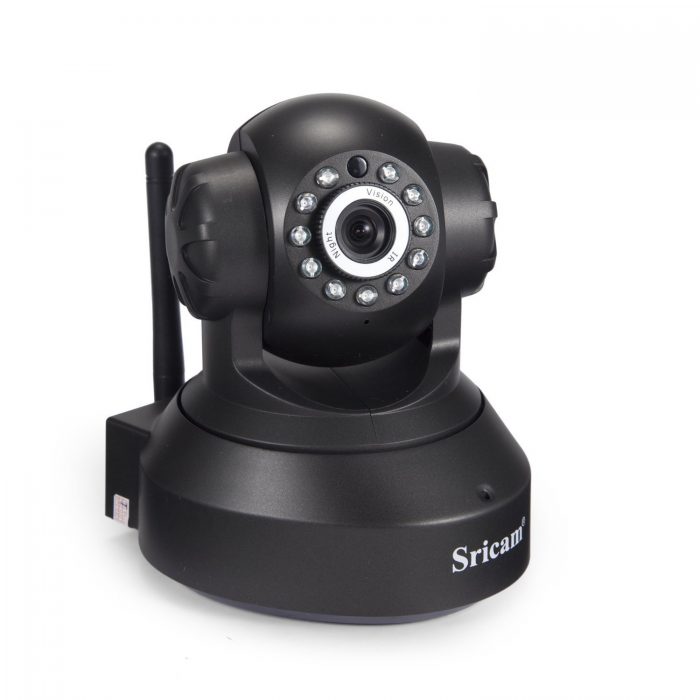 It comes with a built-in microphone so that you can always listen to what's happening around. It's very useful if you need to monitor vulnerable people, like children or elders. The camera provides footages in Full HD or HD resolution, depending on which variant you buy, and the tilt of almost 360 degrees allows it to cover the area as much as possible. Of course, the Full HD version is slightly more expensive.
We should also mention that Sricam SP005 features motion detection and infrared night vision. Besides, multiple persons can use the app at the same time, which can be very useful.
However, let's mention the downsides of this camera, although there aren't many. At first, what we don't like is that the sound quality is directly affected by Wi-Fi connection. If the signal is bad, the sound quality will be bad, too. Also, it runs on AC, and if a power blackout happens, the camera becomes ineffective. On the other hand, these downsides are not the big ones, and won't ruin your experience.
Sricam SP005 is an ideal camera no matter if you want it for indoor or outdoor use. It's also very affordable, so be sure to check it out!

#2 ThinkValue T8855 IP Camera
Resolution: 720p | Weather-proof: Yes | Alarm notifications: Yes | SD Card: Up to 128 GB | Remote Control: Yes | Two-Way Audio: Yes | Warranty: 1 year
+ Excellent, useful features
+ Absolute image clarity
+ Very good IR
− 128 GB is not enough for continuous recording

ThinkValue is a popular brand in the world of security cameras, and all of their models usually offer exciting features. It's no different with T8855.
Similar to the previous one, this camera also allows remote control via Wi-Fi. It also comes with an SD slot and supports cards of up to 128GB memory.
T8855 has two recording modes. The normal mode is 24/7 recording, and obviously, it constantly records the view and saves it on a card. There is also "Alarm Recording", which records only if the camera notices a movement. It's pretty good since that option can save you lots of space.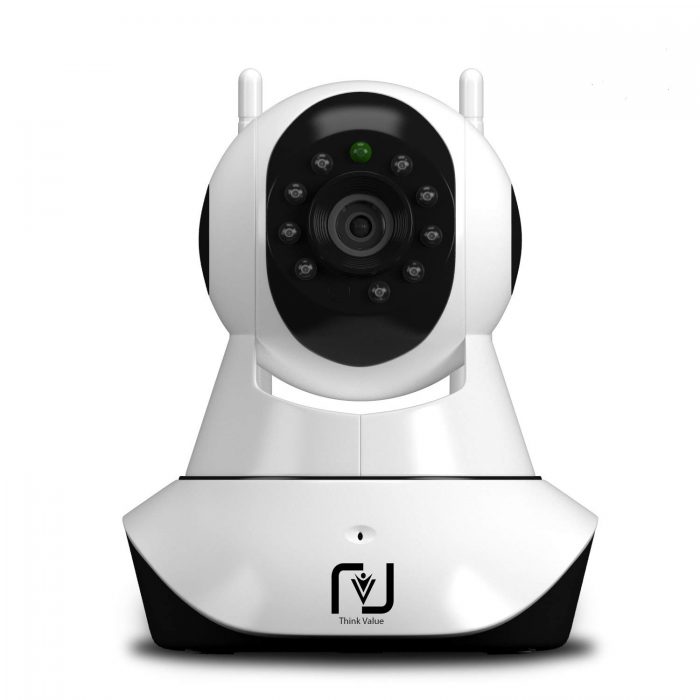 The camera comes with an in-built microphone, and a very good IR night vision. It allows you to see objects within 15 feet in the complete darkness. It records data in HD resolution (720p), and the dual-motor design allows it to capture 355-degree horizontal view, and 120 degrees vertical.
T8855 comes with a motion-detect feature which is very useful if you are out of the home. It senses any unnatural movement, and immediately sends you a notification on the phone, and email with the image of the intruder.
The only thing that we don't like is the maximum supported card size. If you want to record 24/7, a card of 128GB might not be enough.

#3 D3D Wireless D8810
Resolution: 1080p, 720p | Weather-proof: No | Alarm notifications: Yes | SD Card: Up to 128 GB | Remote Control: Yes | Two-Way Audio: Yes | Warranty: 1 year
+ FTP Cloud server storage
+ Very simple to control remotely
− No fast-forward option in the video player

If you want to keep video footage remotely stored in case the camera gets broken or stolen, then the cloud recording feature is what you are looking for. We have already talked about the pros and cons (especially cons) of cloud recording at the beginning of the article. However, it can be pretty useful in some situations.
Like the previous models on the list, this camera also allows remote control and comes with IR night vision. Via the smartphone app, you can adjust horizontal and vertical rotation in real-time, to get a complete view of the surrounding. The IR is pretty good and provides a relatively sharp image even in complete darkness.
The camera is being sold in two different variants, which only differ by the video resolution. You can choose either 1 or 2 MP camera. However, since the price is just slightly different, we strongly advise you to choose the second one, because 1 megapixel is too little.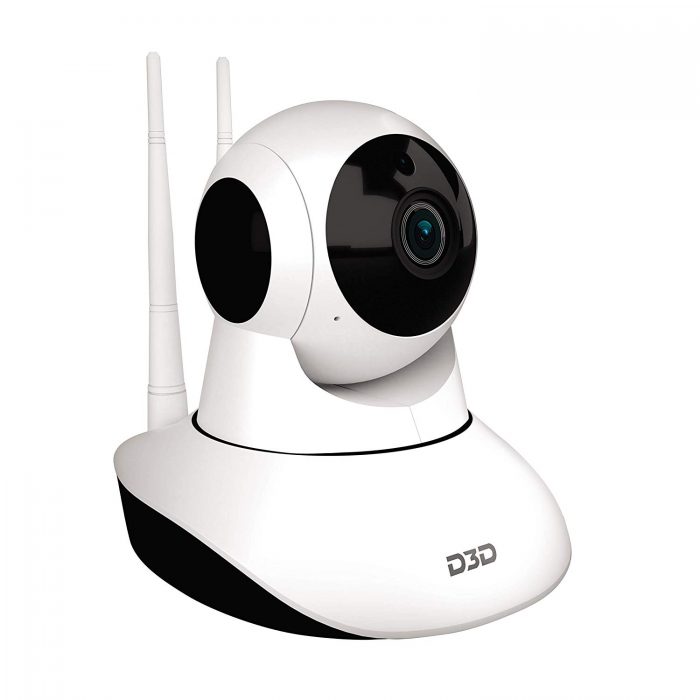 D8810 is equipped with 2-way Audio and SD card slot, which allows you to use it for video chat. The in-built microphone and speaker will record everything and store all the data on the FTP server.
However, we don't like the fact that there is no fast-forward option in the video player. It's a basic, must-have feature that even the cheapest models have, and without it, watching recorded stuff can quickly get annoying. Especially if you have to repeat it a few times, show specific parts of the video to someone, and so on. Also, access to the camera is possible only through the specific app, which can also be a bit annoying sometimes.
Apart from that, D88110 is a pretty good camera, with decent video quality and relatively affordable price.

#4 ProElite POD04 PTZ Camera
Resolution: 960p | Weather-proof: Yes | Alarm notifications: Yes | SD Card: Up to 128 GB | Remote Control: Yes | Two-Way Audio: No | Warranty: Not specified
+ 4X optical zoom
+ Alarm recording feature
− No audio detection
− No speaker for voice output

The first thing that we should mention about this camera is that it's not cheap. At least, it's not cheap according to other cameras on the list. However, the camera has a lot to offer.
It's an excellent camera for taking high-quality outdoor videos. It captures videos at 960p resolution, which is not a common resolution (like 1080p, for example), but it doesn't matter. It's still high-definition. Also, it offers a 4X optical zoom, which means that zooming the image won't affect the image quality. The camera is pretty good for indoor use, but with its high range, it's also an excellent choice for outdoor use.
Another great thing about this camera is that it comes with a very good IR night vision. It comes with four big, very powerful LEDs, that provide up to an amazing 150ft of clear vision. Also, the camera has an in-built rotating motor, which allows remote rotation horizontally and vertically.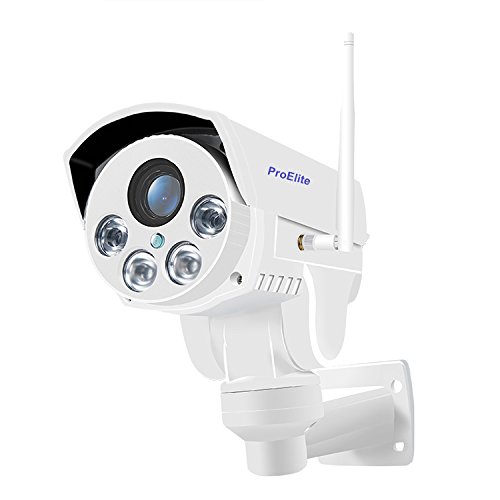 We mentioned earlier that 128GB of memory might not be sufficient for 24/7 recording. This camera comes with an SD card slot and supports cards up to 128GB, but it also has the alarm recording function. Therefore, you don't have to record the whole-day monitoring. Instead, when something happens, the camera will start recording automatically, and stop after some time. That feature is a very good time saver.
However, it's a bit awkward that only motion detection is available, and not audio detection. If the camera had audio detection that triggers the alarm, it would've been awesome. Also, you should know that the camera has no speaker for voice output.

#5 D-Link Marvel DCS-F1712
Resolution: 1080p | Weather-proof: Yes | Alarm notifications: N/A | SD Card: N/A | Remote Control: No | Two-Way Audio: No | Warranty: 5 years
+ Excellent for night use
+ Wide-angle lens
− No remote control
− No two-way audio

DCS-F1712 is the first fixed bullet type camera on our list. Unlike most of the previous models, this one is ideal for outdoor use. So, what makes this a good camera?
At first, it can shoot video footage in Full HD (1080p). Then, it has an excellent IR with a range of 30 meters, which is ideal for night monitoring. You should also know that the camera provides video over coax cable at distances of up to 300 meters so that you should enjoy a perfect resolution without upgrading to an IP camera.
Since the camera is a fixed bullet type, it's excellent for focusing it on particular areas prone to theft and pilferage. For example, if you are the owner of a large apartment complex, focusing the camera on a gate allows you to constantly monitor who is entering and exiting the complex.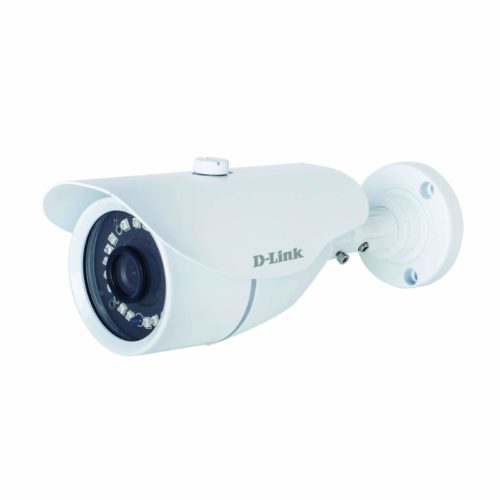 The camera supports a wide range of output, such as AHD, TVI, CVI, and more. Also, the wide-angle 3.6mm lens makes it capable of capturing images spread out over a vast area.
The downside of this camera is related to its type. For example, since it's a fixed bullet camera, it needs manual adjustments. On top of that, you can't remotely control the camera. If you need to constantly monitor the same location, it might not be important to control it remotely. However, if you need to change the view, you will have to go out and adjust it manually.
It's obviously an excellent camera for people who need to monitor a single spot or area, through a wide view angle. Also, the camera is relatively cheap, which makes it a decent choice.

#6 Finicky World V380
Resolution: 720p | Weather-proof: No | Alarm notifications: Yes | SD Card: Up to 64 GB | Remote Control: Yes | Two-Way Audio: Yes | Warranty: 6 month
+ In-built rotating motor
+ Affordable
− Supports only up to 64 GB SD card

Model V380 is one of the best Finicky World cameras for indoor use. Ideal for shops, offices, and factories, this camera is a common choice, especially if you consider its affordability. Since it is a wireless camera, you won't have to bother with any wires, or anything similar. You can set up the camera using Wi-Fi only.
V380 is a PTZ camera, and you can easily control the rotation and angle via the dedicated smartphone app. It also comes with an SD card port, however, the maximum card size that it can read is only 64GB.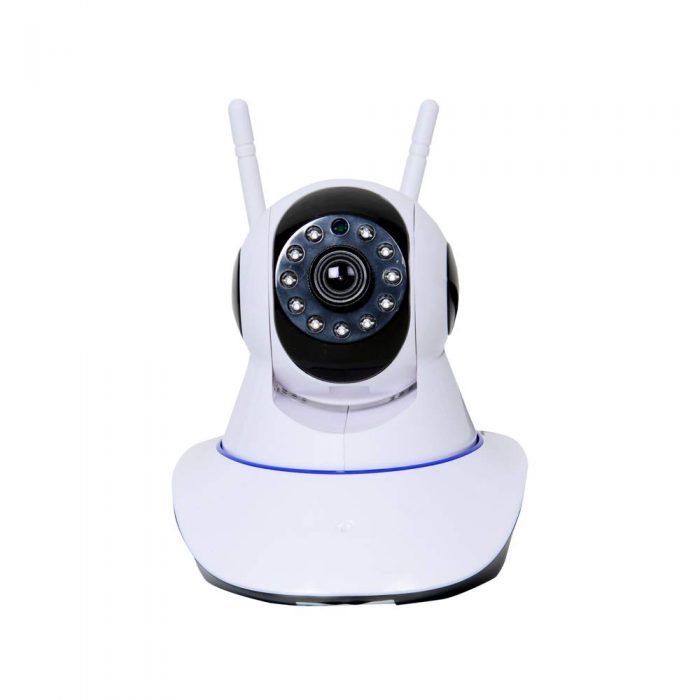 The motion detection sensor is very precise, even at night. If anything suspicious happens, it will immediately alert you on the smartphone. The IR is also pretty good, and it can capture HD images in the pitch dark, up to a distance of 15-16 feet.
With two-way audio, it enables you to communicate with your pets and loved ones. If you are looking for a decent, yet affordable camera, V380 might be the best choice. Be sure to check it out!

#7 Mi SXJ02ZM Basic Security Camera
Resolution: 1080p | Weather-proof: No | Alarm notifications: Yes | SD Card: Up to 64 GB | Remote Control: No | Two-Way Audio: Yes | Warranty: Not specified
+ Good for basic usage
+ Decent quality for the price
− No remote control
− No water protection

If you have never used a security camera before, or if you need it for some basic monitoring, you should look for a simpler model, at a fair price. In that case, this camera might be the best suit for you. Although basic, it still provides decent quality.
At first, this camera is capable of recording Full HD video footage, and there is no low-quality video option. On the other hand, it might be a downside, in case you want to save some space and don't need that resolution. Besides, it features an ultra-wide lens with a 130-degree view, which is excellent.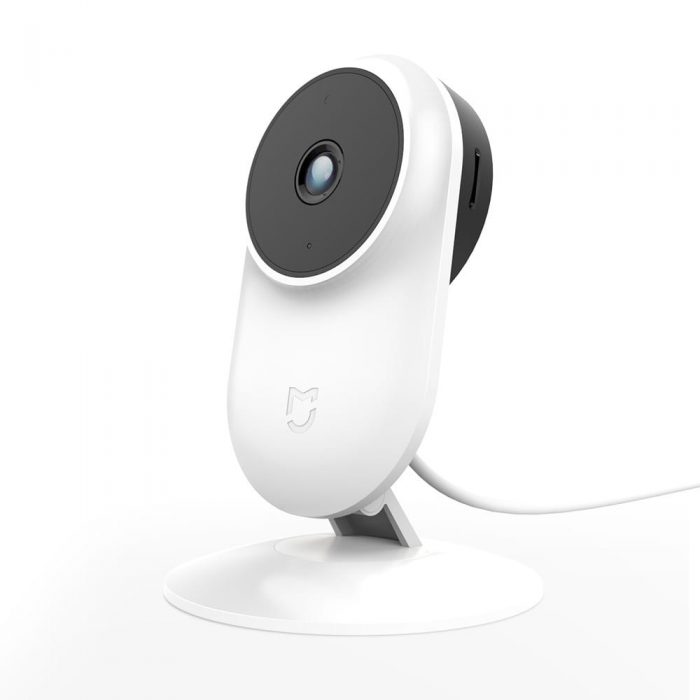 This basic security camera features Alexa so that the user can use the Echo show as an input. Not only that, but it also offers two-way voice communication and very good motion detection. Due to its upgraded AI detection feature, it greatly eliminates the problem of false alarms, that happens with lots of low-quality cameras. Another great thing is that the camera provides a picture-in-picture mode so that you can access multiple views on a single screen.
However, what we noticed is that sometimes, there is no continuous recording. Not sure if that's the software problem or that's how manufacturers want it to be, but it's a little bit confusing and somewhat impractical.

Best CCTV Cameras in India: Bonus Tips
In the end, we are presenting you with a few bonus cameras. Some people are strictly looking for cameras to use indoors, and on the other hand, some people need outdoor security. We are presenting you with the best in both categories.
Best CCTV Camera for Home
Among all the available indoor CCTV cameras in India, our favorite is Royallite Wireless HD IP Camera. It's fairly simple to set up via an Android or iOS device, provides a 360-degree remote control, a very economical price, and an excellent picture quality.
Best Outdoor CCTV Camera
If you are looking for a way to secure your home from the outside, your best choice would be Arlo Pro 3. It provides an excellent HDR video, works with Alexa and Google Assistant, and is very simple to install. It IS a bit more pricey, but the value you get is top level. Besides, it comes with an integrated spotlight and siren, as well as smart motion detection.
FAQs
How long do batteries last of wireless security cameras?
It mainly depends on the recording time. Usually, a fully charged battery can last for up to 5-6 months with average use. If you are wondering what is exactly considered as average use, it's around 5 mins recording time per day. Another thing that directly affects recording time is whether the recording is performed during day or night. If the camera records during night time, the sensor will need to work harder, therefore consuming more battery.
Is it legal to use CCTV to monitor staff?
Yes, it is. However, there are some rules that you would have to follow. At first, the staff must be informed that they may be recorded, which is usually done by using clear and visible signs. Then, the ICO must be informed about why you intend to use CCTV. The employer is not allowed to use the collected information for any other reason. For example, if the organization uses CCTV to monitor crime, it may not be used to monitor staff. In the end, levels of surveillance must be appropriate according to the reasonable expectation of privacy.
How long do outdoor security cameras last?
A good security camera can last up to ten years, and even more. However, it's not recommended, since there are usually advances in technology, that encourages people to upgrade cameras before their work-time expires.
Conclusion
In the end, we can conclude that a definitive winner among CCTV cameras in India is Sricam SP Series SP005. It's very simple to set up and use (monitor), and it's a perfect CCTV camera for both indoor and outdoor use. After hours of testing, all we can say is that you won't regret buying SP005. On the other hand, if you are looking for a more straightforward, "entry-level" camera, Mi SXJ02ZM is a pretty good choice.
Do you own any of the cameras that we mentioned? Or you know of a good model that is not on the list? Please let us know in the comments below.