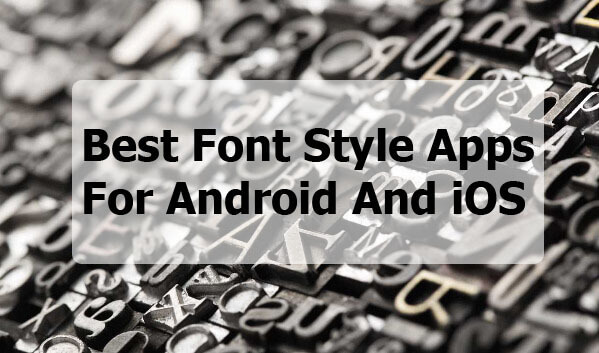 10 Best Font Apps For Android Phones and iOS
Are you tired of your boring font on your mobile phones? Do you need a change and make it fancy and desirable? Then you are at the right place. 
Here we have a list of the 10 best font apps for both Android and iOS smartphones. 
Mostly, when we think about having a new application for our smartphones, we go for free ones. Therefore, here we are with both free and a few paid font apps. Check out their prices and pick out the one that is most suitable for your preferences. 
Now, without any further ado, let's look at what font applications we have.
Font Apps for Android and iOS
1. PoetSenOne
Start with one of the most amazing ones, we have PoetSenOne which is mainly inspired by the hand paints we see at the supermarkets. The signs that you see in the malls and supermarkets often use this font style. 
PoetSenOne has roman structure alphabets that people often compare with the classical font. So, if you are someone who is looking for a display font that reflects the class, this one's for you. 
This font is not for the big titles but can be relatively used for small-body texts. The height and length of the alphabet are suitable for small paragraphs. Hence, perfect for your mobile documents, chat applications, and similar areas. 
Features of PoetSenOne
It is free of cost

It comes with a file size of 170 kb.

It gives your text a nice formal look

Simple, nothing fancy

Easy to download it from the website

One of the most popularly used fonts.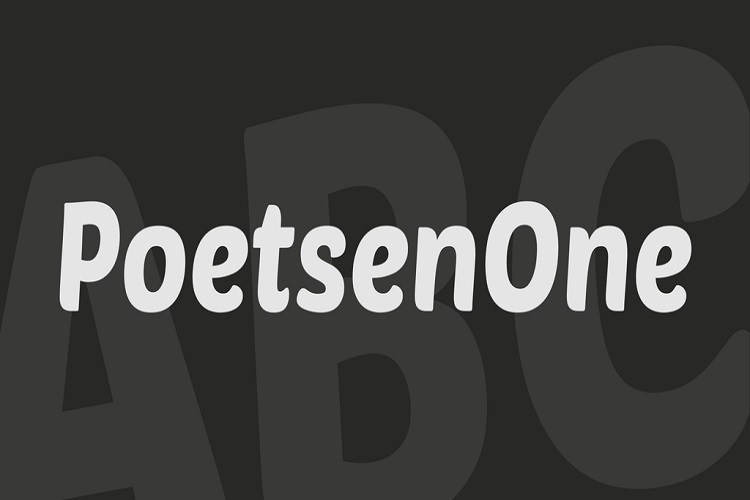 2. ChatStyle
As the name suggests, this font is super-cool to use if you want to flaunt your 'chat' skills. This simple makes chat more interesting through its remarkable styles and new fonts. 
ChatStyless uses special characters and beautiful letters that make simple text. It works on any chat app be it Whatsapp, Messenger, or Instagram. Also, this is super easy to use and also has a shareable link that you can send to your contacts. 
Features of Chat Styles:
Easy to use interface

Perfect for cool texts on Whatsapp

Has a number of styles to choose from  

Works with different social media apps.

You can change the font anytime. 

It is light in size

Do not drain your phone battery fast. 

Do not affect your RAM that much.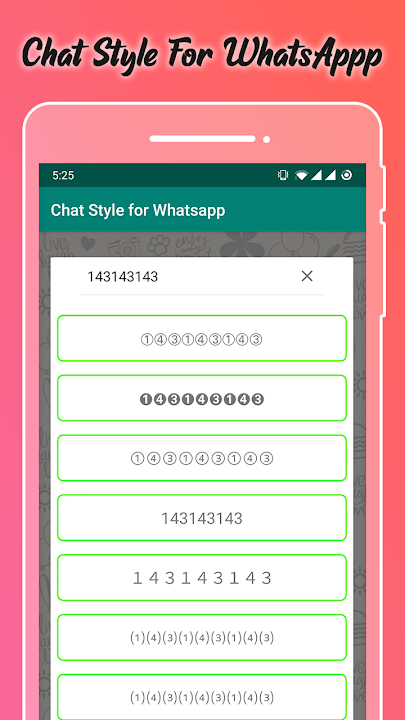 3. Fonty
Up next we have Fonty which is one of the best choices for Android users. It helps you to change fonts on your smartphone without any effort. What makes this app best is its feature to create your own font. 
Do you like the normal handwritten text? It will help you create that font. Do you want the calligraphic font? Not a big deal with Fonty. You can easily express yourself by creating the font of your choice and your style. How Exciting!!!
Another good thing about Fonty is that it is suitable for everyone. So, no matter if you are a newbie or a typography master, you will fall in love with its creative fonts. 
Features of Fonty:
It simply saves the data or the draft. 

Shows the preview of the alphabets for better analysis.

You can export your fonts to other devices and applications.

There are brushes available for better font creation. 

It has stickers to personalize and beautify your fonts.

It supports over 15 languages.

It has visual guides for better understanding.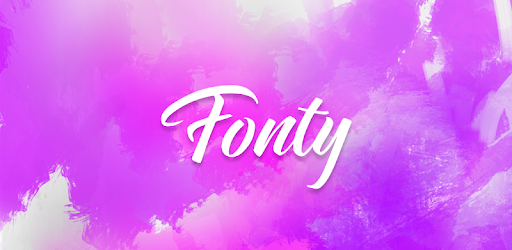 4. HiFont
If you want to have some cool and exciting fonts for your android phone, you can try HiFont which is just remarkable. This app has MANY types of fonts available be it cute, comic, colors, candy fonts, or any clean font you like. No wonder it has been downloaded more than 10 million times from Google Playstore. 
Apart from having its premade fonts, you can also try its custom-made texts. The best thing about this app is that it supports almost every language in the world. Also, it allows you to change the size, color, and style of the font as per your desire. 
It works with every Android smartphone (irrespective of the company.)

They release a new font every week

This app also has emoticons 

Free and easy font customization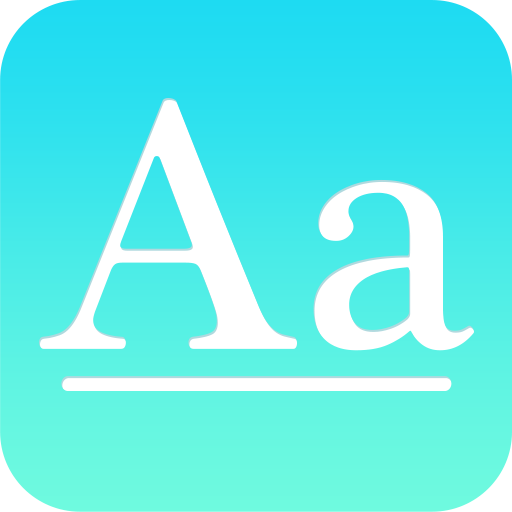 5. Stylish Fonts
Another font app that has a record of more than 10 million downloads is Stylish fonts. The reason behind this popular demand is its user-friendly interface. People who use it can tell how simple it is to use. Also, this font app is available for all types of smartphones. 
As the name suggests, this app has lovely fonts that you will find stylish. You can easily make your typing look more attractive with this app. There are more than 50 stylish fonts available in this app. Moreover, no matter what Android device you have, this app will provide you with beautiful fonts. 
Features of Stylish Fonts
It has 50+ stylish fonts
Works on all Android devices
It has amazing symbols, styles, and texts.
Works on multiple messaging apps
It works in multiple languages be it Hindi, English, German, Russian, and more.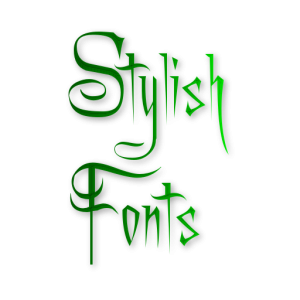 6. TextSwag
TextSwag is another free-of-cost font application for android users. What makes it a cool app is its ability to convert your text into pleasing photo text designs. You can share those images with your friends with ease. 
TextSwag allows you to create your personalized stylish quotes. You can create graphics to share on your social media platforms like Facebook, Twitter, and even Instagram. You can write on your photos, design your text, and use different colors and fonts. Moreover, where other apps can take hours to create a text layout, this app can provide you that in a few minutes. 
Features of TextSwag:
Helps you create beautiful graphics for social media accounts

Graphics titles for blogs

Create announcements and flyers

Design images and add attractive texts

Supports bright color texts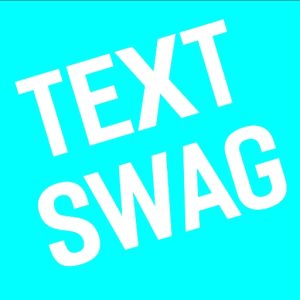 7. Cool Fonts 
More than 10 million people use Cool Fonts to have impressive fonts for their iPhone. You will find amazing new themes and fonts that can convert boring writing into irresistible text. You can add these fonts to your keyboard anytime. 
If you think this app is just about text then you are wrong. You can make chatting and typing even more interesting by changing the keyboard theme. It works on iPhone, iPad, and even iPad. 
Features of Cool Fonts:
You can use Cool Fonts on any app and emails.

It helps you spice up your social media posts and statuses. 

It has a paid premium plan.

The premium plan is available for a 3-day trial.

You can always use the free version and upgrade.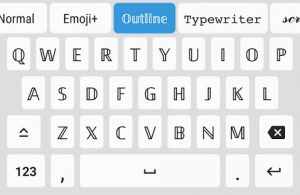 8. Fonts Editor
Yes, we can undoubtedly say that it is the best font app you can have for your iOS devices. It helps you create stylish texts, unique fonts, and more that you can use to impress your friends. 
There are more than 50 outstanding fonts available on Fonts Editor. You can easily use these fonts on Social Media platforms. Now, if you are a big fan of artistic fonts, this app easily provides you 100s of text art and emoji art. 
Features of Fonts Editor:
Free of cost, no subscription, no money to use it. 

It works on all apps

It has 50+ beautiful and creative fonts.

You can easily copy and paste the text. 

It keeps on updating new fonts every time. 9. Gothic Fonts
Are you a fan of the frightening font? If yes then this Gothic font will be your favorite. This one's for android users, absolutely free, and very easy to use. Besides, if you have a Galaxy phone, this will be your best choice because of its compatibility with the system. 
There is not just one but 10 gothic fonts available with this app. The only drawback of this app is that it only works on Samsung devices. Other than that, it is just one amazing app for spooky and unique fonts. 
Features of Gothic Fonts
Best font app if you have a Samsung phone.
Pretty light, take only 4.45 MB of your phone space.
More than 5,00,000 people have downloaded it.
10. PicSay Pro Font Pack
Last but not least, we have PicSay Pro that has been downloaded for more than 50 lakes from PlayStore. For beginners, its interface is pretty good and it is one of the not-so-heavy fonts you can use. 
PicSay comes in a size of 2.9MB. Whatever font you want to use, just type the text on the top and select the style from the options given below. You can easily change the text and edit images with it. 
Features of PicSay:
It is free for personal use

Needs only 2.8 MB of your phone space. 

Easy to use 

Simply press the menu button of the Title editor and choose the font. 

Pro-level style texts to add to your photos.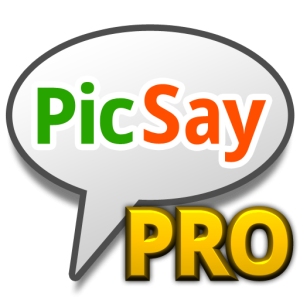 Conclusion
We understand that it's not easy to trust any app when it comes to experimenting with your device. However, we can assure you that these applications are just amazing for you. So, do try these out because once you start using the fonts app, normal texts will seem boring to you. 
Also Read: 4 Must-Have Mobile Apps for E-Vehicle Owners in India