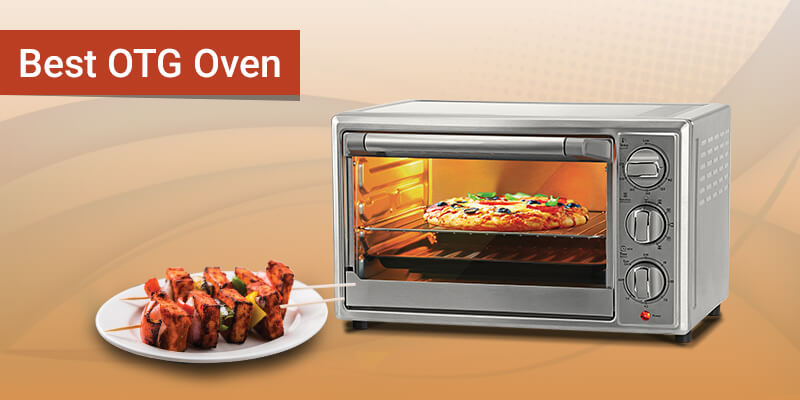 10 Best OTG Oven in India
OTG stands for Oven, Toaster and Grill. An OTG is a popular and versatile kitchen appliance. It is a great accessory for any modern kitchen. OTGs come in various ranges depending upon their price, functions and sizes. It is a necessity for the modern-day kitchen as it makes so many recipes approachable for even beginners. Since OTG is the combination of a toaster, grill and oven, it will save a lot of space in your kitchen. From toasting bread to baking it, everything can be possible in an OTG. We have done some research to find out the ten best OTGs available in the Indian market. 
Let us look into the 10 Best OTG Oven in India.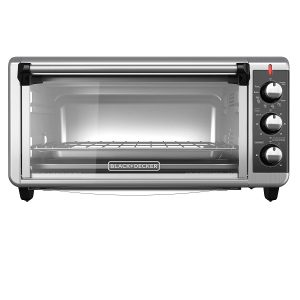 Black & Decker T03250XSB Toaster Oven is a stylish vintage convection heating toaster and oven. The stainless steel has its wide 13"*9" pan with handles, allowing you to bake tasty brownies handily. You can also prepare a pizza of 12" with ease. The new technology in this oven makes the air circulate evenly inside the oven. This classy oven comes up with unique features so that you can experience various elements of baking, broiling, toasting, heating of food. The operation of the oven is simple: by setting a specific temperature, you can sit relaxing and off it once the baking is attained.
Check the cheapest price on Amazon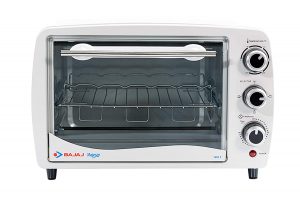 The brand new Majesty 1603T 16L OTG has its best features with 16 litres capacity. It is coated with stainless steel powder which makes your device rustproof and assures long-lasting life. This high-class oven comes to you with five unique accessories: grill tray, baking tray, crumble tray, skewer rods, and tongs for baking/grill tray. The oven has an inbuilt 60-minute timer, I.e., it controls the cooking and sends you notification once cooking is completed. This device assures you of two years warranty. This oven comes with an isolated heat door, protecting you from heat shocks while accessing the device.
Check the cheapest price on Amazon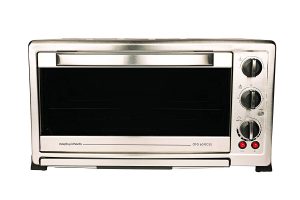 This oven comes up with many useful features which will benefit you further. It has a stay-on-function feature so that your food will be warm for a long duration up to two hours after cooking. It also retains flavour and freshness. Its inner chamber is galvanised, so it is rustproof and consumes very little energy. This oven provides you with a special kebab rod for you to experience the restaurant-style kebabs. It has a nonstick coating which permits you from using more oil. It comes with a 60-minute timer that notifies you after the cooking process and prevents food from overheating.
Check the cheapest price on Amazon
This device has a new opti-temp technology which gives even distribution of heat in the chamber. If you're more fond of crunchy food, then this is the perfect suited oven for you because it reduces moisture and improves the flavour of the food. It has a Preheat mode which suits a wide variety of various foods. Digital display panel helps you to select methods, time, temperature control easily. All the knobs to operate these parameters are smooth and comfortable while cooking. It also comes with a chamber light to easily access the state of food. A wide variety of temperatures can be manually controllable.
Check the cheapest price on Amazon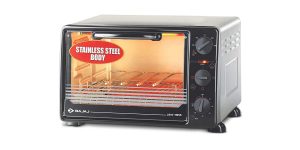 Bajaj 2200 TMSS 22L OTG is compact in size. It has a stainless steel body, so it prevents rust and offers long-lasting service. It has a function selection switch through which you can access different heating levels for various dishes. It has a 60-minute timer which enables you to control cooking requirements. This timer sends the notification once the cooking is achieved. The accessories included are OTG, Cooking tray, Wire grill cum barbeque tray, four skewer rods, Tong for the cooking tray, Crumb tray, extra-long rotisserie skewer rod with two forks, tong for rotisserie, Instruction manual, and warranty card.

Check the cheapest price on Amazon
6. Prestige 9L Oven Toaster Grill (very affordable)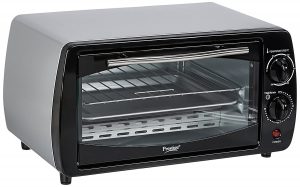 The Prestige 9L oven toaster comes with a wide variety of features at an affordable cost. It has a variable temperature control of up to 250 degrees. You can also set the timer for precise cooking. It has an ergonomic layout handle that cools the device irrespective of temperature within, ensuring safer operation. It comes with an enamelled baking tray and steel wire rack for various grilling purposes. This oven gives you a long-lasting performance as it uses two high-quality quartz heaters. You have access to examine your dish from outside with the help of a full-size glass door.
7. Maximatic 23L Oven Toaster Grill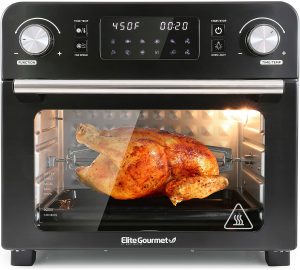 This elite gourmet digital 24.5 quartz air fryer oven has ten preset functions for large-sized meals and an extra-large cavity for 12" pizzas. These ten preset functions allow you to bake, grill, roast, rotisserie, toast, warm, air fry, and dehydrate. The over can offer a temperature range from 140 to 450 degrees. It has a unique characteristic of shutting off the elite gourmet at the end of the cooking cycle. The accessories which come to you include a rotisserie fork set, fry basket, wire rack, bake pan, removable tray, and rotisserie removal handle. This device has good feedback from the customers.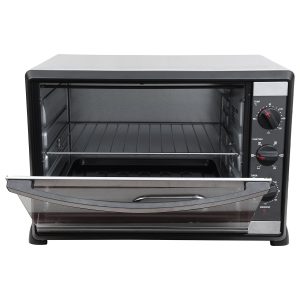 This Morphy Richards 52 litre OTG is best suited for a Master Chef and an ordinary person. It is designed with convection technology. With this technology, the heat in the chamber is circulated evenly, giving you the benefits of uniformly cooked food. You will also get a motorised rotisserie for grilling. What's more, cooking in this super classy oven is, it allows you with oil-free cooking. With its non-stick baking tray, there is a galvanised and rustproof inner chamber that helps in energy saving. It also reduces heat loss. It assures you of two years warranty. 
Check the cheapest price on Amazon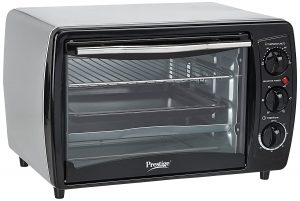 This prestige oven toaster griller 19 PCR allows you to prepare a wide variety of tasty dishes. It also has 1380 Watts powerful motor, which is best suited for the rotisserie. It comes with a removable rod, two grips, and five heating positions. The temperature control is up to 250 degrees; it has a timer switch for precise cooking and saving energy. It can bake grill and toast. The warranty for this OTG is for one year. This package comes with very thoughtful accessories for your convenience. It has an enamelled baking tray and steel wire track for easy maintenance.
Check the cheapest price on Amazon
10. Lifelong 16L 1200W OTG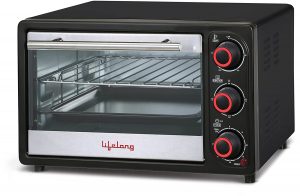 This Lifelong 16L 1220W OTG is very compact. Its front end panel has three dials for element, temperature, and timer. It has an ergonomically constructed grill. You can easily rely on the timer for precise cooking. It comes with a cooking and crumb tray, which makes you clean the fallen crumbs easily. It includes skewer rods for grilling, cooking tray, crumb tray, wire grill, cum barbecue tray, tong for a cooking tray. This device gives you a 2-year warranty. This sophisticated compact matte oven is made of stainless steel, so there is no tension for rusting parts. 
Conclusion
These were the ten best OTG oven in India. The top picks would be Prestige 9L Oven Toaster Grill and Black and Decker T03250XSB Toaster Oven.
Black and Decker T03250XSB Toaster Oven is one of the best selling OTG ovens in India. It is a highly recommended product and is loved by customers. It has a user-friendly engineered body and provides maximum space. You can go for this one if your budget allows it. Prestige 9L Oven Toaster Grill is a great product. Prestige 9L is very affordable and is loaded with so many functions. It comes with an ergonomic layout and easy temperature control. It is the most budget-friendly product in the market.
I hope we were able to help you find the best OTG for your kitchen.