Best 4K Monitors in India in 2020
Buying a 4K monitor is a great way to enhance your gaming or movie-watching experience. It's a window to your PC's soul, and without the right monitor, your high-end PC upgrades are in vain.
Most people make a mistake by buying a monitor before considering some important facts and specs. You can buy two 4K displays, and yet, they can be a lot different. That's why we have sorted out the best 4K monitors in India so that you don't have to do annoying information-digging and searching. If you still want to shop on your own, be sure to check our buying guide and tips first.
Size Does Matter
Size matters especially when choosing the right monitor – bigger is always better. However, if you aim for a large display, think about how much space do you have around your PC. Also, note that it will be more expensive. For example, buying a 4K monitor with the 32-inch display can cost pretty much, depending on the monitor quality and company that made it.
When we talk about display size, it usually means the diagonal length. Another specification that you should consider is the aspect ratio. For example, most of the widescreen monitors have a height/width ratio of 16:9. On the other hand, there are also displays with an aspect ratio of 1:1. That ratio results in a closer view, but the bigger units will usually have higher aspect ratios.
Choose the Right Monitor Type
If you ever went to a store to buy a 4K monitor, you might have noticed specific terms related mainly to 4K displays. All 4K displays are divided into three forms: TN, IGZO and IPS type.
For people that are not looking for a high-end solution, TN panels are the best choice. They come with simple features and at a relatively affordable price. TN panels deliver fast response time, but on the other hand, there might be slight problems with color accuracy in images.
When it comes to IPS panels, you will notice an improvement in terms of image sharpness and color reproduction. However, if you are a gamer, you might find it a bit slow. For example, TN monitors response time rating is 1 millisecond, while IPS stops at 4. If you are buying a monitor primarily for gaming, you should have that in mind.
IGZO panels deliver a very high power service, but consume more power, too. They are physically smaller, and if you want to buy an IGZO display, you should check your graphics card details. The rest of the decisions will be made based on your budget.
Aspect Ratio and Refresh Rate
As mentioned, the aspect ratio is the ratio of length and width of the screen. The most popular aspect ratio is 16:9, but if you are a passionate gamer, you might want to choose 21:9. If you need to work with numbers, images, and documents, you should aim for 19:10 ratio, since it provides more vertical space. Aside from the aspect ratio, if you are a programmer, for example, you might want to buy a monitor that allows pivot adjustment. It will allow you to turn your widescreen display into the portrait mode.
The refresh rate is another very important factor to consider. Note that most displays have a 60Hz refresh rate, while some 4K displays have as low as 30Hz. If you are looking for a perfect, mesmerizing and unforgettable gaming experience, you should buy a display with a 144Hz refresh rate, for the best and the smoothest experience. However, monitors with a 144Hz refresh rate are very hard to find.
Contrast Ratio and Response Time
Contrast ratio shows the difference between the brightest and the darkest reflection on your screen. We strongly advise you to buy a display with higher ratio contrast, since they provide a significant difference between brighter and darker images. The bad thing is that many manufacturers provide different contrast ratio parameters, out of any standards, so it might be difficult to make an in-depth analysis.
Response time is a time that pixel needs to change its color. Maybe you remember that most of the old displays suffer from "ghost image", that occurs because of a very slow response time. It means that pixels are not able to synchronize with moving frames. You should aim for a display with a response time of between 1 and 4 milliseconds. Although monitors have a much better response time than the ones from 20 years ago, there can still be a noticeable difference if the response time is bad.
Connectivity is Important
Some of the popular display manufacturers are offering uncertified and slightly different DP cables these days, which might cause you a problem. When buying a display, it's essential to have a certified display cable. Uncertified cables might cause damage, especially if they come with pin 20. It's bad because it reflects the unwanted voltage back to the system, which can cause unrepairable damage sometimes.
G-sync or Free Sync: Choose Wisely
These two parameters are especially important if you are a gamer. Collectively know as active sync, these parameters greatly improve performance over refresh rate mismatches, tearing issues, and graphic mismatch. For example, screen tearing problems can be noticeable when you switch to fast-paced games while the monitor refresh rate cannot stay synchronized with the graphic card output. In other words, the speed at which the monitor updates the screen becomes slower than the speed the GPU sends data. That problem can be quite annoying, but fortunately, adaptive sync technology leads to improved synchronization. Also, some displays come with both G-sync and Free Sync, allowing you to perfectly adjust frames and shutter speeds.
4K Monitor Bonus: Hardware Calibration Support and Backlight Compensation
If you are a professional, you don't want to make any compromises for quality. You should make an effort to choose the best backlights and LED panels, and also, run a calibration test before you buy a new monitor.
Many new monitors come with the ability to adjust the color and brightness of the display. On the other hand, when monitors don't have the feature for backlight compensation, they deliver much better contrast ratios. To get the best results as a professional, you would need to do proper research for tone perfection.
| Model | Max Refresh Rate | Minimum Response Time | HDR | HDMI ports | DisplayPorts | Pixel Density | Diagonal |
| --- | --- | --- | --- | --- | --- | --- | --- |
| Acer Nitro XV273K | 144 Hz | 4 ms | Yes (entry-level) | 2 | 2 | 163 ppi | 27-inch |
| Acer Predator XB281HK | 60 Hz | 1 ms | No | 1 | 1 | 157 ppi | 28-inch |
| LG 27UK650 | 60 Hz | 5 ms | Yes (entry-level) | 2 | 2 | 163 ppi | 27-inch |
| LG 32UD59 | 60 Hz | 5 ms | No | 2 | 1 | 139 ppi | 32-inch |
| LG 24UD58 | 60 Hz | 5 ms | No | 2 | 1 | 185 ppi | 24-inch |
| Samsung U28D590D | 60 Hz (30 Hz via HDMI) | 1 ms | No | 2 | 1 | 157 ppi | 28-inch |
Top 4K Monitors in India
#1 Acer Nitro XV273K
Max Refresh Rate: 144 Hz | Minimum Response Time: 4 ms | HDR: Entry-level | HDMI Ports: 2 | DisplayPorts: 2 | Pixel Density: 163 PPI | Diagonal: 27-inch
+ Cheaper than any other 4K display with 144Hz refresh rate
+ Free Sync feature
+ Compatible with G-Sync
− Requires two DisplayPort cables for 4K at 144Hz

If you are ready to invest lots of money in a good monitor, then Acer Nitro XV273K is a perfect choice. The fact is, XV273K is the first monitor to deliver 4K resolution and a refresh rate of 144Hz. Although it's pricey, compared to monitors with similar qualities, the price is very reasonable. For example, displays like Acer Predator X27 and Asus ROG Swift PG27UQ were the first to deliver both high resolution and high refresh rate, but since they come with included HDR support and G-Sync ultimate, they cost much, much more.
Acer Nitro XV273K is way more affordable. However, to bring down the price, some features had to be cut down, too. For instance, the first thing that we noticed is that Nitro doesn't come with FALD or full array dimming backlight, like Predator X27. It results in not being able to deliver true HDR capabilities. The monitor still comes with DisplayHDR 400 certification, but it can't be compared to the one that Predator X27 has.
G-Sync has also been cut down in favor of Free Sync, but there is no reason for concern since Nvidia supports Free Sync, and it worked fine with the Nvidia graphic cards that we tested. In many cases, Free Sync is enough for an excellent gaming experience.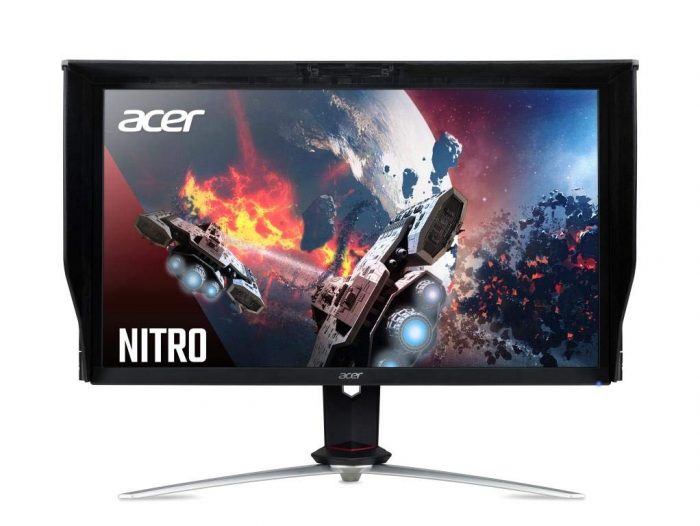 When it comes to aesthetics, you can notice that the monitor really looks like it's built mainly for gamers. There are silver metal prongs on the stand and something like a "flare" to the base with a red highlight. Otherwise than that, the monitor features standard black plastic construction. The stand can be adjusted by height, tilt, and swivel, but there is no pivot motion. It means that you can't use it in portrait orientation. The monitor has no active cooling fans, so it's completely silent, unlike some G-Sync monitors, including Predator X27.
On the backside, there are two HDMI ports and two DisplayPorts, as well as some classic USB ports. The monitor has directional toggle buttons for using the menu, but unfortunately, the OSB is a bit sluggish to navigate. It surprised us since we don't see that often in that price range.
Although Acer Nitro is a 144Hz monitor, we would rather call it a 120Hz monitor. Enabling 144Hz is hidden away in the menu, and to use that mode, you will need to run dual DisplayPort cables, which leads to minor compatibility issues. Besides, enabling 144Hz mode disables Free Sync, which is not the best choice for gamers that want the smoothest gaming experience. There are some workarounds that gamers have discovered, but they are complicated, and the difference between 120 and 144 Hz isn't much noticeable. On the other hand, it's quite easy to get 120Hz working through a single cable. Our recommendation is to simply run at 120Hz in the SDR mode with a single DisplayPort cable. It's smooth and nice, and you would still have the adaptive sync.
The other reason to stick to that frame rate is the response time. The display comes with normal and extreme overdrive modes. We recommend using the normal mode with an average response time of 7.52 milliseconds, which will provide you with a perfect experience. If you want to use the extreme mode, you should do a bit of trial and error testing to see if it fits you.
Acer Nitro is one of those "unique" monitors since there aren't many like this on the market. If you don't care about having a super-expensive G-sync display, but rather want a 4K monitor with high refresh-rate, Acer Nitro is an ideal choice. The built quality is excellent, and the included sRGB mode is great for professional gaming.

#2 Acer Predator XB281HK
Max Refresh Rate: 60 Hz | Minimum Response Time: 1 ms | HDR: No | HDMI Ports: 1 | DisplayPorts: 1 | Pixel Density: 157 PPI | Diagonal: 28-inch
+ G-Sync feature
+ Beautiful gaming design
+ TN Panel
− Speakers could be better

XB281HK is an incredibly good 4K monitor that every owner of a powerful Nvidia graphics card should have. It's limited to the 60Hz refresh rate, which is not unexpected for this resolution, but it also features G-Sync and is backed by TN panel technology.
When you take a look at the build quality, you can easily notice that this is a gaming monitor. It has sharp-looking edges and "fast" red strips. Although it might not be visually ideal for the office, it looks awesome if we consider its target audience, which is primarily gamers.
The stand is fully adjustable, which is expected from a monitor in that price range. You can easily change the height, swivel, tilt, and even pivot, in case you need to use the portrait mode for any occasion. The base is a bit too wide, which is not ideal if you have tight desk space. However, the specifications list a specific VESA mounting, which can easily solve this problem.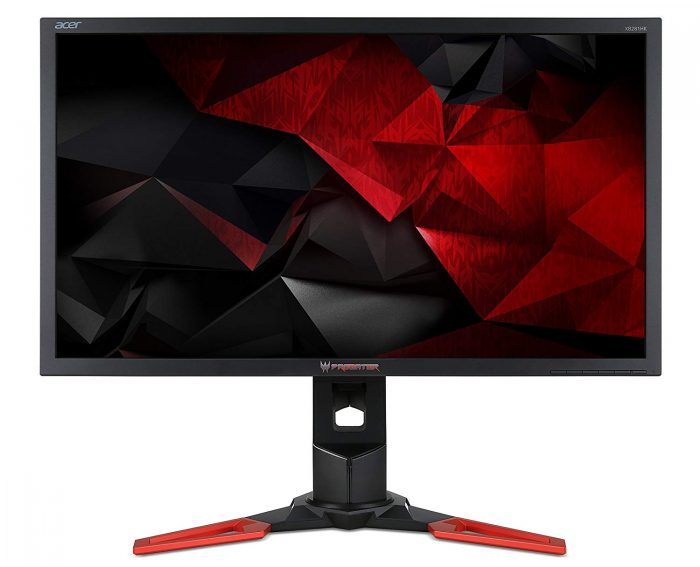 Honestly, having a perfectly smooth image on the 4K display requires a quite good gaming rig. You will need a pretty good graphics card to maintain a constant refresh rate of 60Hz in 4K resolution. Also, XB281K features a TN panel technology, which is known for its very good color accuracy and fast response times.
The monitor has 1 HDMI port, 1 DisplayPort v1.2, 4 USB 3.0 out and a single USB 3.0 in. A great thing is that this monitor doesn't come with a regular power adapter. Instead, it comes with a single power cord design which makes it very unique. With XB281K, you won't have any problems connecting the wires. There is enough distance among them which allows you to freely and easily connect and disconnect. All the main buttons are on the right bottom corner, easy to access and fairly simple to understand and use.
The display comes with 3 gaming presents, which are Bright Color, Warm Color, and Light Blue. You can easily switch between presets depending on which type of game you play. For example, if you play a racing game, then Bright Color is the best option. For strategy games, you should choose Light Blue, while Warm Color goes well for all the other types of games.
Whether XB281K is an ideal monitor for you depends solely on your need s. It's definitely worth considering because of the powerful G-Sync technology that it includes, as well as the relatively low price. If you are perfectly fine with the 60Hz refresh rate, it might be your best choice. Be sure to check it out!

#3 LG 27UK650 4K-UHD HDR
Max Refresh Rate: 60 Hz | Minimum Response Time: 5 ms | HDR: Entry-level | HDMI Ports: 2 | DisplayPorts: 2 | Pixel Density: 163 PPI | Diagonal: 27-inch
+ Vibrant and consistent colors
+ Vivid details
+ Very quick response time
− No swivel adjustment
− The low contrast ratio for HDR

27UK650 is a relatively affordable monitor that supports Free Sync and entry-level HDR. However, we should mention that you will benefit more from HDR if you use this monitor for console gaming. When it comes to PC, with HDR enabled, the content might look a bit washed out, or even oversaturated sometimes.
Like most 4K monitors in that price range, this monitor is based on an IPS-panel with 10-bit color depth and a 1000:1 static contrast ratio. These are some of the specifications that, along with 4K UHD resolution, offer a stunning image quality. The truth is that the contrast ratio could be a bit higher, but still, you get very accurate and consistent colors. With VA panels, you would get a contrast ratio as high as 3000:1, but IPS panels provide a lot more vibrant and vivid colors.
Also, IPS panels offer a wide 178-degree viewing angle and a very quick response time of five milliseconds. It's pretty good at removing any trailing from fast-moving objects at the frame rate of 60Hz.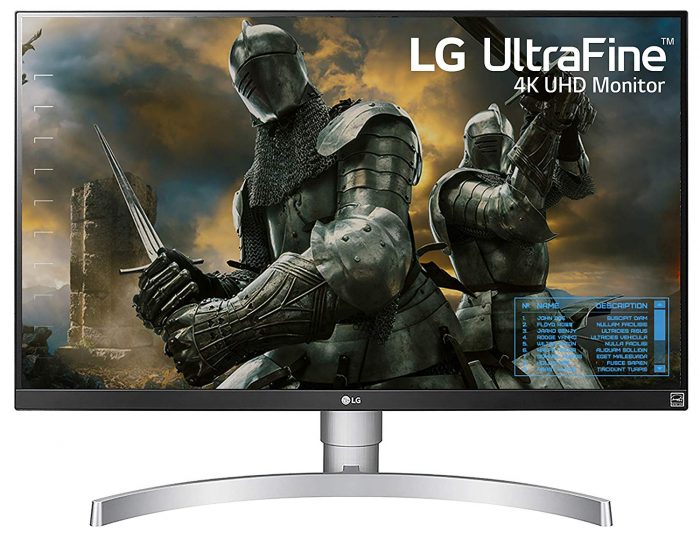 The monitor supports AMD FreeSync that provides a variable fresh rate. It removes all the screen tearing and shuttering, with only a 1-millisecond lag penalty. The display has two VRR modes, which are Basic and Extended. Basic works in 48-60Hz range, and Extended works in the 40-60Hz range. If you own AMD GPU, it will work without issues in Extended mode. However, Nvidia users will only be able to use Basic mode. It's true that the 48-60Hz range might seem a bit narrow, but it's still better than nothing.
When it comes to other features, this monitor includes On-Screen Control, Screen Split, and Black Stabilizer which gently increases visibility in darker games. There is also an HDR effect and a few preset picture modes, such as Cinema, Dark Room, Photo, and so on. Picture modes are easy to find and use, and you won't have to wonder which button does what function, as you might need with some other displays.
So basically, 27UK650 comes with beautiful, vibrant and consistent colors, sharp and vivid details, very low input lag and incredibly quick response time, as well as with the AMD FreeSync feature. On the other hand, we notice that the stand lacks a swivel option, and the display has a low contrast ratio for HDR. Most of the console games look awesome with HDR enabled, which makes this display ideal for Xbox One and PS4 Pro, too. Besides, the display is not too expensive and can be an excellent choice for both gamers and professionals.

#4 LG 32UD59
Max Refresh Rate: 60 Hz | Minimum Response Time: 5 ms | HDR: No | HDMI Ports: 2 | DisplayPorts: 1 | Pixel Density: 139 PPI | Diagonal: 32-inch
+ Deep and uniform dark scenes
+ Average input lag is 10 milliseconds
− No portrait view or swivel adjustment
− Speakers offer bad quality for that price range

This monitor is probably the best choice when it comes to the ratio of money and quality. It's not the best on the list, but it brings a decent quality and features for that price range.
LG 32UD59 offers a large 4K screen ideal for gaming and watching movies. It features a minimalistic design, with matte black chassis and slim borders, and an ArcLine design stand. Due to its design, it is also a great choice for any office, since there are no futuristic, gaming details, or bright colors.
The OCD can be accessed via the multi-directional joystick, so there is no clicking dilemma that monitors users always face. The monitor feels sturdy and heavy, but it's one of the lightest 32-inch monitors that we have ever tested. It allows you to adjust tile and height, but there is no portrait view or swivel adjustment. On the other hand, if you want to mount it on the wall, you can use a VESA compatible armature with a 100×100 bolt pattern which does the job well.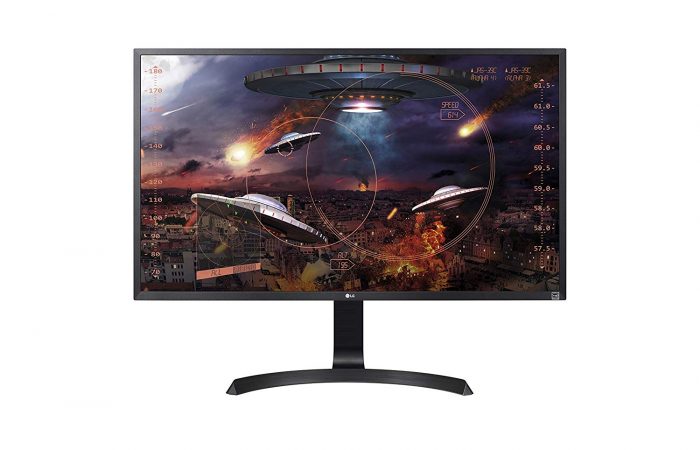 For video inputs, there is a single DisplayPort v1.2 and two HDMI 2.0 ports. There is also a port for the 3.5mm jack, but there are no other connectors aside from these. However, there are still enough ports for a PC and a gaming console. Or even two.
The monitor also comes with in-built speakers, but we are a bit disappointed with the sound quality. It is affordable, but the speakers are muffled and not ideal for the monitor's entertainment purpose.
As mentioned, LG32UD59 offers a 4K (3840×2160) resolution, a refresh rate of 60Hz, and 5 milliseconds response time. The contrast ratio is 3000:1, and there is also a pretty decent backlight. Although while testing, contrast ratio reached maximum 2560:1, it was pretty much enough for deep, "oily" blacks and solid color hues. In short, the image was very, very good.
Thanks to its FreeSync compatibility and an average input lag of 10 milliseconds, LG32UD59 can be considered a pretty good gaming monitor. No matter if you need it for gaming or you need a large display for multitasking, it's a pretty good choice. Its size is also good for Xbox One and PS4 Pro gaming, but you will have to live without HDR ability, which makes console games much nicer.

#5 LG 24UD58
Max Refresh Rate: 60 Hz | Minimum Response Time: 5 ms | HDR: No | HDMI Ports: 2 | DisplayPorts: 1 | Pixel Density: 185 PPI | Diagonal: 24-inch
+ Sharp UHD image
+ Gaming-optimized
− No USB ports
− No speakers

24UD58 is one of the rare monitors that come with Split Screen 2.0 features and on-screen controls. It delivers vibrant colors, a beautiful picture, and very good gaming performance.
The monitor offers an Ultra-High-Definition IPS panel and FreeSync. As you can see, the display looks pretty nice and eye-pleasing. There are no sharp, extreme, Sci-fi-like things, and the panel is enclosed in a black cabinet, with a minimalistic design. You can also use the four VESA mounting holes, but using the ArcLine stand also does the job.
It features a 16:9 resolution which is pretty good for gaming, although 16:10 would be better. Besides the 72-percent coverage of the sRGB color gamut, it provides a 60Hz refresh rate and 5 milliseconds pixel response.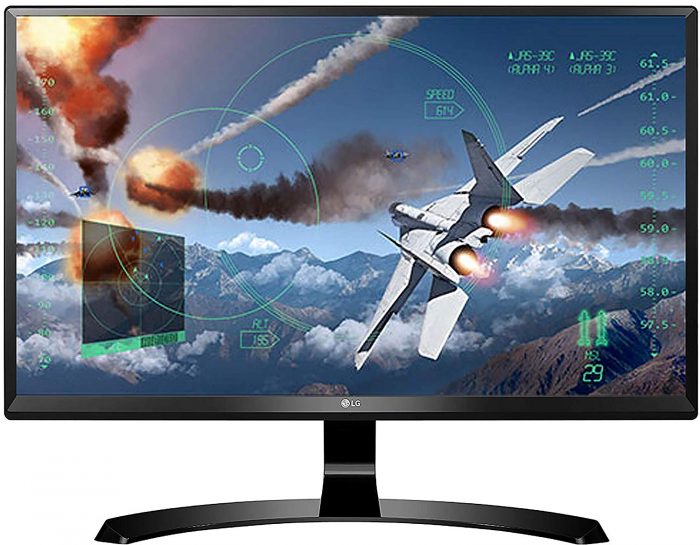 All the ports are located on the backside, facing outward. There are two HDMIs and a DisplayPort, but the fatal omission is that there are no USB ports. What we liked a lot is that it can deliver 4K resolution either using an HDMI or a DisplayPort, over a single cable.
We tested the monitor with Grand Theft Auto 5 on PS4 Pro, and it delivered a very nice image with vibrant colors. When we enabled FreeSync, it eliminated minor blurs on the screen and using the Black Stabilizer feature additionally improved the image. The monitor also offers a Game Mode that makes the playing experience even smoother. With the Split Screen 2.0 feature, you can optimize the display for both play and work, and also divide it up to 4 picture-in-picture setups.
For a very reasonable price, you get a monitor that delivers UHD pictures and lets you play games smoothly and perfectly. The out-of-the-box color setup is not good, but after some calibration, it becomes fine. It doesn't offer vivid colors like some more expensive models, but for the money, it does a perfect job. Besides, it looks stylish and is ideal for any environment, whether it's a teen gaming room, the office, or anything else.

#6 Samsung U28D590D
Max Refresh Rate: 60 Hz (30 Hz via HDMI) | Minimum Response Time: 1 ms | HDR: No | HDMI Ports: 2 | DisplayPorts: 1 | Pixel Density: 157 PPI | Diagonal: 28-inch
+ Very detailed UHD image
− Limited features
− Slightly skewed greens

This Samsung monitor is a reasonably-priced solution with an attractive design, fast response time, and decent image quality once calibrated. Although it requires calibration and doesn't have an adjustable height, it's still a pretty good, medium-budget solution.
Most 4K displays are pretty expensive, but we noticed that lately, companies are building relatively affordable monitors that still provide a 4K resolution. It seems that 4K is not a luxury that only the wealthiest people can afford.
It's easy to notice that the monitor is designed for people who aim for minimalism. The display is made of sturdy aluminum construction and is durable and pretty light. However, you should note that the stand connects to the monitor using two screws, so you will also need a screwdriver since you don't get one with the package.
The display can be tilted forwards and backward by 15 degrees, but you can't rotate it left or right without moving the base. Ports are conveniently located, so you won't have any trouble accessing them. There are two HDMI ports, a DisplayPort, and a headphone audio jack. However, its port placement makes it difficult to mount the monitor on the wall, and there are no VESA mount holes.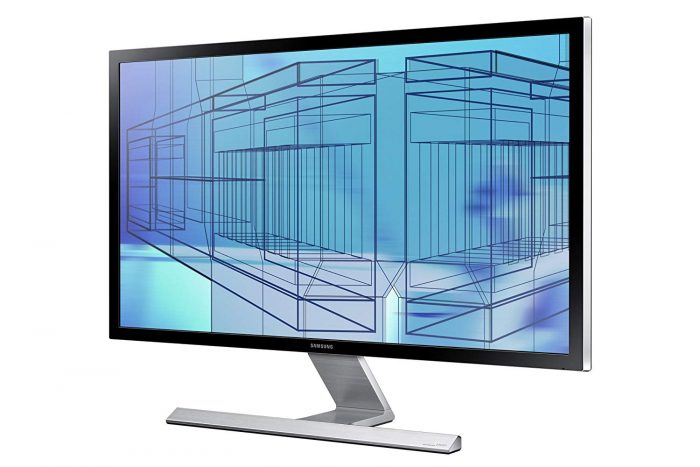 You can operate the menu using a five-way joystick on the bottom-left corner of the display's rear panel. It's not only easy to use, but it's also tucked out of sight.
Samsung U28D590D has a TN panel, which means that viewing angles are good, but not perfect. They are also a bit weaker than on more expensive IPS displays. When we tested it for the first time, out of the box, we noticed that the brightness was almost blinding. Also, color vibrancy and saturation were bad until calibrated.
We tested the monitor with Skyrim, and it looked fine. Due to 30Hz limitations of HDMI v1.4, the image wasn't enormously smooth, but everything looked nice. To use it at 60Hz, you will need to use DisplayPort and also have a monster gaming rig to maintain a constant frame rate. Even the frame drops from 60 to 50 FPS are very noticeable.
To sum it up, there are a few things that we liked, and a few that we didn't. At first, we liked its minimal design and fantastic color reproduction (after we calibrated it). If you are a gamer, you will like its super-fast response rate of 1 millisecond, and fairly easily located ports. Besides, the monitor comes at a very affordable price. However, since it's a TN panel, viewing angles are not as good as they can be. Also, you can only tilt the monitor a little bit, and there is a noticeable difference in quality if you look from certain angles. If you want a monitor for casual gaming needs, surfing the web and consuming media, but still don't want to pay too much, then you should check it out. However, it won't provide you with an unforgettable, immersive experience.

FAQs
What is the difference between 4K and Ultra HD?
In theory, 4K resolution means 4096 x 2160 pixels. UHD or Ultra-High-Definition is a resolution of 3840 x 2160. As you can see, they both have the same height, but a different width, which leads to a different aspect ratio. A 4K resolution originates from cinematic terminology and is still used for TVs even today, while in some cases, especially for gaming, even UHD is considered 4K.
What is the difference between DisplayPort and HDMI?
Both DisplayPort and HDMI are standards for transmitting video and audio from a player to a display. While both of these do the same thing, there are still differences in their capabilities, as well as differences between their versions. For example, DisplayPort 1.2 supports resolutions up to 3840 x 2160 pixels, and a maximum refresh rate of 60Hz. Display Port 1.4 supports resolutions up to 5120 x 2800, while HDMI 1.4 supports 3840 x 2160 resolution up to 30 Hz. Besides, there are also differences in the audio quality they can transmit and, of course, their connectors are different.
What is PPI?
PPI, or pixels per inch, is a term used to describe pixel density of displays. It literally shows how many pixels are in one square inch of the display. Since most devices have square pixels, width and height are the same. Also, the rule of a thumb is that the higher the density, the better the image will be.
Best 4K Monitors in India: Bonus Tips
Best 4K Monitor Under Rs. 20000 in India
As the technology advances, we get the opportunity to buy a fairly decent 4K display at a very reasonable price, even under 20,000. If you are looking for a cheap, yet decent monitor, your best choice would be ASUS VP28UQG. With a 28-inch display, 3 years warranty, very nice and vivid image and smooth design, it's a display that you should definitely check out.
Best Full HD Monitor Under Rs. 10000 in India
Yes, this article IS about 4K monitors. However, it doesn't mean that 4K always provides a better image than Full HD – it's only bigger. If you want to buy on a budget, you might consider buying a great Full HD display. The top two Full HD monitors under Rs. 10,000, in our opinion, are HP 22fw Ultra-Thin and Samsung LC24F390FHWXXL. No matter which one you buy, you won't regret!
Best Curved Monitor in India
It's difficult to find a curved monitor in India that supports 4K resolution. However, if you want a curved monitor that still has a resolution that is higher than Full HD, be sure to check out Acer Predator Z35P.
Best 4K Monitors of 24-inch or More
Starting from 24-inch monitors, one of the best possible choices is LG 24UD58 that we mentioned above. You can also find it in a 27-inch variant. Among other 27-inch monitors, one of the best in terms of money and quality is LG 4K-UDH 27UD68P-B. However, if you are looking for a large display of 32 inches, the absolute winner would be BenQ EW3270U It's a bit expensive, but it perfectly does the job.
Best 4K HDR Monitor in India
HDR is especially important if you use the monitor to play console games, especially the games on Xbox One and PS4 Pro. It makes the image a lot more vivid and sharp. Our top choice in this category is LG 27UK850, which features HDR 10 with SDR to HDR upscale, AMD FreeSync technology, and Ergonomic Stand so that you can adjust its height, tilt, and even pivot.
Final Words
In the end, we can confidently say that our absolute winner is Acer Nitro XV273K. It is pricey but provides unique features, including an incredible refresh rate, which leads to an unforgettable gaming experience. On the other hand, if you are looking for the best ratio of quality and money, our top choice is LG 32UD59. It's not the best display out there, but you will definitely be satisfied with the features that you get for that amount of money.
Do you own any of these monitors? What is your experience? Please let us know in the comments below.