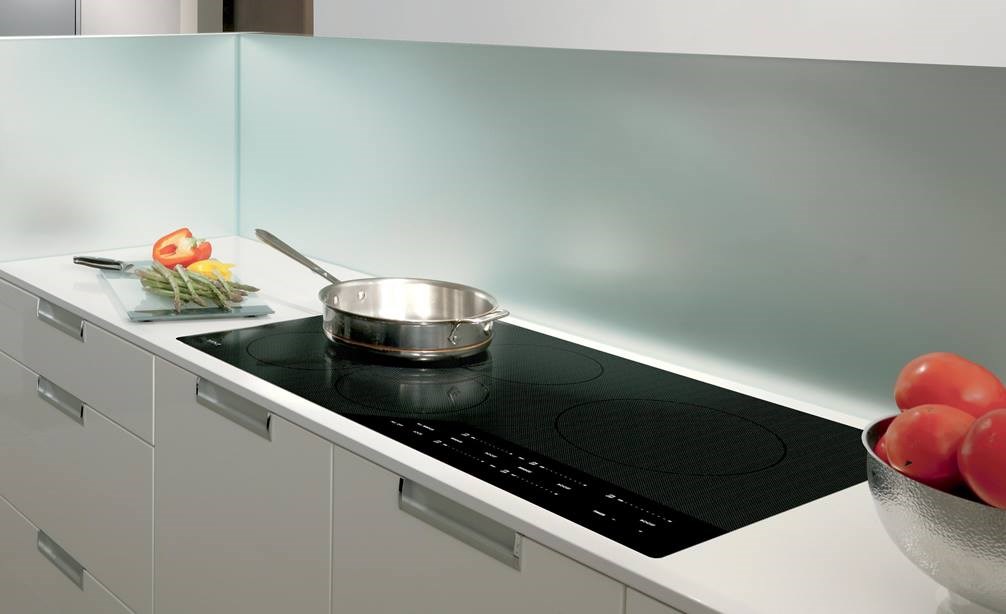 5 Best Induction Cooktop Under Rs 3000 in India
Who depends on traditional things when you have technically advanced products? This is not just about some strange gadgets or smartphones but here it is about kitchenware. 
Gone are the days when you used to book an LPG cylinder every month. Why? Because there are gorgeous induction cooktops available in the market. There can be many other reasons to get an induction. Be it about you wanting to record a recipe video or just because you are staying in a place alone.
Best Induction Cooktop under 3000
Let's see what options do we have.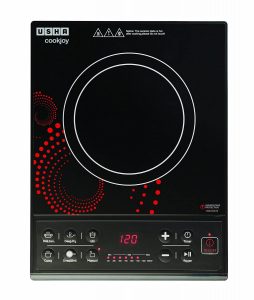 If you want something in a matte finish then this model is for you. Its gorgeous design with digital display + glass worktop is what makes this product world-class. 
Usha Cook Joy comes with the touch buttons. Besides, you don't need to worry about burning your food as this has an auto-switch option. It means it can adjust its temperature and the ability to switch off when the food is prepared. 
Another best thing about Usha Cook Joy is the pan-sensor technology that heats it up only when there is a pan on the top. So, even if you put your hand on it accidentally before cooking, you will not feel the heat.  
Features of Usha Cook Top
Comes with a 1-year warranty

Best product for power-saving intelligence

5 preset menu option available

It has 10 Amp plug for safety from earthing 

Has an extra and flexible long cord

One of the best- selling cooktop on Amazon 
Specifications of Usha Cook Joy
Model No- 3616

Works with 1600 W power

Voltage- 230 V

Frequency 50 Hz

Dimensions- 35.5 cm X 6.5 cm X 2.75 cm

Weight- 2.75 Kg

Comes with a warranty card and user manual
Check the cheapest price on Amazon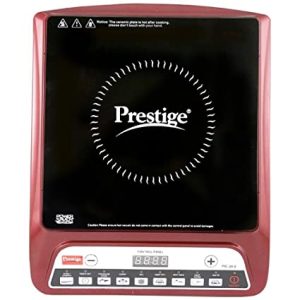 When we talk about kitchenware, it would be unfair to not mention one of the leading brands- Prestige. Prestige introduced PIC 20.0 as a move to help people save power over induction cooktops. 
This cooktop works with a minimum power of 230 watts and a maximum of 1200 watts. Apart from its watt setting, there are buttons available for your convenience. From idli, milk, curry to pressure cooker, dosa, and chapati. There are several buttons you can use for direct functioning. 
Well, of course for induction cooking, you need to have flat-based utensils. However, one drawback of this model is that utensils with copper, glass, brass, or aluminum material do not work with this cooktop.
Features of Prestige PIC 20.0
Comes with a 1-year warranty.

There is push-button on the control panel. 

Works with induction based cookware

There are Indian menu options

Aerodynamic cooling system

It has Antimagnetic walls

Excellent Power saving option
Specification of Prestige PIC 20.0
Works with 230V voltage

1200W Wattage

Dimensions- 38 cm X 26 cm X 6 cm 

Weight- 2.2kg

Comes with a user manual and warranty card
Check the cheapest price on Amazon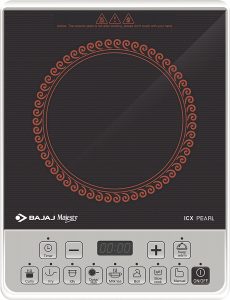 Next up, we have Bajaj which is another renowned company in the business of kitchenware. Here is the cooktop, ICX pearl, which is one of the best cooktops under Rs 3000. It works best even in the low voltage say 130V. 
ICX Pearl Induction is elegant in its looks with easy-to-use buttons for better functioning. Just like Prestige PIC, there are buttons available for dosa, milk/ tea, idli, curry, etc. Besides, you can also use its manual settings to adjust it as per your needs. 
Features of Bajaj ICX Pearl
Works with a power of 1900 watts

There are 8 Pre-set menus

Tact switch control 

Comes with a 1-year warranty. 

There is a 4-digit LED display
Specification of Bajaj ICX Pearl
220 – 240 V power input

Semi-polished plate finish

Packaging contains main unit, user manual, and a warranty card

Dept of 360 mm

Plate size- 260mm*260mm

Working voltage range of 130V to 260V AC

Rectangular shape

Height and Width- 65*270 mm
Check the cheapest price on Amazon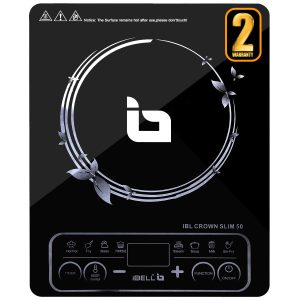 iBell is a high-quality brand that is known to produce long-lasting products at reasonable prices. The best example is here- Hold The World Digitally 2000 W glass induction. 
If we talk about its qualities, iBell 'Hold The World' is an excellent induction with high-quality crystal glass and many safety protection. Besides, it is best known for its wide cooking range and LED display that gives it an elegant look. 
Where there are cooktops loaded with buttons, iBell is one option that you can have with minimal buttons. However, this model is perfect for amateurs because of its basic functions making it a great induction cooktop in the list of best induction cooktop under 3000.
Features of iBell Hold The World
It has a strong firepower range (2000W)

Nice finishing and lightweight

There is a press button control

It comes with a 2-year warranty

It has high-quality crystal glass

Comprises of an auto-shutoff safety protection

Protection from overheating

Best-quality coils

It has impressive voltage adaptability.
Specification of iBell Hold The World
Model- IBL 10Yo

Power of 2000W

The top-rated voltage of AC 220V-240V

Frequency of 50/60Hz

Gross weight- 2.81 kg
Check the cheapest price on Amazon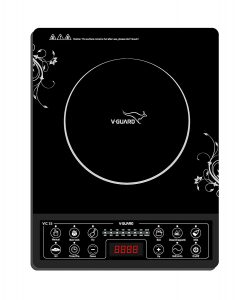 Last but not least, we have V-Gaurd VIC-15 which one fine product. V-Gaurd is a leading electrical appliance manufacturer, hence, its cooktop is one of the safest and high-quality product you can use in your kitchen. 
Most of the time we cook something that needs to be served piping hot. With this cooktop, there is no need to get up and heat up your meal. You can use its keep-warm option which is very convenient. 
There is a pre-set cooking function available in this cooktop along with a digital display option. What makes it great is that even if your food spills or about to spill, it switch off its power induction. So, you don't need to panic whenever your food starts spilling. 
Features of V-Gaurd VIC-15
It has an automatic switch-off power indicator. 

It has a fast heating function

Comes with a 1-year warranty

Very reasonable price and awesome services

4-digit LED display

There are 8 levels of power and 2000 watts capacity. 
Specifications of V-Gaurd VIC 15
Soft switch control

Beginner-friendly 

24-hour preset option 

Environmental friendly 

Dimensions- 36*28*6.4 cm

Weight- 2 KGs
Check the cheapest price on Amazon
Conclusion 
Having a cooktop has become a necessity. Not just because it is a technically advanced product but because of all convenience it provides to the users. However, if you think cooktop is an expensive investment, then you might be wrong. 
Within the budget of Rs 3000, you can have the best cooktop that too from a trusted brand. Hence, we have made this lust just for you. 
So, pick out the most suitable one and enjoy cooking with a classy and elegant induction cooktop.