Best Gaming Cabinet Under 3000 in India 2021
A gaming cabinet connects the motherboard and all the other PC components that a gaming setup might have. It provides sufficient cooling to the computer as gaming is a heavy-duty activity and results in heating the computer. If you are a gamer and looking for a suitable gaming cabinet, we have you covered. Let us look at the best gaming cabinets available in India under INR 3000. 
Best Gaming Cabinet Under 3000 in India 2021
Let us look at the best gaming cabinets easily available in 2021 in India under Rs 3000.
1. CHIPTRONEX MXI-1 
CHIPTRONEX MX1 RGB Cabinet has a five-millimetre thick edge tempered glass constructed on the side panel, which will protect your device and gives a stylish outlook. This gaming cabinet supports motherboard ATX/Micro -ATX/Mini ATX. The length of Max VGA is 365mm and Max CPU height of the cooler is 156mm. It has a manual RGB control button for the front side, this allows you to change the colour modes manually. It provides you water cooling support up to 240mm for liquid cooling radiator on front and 120mm radiator on top and rear. This MX1 RGB will also support two 3.5HDD bays on the bottom of the case. However, the hard disk should be fixed before fixing the power supply, because the power supply is fixed at the bottom. This appliance also consists of USB3.0 which gives you an amazing high-speed transmission and two USB2.0. This also consists of an HD audio control button.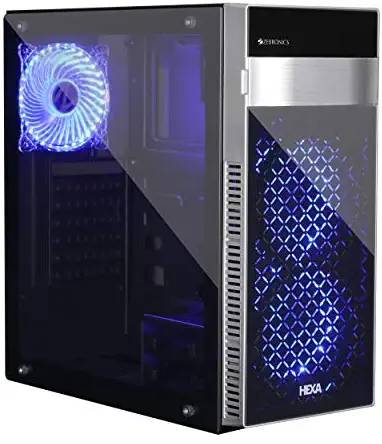 Zebronics Zeb-Hexa Cabinet Comes with Tempered Glass Side Panel & 3 x 120mm Fans is a heavy-duty premium chassis. This has a tempered glass side panel and three fans each of 120mm with blue LEDs. This gives a unique design of airflow with a power supply at the bottom. This dev8ce comes with LED lights and the hexagonal grids add a more unique design to your device. This has triple fans with blue LED lights which gives a more good feel while gaming. As this cabinet has fans on the front and the rear so it prov8des you with optimized airflow. It has a bottom PSU and it also supports up to 345mm VGA. The motherboard is of ATX/mATX and it has one DVD of 5.25", two HDD of 3.5" and two SDD of 2.5". The cabinet weighs 4kg, so it is easy to carry anywhere you want. The width, depth, and height of this device are 200*418*420mm respectively. This item weighs about 4kg. This is the best gaming cabinet available below 3000.
Check the cheapest price on Amazon
3. CHIPTRONEX MX2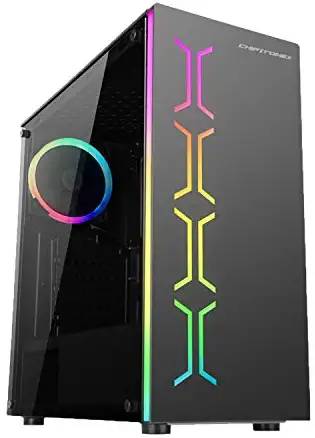 CHIPTRONEX MX2 RGB Mid Tower Cabinet USB 3.0 Tempered Glass RGB Fan Preinstalled comes with 4mm thick edge-to-edge tempered glass on the side panel, this gives you a unique outlook. It supports motherboard ATX/Micro -ATX/ Mini ATX. Max VGA Length is 365 mm and Max CPU Cooler Height is 156 mm. The MX2 RGB will support two 2.5 SSD bays on the side. The MX2 RGB has USB3.0 and two USB2.0 that enables you to transmit data at increased rates. It further has a devoted RGB control button with HD audio. The MX2 RGB has a committed RGB control button on top for the front RGB strip to alter 8 different RGB colour modes. There is no need for batteries required. The item weighs about 400kg 500grams. So it can be easily carried anywhere. It also supports a liquid CPU cooler. It also supports the dual-core, 4 cores, and 8 cores.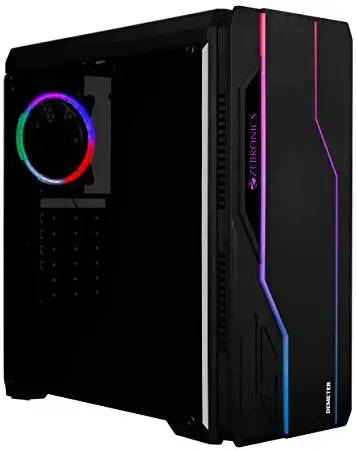 Zebronics Zeb-Demeter Premium Gaming Chassis That Features Transparent Side Panel, Top Magnetic Dust, 120mm Rainbow Halo Ring Rear Fan, and Front RGB LED Strips to have a comfortable chassis. This device will support the ATX/mATX/ Mini ITX motherboard. It has a transparent side panel and also a duty PSU. This device consists of two front cooling fans each of 120mm. It also has a rainbow halo ring and front RGB LED strips, which makes your chassis look even cooler and gives a vibrant look. It has an optimized airflow design. It has a top magnetic dust filter. It has two USB2.0 ports and one YSB3.0 port. The weight of this cabinet is 3.9kg. The customer review for this product is very good I.e., 4.2 of 5 and you will never find such quality product under 3000.
Check the cheapest price on Amazon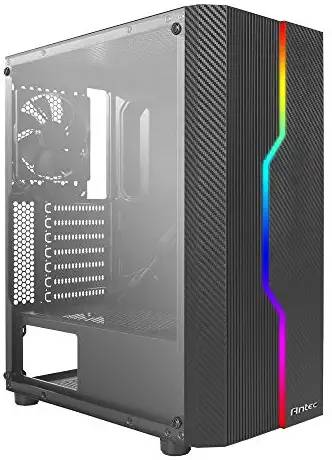 Antec NX230 NX Series-Mid Tower Gaming Cabinet Computer case with RGB Front Supports ATX, M-ATX, ITX Motherboard with Transparent Side Panel,1 x 120 mm Fan in Rear. This is in colour black and the form factor is of a mid-tower. It has a transparent side panel. This has an RGB strip which gives your device a cooler look and also there is an ARGB control button for manual operation of the LED. It has a dust filter on the top and bottom of the cabinet. The product dimensions are 40*21*46 Cm and this product weighs about 1kg. There are no batteries required for this cabinet. The front, rear fans used in this device are 120mm. The cooling method used in this type of cabinet is of water type.
Check the cheapest price on Amazon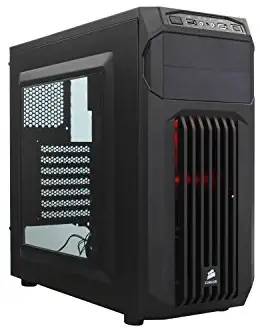 Corsair Carbide Series CC-9011050-WW Mid-Tower Steel Gaming Case with Red LED (Black) has a creative design and tough construction. It has a transparent side panel window. The cooling process is enabled with the help of an LED-lit front intake fan which draws the air to directly cool the graphics card. Inner construction has five fans and four combinations of hard drive/ SSD trays for quick and easy usage of storage. It has an amazing cable routing which helps to reduce the clutter. There are also built-in dust filters that will safeguard your units. The huge side panel window allows you to look at the detailed construction of the inner components. You are also allowed to add an extra single 120mm fan or dual 140mm fan if needed. There is no possibility to build a system with four hard drives or SSDs but it is possible with SPEC-01.In expansion to the two standard 5.25 inches optical drive bays, there are four built-in 3.5 inches / 2.5 inches combo drive bays for mechanical hard drives or solid-state drives.
Check the cheapest price on Amazon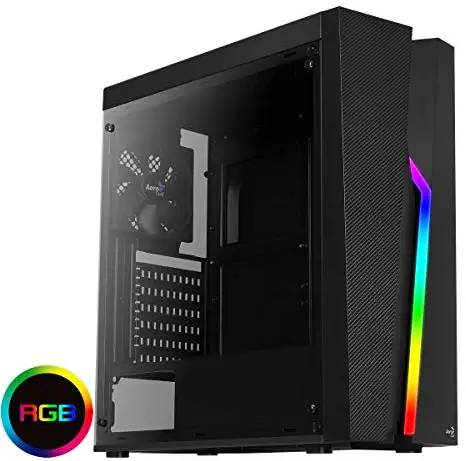 Aerocool Bolt RGB PC Gaming Case, ATX/Micro-ATX/Mini-ITX, Acrylic Side Panel, has an RGB LED strip with 6 RGB and 7 static colour modes with a manual operating button which gives you a fancy outlook. It has a transparent side panel that allows you to view the inner components. It is built with a dual-chamber design to direct the heat away from the main chamber for more effective all-around cooling. The product is manufactured from Aerocool. The item height and width are 44.4 centimetres and 41 centimetres respectively. It has two USB ports. The item weighs about 3kg 400grams. The cooling can be done by air, the fans used in this cabinet are of 120mm size. This product incl8des a manual which guides you to all the specifications and usage.
Check the cheapest price on Amazon
8. Gamdias Argus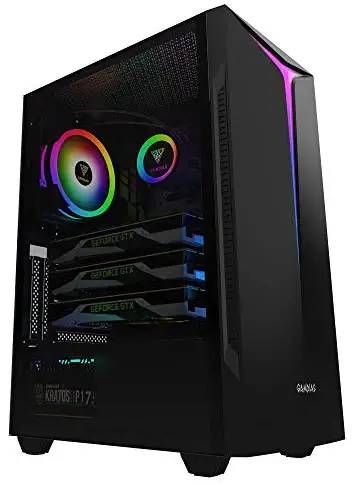 Argus E2 Mid Tower PC Case Cabinet with 1 x 120mm comes with a compact device with a new fancy vibe. Its chroma-lit Y-shaped crater for front panel design gives a modern look. It is very compatible with ASUS Aura Sync, GIGABYTE RGB Fusion, MSI Mystic Light Sync, and AS Rock Polychrome Motherboard RGB application, the ARGUS E2 is skilled at synchronizing with any Motherboard that comes with a 5V 3-Pin addressable RGB header. It has a 4mm tinted panoramic tempered glass side panel by which you can look up the neat design of the inner components. There is a room for five 120mm fans. There are Mounting points for a 240mm radiator at the top, a 120 mm radiator at the rear, and two 120mm radiators at the bottom. Aside from practical HD audio jack, there is a highly efficient 3.0 + 2.0 USB port, the handily available RGB light-sabre power switch is fixed at the surface of the I/O port that allows you to effortlessly cycle through over 15 chromatic lighting effects consisting of 16.8 million colours just away from the simple tap of your finger-tip.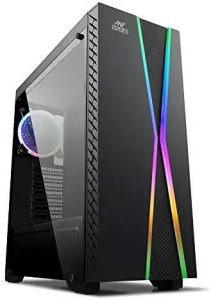 Ant Esports ICE-200TG allows you to view the detailed view of inner components. Compatible with all mainstream hardware in the market to give an improved experience while installation. It has an isolated PSU housing which provides you better heat dissipation for core components. It has all new features which attract the new gamers too. It has a dedicated SSD/HDD Bay for improved storage and apace management. It has a top magnetic dust screen for cleaning, assembling, and disassembling. Regular cleaning if PSU improves air intake to heat dissipation. The length, width, height of this cabinet are 437*185*460 mm respectively. It has an LED effect toggle feature, accessible with headphones and a microphone. It has ports for USB2.0 and USB3.0.
Check the cheapest price on Amazon
Conclusion
Your gaming cabinet enhances your gaming skills significantly. Your gaming cabinet must ensure that renders cooling to your system and has multiple connection alternatives. This can result in a hassle-free and effortless gaming experience. Our top picks are Corsair Carbide Series CC-9011050 and Zebronics Zeb- Demeter. You can go for these or the ones that suit your system the best. 
Hope this article helped you find your perfect gaming cabinet.
Thank you for your time.
Also Read: