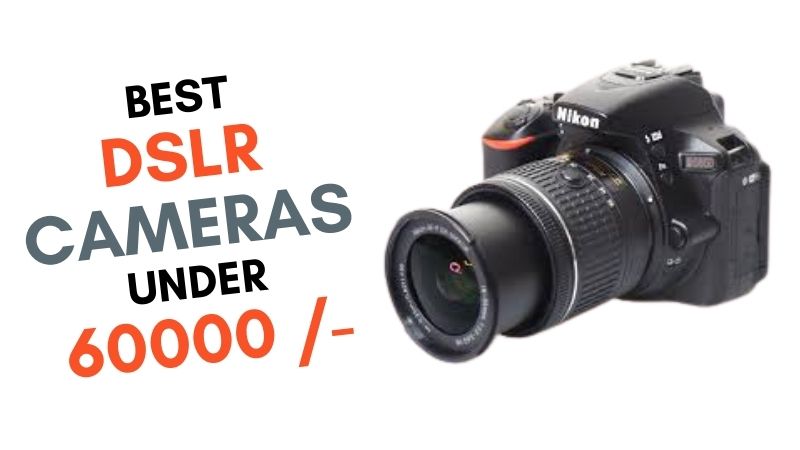 Best Cameras Under 60000 in India 2021
Investing in photography is a great way to elevate your travel pictures. It does not matter if you are a professional or an amateur, there is a certain satisfaction about clicking great pictures that look close to real. With a low-budget camera, it is difficult to enjoy the same quality. If you are looking to upgrade your photography, we have the best products in store for you. We have listed out the seven best cameras under INR 60,000.
Best Camera under 60000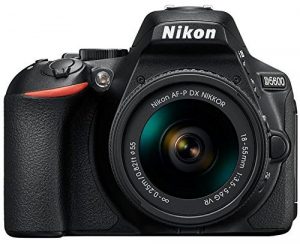 The Nikon D5600 DSLR camera has its best features. It is a body with a single lens, AF-PDX Nikkor 18-55mm F/3.5- 5.6G VR with 16GB SD card. Its effective pixels range is 24.2MP which allows you to take and edit your pictures without losing quality. The camera comes with a tripod socket.
Its construction has ports of Hi-speed USB with micro USB connector, type C HDMI connector. Its accessory shoe is ISO 518 hot-shoe with sync and data contacts with a safety lock. Its ISO rating ranges from 100-25,600, and its sensor type is CMOS. More information about its lens construction; D-zoom kit, AF-P-DX Nikkor 18-55mm F/3.5- 5.6 G VR + AF -PDX Nikkor 70-300mm F/4.5 – 6.3G ED VR. Its max aperture is F/5.6. It comes with an Auto focus-S 18-140mm VR kit lens type, with which you can click your focus at any time and anywhere.
It has dust reduction and manual focus features. The Nikon D5600 also includes a viewfinder feature with an eye-level pentamirror single-lens reflex viewfinder. The camera is autofocus with a 4800DX 39-point AF sensor. White balancing filters included in this camera are auto, seven fluorescent types, incandescent, flash, sunlight, preset manual, cloudy, all except preset manual with fine-tuning. It has auto exposure mode and compensation from -5 to +5EV in steps of 1/3 or 1/2 EV in P, A, AM night vision, scene mode.
Check the cheapest price on Amazon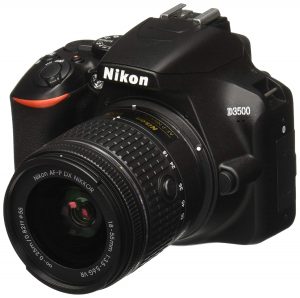 If you are interested in buying a new camera handy for professional photography or videography, then the best choice is Nikon 3500 camera. It comes with many attractive features. It has a 24.2MP DX-format sensor, with an ISO light sensitivity range of 100-25600. It allows you to click beautiful images with the help of a razor-sharp autofocus system.
It is constructed with a lithium-ion battery so you can enjoy the long-lasting working of the device. It has a shutter speed of 30 seconds max and 30 seconds minimum; this allows you to capture the images without any blurry when the camera or the subject is moving during the capture. If you want to excel in videography, then with the help of a Nikon D3500 camera, you will surely capture amazing 1080p HD quality videos. This camera also comes to you with blue tooth technology.
Also, it has a good customer rating, I.e., 4.8 out of 5 stars. Its visible screen diagonal is 3"/8cm. It can also capture low-light and long exposure images effectively. So this an outstanding camera at an affordable price to grab now.
Check the cheapest price on Amazon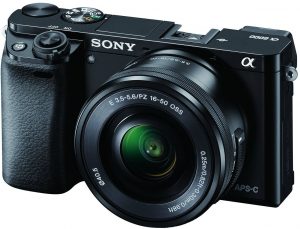 The Sony Alpha ICLE 6000 compact, mirrorless camera is best in capturing the moments with high quality as its capacity is greater than a DSLR. It is a powerful camera with a far larger image sensor and bright lenses. It is compact, so it is very handy to use. You can also click your images even without a flash which results in you obtaining low-noise sharp images with an ISO  range of 100-25600. This camera has a lithium-ion battery which helps you in the long working hours of the device.
It has a 24.3MP EX MOR APS HD CMOS sensor. It also has a tiltable LCD screen. You can view every detail of the subject no matter in which corner you want. The Alpha 6000 has a sharp focus of 4D on moving objects. This camera comes with eye AF for effective eye detection when shooting stills. You can also capture the fast-moving subject with ease due to the presence of 11fps continuous shooting with superior AF tracker performance.
This camera allows you to instant sharing of photos, videos, or movies with Wi-Fi or NFC( near field communication). You can also directly share videos on social media channels like YouTube, Instagram, and Facebook.
Check the cheapest price on Amazon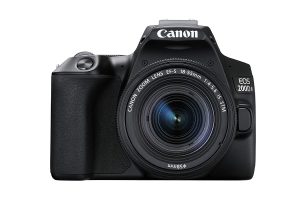 The Canon EOS 200D, 24.1 MP digital SLR camera is the best if you are a beginner or a pro in photography. You can store a wide range of videos and pictures with the help of 16GB supportive memory storage capacity. The camera video capture resolution is high with 2160P. This Canon EOS 200D II delivers you enhanced dual pixel CMOS performance and functionality during live view shooting. You can shoot human subjects with eye-detection AF during servo AF and movie servo AF adding convenience, I.e., up to 3975 AF points with manual selection.
The camera consists of creative assist that can comfort the beginners with the option of changing their look of photos. You can check details of the degree of background blur, i.e., bokeh, colour vividness, brightness, on the LCD monitor itself, and all this monitoring can be done before you click the shutter button.
This camera captures your sweet memories with a 4K video recording with high definition at four times the resolution of full HD. Enhance the level of videography with various lenses such as ultra-wide-angle, telephoto, blurred background, and shooting in dark scenes. You can socially connect to the outside world with Wi-Fi connectivity. The camera comes with a vari-angle 3-inch touch screen with 1.04 million dots. It has DIGIC 8 processors.
Check the cheapest price on Amazon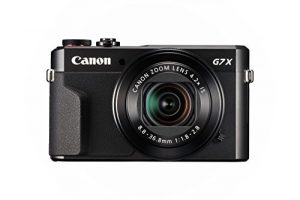 The canon power shot G7X mark II digital 20.1- megapixel has a compact and smart design with inspiring speed and performance. It is best suited for travel, events, and whatnot. You can carry it anywhere due to its slim and portable body. It has high performance 1.0 inch 20.1 megapixel CMOS sensor. It also has a bright f/1.8-2.8 lens, which allows you to take awesome images even at low light limitations.
The processor involved is DIGIC7 which pays dividends with autofocus tracking. When shooting with a high ISO experience enhances IS and wonderful image clarity with a canon power shot G7X mark II. When high speed up to 8FPs in RAW, JPEG, and RAW+JPEG modes are shooter, it offers high-speed continuous shooting. The camera has full HD capability for high-detailed images and videos. There is also a built-in Wifi and NFC and in-camera RAW conversion, which allows you to share with ease. It has a 30-inch type touchscreen tilt-type LCD monitor(180° upwards, 45° downwards).
The camera uses a lithium-ion battery which ensures you long-lasting working. This camera has optical image stabilisation too. This camera is best if you don't want a bulky camera for tours at an accessible cost. It also has the best customer rating of 4.5 out of 5.
Check the cheapest price on Amazon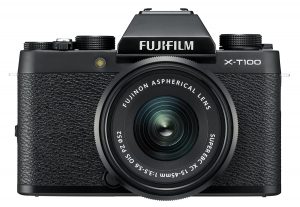 FUJIFILM X-T200 spotlights a large APS-C CMOS image sensor, high-resolution EVF, Face/Eye AF, the power to create 24.2MP stills at 8 FPS, and you can also record 4K UHD video from any angle with its 3.5″ vari-angle LCD Touch Screen. The cameras updated Face / Eye Detection AF makes focusing on subjects or groups of people quick and easy.
The AF feature also works when the LCD screen is flipped for a front selfie. Besides, automated objectives will entitle the camera to be set to acknowledge and follow the subject within the frame. This camera has a copper wire processor, which gives advanced image processing at low light performance with focus -2.0EV. The simulation modes included in this camera areVelvia (Vivid), ASTIA (Soft), MONOCHROME, CLASSIC CHROME and more.
The filters available in this camera are namely- Toy Camera, Miniature, HDR Art, Pop Color, Fish-Eye, Partial Color (Red / Orange / Yellow / Green / Blue / Purple) & more. X-T200 develops 4K (3840×2150) video by recording 6K video with no crop (6032×3392) and downsampling it; this also will avoid noise and improve image quality. The visible screen diagonal is 4"/9cm. The camera consists of a new HDR movie mode for more details in dark shadow situations. So if you want to get some creative with photography and videography, then the X series X-T 200 is best suited at an affordable cost.
Check the cheapest price on Amazon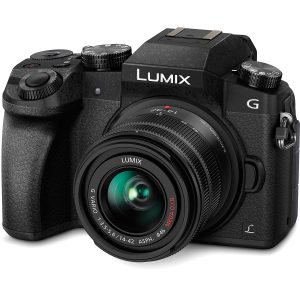 The Panasonic LUMIX G7 16.00 MP 4K Mirrorless Interchangeable Lens Camera Kit with 14-42 mm Lens Is now available for capturing the best moments with high quality and resolution due to its 4k technology. With the new DMC-G7, you will be able to record video in 4K (up to QFHD: 3840*2160 pixels, 25fps, 100Mbits/s).
By enabling depth from deep focus(DFD) and autofocus (AF) you will be able to capture the fastest moment at great precision and speed. This camera has a 4k video viewing experience. Low light AF makes it possible to focus subjects more precisely in -4EV low light situations, like stars, moon with no other light source. The live viewfinder allows you with high visibility, I.e., 10,000:1 contrast, and perfect framing even under the sunlight. Its visible screen diagonal is 3"/8.
It has a 16 megapixel Micro Four Thirds sensor with no low pass filter to straightly captures the sharp pictures in a high dynamic range. You can easily assign your desired settings with the front and rear dials.
Check the cheapest price on Amazon
Conclusion
These were the seven best cameras available under INR 60,000. Nikon D5600 DSLR Camera and Sony Alpha ILCE 6000Y are the top picks on this list. Nikon D5600 is priced at INR 55,000 and is worth every penny spent on it. The product has promising reviews and is extremely durable. The Sony Alpha ILCE 6000Y is available in the market at INR 42,000 only.
It is a bestseller product and highly rated by the customers. The Nikon D5600 is a DSLR and comes with a set interchangeable lens and other such characteristics. On the other hand, Sony Alpha is an ILCE which means it is a mirrorless camera and gives a superior quality photography experience. You can find more about the differences between such cameras and choose the best one from this list. 
Also Read: Best Point and Shoot Cameras Under 15000 in India 2021