Best Drones in India in 2020
Best Drones in India in 2020
Did you know that the first drone was created back in 1907? Don't worry – most people didn't know. It was created by inventor brothers Jacques and Louis Breguet and had many limitations compared to the drones we know today. It was unsteerable, it could lift just two feet off the ground, and it required four men to steady it. However, it was undoubtedly exciting, and it started the journey of drones.
Drones, known as UAVs (unnamed aerial vehicles), fall into a few categories depending on their type. So, before doing a review, let's see what kinds of drones do we have today.
| Drone | Dimensions (inch) | Weight | Megapixels | Video Resolution | Camera Type | Live Video Feed | Max Fly Time | RC Type |
| --- | --- | --- | --- | --- | --- | --- | --- | --- |
| DJI Mavic 2 Pro | 3.3 x 3.6 x 8.4 | 0.90 kg | 20 MP | Full HD, 2.7K, 4K | Integrated with Gimbal | Full HD | 30 mins | Dedicated with App |
| DJI Mavic 2 Zoom | 3.3 x 3.6 x 8.4 | 0.90 kg | 12 MP | Full HD, 2.7K, 4K | Integrated with Gimbal | Full HD | 27 mins | Dedicated with App |
| Autel Robotics EVO | 5.5 x 5.5 x 10 | 0.85 kg | 12 MP | HD, Full HD, 2.7K, 4K | Integrated with Gimbal | HD | 25 mins | Dedicated with LCD |
| DJI Mavic Pro | 3.3 x 3.3 x 7.8 | 0.73 kg | 12 MP | HD, Full HD, 2.7K, 4K | Integrated with Gimbal | HD | 27 mins | Dedicated with LCD |
| DJI Tello Drone | 3.8 x 3.6 x 1.61 | 0.08 kg | 5 MP | HD | Integrated with Gimbal | HD | 14 mins | Dedicated, No Display |
| Izi Battle Shark | 7 x 5.1 x 2.4 | 0.20 kg | 2 MP | HD | Integrated without Gimbal | HD | 22 mins | Dedicated, No Display |
Casual and Toy Drones
If you never had a drone before, these are probably the first that you should check. Toy drones are usually small and easy to use, and they are mainly focused on having fun. Due to their size, they are usually limited to 10 mins flight. Some cheap models can't even fly for more than 5 mins.
These drones are usually designed to perform a variety of astonishing stunts, and in most cases, you can even control them with your mobile phone. Also, if you don't do a stunt properly, don't worry – you can find spare parts at a very reasonable price.
Although they are categorized as "toy drones," they are still a pretty good choice for the first drone. When you master your skills with these, you can move to some bigger, more powerful, and more expensive UAVs.
If you are looking for a good casual / toy drone, you should check out Kiditos Syma X5UW, which provides fantastic results compared to the other drones in a similar price range.
Video Drones
Video drones, as the name suggests, are mainly focused on recording high-quality videos, rather than performing stunts. Some of them come with a built-in camera, but some also have a specific platform where you can put your recording device. They are bigger, and they usually cost much more, depending on various factors and features.
Most of the video drones have an integrated gimbal. It's a system that pans and tilts the camera to allow compensation for the drone's motion and maintain a steady picture. Also, with a big drone, comes a big battery. Some models can fly for more than 20 mins when fully charged, which is more than enough for taking great pictures and videos from the air.
The video quality can vary from a drone to a drone and can usually go from HD up to 4K. Better video quality usually means a higher price; however, low-priced models can often record pretty good videos for most of the users.
Video drones are created for many purposes, such as inspecting a construction site or recording a wedding. Some drones are also used in movies for recording from the air. If you aim for a modern, high-priced drone, you can expect to get some fantastic features. For example, you can pre-set a track using a GPS to prevent the drone from crashing, and it's just one of the many amazing features that a drone can have. However, with more features comes a much higher price, so be sure that you really need all of that.
With these drones, you can experiment a lot. However, know that they still need to be registered with the FAA, which means that the pilot should always control the drone insight and be able to take control of the drone anytime manually.
There are a few drones that are fighting for the first position when it comes to camera quality. However, our favorite is DJI Mavic 2 Pro, which provides incredible video footage. We will talk about it a bit later in the text.
Racing Drones
Believe it or not, drone racing has become very popular these days. Racing drones are usually small and built for speed and maneuverability. By using headsets with a first-person camera, people compete against each other by trying to achieve the fastest lap time.
Competitors themselves usually build racing drones. They shed the weight by replacing or even removing certain parts, and some people also replace the motors, by installing the more powerful ones.
If you are serious about racing, you will have to invest a bit of money in a good racing drone. On the other hand, you can always start with some low-priced models and build them up until you get your racing beast. Many online stores provide racing parts and improvements for drones, and one of the most popular is RCHyper.
So, if you have decided which type of drone do you need, let's move on to the reviews.
Best Drones in India in 2020 Review
At first, we will present you with the best drones in general. After many hours of testing each model individually, and many other models besides, we can confidently say that drones on our list are, with no doubt, the best out there. Although some of the drones can be a bit expensive, they are worth the money.
Top 6 Drones in India in 2020
#1 DJI Mavic 2 Pro
Dimensions: 3.3 x 3.6 x 8.4 | Weight: 0.90 kg | Megapixels: 20 MP | Max Video Resolution: 4K | Camera: Integrated with Gimbal | Live Video Feed: 1080p | Max Fly Time: 30 mins | RC Type: Dedicated with App
+ Can track objects at the speed of 70 km/h
+ Most crash-proof drone we have tested
+ Sensor sensitivity of amazing 12,800
− Too expensive

This drone is the first that should we should mention. With insanely good image quality and pretty decent battery life, yet compact size, we are overly satisfied with DJI Mavic 2 Pro. Although this version is slightly bigger and heavier, it's compensated with an extended battery life of up to 30 mins. Also, the drone can travel and track objects at the speed of around 70 km/h, which is impressive!
A fascinating thing about this drone is the way it follows you. With an updated version of ActiveTrack, now ActiveTrack 2, the drone is much smarter, and it's also equipped with omnidirectional sensors. For example, let's say that you walk, and the drone follows you when it suddenly encounters a tree branch. Some drones would stop and hover in place until you manually guide them back on the right track. However, this drone will automatically calculate and build its path by predicting your movement. It will go around the branch and continue following you. Whenever it comes upon an obstacle, it will safely go around it, and in some cases, you might not even notice that. However, with the obstacle avoidance turned on, the maximum speed is lowered to 20 kilometers per hour. After extended testing through different terrain, we can conclude that this is the most crash-proof drone that we have ever seen.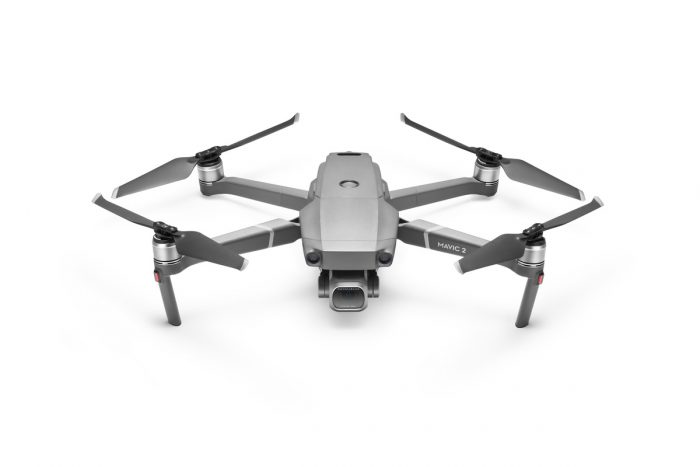 Some other great features that this drone offers are related to the video it records. For example, it can control the final length of the recorded video. On the other hand, when it comes to video, this drone has some disadvantages. Its new feature, Hyperlapse, is limited to 1080p, and the video is not stabilized, so there is a fair amount of shake. If GoPro Hero7 can make stabilized 4K Hyperlapse, so should Mavic 2. Apart from that, we couldn't spot any other disadvantage of this drone.
Now, let's talk a bit about the camera itself. For Mavic 2, DJI partnered with a famous Hasselblad to build a camera with a one-inch sensor. It's much larger than the sensor on most drones, but the difference left us speechless. It's way better in low-light, and the sensor's sensitivity (ISO) went from 3,200 to an incredible 12,800! It can now record 4K at 100 Mbps, which is, basically, the same as when shooting a RAW video. There are many options when it comes to editing the final video, but even the default settings are astonishing.
Let's be real – this drone IS expensive. However, it provides you with much more than what you paid for. It is, with no doubt, fantastic! If you are looking for a high-end drone with a perfect camera, lots of great features, and an excellent battery, you can't go wrong by getting this little beast. It will provide you with hours of pure enjoyment!

#2 DJI Mavic 2 Zoom
Dimensions: 3.3 x 3.6 x 8.4 | Weight: 0.90 kg | Megapixels: 12 MP | Max Video Resolution: 4K | Camera: Integrated with Gimbal | Live Video Feed: 1080p | Max Fly Time: 27 mins | RC Type: Dedicated with App
+ Fantastic zoom features
+ Hyperlapse works perfectly
+ Gimbal stabilization is amazing
− Only 8GB of internal memory

With an excellent 2X zoom, a compact design, and HDR photos as some of the features that this drone provides, DJI Mavic 2 Zoom shouldn't be overlooked.
An interesting fact is that tech upgrades are always related to making smaller and slimmer versions of any device, however, not with Mavic 2 Zoom. The aircraft is bigger than the first Mavic Pro and weighs about a kilogram. Due to its heaviness, it requires an FAA registration for recreational use in the US and many other countries. On the other hand, although it's a bit bigger, it doesn't mean that it's less portable. When it's folded, you can easily put it in a camera bag, occupying a similar space as a standard zoom lens would. You should also know that Mavic 2 Zoom is, aside from the camera, very similar to Mavic 2 Pro.
A dedicated remote control is, in some way, a combination of the ones from previous models. It's gray and has folding clips that allow you to attach the phone on the bottom, via a USB cable. It also includes various connection methods, such as Apple Lightning, USB-C cables, and Micro USB. You can fit pretty big phones on the remote, such as iPhone 8 Plus, but if your phone is larger than that, it might not fit.
The remote has a monochrome display. You can use the drone without a smartphone by reading the info shown on screen, however, it doesn't provide a first-person view. Also, note that the drone has to be activated via the DJI Go 4 app, which is a one-time requirement. You will notice various info on the screen, such as a gimbal tilt and zoom, which you can change via the control wheels on the shoulders of the remote controller. There are also buttons for brightening and darkening the image or video, a switch to change flight modes, a return-to-home button, and a few more, necessary buttons.
The battery is pretty decent. DJI states that it can fly up to 31 mins in one go; however, the words "up to" are essential there. You can expect that time if the drone is just hovering over the ground, but actually using it will consume more battery. However, during the test, we were able to fly for 27 minutes, which is pretty good compared to most of the similar drones.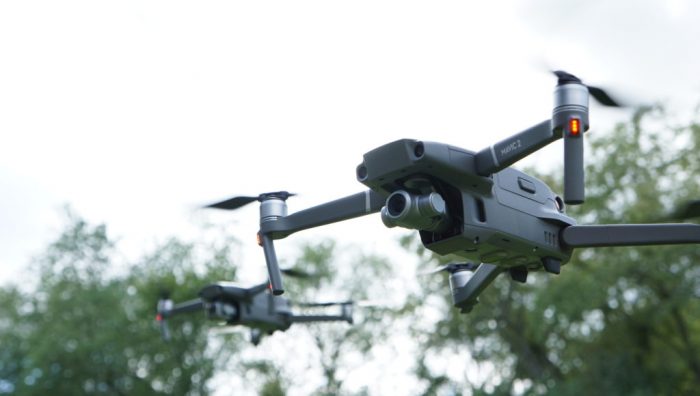 Another great thing about this drone is the obstacle avoidance system. It has sensors on all sides and can read the whole world around it. You can also turn on the ActiveTrack mode, and the drone will follow you consistently about any worries that it will crash into a tree. There is also a Tripod mode, which is used for aerial photography. On the other hand, the opposite of Tripod is a Sport mode, in which all sensors are disabled, and you are allowed to reach maximum speed.
The drone comes with 8GB internal memory. However, it's not as much as it seems. With 100 Mbps video footage, you will rarely be able to record 15 mins of flight. Though, you can always put a Micro SD card for extended recording time. According to its price, we expected at least 16GB of internal memory.
Compared to a popular and smaller Mavic Air, the only reason to buy this drone is its zoom lens. It allows you to change focal length while recording and has extremely precise autofocus, which focuses even while zooming or moving the drone.
Now, let's talk a bit about the features that this drone provides. To use the features, you will have to download a dedicated app on your Android or iOS device. The app offers various functions, such as flight logging, Hyperlapse, access to automated shots, and many more. Hyperlapse, which is a time-lapse with motion, works perfectly. However, the flight experience isn't that great. The remote makes some kind of a shutter sound every time the drone catches a frame, or airspeed is changed. Although the results are outstanding, those sounds can be pretty annoying and distracting. For example, Parrot Anafi has the same feature that works perfectly, without any distractions.
There are also various flight modes, so the drone can fly in circular orbits, identify and track subjects, or mix panoramic imaging and video to create a unique "Asteroid" shot. Besides, the drone offers a TapFly function, which lets you use the drone by tapping on the screen.
In the end, let's mention the camera. It takes beautiful 4K videos, and the gimbal stabilizer does its job perfectly. The video will be steady even if the drone is moving, and the lens is zoomed in. You can choose between different frame rates, such as 24, 25, 30, 40, 48, 60, and so on. The frame rate can be pushed up to 120 frames at 1080p recording.
We can say that this drone is excellent. However, there is a good reason why it's not upper on the list. For example, if you pay around $250 more, you can get Mavic 2 Pro – it's pricier, but offers a much better image and video quality.

#3 Autel Robotics EVO
Dimensions: 5.5 x 5.5 x 10 | Weight: 0.85 kg | Megapixels: 12 MP | Max Video Resolution: 4K | Camera: Integrated with Gimbal | Live Video Feed: 720p | Max Fly Time: 25 mins | RC Type: Dedicated with LCD
+ Beautiful visual design
+ Auto-return to takeoff position if the connection is lost
+ Very light and convenient
− Not for professional photography

DJI is very popular in the drones world; however, it's not without competition. With an amazing camera and various advanced features, Autel Robotics EVO is an excellent choice for people who want to buy a drone for a reasonable price. It's not as good as DJI Mavic 2 Pro, but it offers much more than other drones in the same price range.
Let's start with the visual design. The first thing to notice about this drone is its color scheme. With a black and bright orange combination, it looks much nicer than most of the drones on the market. Also, it's easier to spot if you want to land in tall grass, but also, it's much more noticeable in a bright sky.
The drone features a foldable design, which means that with its arms folded, it's very easy to pack in a small-sized bag. You need to unfold it before a flight, but you don't have to care about putting propellers in the right position since the centrifugal force will take care of that. Only remember to swing out the forwarded arms before the aft ones.
Of course, this drone comes with expected safety features. Its built-in position system uses both GPS and GLONASS satellites, so it acquires a position lock very quickly. If you lose the connection between a remote and a drone, it will immediately return to its takeoff position. However, you can also manually activate the return-to-home function whenever you wish.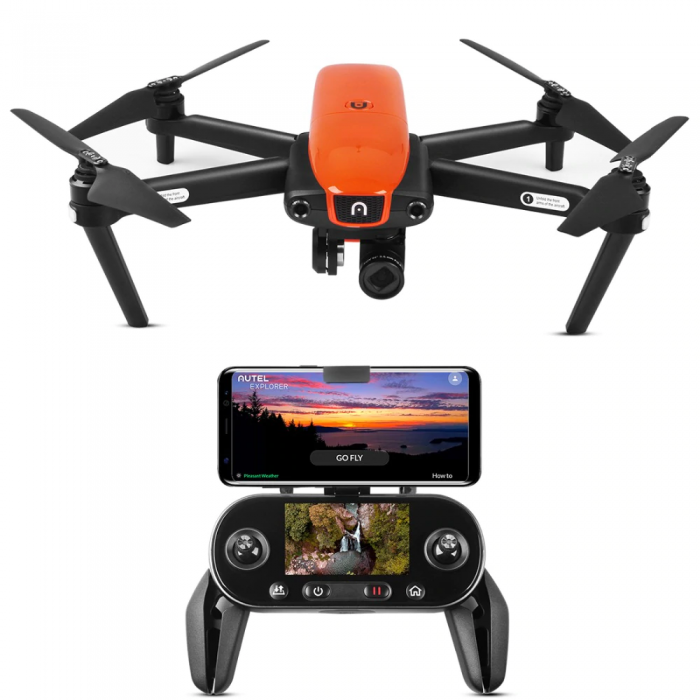 Battery life is pretty good, but not as good as the company states. Instead of the advertised 30 mins of flight, we were able to fly for about 25 mins in one run, with the battery fully charged. You can also buy additional batteries from Autel for around $85.
Autel Robotics EVO comes with obstacle detection sensors located in the nose and tail of the drone. With the front sensors turned on, the maximum speed will be cut down to 35 km/h, but as soon as you turn them off, the drone will be able to reach around 70 km/h. The drone also has rear sensors. However, they won't prevent you from hitting the tree in a manual flight. If you want the drone to track a moving subject/object, all of the sensors are used – you just need to draw a box around the object in the app. You should also know that there are no top, bottom, or side sensors, which limit the automated tracking to forward and backward motion.
A great thing about this drone is that you can use it without a smartphone. As soon as you take the remote control in your arms, you will notice how amazing it is, both visually and practically. It comes with a sweet and sharp display so that you don't need a smartphone for using the first-person camera. There are two wheels to adjust exposure and camera tilt, buttons to take images and start/stop video recording, and buttons for certain flight functions, such as return-to-home function. You have access to every feature that you need on the remote control.
Compared to the DJI Mavic 2 Pro, for example, Autel Robotics EVO has a slightly different camera, with 12MP instead of 20MP. However, it can still record in 4K at the fantastic 60 frames per second, which is, actually, more than enough for a great video. Of course, if you are a professional, your best choice would be DJI Inspire 2.

#4 DJI Mavic Pro
Dimensions: 3.3 x 3.3 x 7.8 | Weight: 0.73 kg | Megapixels: 12 MP | Max Video Resolution: 4K | Camera: Integrated with Gimbal | Live Video Feed: 720p | Max Fly Time: 27 mins | RC Type: Dedicated with LCD
+ Allows video download of 40 MB/s
+ The drone range can be extended up to 6.5 km
+ Stuffed with various features
− Still has a relatively high price

We talked about Mavic 2 Pro, which is currently the best option that you can get. However, if you want a similar, but not "that good" experience, at a lower and more affordable price, the original Mavic Pro is your best choice.
Although it's one of the smallest DJI drones, it comes with an excellent camera for taking great pictures and videos, and pretty decent flight time. Also, Mavic Pro is convenient and portable, so you can just pack it up and take it anywhere. It comes with a set of foldable arms and propellers so that you can fold it down into a little package that's the size of a standard brick – but of course, not that heavy.
In the front, there is an excellent 4K camera and a 3-axis gimbal. It allows you to take super-stabilized photos since it takes care of all the drone "shakes" and erratic movement. The drone also comes with ActiveTrack (which we mentioned earlier) and Optical Flow software. These features allow it to track moving objects and avoid obstacles, using only a camera and the algorithm that analyzes the received image.
Another impressive thing is the actual flight (and range). Mavic is equipped with the new video-transmission system OcuSync, which extends the drone range up to more than 6.5 kilometers. It can even stream video footages at Full HD and allow image and video download of up to 40 Mb/s, which is incredible! Besides, Mavic Pro is stuffed with features. In addition to standard Follow Mode, Waypoints, and Course Lock, it also comes with the Terrain Follow and various Gesture Modes.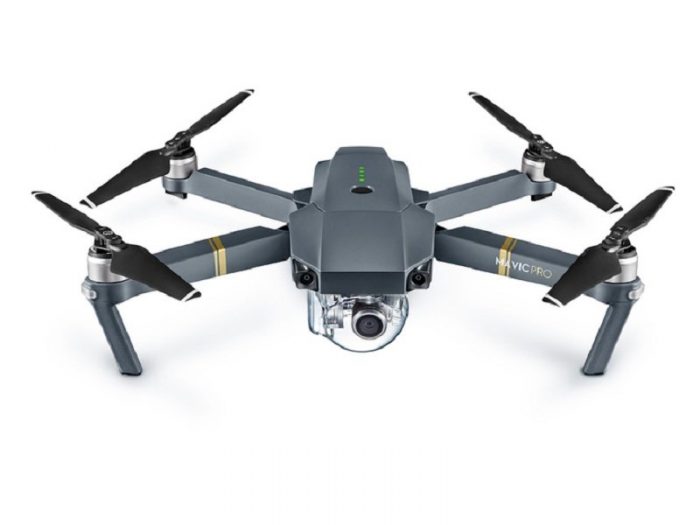 Build quality and design are another two things that are done perfectly on Mavic Pro. It's not as sturdy as Mavic 2 Pro, but it's pretty decent and comes with a solid hull. During the testing, we crashed it a few times, but it received no damage. Of course, it didn't hit on the hard surface at max speed, but minor crashes onto the grass at medium speed seem to be no problem for this drone.
The same goes for its design. Of course, there are many folding drones out there, but Mavic Pro takes it to another level. It has a very smart hinge system that allows it to fold into a tiny piece of plastic, ideal to suit any bag or similar part of the travel equipment. The drone can even fit in a normal-sized purse.
Now, let's talk a bit about the battery life and recharge time since these are also essential parts of every drone. Despite its small size and compactness, Mavic Pro comes with a pretty good battery. The interesting thing is that the drone's rotor system is optimized for a forward flight so that it can stay longer in motion than in hover mode. DJI states that the drone can go for 24 minutes in one fly, but we managed to reach amazing 27 when fully charged. Also, we left the drone in a hover mode, and it stayed in the air for around 23 minutes. It definitely proves that it's optimized for flight instead of a hover.
Basically, Mavic Pro is a pretty good choice both for beginners and experienced drone owners. It's not cheap, but it's more affordable than Mavic 2 Pro, for example. If you are interested in a good drone for a reasonable price, be sure to check it out!

#5 DJI Tello Drone
Dimensions: 3.8 x 3.6 x 1.6 | Weight: 80g | Megapixels: 5 MP | Max Video Resolution: HD | Camera: Integrated with Gimbal | Live Video Feed: 720p | Max Fly Time: 14 mins | RC Type: Dedicated, No LCD
+ Ideal for beginners
+ Super lightweight
+ Control the drone via Scratch programming interface
− Short flight time

Tello is another great drone, however, more suited for beginners. It's lightweight, easy to control, and provides lots of fun. Also, it's not too expensive, so if you want to buy your first drone, DJI Tello is your best choice. So, what makes this drone stand out?
DJI Tello can be flown straight out of the box, as soon as you charge it. It's very "user-friendly," so you don't have to care too much about things that you are not comfortable with. Everything is prepared and ready for you to use.
It's small and super-lightweight, at only 80g with propellers and battery – much less than any of the previous drones on the list. The drone looks exactly as you want a classic drone to look, with propellers and all the other stuff, and it's also pretty convenient. You will notice that it's effortless to pack it in almost any bag without taking too much space.
The drone comes with no remote controller. You must download the Tello app and use it with your Android or iOS mobile phone. Also, it doesn't have any internal storage, so all the images and videos are stored directly on your mobile device.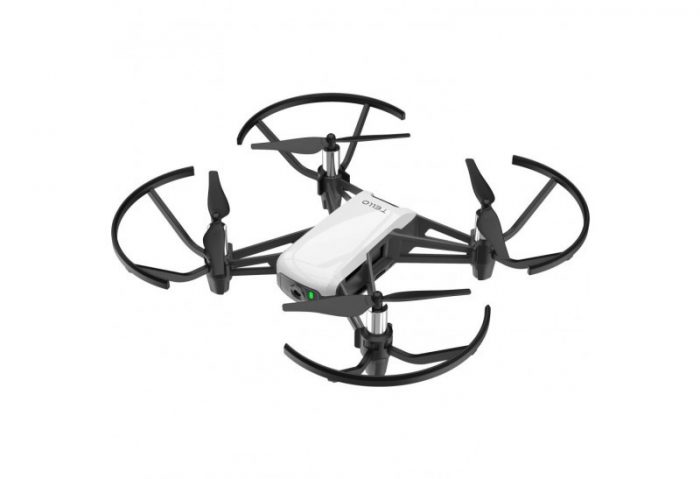 Flying the drone is pretty simple; however, it might take some time and effort to master. For example, it might be easy to confuse up and down, or left and right, and end-up in a low-hanging tree branch. The good thing is, once you learn how to fly this drone properly, you can upgrade to a better one since the flying principle is the same with every drone. Also, if you break or damage any parts, don't worry – most of the pieces are pretty cheap and can easily be found online.
Tello comes with a pretty decent camera, but it can't be compared to a fantastic camera that DJI Mavic 2 Pro has. On the other hand, Tello is much cheaper, and having in mind that it's good to be your first drone, its camera is satisfying. The camera has 5MP and shoots HD (720p) videos, which can very easily be controlled via the app. There are also some other useful features included, such as automatic takeoff and landing, 360-degree video mode, and a low-battery charging. When fully charged, this drone can fly for around 13-14 mins. The drone is small and very good for using indoors. You can also operate it outdoors, but watch out for the wind – the drone is not very strong, and it might get carried away.
Another way to control the drone is to program it using the Scratch programming interface. It might be a bit tricky to set up, but after you manage to do it, things get pretty impressive. You have to install an offline version of Scratch, which also requires Adobe Air and Node.js, which is a JavaScript engine that Scratch uses. Then, you need to install Tello Scratch extensions and run Node.js, which allows Scratch to communicate with the drone. Also, note that the drone can't connect to your Wi-Fi network. Instead, your computer needs to connect to the drone's network. It might all sound a bit difficult right now, but it's not. You won't get much help from the user-manual that you get with the drone, but you can find various tutorials online that perfectly describes how to do all of that.
All in all, it's a pretty good drone for beginners. Don't expect any special features, or shocking, breathtaking videos. However, it's perfect for the first drone, to learn how to fly it properly, and upgrade to some better, but more expensive ones.

#6 Izi Battle Shark Quadcopter
Dimensions: 2.4 x 5.1 x 7 | Weight: 200g | Megapixels: 2 MP | Max Video Resolution: HD | Camera: Integrated without Gimbal | Live Video Feed: 720p | Max Fly Time: 22 mins | RC Type: Dedicated, No LCD
+ Very affordable
+ Excellent flight time for drones in that price range
+ Easy to repair and maintain in the long run
− The camera has only 2 Megapixels

In the end, we are presenting you with the best drone for people who want to shop on the budget. Although it's pretty cheap, don't underestimate it – Battle Shark is better than most drones in the same price range.
At first, you can notice that it really looks like a shark. Also, it's black and has a high contrast between the black color and yellow stickers. It might even remind of a toy, but this drone is definitely not dedicated to kids.
A great thing about this drone is its battery. We tested and confirmed that it could fly over 20 minutes, which is impressive for drones in that price range. It is pretty lightweight with only 200 grams and can fly up to a height of 50 meters.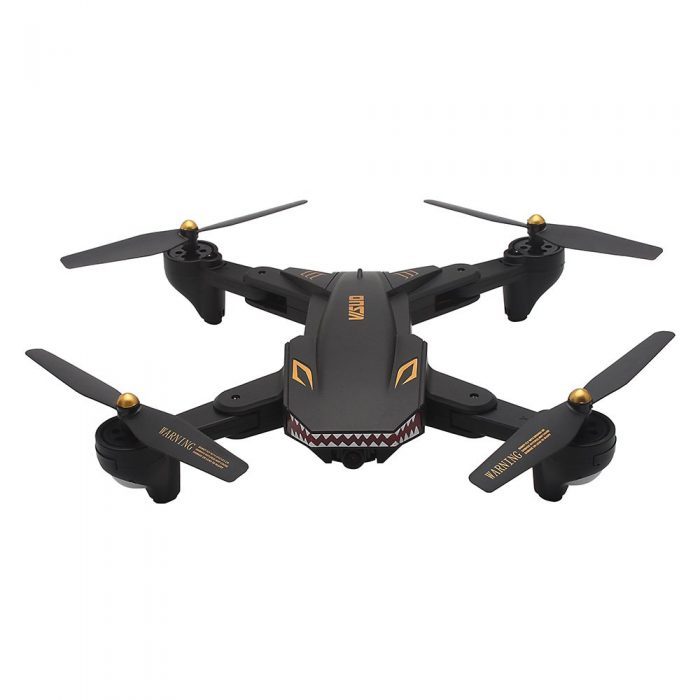 The camera has only 2 megapixels, which is not enough for professional use. However, if you want to take some decent, and also HD footages, you will be satisfied. Besides, the drone provides various functions, such as a 3D rollover and a single key automatic return. We recommend you to calibrate the drone before the first flight, though. Also, if you use the drone with your phone, you will be able to watch through a first-person camera and enjoy the flight in a very lovely-looking live transmission.
Another great thing is that this model is excellent in the long run. Basically, it's incredibly simple to repair and fix, and you can easily find all the needed parts online. On the other hand, the drone is sturdy and designed to take lots of collisions and hits before it gets damaged and requires repair.
We can conclude that Izi Battle Shark Quadcopter is the best drone that you can find out there for that low price. If you are shopping on a budget, be sure to check it out!

Before You Buy
There are a few things that you should keep in mind before buying your first drone. These are usually the things that people don't think about until they get the first drone. Let's clear it all out.
Battery Life Expectancy
Most people who never flew a drone don't think about the battery. It seems like you will be able to have hours of fun with your drone. However, the truth is much different. The bigger the battery, the more power it provides. On the other hand, if the battery is bigger, the drone will require more power. It seems that the battery is a particular limitation that all drones share, both cheap and costly ones.
In reality, there is almost no drone that can fly more than 30 minutes on a single charge. When it comes to cheaper drones, you will be satisfied if it can stay 10 minutes in the air, and with toy drones, you might not be able to use them for more than 5 minutes.
Some drones allow you to land the drone and swap batteries. However, it will directly raise the costs in the beginning, since you will need to buy at least one more battery. Also, some drones have in-built batteries that can not be swapped out. In that case, you will have to land the drone and plug it into a charger. Note that recharging the battery usually takes up to 3-4 times more than the drone can fly.
Some drones use GPS to calculate the difference between the current location and the takeoff point. If they get too far and the battery is getting empty, they will automatically return to the takeoff location.
Range and Speed
Another stuff that you should pay attention to is the range and speed of the drone; of course, if you don't intend to use it in your room only. Today, you can find many drones that can fly at very high speeds, such as 80-90 kilometers per hour. However, flying with a drone is similar to learning to ride a bicycle. You will have to start slow and increase your speed as you sharpen your skills and become comfortable. Otherwise, it might lead to a crash. A great thing to use as a beginner is restricted flight modes, which affect the speed, the height, and so on.
The other limitation found in drones is the remote controller signal range. The communication between the remote and the drone should be perfect, but the signal fades as the distance increases. Some of the high-end drones use a home wireless network and operate around 2.4-2.5 GHz signals, which is awesome.
Some drones use GPS when the signal is lost, to return to the takeoff point. However, some cheaper drones will just hover in place until they reconnect. In the worst-case scenario, your signal might get interrupted by a stronger signal, which a drone will interpret as a controller, and continue to fly forward. It's not a good thing to happen, but it usually occurs only with the cheapest drones.
Try the Simulator First
Rarely it happens that the drone you buy comes with a simulator. However, if it does, it's a great way to sharpen your skills without the fear of crashing your drone. Basically, the simulator lets you use the remote to control a virtual drone that shows up on your mobile screen or even a monitor of your computer. Most of the simulators are done pretty well, so there is no massive difference between the simulation and the real flight. When you get to know how to fly better, you can test your skills in reality on your real drone.
Conclusion
So, we talked about the types of drones and about the best ones that you can buy. In the end, we warmly recommend buying a cheap drone that you can try almost risk-free. Who knows, maybe you will get bored and decide that you don't even need a drone. On the other hand, if you find drones to be a unique, amazing way to have fun, you can always save up some money and buy DJI Mavic 2 Pro, or some other quadcopter of your choice!