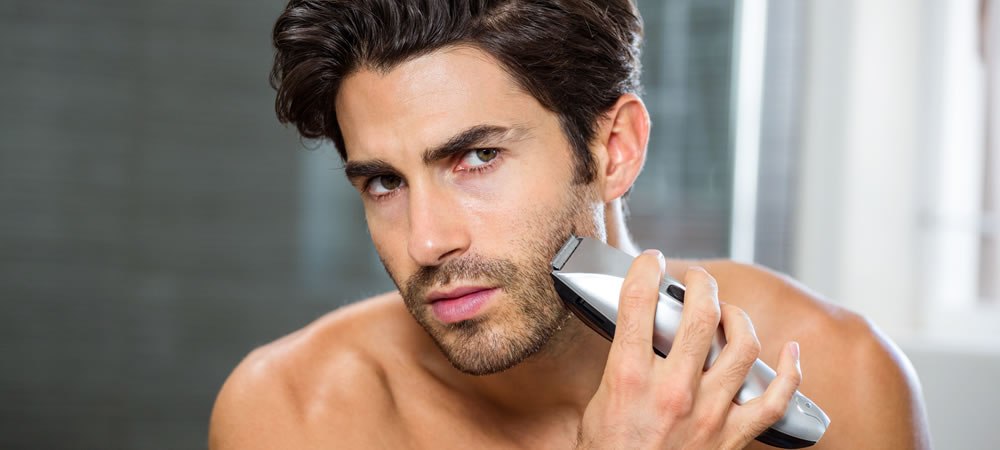 6 Best Trimmers Under 1500 in India 2021
Introduction
The lockdown has taught us all to become more self-reliant than we already were. From doing the household chores to our very own grooming, there is nothing that anyone who survived 2020 can not do. COVID-19 changed the way we live. During the lockdown, we did find ourselves having to style those beards ourselves. Grooming is essential for men. Personal grooming says a lot about the man you are. They mirror your personality on your face and speak volumes about your grooming habits.
Throughout the lockdown, celebrities posted their hairdos and styled their beards which breathed life into people. Trimmers have become an unforeseen appliance that one needs in his day to day life. It becomes very inconvenient for men to go to salons just for trimming their beard. As much as we love a #NoShaveNovember, we also sat through countless interviews, meetings, and, most importantly, those virtual dates. Good personal grooming depicts high self-esteem. It tells people that you are worth their time and effort.
Nevertheless, good grooming does not have to be an expensive affair at all. Trimmers are great tools for personal grooming, and as handy as they are, trimmers are also an investment. It is essential to find the best trimmer available in the market at the best price. You may have yourself a reward because we have got this covered. Taking everything into account, we have selected the best trimmers just under Rs. 1500.
6 Best Trimmers Under 1500 in India
We have picked the six best trimmers for you under ₹1500. All the trimmers are easily available in India. Take a look:

If you are seeking to invest your Rs 1500 in a trimmer that delivers the best quality, then Philips BT3203 and BT3205 are two of the best quality trimmers for you right now, available in India. These trimmers are easily available in India at INR 1500. With respect to the design of the trimmers, these trimmers are better than other trimmers from Philips. It looks incredibly prime and aligns beautifully with the Philips QT game plan.
The product quality is a prime reason for this trimmer to end up on this list. The product delivers convenience to the buyers as it has less vibration and racket. It is weightless, so it is almost effortless to use this trimmer. The Philips Dura-Power BT3205 comes in twenty-one length settings from 0.5 mm to 10mm, whereas the Philips Dura-Power BT3203 offers ten length settings. The two trimmers come with a rounded tip and a self-sharpening edge. The edges ensure skin-obliging shaving for the best experience. The trimmers also come with a twisted brush, which is especially useful in contorting beard growth. The battery life is exceptional; it goes with dura potential advancement, which means that the trimmers have more battery support than other trimmers. The trimmers can last for 40-45 min in a line charge (8-10 hours).
These trimmers come with a managing range from 0.5 mm to 10mm, divided into 20 or 10 lock-in settings.
The product is, however, not waterproof. The head of the product is launderable and can be washed for clean and hygienic experiences.
The product is suitable for body grooming, trimming beard and moustache.
Other salient features include LED pointer light, strong battery support, self-honing sharp edge.
A 2-year warranty and a 1-year guarantee period are also offered with this product.
Check the cheapest price on Amazon
2. Panasonic ER207WK44B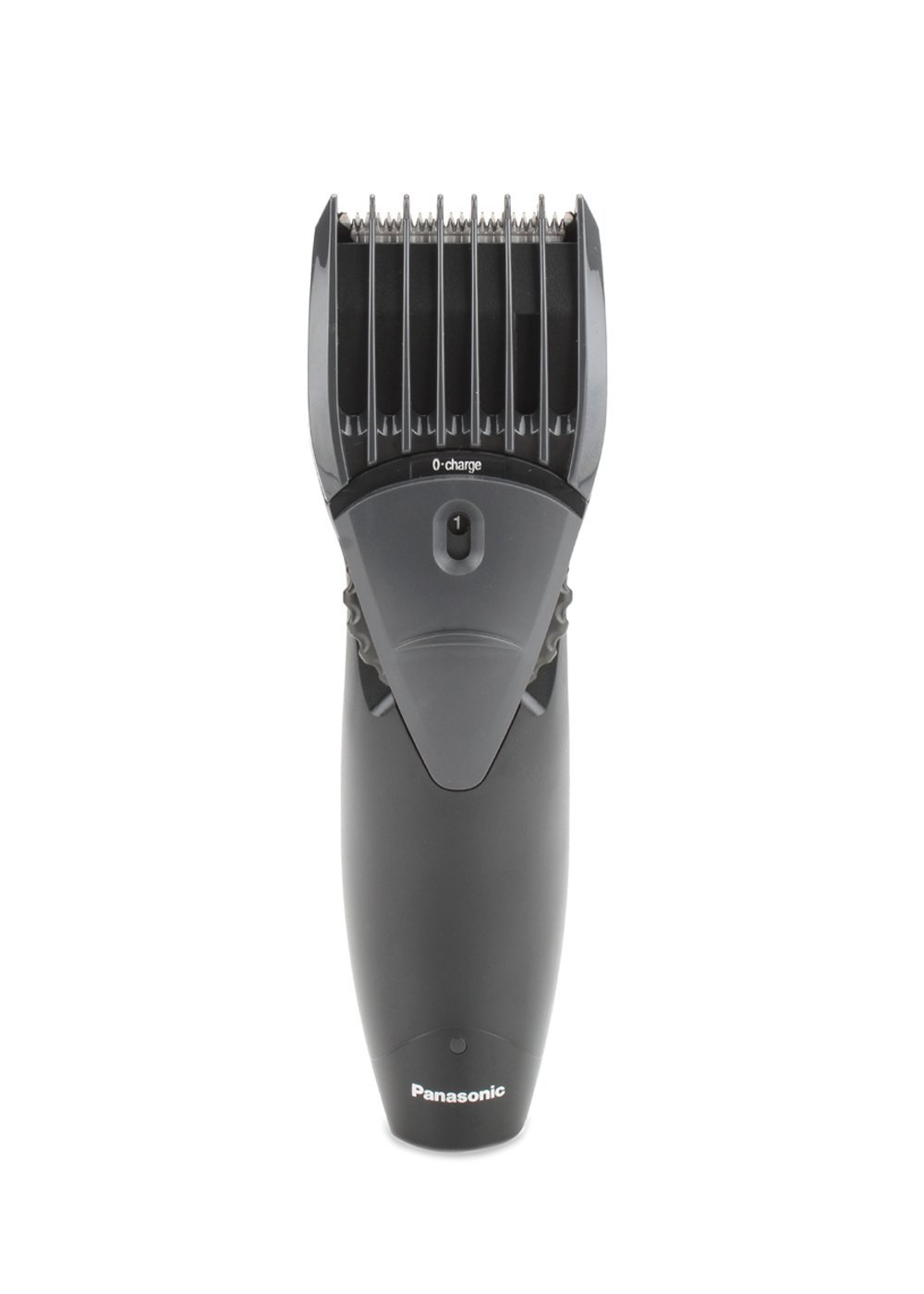 On the course of action front, it looks unbelievably rich, faint hiding mix. The body of this trimmer astoundingly dazzles everyone. It comes with 12 length settings that award you to pick lock-long settings between 2 to 18 mm, with a 0.5 mm accuracy. The charger of this trimmer is unconvincingly large, which becomes why it is not suggested for a traveller. It passes on 45 minutes power back up following 8 to 9 hours full charging.
These trimmers come with a managing Range from 2 mm to 18 mm, divided into 12 lock-in settings of 0.5 mm each.
The product is not waterproof. The head of the product is launderable and can be washed for clean and hygienic experiences.
The product is suitable for body grooming, trimming beard and moustache.
Another salient feature is the 45-minute usage battery life of the Panasonic trimmer.
This trimmer also offers a 2-year warranty and a 1-year guarantee period.
3. Havells BT6154C Beard Trimmer

If you hunt for the best battery life in a trimmer under INR1500, then this Havells BT6154C Trimmer is the perfect decision for you. This trimmer has a commendable battery life. Havells BT6154C goes with the U-molded borders that change itself for the outer structure. You can exchange lengths settings up to 10mm with the target that you can get the best trim. The trimmer can smoothly work cordlessly for 50 minutes with 1-hour of charging. It has a charge pointer that captivates you when it is completely empowered. The head of the trimmer can be pulled allowing you to wash it under running water for cleaning. The value and benefits make it possibly the best one under Rs.1500.
Some salient features include Maintenance Free, Flexible Length up to 10mm Precision, U-Shaped Stainless Steel Blade, Li-Ion Quick Rechargeable, Light Indicator.
The battery life is up to 50 minutes after 1-hour charging.
The guarantee period is for one year.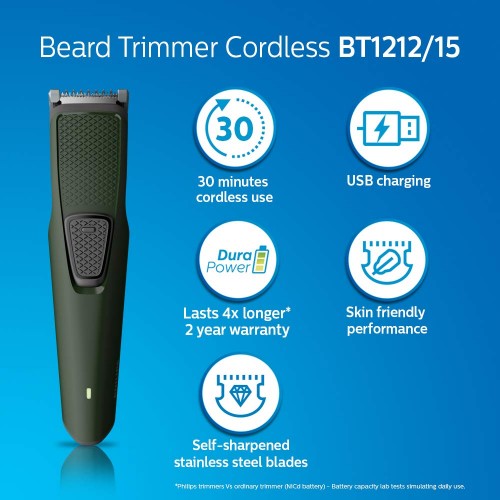 Philips does have one of the most economical and superior quality appliances for daily use. The green and lustreless tones give a classy look to this trimmer. It's slim and bounded and has a very feather-like weight of 95 grams. It comes with 4 specific lock-in settings that are 1mm, 3mm, 5mm, and 7mm. This trimmer supports USB charging, which means you can charge using a phone charger, Power bank, or even a computer.
The edge of Philips BT1215 is self-sharpening; it means that the edge sharpens itself while you are using it. The cleaning cycle is undemanding; you can easily separate the head of the trimmer and clean it under running water. In terms of battery, Philips BT1215 goes on for a 50-an hour in use after a full charge for 8 hours.
The overseeing ranges of Philips BT1215 are 0.5mm, 1mm, 3mm, 5mm, 7mm. This can help with good precision. It may not be suitable for people with very thick beards,
The product is not waterproof. The head of the product is launderable and can be washed for clean and hygienic experiences.
The product is suitable for body Grooming, trimming Beard and Mustache.
Other salient features are the USB charging, the LED marker light.
The warranty period is two years.
The charging of the device is super adaptable. You will quickly get half an hour of cordless use. Its forefronts are incredibly sharp-edged to manage the hair effectively which eliminates waste of time. With the help of different length brushes, you may trim the beard the way you want. These brushes come in three different sizes. In such a manner, you can separate the top of the trimmer and clean it under running water for cleaning. The innovative design and remarkable features make this trimmer one of the most decent trimmers that you will find under ₹1500.
Check the cheapest price on Amazon
5. Philips QT4001 Cordless Trimmer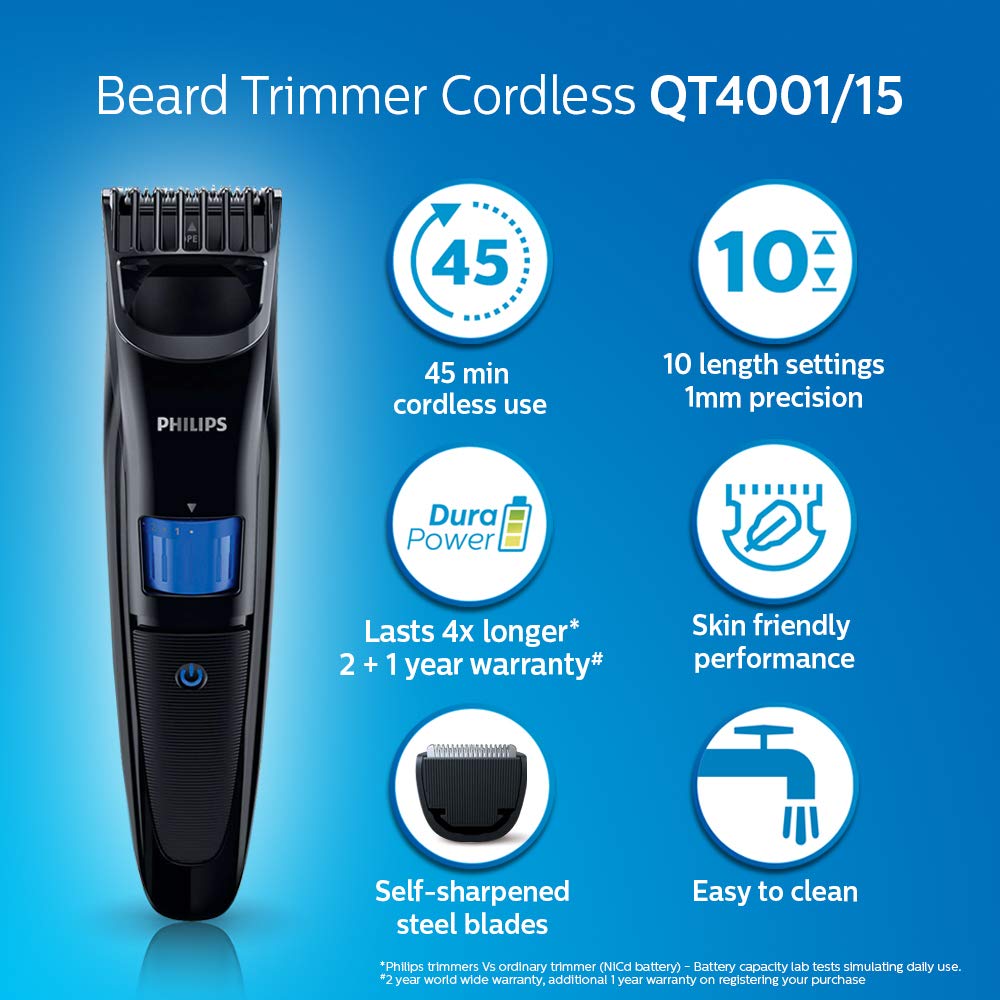 This Philips QT4001 Cordless Beard Trimmer is striking among other trimmers under ₹1500. The blades of the trimmer are round-shaped like a fiddle so no cuts and blood on your skin. We can say that this trimmer will oblige your skin in the best way possible and precision is assured.
With the Philips QT4001 powered by DuraPower Technology, you can get about 45 minutes of cordless use. Its trimming edges are sharp to deal with the hairs enough, and it impedes disturbance with the mix of rounded tips. With the ten specific length settings, one can style the facial hair the way you like. Besides, you can separate the head of the trimmer and wash it under running water for cleaning. If you're searching for a particular facial hair development trimmer, this is an excellent trimmer that you may find under INR 1500.
The product comes in an ergonomic design. It has a removable head which is cordless.
The edges of the trimmer are Self-Sharpening, and the blades are Stainless Steel.
It has 10 lock-in settings divided across 1 – 10mm Precision range.
The Battery Life is about 45 minutes after 10 hours of Cordless charging.
It even has a Light Indicator to indicate battery status.
It comes with 2 Years Affirmation.

This Panasonic Beard Trimmer is one of the most liked trimmers available in the Indian market. It is suitable for haircutting and directing considering how its borders are orchestrated impeccably for haircutting and supervising hairs from sides; this is a great trimmer.
Panasonic is the best affiliation that produces staggering quality electronic things. This beard trimmer is facilitated by the Japanese technology that unequivocally shaves the facial hair with its sharp edges. The sharp edges and the body of the trimmer are launderable with the target that you can clean the device feasibly and care for tidiness. The ergonomic course of action assists with precision while managing. Besides, it is a light-weighted trimmer and helps you trim your beard at leisure. With bewildering highlights, this is perhaps the best trimmer in this price.
The Technology of Japanese Blade makes it very exclusive in quality. It comes with tempered steel edges.
The trimmer is waterproof. The entire body of the trimmer is washable.
It is lightweight and has a versatile managing length from 0.5mm to 18mm.
It comes with 2 Years confirmation.
Check the cheapest price on Amazon
Conclusion
These are some of the best trimmers to buy if your budget is nothing more than ₹1500. Each one of these has a bunch of outstanding features that can leave even high-end trimmers behind. You must be careful with the suitability and nature of the product. You can select the best trimmer for yourself according to your usage and the thickness of hair. The four factors that you must consider while buying must be:
Nature of use
Price
Battery Life
Versatility
Cordless
Length Settings
Blades
Convenience
Portability
Precision
These are the best determinants to find your perfect trimmer.
Considering all the features and our budget, Panasonic ER-GB30-A44B Trimmer is the best purchase for you in the Indian market under Rs 1500. It offers a great amount of precision and durability. You look forward to investing in this trimmer as it is one of the highest reviewed and recommended too.
We wish you the best grooming in 2021 with your perfect trimmer.
I hope you found this article informative.
Drop your queries below, if any.
Happy Styling!