Amazon's Attempt at Helping Its HD DVD Customers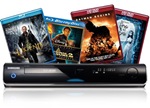 Earlier this week Best Buy announced that it would offer $50 gift cards to its customers that purchased HD DVD players before February 23. Not only that, the company is giving some trade-in value for HD DVD players or movies, regardless of where they were purchased. Apparently Amazon wanted in on the good PR and has come up with its own way to hook up its HD DVD customers.
Here's the deal I was emailed from Amazon since I'm a "valued HD DVD customer." Links are placed exactly as they were in the email:
Dear Amazon.com Customer,
Expand your high-def library with this amazing deal exclusively offered to our valued HD DVD customers. Receive two HD DVDs for free when you purchase any two Blu-ray discs sold by Amazon.com and the Samsung BD-UP5000 1080p HD-DVD Blu-Ray Disc Combo Player. Hurry–this offer is only good through April 2, or while supplies last. Discount will automatically be applied at check out.
Shop the sale now.
Gee, thanks, Amazon.
In defense of the deal, this Samsung player is the cheapest combo player I've ever seen at $450. But it's funny that Amazon thinks I'm interested in a deal like this after I spent about one third this price for a player and 10 movies. I mean, I'll go Blu-ray eventually. But we HD DVD price sensitive consumers need more than even this "amazing deal," Amazon.
While this isn't nearly as bad as Sony's marketing mistake, it's still a bit of an eye roller. In related news, don't forget to check out Apple's new way of "helping" its customers. This is quite the PR / marketing week with plenty of tech companies forgetting that not all consumers are clueless.