Using Digg & The Wall Street Journal Together: Review with Screenshots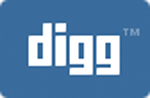 Digg founder Kevin Rose announced that Digg buttons will now be available on the Wall Street Journal website (WSJ.com). Not only that, but anyone will have free access to any WSJ articles visited via Digg. Coincidentally, this news comes around the same time Rupert Murdoch suggested that he might take down the Wall Street Journal's online subscription pay wall. Whatever the circumstances, I'm a daily user of both sites and welcome the collaboration.
In fact, here's a walk through of how the integration looks and works:
The Digg button is located in two locations, top right just above the main advertisement and bottom center below the article (see screenshots below).
WSJ Digg Top
WSJ Digg Bottom
The submit window is similar to the one you'd see at the NYTimes.com. But what seems like more of a new feature is the window that pops up after you've submitted. It shows one column of the recently popular stories from the WSJ.com on Digg and another column of upcoming WSJ stories on Digg (see screenshots below).
WSJ Digg Submit
WSJ Digg Submitted
It's still unclear how exactly the respective sites keep track of making content free. But it looks like the url used for the submission via the WSJ site creates a url that is different than what you'd see from regular browsing of the WSJ site. Again, however they do it is fine with me. The WSJ.com is an excellent source of news and is one step closer to being accessible by the masses.