eBay: "Use PayPal or else…"
Recently eBay announced that it is increasing purchase protection from $1000 to $2,000 for qualified transactions on eBay.com.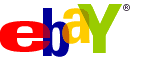 But it will no longer offer purchase protection for non-PayPal transactions. Why? Well, eBay claims that other payment services are less safe than PayPal.
But the decision probably has more to do with the fact that the company make roughly twice the money on sellers who use PayPal. It charges sellers the usual listing fees, plus additional fees when sellers accept payment through PayPal Premier or Business accounts (and eBay is making it harder and harder to sell anything on eBay using PayPal Personal, its free account).
Is Google Checkout any less safe than PayPal? Probably not. But it and many other payment services have been banned from eBay just the same. So while eBay accepts Canadian Tire Money and Cash2India, it still won't accept Google Checkout. This is certainly eBay's right, but hopefully customers will realize that this is more than just eBay looking out for its customers' safety. It's eBay looking out for eBay.
My advice? If you need something like PayPal but you are sick of PayPal, use BidPay. They take Visa and Master Card, they offer charge back protection to sellers, and they have a lower transaction fee than PayPal Premier (3.25% vs. PayPal's 3.5%). If you already have PayPal Premier, you can call PayPal and go back to its free account (you won't be able to accept credit cards but other transfers will go back to being free).
So the best combination for your money transferring needs is to use PayPal Personal for any cash transfer and BidPay for accepting credit card payments. But hurry, before eBay bans them, too 🙂
Note: Payment services currently not permitted on eBay include AlertPay.com, anypay.com, AuctionChex.com, AuctionPix.com, BillPay.ie, ecount.com, cardserviceinternational.com, CCAvenue, ecount, e-gold, eHotPay.com, ePassporte.com, EuroGiro, FastCash.com, Google Checkout, gcash, GearPay, Goldmoney.com, graphcard.com, greenzap.com, ikobo.com, Liberty Dollars, Moneygram.com, neteller.com, Netpay.com, Nochex.com, paychest.com, payingfast.com, paypay, Postepay, Qchex.com, rupay.com, scripophily.com, sendmoneyorder.com, stamps, Stormpay, wmtransfer.com, and xcoin.com
Payment services currently permitted on eBay include Allpay.net, Bidpay, cash2india, CertaPay, Checkfree.com, hyperwallet.com, Moneybookers.com, Nochex.com, Ozpay.biz, Paymate.com.au, Propay.com, XOOM