Google Picasa Web Albums Review with Screenshots
Google can't help but stay in the spotlight. Today's latest: Google Picasa Web Albums. I quickly signed up for this "test" (rather than "beta" for some reason) product and gave it a test spin. Initial impression: yet another impressive, free tool from Google for online collaboration. Read on for features and screenshots:
First and foremost, it asks you to install the latest version of Picasa which supports web albums (or it updates your current version). Here's a picture of the startup screen with a little graphic explaining the simple steps to upload images from your desktop once Picasa is installed (click to view full size):

Once Picasa is installed/updated on your computer, you simply select a folder and then click on the Web Album button in the bottom of the window to get this login screen from your desktop (click for full size):
Once logged in, you'll get a screen asking you for an album title, description (optional), and upload settings (three to choose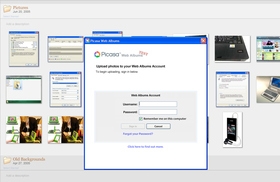 from, pictured):
There's also an upgrade storage button, which takes you to this screen that explains details on how to sign up for six gigabytes (instead of the standard 250 megabytes) of storage for $25 a y
ear (click image for full size):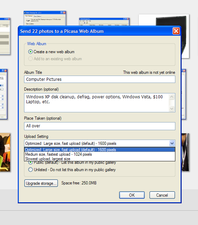 Once the album is uploaded, you can view an overview shot of all the pictures (with three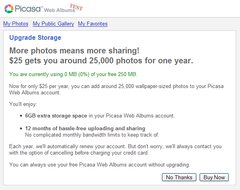 different picture sizes depending on how many you have in the album) with a description shown here (click for full size):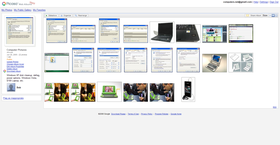 Here's a shot of the account settings page where you can change your nickname, how others see and access your content, and your RSS feeds: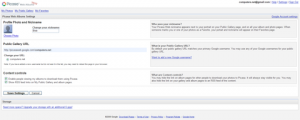 Alternatively, you can upload pictures from the web interface rather than from the desktop interface. Here's what that screen looks like (click for full size):

Overall, it has the typical Google polish: Just enough flexibility to be very usable without undue complexity. The handy interface has easily accessible features such as slide show (web-based, really nicely done!), sort, rearrange, share (speaking of which, check out the screenshot below), etc. all there to help you share and manage your photos online. It won't be long before we'll forget we ever used email to share pictures.