Top 10 Universities Increasing Support for Campus Start-Ups
Universities have been known to cash in on technology developed on campus. Arrangements usually include a licensing agreement with the developers, which often consists of royalties for the university. Another option is an equity stake for the university. And yet a third option is the combination of royalties and equity. Stanford, as an example, obviously has an easier time being located in Silicon Valley and having the Google success story in its past. Last year, the university cashed in $336 million by selling Google stock it owned as part of the original licensing deal.
But now university backed start-ups are on the rise again, and this can only mean good news for entrepreneurs. Listed below are the top 10 universities known for their recent support of start-ups.
Top10startupfunding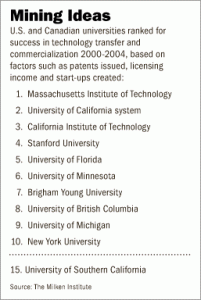 According to some professors, "Universities are also responding to a flood of venture-capital money in
the U.S," which is sparking interest from investors on the hunt for the next big thing. So far this year (through the end of September), U.S. venture
capitalists raised $19.7 billion and are on route to raise more in 2006 than in any year since
2001, according to research firm VentureOne.
As a results, the University of Southern California is moving its Office of Technology Licensing, which was previously off-campus, to a central campus location with a large suite of offices. Otherwise, difficulties for campus entrepreneurs translates into incentives for them to "take technology out the back door."
So far only a top tier of elite research universities
bring in more than $10 million a year in licensing income. But such
numbers don't include money coming back to universities from
grateful alumni who might have received help turning ideas into
profitable companies.
For more details, check out this article in the Wall Street Journal (subscription required).